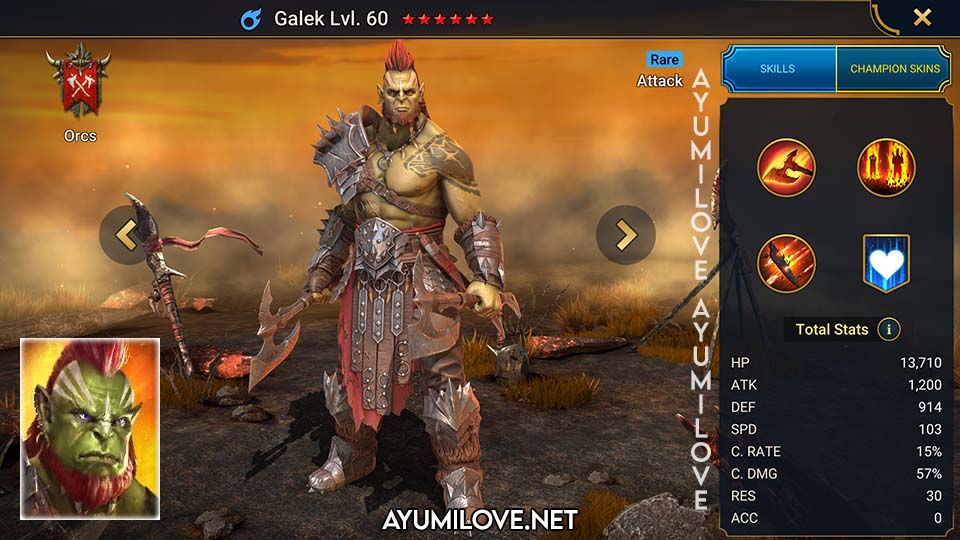 Overview

NAME: Galek
FACTION: Orcs
RARITY: Rare
ROLE: Attack
AFFINITY: Magic
RANK: B
USABILITY: Early Game
TOMES: 13 (A3)

Abilities

RSL_AllBattles_HpAura
RSL_Target_BasicAttack_2Hits
RSL_Random_DecreaseDefense_30%
RSL_Self_IncreaseSpeed_30%

Obtain from

Mystery Shard
Ancient Shard
Primal Shard
Starter Champion

Blessings Recommendation

Phantom Touch (Damage Dealer)

Grinding

★★★★✰ Campaign
★★★✰✰ Arena Defense
★★★★✰ Arena Offense
★★★✰✰ Clan Boss
★★✰✰✰ Hydra
★★★✰✰ Faction Wars

Dungeons

★★★★✰ Minotaur
★★★✰✰ Spider
★★★★★ Fire Knight
★★★★✰ Dragon
★★★✰✰ Ice Golem
★✰✰✰✰ Iron Twins
★✰✰✰✰ Sand Devil
★✰✰✰✰ Phantom Shogun

Potion

★★★✰✰ Arcane Keep
★★★✰✰ Void Keep
★✰✰✰✰ Force Keep
★★★✰✰ Spirit Keep
★★★✰✰ Magic Keep

Doom Tower

★★★✰✰ Floors
★✰✰✰✰ Magma Dragon
★✰✰✰✰ Nether Spider
★✰✰✰✰ Frost Spider
★✰✰✰✰ Scarab King
★✰✰✰✰ Celestial Griffin
★✰✰✰✰ Eternal Dragon
★✰✰✰✰ Dreadhorn
★✰✰✰✰ Dark Fae
Galek Skills
Cross Slash
Attacks 1 enemy 2 times.
Level 2: Damage +5%
Level 3: Damage +5%
Level 4: Damage +5%
Level 5: Damage +5%
Damage Multiplier: 1.5 ATK + 50
Hellraiser (Cooldown: 3 turns)
Attacks all enemies. Has an extra 15% chance of inflicting a critical hit. Places a 30% [Increase SPD] buff on this champion for 2 turns.
Level 2: Damage +5%
Level 3: Damage +5%
Level 4: Damage +5%
Level 5: Damage +5%
Level 6: Damage +5%
Damage Multiplier: 4.5 ATK
Cursed Blade (Cooldown: 5 turns)
Attacks 4 times at random. Has a 30% chance of placing a 30% [Decrease DEF] debuff for 2 turns. Has a 30% chance of placing a 60% [Decrease DEF] debuff for 2 turns if the target has more than 2 debuffs.
Level 2: Damage +10%
Level 3: Buff/Debuff Chance +5%
Level 4: Damage +10%
Level 5: Buff/Debuff Chance +5%
Damage Multiplier: 1.6 ATK
Aura
Increases Ally HP in all battles by 15%.
Galek Equipment Guide
Arena, Campaign, Clan Boss, Dungeons, Doom Tower, Faction Wars

Recommended Artifacts

PvE: Lifesteal, Bloodthirst
PvP: Savage, Lethal
Shareable: Speed, Accuracy, Perception, Cruel, Critical Damage, Offense

Stats Allocation

Weapon (ATK)
Helmet (HP)
Shield (DEF)
Gauntlets (C.RATE / C.DMG)
Chestplate (ATK%)
Boots (SPD)
Ring (ATK)
Amulet (C.DMG)
Banner (ACC / ATK)

Stats Priority

PvE: ATK%, C.RATE, C.DMG, SPD, ACC
PvP: ATK%, C.RATE, C.DMG, SPD
Galek Mastery Guide
Arena, Doom Tower, Faction Wars
Offense

Deadly Precision
Keen Strike
Shield Breaker
Whirlwind of Death
Ruthless Ambush
Cycle of Violence
Kill Streak
Blood Shield
Flawless Execution

Support

Pinpoint Accuracy
Exalt in Death
Swarm Smiter
Lore of Steel
Evil Eye
Master Hexer
Campaign, Clan Boss, Dungeons
Offense

Deadly Precision
Keen Strike
Heart of Glory
Whirlwind of Death
Single Out
Cycle of Violence
Bring it Down
Methodical
Kill Streak
Warmaster

Support

Pinpoint Accuracy
Exalt in Death
Arcane Celerity
Lore of Steel
Master Hexer
Galek Champion Lore
Galek was raised in a world of violence. His father, Artak, espoused a campaign of revanchism against the Banner Lords of Kaerok. His mission was to reclaim, with blood and war, all the lands the Humans had stolen from the Orcs during the Red Crusade, many centuries in the past. Artak's quest dominated every aspect of the clan's life, and the young were praised only for their aggression and prowess in battle.
Galek grew up as a quiet and introspective youth, and many mistook his silence for shyness. He rarely partook in revelry or raucous celebration, instead favoring books at home or listening to the tales of the clan's Cantadella – a song-keeper tasked with remembering the histories of the Orcs and the Gaellen Pact. On this steady diet of knowledge and history, Galek had difficulty navigating the politics of his clan. His mother, Arax, only made it harder.
Arax was the Cantadella of an Orc clan from the northern realm of Frostheim — the Humans of that mountainous kingdom had far friendlier relations with the Orc clans living on their lands. The revanchism that had so poisoned Artak and his allies could find no grip in the Orcs of Frostheim, nor in Arax. She had married Artak to cement an alliance, though there were whispers she had been sent to try to temper Artak's rage. She did not succeed with her husband, but her son proved more pliable. From her, Galek learned the value of life, patience, and perspective, and he sought to avoid partaking in war. Galek's peers found his values repulsive. As firstborn of the clan's warlord, skill in battle was expected of him, and they punished him for any lapses. Fortunately, Galek bore incredible strength in his blood, and learned quickly from the brutal attacks from his 'friends'. It did not take long for Galek to grow into the finest warrior in the clan, second only to his father.
Then Galek's mother passed on, and there was no one left to protect him from the cycle of war he had tried to avoid all his life. Artak was quick to draw Galek onto the battlefield, but with every step Galek felt his true self slipping away. Fortunately for him, there were higher powers at play, and dreams of a golden woman with hair as red as his own changed his life forever.
Galek Videos
Raid Shadow Legends Galek Champion Guide by ASH