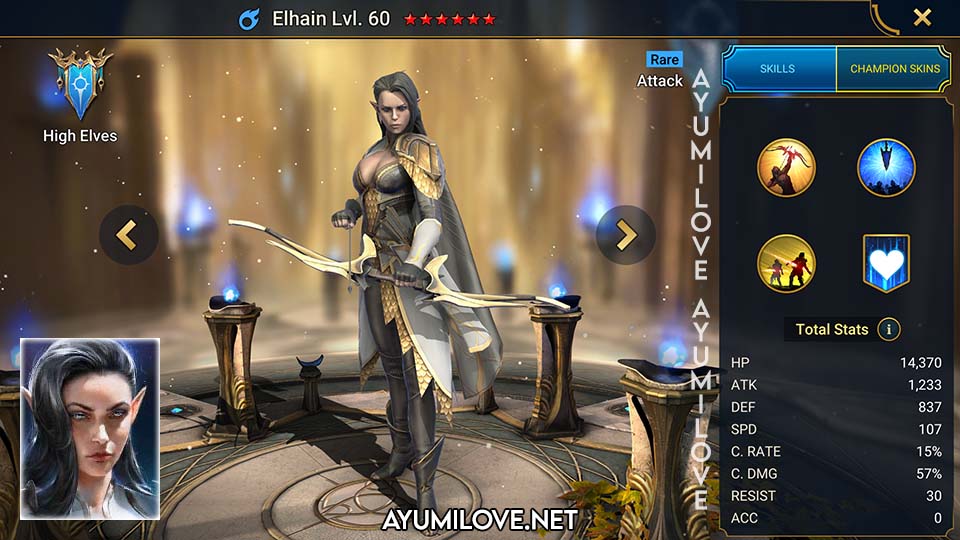 Overview

NAME: Elhain
FACTION: High Elves
RARITY: Rare
ROLE: Attack
AFFINITY: Magic
RANK: A
USABILITY: Early-Mid Game
TOMES: 13 (A1 A2 A3)

Abilities

RSL_AllBattles_HpAura
RSL_Self_IncreaseCriticalRate_30%

Obtain from

Mystery Shard
Ancient Shard
Primal Shard
Starter Champion

Blessings Recommendation

Phantom Touch (Damage Dealer)

Grinding

★★★★★ Campaign
★★★★★ Arena Defense
★★★★★ Arena Offense
★★✰✰✰ Clan Boss
★★✰✰✰ Hydra
★★★★★ Faction Wars

Dungeons

★★★★✰ Minotaur
★★★★✰ Spider
★★★✰✰ Fire Knight
★★★★✰ Dragon
★★★★✰ Ice Golem
★✰✰✰✰ Iron Twins
★✰✰✰✰ Sand Devil
★★✰✰✰ Phantom Shogun

Potion

★★★★✰ Arcane Keep
★★★★✰ Void Keep
★✰✰✰✰ Force Keep
★★★★✰ Spirit Keep
★★★★✰ Magic Keep

Doom Tower

★★★★★ Floors
★★★✰✰ Magma Dragon
★★✰✰✰ Nether Spider
★★★✰✰ Frost Spider
★✰✰✰✰ Scarab King
★★★✰✰ Celestial Griffin
★✰✰✰✰ Eternal Dragon
★✰✰✰✰ Dreadhorn
★★★✰✰ Dark Fae
Elhain Skills
Keen Shot
Attacks 1 enemy. Places an extra hit if this attack is critical.
Level 2: Damage +5%
Level 3: Damage +5%
Level 4: Damage +5%
Level 5: Damage +5%
Damage Multiplier: 2.2 ATK
Lightning Arrow (Cooldown: 5 turns)
Attacks 1 enemy, then all enemies. Has an extra 15% chance of inflicting a critical hit. Places a 30% [Increased C.RATE] buff on this champion for 3 turns if a target is killed.
Level 2: Damage +5%
Level 3: Damage +5%
Level 4: Damage +5%
Level 5: Damage +5%
Level 6: Cooldown -1
Damage Multiplier: 3.65 ATK + 2.05 ATK (AoE)
Valley of Death (Cooldown: 3 turns)
Attacks all enemies 2 times.
Level 2: Damage +5%
Level 3: Damage +5%
Level 4: Damage +5%
Level 5: Damage +10%
Damage Multiplier: 1.9 ATK
Aura
Increases Ally HP in all battles by 15%.
Elhain Equipment Guide
Arena, Campaign, Clan Boss, Dungeons, Doom Tower, Faction Wars

Recommended Artifacts

PvE: Lifesteal, Bloodthirst
PvP: Savage, Lethal
Shareable: Speed, Cruel, Critical Damage, Critical Rate, Fatal, Offense

Stats Allocation

Weapon (ATK)
Helmet (HP)
Shield (DEF)
Gauntlets (C.RATE / C.DMG)
Chestplate (ATK%)
Boots (SPD)
Ring (ATK)
Amulet (C.DMG)
Banner (ATK)

Stats Priority

PvE & PvP: ATK%, C.RATE, C.DMG, SPD
Elhain Mastery Guide
Arena, Doom Tower, Faction Wars
Offense

Deadly Precision
Keen Strike
Shield Breaker
Whirlwind of Death
Ruthless Ambush
Cycle of Violence
Kill Streak
Blood Shield
Flawless Execution

Defense

Defiant
Improved Parry
Bloodthirst
Delay Death
Stubborness
Retribution
Campaign, Clan Boss, Dungeons
Offense

Deadly Precision
Keen Strike
Heart of Glory
Whirlwind of Death
Single Out
Cycle of Violence
Bring it Down
Kill Streak
Methodical
Warmaster

Defense

Defiant
Improved Parry
Bloodthirst
Delay Death
Retribution
Elhain Review
Elhain, a Magic affinity rare champion from the High Elves faction in Raid Shadow Legends. She is one of the 4 starter champions (Athel, Kael, Galek) that you can select before you begin your game! Dark Elhain is her successor who can only be obtained from Daily Login Rewards, and Supreme Elhain is obtained from participating in the Raid's 4th Anniversary Fragment Fusion Champion event!
In the opening scene, Elhain unfortunately becomes the victim of the Dragon's attack. If you're considering reviving her, it's important to note that she excels in the arena due to her powerful attack, but that's her main strength. With her AoE nuke, she is best utilized to clear mobs of enemies rather than for boss raiding.
Elhain is considered the weakest among the four starter champions primarily because she lacks strong debuffs against enemies. However, she compensates for it with her high damage output, making her quite effective in that aspect. If you're aiming to build her as a well-rounded champion, it's recommended to focus on offensive and defensive masteries since accuracy isn't crucial for her. In most situations, choosing Warmaster as her mastery is generally the best option.
Elhain Champion Lore
Succession is of paramount importance to any kingdom, and the Kingdom of Aravia was no exception. However, unlike Aravia's neighbors, Kaerok and Frostheim, the monarchs of the Elves had the power to choose their successors. Often they picked one of their children, but in cases where they had none to choose from, or when those children rendered themselves somehow unsuitable, the ruling monarch could select an individual who they felt was fit to take the throne. So it was for Queen Eva and her niece, Elhain.
Elhain had always had the eye of her royal aunt, Queen Eva, who had an interminable hand in her upbringing, for the Queen had no children of her own. Eva chose wisely: Elhain's immeasurable gifts and intelligence grew as she did, and Elhain was an intense scholar, even from a very young age. She was often found reading even late into the night, the subjects of her studies ranging from playful stories to ancient histories.
Believing that Elhain's deep desire to learn was a mark of great things to come, Queen Eva expanded Elhain's tutelage. Elhain took quickly to magic and martial arts, particularly archery, but she remained a scholar at heart, and her chief interest became something unpalatable to most of her tutors: the schism between the High Elves and the Dark Elves.
When the Queen began grooming Elhain for leadership and suggesting that she could declare Elhain her successor, Elhain took her studies beyond the pages of the books she read. Instead of merely wishing to learn more about the War of the Elves, she began to wonder if there might not be something that could be done.
Leaning on her royal aunt for support, Elhain scoured the libraries and archives of Aravia to retrieve any records or accounts of the War of the Elves. She sought to understand the Dark Elves, but not simply so that she might better know her enemy — it was so she could turn them into a friend. The Queen approved of Elhain's quest, but, like all High Elves, she had her doubts. She could never have imagined how far Elhain's mission would take her.
Elhain Videos
Raid Shadow Legends Elhain Champion Guide by ASH
Raid Shadow Legends Elhain Champion Guide by Tyrauku
Raid Shadow Legends Elhain Champion Guide by Skratch
Raid Shadow Legends Elhain Champion Guide by StewGaming