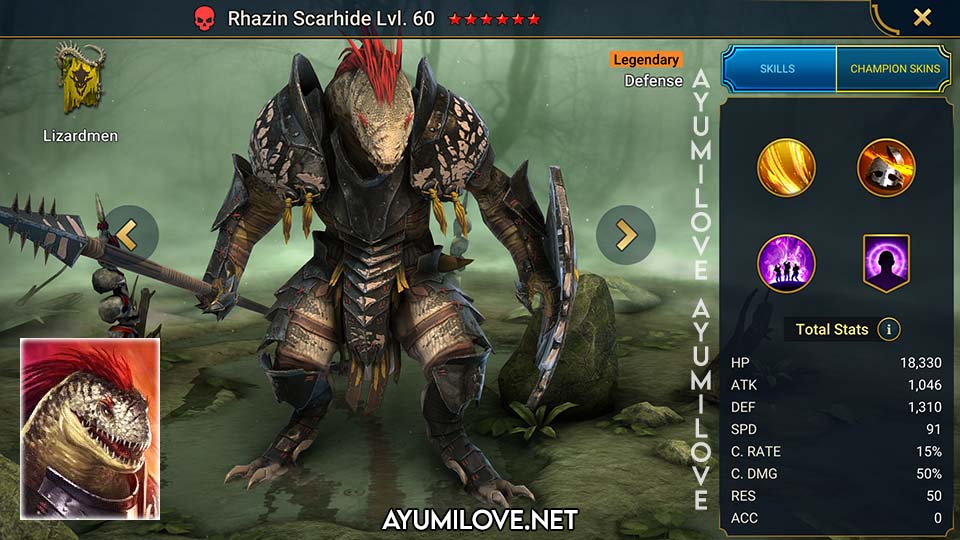 Overview

NAME: Rhazin Scarhide
FACTION: Lizardmen
RARITY: Legendary
ROLE: Defense
AFFINITY: Force
RANK: A
USABILITY: Mid-Late Game
TOMES: 12 (A1 A2 A3)

Abilities

RSL_AoE_DecreaseTurnMeter
RSL_Arena_ResistAura
RSL_Target_DecreaseDefense_60%
RSL_Target_RemoveBuffs
RSL_Target_Weaken_25%

Obtain from

Ancient Shard
Sacred Shard
Primal Shard
Rhazin Scarhide Fusion

Blessings Recommendation

Brimstone (Clan Boss)
Temporal Chains (Arena Defense)

Grinding

★★★★✰ Campaign
★★★★★ Arena Defense
★★★★✰ Arena Offense
★★★★★ Clan Boss
★★✰✰✰ Hydra
★★★★★ Faction Wars

Dungeons

★★★★✰ Minotaur
★★★★✰ Spider
★★★★★ Fire Knight
★★★★✰ Dragon
★★★★✰ Ice Golem
★★✰✰✰ Iron Twins
★★★✰✰ Sand Devil
★★★✰✰ Phantom Shogun

Potion

★★★★★ Arcane Keep
★★★★✰ Void Keep
★★★★★ Force Keep
★★★✰✰ Spirit Keep
★★★★★ Magic Keep

Doom Tower

★★★★✰ Floors
★★★★✰ Magma Dragon
★★★✰✰ Nether Spider
★★★✰✰ Frost Spider
★★★★★ Scarab King
★★★★✰ Celestial Griffin
★★✰✰✰ Eternal Dragon
★✰✰✰✰ Dreadhorn
★★★✰✰ Dark Fae
Rhazin Scarhide Skills
Bone Sword
Attacks 1 enemy 3 times. Has a 20% chance of removing 1 random buff from the target.
Level 2: Damage +10%
Level 3: Damage +15%
Level 4: Buff/Debuff Chance +10%
Level 5: Buff/Debuff Chance +15%
Damage Multiplier: 1.5 DEF
Shear (Cooldown: 4 turns)
Attacks 1 enemy. Has a 75% chance of placing a 60% [Decrease DEF] debuff and a 25% [Weaken] debuff for 2 turns.
Level 2: Damage +10%
Level 3: Buff/Debuff Chance +10%
Level 4: Damage +10%
Level 5: Buff/Debuff Chance +15%
Level 6: Cooldown -1
Damage Multiplier: 6 DEF
Bog Down (Cooldown: 7 turns)
Attacks all enemies. Decrease the Turn Meter by 100%.
Level 2: Damage +10%
Level 3: Damage +15%
Level 4: Cooldown -1
Damage Multiplier: 4 DEF
Aura
Increases Ally RESIST in Arena battles by 90.
Rhazin Scarhide Equipment Guide
Arena, Doom Tower, Faction Wars
Campaign, Clan Boss, Dungeons

Recommended Artifacts

2 Defense Set, 1 Speed Set

Recommended Artifacts

1 Lifesteal Set, 1 Accuracy Set

Recommended Stats

DEF%, C.RATE, C.DMG, SPD, ACC
Weapon (ATK)
Helmet (HP)
Shield (DEF)
Gauntlets (C.RATE)
Chestplate (DEF%)
Boots (SPD)
Ring (DEF)
Amulet (C.DMG)
Banner (ACC)

Recommended Stats

DEF%, HP%, SPD, ACC
Weapon (ATK)
Helmet (HP)
Shield (DEF)
Gauntlets (DEF% / HP%)
Chestplate (DEF% / HP% / ACC)
Boots (SPD)
Ring (DEF / HP)
Amulet (DEF / HP)
Banner (ACC)
Rhazin Scarhide Mastery Guide
Arena, Campaign, Clan Boss, Dungeons, Doom Tower, Faction Wars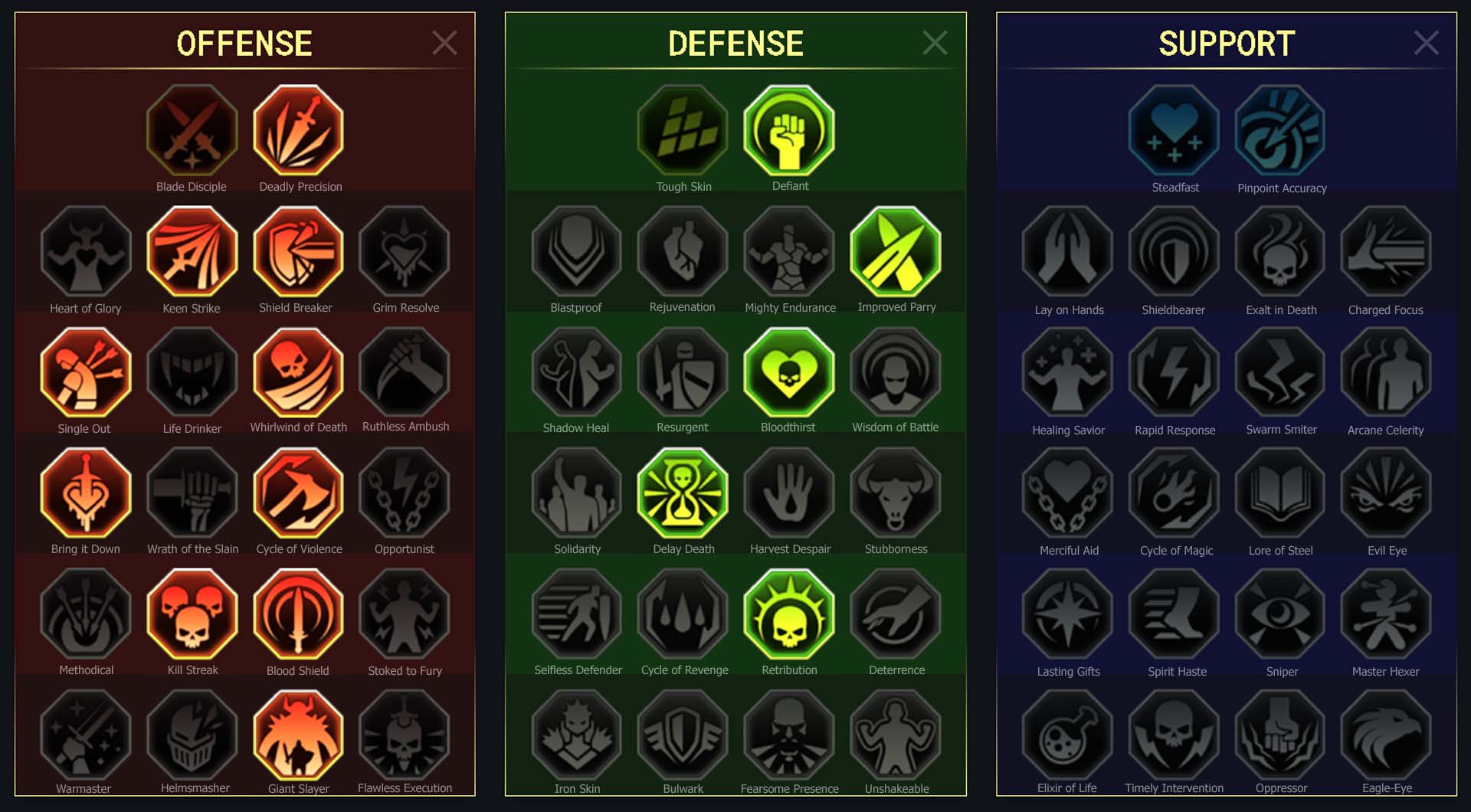 Offense

Deadly Precision
Keen Strike
Shield Breaker
Whirlwind of Death
Single Out
Bring it Down
Cycle of Violence
Kill Streak
Blood Shield
Giant Slayer

Defense

Defiant
Improved Parry
Bloodthirst
Delay Death
Retribution
Clan Boss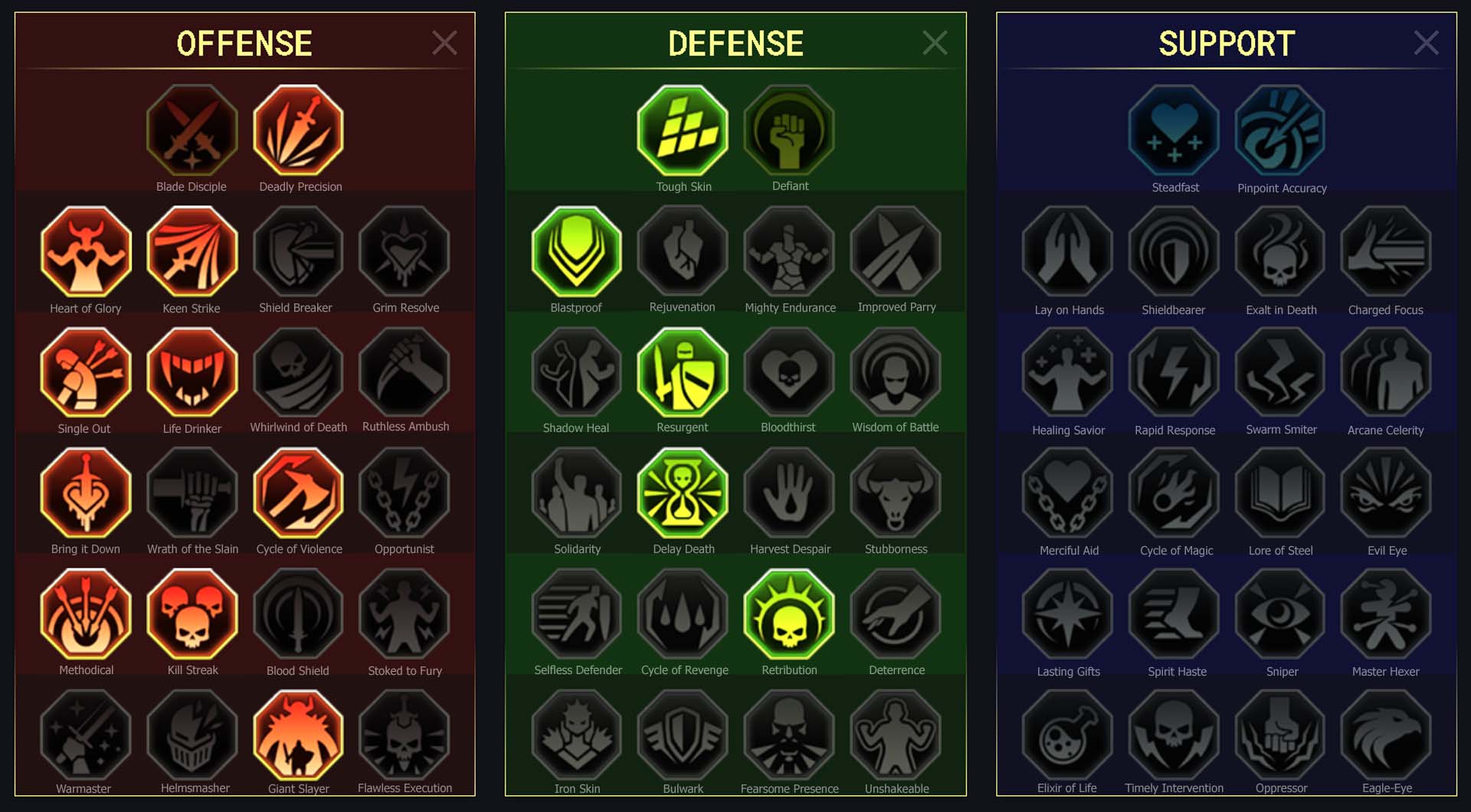 Offense

Deadly Precision
Keen Strike
Hart of Glory
Single Out
Life Drinker
Cycle of Violence
Bring it Down
Kill Streak
Methodical
Giant Slayer

Defense

Tough Skin
Blastproof
Resurgent
Delay Death
Retribution
Rhazin Scarhide Champion Lore
Deep in the Sorrowlakes, home of the Lizardmen, there is a ruin. lt's barely even that – little remains of it beyond flat land and old stones. The swamps have swallowed most of it, and the jungle has overgrown much of the rest. Without a guide, the place largely resembles an empty field. This ruin is the City of Lost Dreams. It was torn down to the foundations, and even those were pried out of the mud to fill its canals. The city has been erased, in everything but memory. But the memory remains, and its story begins with Rhazin Scarhide.
Rhazin Scarhide was a clan lord. He was cunning, charming, and blessed with the companionship of a Dracomorph, but what made him a legend was simpler: he was in the right place, at the right time, and he was intelligent enough to realize it. The Red Crusade had caused the Sorrowlakes to be flooded with hundreds of thousands of Orc, Skinwalker, Ogryn, and Lizardmen refugees from Anhelt. Those Lizardmen clans that resisted the influx were quickly overwhelmed, but Rhazin invited the newcomers to his lands. He sent emissaries to tent-cities and villages, offering an opportunity: build. Build a home that was theirs.
The City of Dreams, as it was later called, became a metropolis in less than five years. Rough canals were smoothed out, then expanded. Tents became houses, then houses became apartments. Sewers appeared, then temples, then workshops, then foundries. The city became an example, then later a promise, of multiracial cooperation. That promise ultimately took the form of a document, drafted by Rhazin Scarhide: the Gaellen Pact.
The Pact wasn't just about building a better home for many, however. It was a dream of vengeance, too. The Gaellens were deeply scarred by the Red Crusade, and too many carried the fires of hate in their hearts for them to find lasting peace. And so it was that Rhazin Scarhide was approached by a group of the most influential warlords of the Sorrowlakes. They wanted to command a unified army of the Gaellen Pact. They wanted a war against the peoples of Anhelt, and they wanted a Warclave to lead the Gaellens in it.
Rhazin knew this Gaellen Warclave would be formed, with or without him, the desire for war was too great. If he refused, it could spark a schism in the city, perhaps even a civil war – Rhazin's voice held too much sway. He was not convinced that the invasion would succeed even with a unified Gaellen Pact, but he knew it would fail otherwise. 80 he made the only choice he felt he could: he agreed, with his full support. It was not enough.
Rhazin did everything in his power to ensure that the Warclave had all the resources that the Sorrowlakes could bring to bear. Ships. Weapons. Food. Medicine. Cooks. Mages. Engineers. Plans. While fighting raged in Anhelt, Rhazin converted the City of Dreams into an engine of war. But, after seven years of struggle, the Gaellen invasion of Kaerok was broken. There was nothing left for Rhazin to do but wait for the inevitable retaliation. He did not have to wait long. Princess Scyl of Frostheim came leading a combined force of High Elves, Banner Lords, Frostheim warriors, and Sacred Order knights, and they hit the shores of the Sorrowlakes like a hammer. All too quickly the army was at the edges of the City of Dreams.
The city had no walls. Its boundaries had expanded too rapidly for them to be built — Rhazin's dream had grown too quickly. Hastily erected barricades were no match against the fury of the Telerian League, and the city's defenders were swiftly overwhelmed. Tens of thousands of Gaellens were killed in the slaughter that followed. Survivors were driven into the jungles, but even though many Gaellens escaped, their ambition was as lost as the city. The City of Dreams had been more than an economic hub — it had been their promise of a better future. And it was lost.
As for Rhazin Scarhide, he never emerged. Legends say he died in a duel with Princess Scyl, but most who know the details of the historical record suspect it would have been execution more than battle — Scyl was a warrior in her prime, while Rhazin was close to the end of his years. Nevertheless, neither of them were ever seen again. In the centuries that followed, the Gaellens stopped waiting for Rhazin to reappear. Most have given up hope. But, while Rhazin Scarhide might be gone, his memory is immortal. Anyone can build — all they need is a dream. Perhaps someday the Gaellen Pact will find it again.
Rhazin Scarhide Updates
Rhazin Scarhide Videos
Raid Shadow Legends Rhazin Scarhide Champion Guide by ASH
Raid Shadow Legends Rhazin Scarhide Champion Guide by Cold Brew Gaming
Raid Shadow Legends Rhazin Scarhide Champion Guide by Chofly
Raid Shadow Legends Rhazin Scarhide Champion Guide by StewGaming
Raid Shadow Legends Rhazin Scarhide Champion Guide by Pylyp
Champion Name Reference
English: Rhazin Scarhide
French: Rhazin Peaumarquée
Deutsch:
Italian:
Spanish:
Chinese:
Korean:
Japanese:
Ukranian:
Russian:
Turkish:
Portuguese: