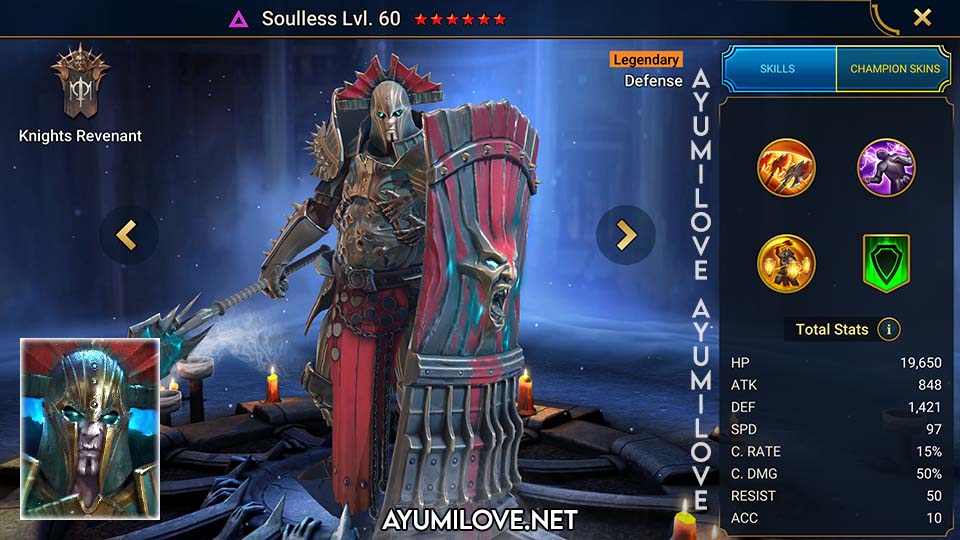 Overview

NAME: Soulless
FACTION: Knights Revenant
RARITY: Legendary
ROLE: Defense
AFFINITY: Void
RANK: A
USABILITY: Mid-Late Game
TOMES: 12 (A1 A2 A3)

Total Stats (6★)

Health Points (HP): 19,650
Attack (ATK): 848
Defense (DEF): 1,421
Speed (SPD): 97
Critical Rate (C.RATE): 15%
Critical Damage (C.DMG): 50%
Debuff Resistance (RESIST): 50
Debuff Accuracy (ACC): 10

Obtain from

Void Shard

Grinding

★★★★★ Campaign
★★★★★ Arena Defense
★★★★★ Arena Offense
★✰✰✰✰ Clan Boss
★★★★★ Faction Wars

Dungeons

★★★★★ Minotaur
★★★✰✰ Spider
★★✰✰✰ Fire Knight
★★★★✰ Dragon
★★★★★ Ice Golem

Potion

★★★★✰ Arcane Keep
★★★★✰ Void Keep
★★★★✰ Force Keep
★★★★★ Spirit Keep
★★★★★ Magic Keep

Doom Tower

★★★★★ Floors
★★★★★ Magma Dragon
★✰✰✰✰ Nether Spider
★✰✰✰✰ Frost Spider
★✰✰✰✰ Scarab King
★✰✰✰✰ Celestial Griffin
★✰✰✰✰ Eternal Dragon
★✰✰✰✰ Dreadhorn
★✰✰✰✰ Dark Fae
Soulless Skills
Bewildering Blow [DEF]
Attacks 1 enemy. Has a 35% chance of placing a [Stun] debuff for 1 turn.
Level 2: Damage +5%
Level 3: Damage +5%
Level 4: Damage +10%
Level 5: Buff/Debuff Chance +15%
Damage Multiplier: 2.8 DEF
Wave of Despair [DEF] (Cooldown: 3 turns)
Attacks 3 times at random. Each hit has a 75% chance to remove a buff. Places a [Provoke] debuff for 1 turn if a buff is removed.
Level 2: Damage +10%
Level 3: Buff/Debuff Chance +10%
Level 4: Damage +10%
Level 5: Buff/Debuff Chance +15%
Damage Multiplier: 1.8 DEF
Reign of Terror [DEF] (Cooldown: 5 turns)
Attacks all enemies. Increases the duration of all debuffs on each target by 1 turn, then places a [Provoke] debuff on all enemies for 1 turn. Places a [Shield] buff on this Champion for 2 turns equal to 30% of damage inflicted. Damage increases by 10% for each debuff on the target.
Level 2: Damage +10%
Level 3: Shield +10%
Level 4: Shield +10%
Level 5: Cooldown -1
Damage Multiplier: 4.9 DEF
Aura
Increases Ally DEF in Faction Crypts by 44%.
Soulless Equipment Guide
Arena, Campaign, Clan Boss, Dungeons, Doom Tower, Faction Wars

Recommended Artifacts

Savage, Frostbite, Frost, Retaliation, Accuracy, Perception, Speed, Defense

Stats Allocation

Weapon (ATK)
Helmet (HP)
Shield (DEF)
Gauntlets (C.RATE / C.DMG)
Chestplate (DEF%)
Boots (SPD)
Ring (DEF)
Amulet (C.DMG)
Banner (ACC / DEF)

Stats Priority

DEF%, C.RATE, C.DMG, SPD, ACC
Soulless Mastery Guide
Arena, Campaign, Clan Boss, Dungeons, Doom Tower, Faction Wars
Defense

Deadly Precision
Keen Strike
Shield Breaker
Ruthless Ambush
Single Out
Cycle of Violence
Bring it Down
Kill Streak
Helmsmasher

Defense

Tough Skin
Blastproof
Resurgent
Delay Death
Retribution
Deterrence
Soulless Storyline
The Soulless was a mortal King of Luzand, the city where the K'leth death cult is said to have been founded thousands of years ago. Desiring to rule Luzand indefinitely, he locked his soul to the Shield of Despair – the Luzandian symbol of royal power. At that moment the cursed city of Luzand and all its people were swallowed by the sand, leaving only their King alive. The Soulless wanders still, with no soul but his shield, reigning over none but his forsaken self…
Soulless Updates
Soulless Videos
Skratch: Soulless Champion Spotlight | Summoned and built the Best Void Nuker
Tyrauku: Battle of The Titans Soulless vs Hurndig MASSIVE Damage Dealers | Who Wins?
Cold Brew Gaming: Soulless is Not Broken! Champion Showcase