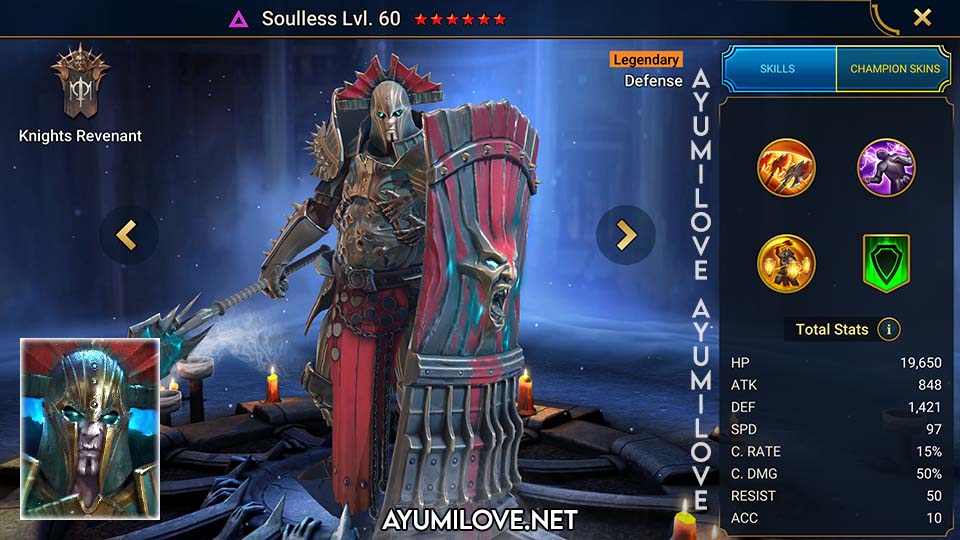 Overview

NAME: Soulless
FACTION: Knights Revenant
RARITY: Legendary
ROLE: Defense
AFFINITY: Void
RANK: A
USABILITY: Mid-Late Game
TOMES: 12 (A1 A2 A3)

Abilities

RSL_AoE_IncreaseDebuffDuration_All
RSL_AoE_Provoke
RSL_Faction_DefenseAura
RSL_Random_RemoveBuffs
RSL_Self_Shield
RSL_Target_Stun

Obtain from

Void Shard

Blessings Recommendation

Brimstone (Debuffer)
Lightning Cage (Arena)
Ward of the Fallen (Tank)

Grinding

★★★★★ Campaign
★★★★★ Arena Defense
★★★★★ Arena Offense
★✰✰✰✰ Clan Boss
★★★✰✰ Hydra
★★★★★ Faction Wars

Dungeons

★★★★★ Minotaur
★★★✰✰ Spider
★★✰✰✰ Fire Knight
★★★★✰ Dragon
★★★★★ Ice Golem
★★✰✰✰ Iron Twins
★✰✰✰✰ Sand Devil
★★✰✰✰ Phantom Shogun

Potion

★★★★✰ Arcane Keep
★★★★✰ Void Keep
★★★★✰ Force Keep
★★★★★ Spirit Keep
★★★★★ Magic Keep

Doom Tower

★★★★★ Floors
★★★★★ Magma Dragon
★✰✰✰✰ Nether Spider
★★★★✰ Frost Spider
★★★✰✰ Scarab King
★★★✰✰ Celestial Griffin
★★★★✰ Eternal Dragon
★★✰✰✰ Dreadhorn
★★★★✰ Dark Fae
Soulless Skills
Bewildering Blow
Attacks 1 enemy. Has a 35% chance of placing a [Stun] debuff for 1 turn.
Level 2: Damage +5%
Level 3: Damage +5%
Level 4: Damage +10%
Level 5: Buff/Debuff Chance +15%
Damage Multiplier: 2.8 DEF
Wave of Despair (Cooldown: 3 turns)
Attacks 3 times at random. Each hit has a 75% chance to remove a buff. Places a [Provoke] debuff for 1 turn if a buff is removed.
Level 2: Damage +10%
Level 3: Buff/Debuff Chance +10%
Level 4: Damage +10%
Level 5: Buff/Debuff Chance +15%
Damage Multiplier: 1.8 DEF
Reign of Terror (Cooldown: 5 turns)
Attacks all enemies. Increases the duration of all debuffs on each target by 1 turn, then places a [Provoke] debuff on all enemies for 1 turn. Places a [Shield] buff on this Champion for 2 turns equal to 30% of damage inflicted. Damage increases by 10% for each debuff on the target.
Level 2: Damage +10%
Level 3: Shield +10%
Level 4: Shield +10%
Level 5: Cooldown -1
Damage Multiplier: 4.9 DEF
Aura
Increases Ally DEF in Faction Crypts by 44%.
Soulless Equipment Guide
Arena, Campaign, Clan Boss, Dungeons, Doom Tower, Faction Wars

Recommended Artifacts

PvE: Lifesteal, Defense
PvP: Savage, Frostbite, Frost, Retaliation
Shareable: Accuracy, Perception, Speed

Stats Allocation

Weapon (ATK)
Helmet (HP)
Shield (DEF)
Gauntlets (C.RATE / C.DMG)
Chestplate (DEF%)
Boots (SPD)
Ring (DEF)
Amulet (C.DMG)
Banner (ACC / DEF)

Stats Priority

PvE: ACC, SPD, DEF%, C.RATE
PvP: DEF%, C.RATE, C.DMG, SPD, ACC
Soulless Mastery Guide
Arena, Campaign, Clan Boss, Dungeons, Doom Tower, Faction Wars
Defense

Deadly Precision
Keen Strike
Shield Breaker
Ruthless Ambush
Single Out
Cycle of Violence
Bring it Down
Kill Streak
Helmsmasher

Defense

Tough Skin
Blastproof
Resurgent
Delay Death
Retribution
Deterrence
Soulless Champion Lore
The being now known only as the Soulless was once known as Sir Ector. A stern and strong knight of the Free City of Delanos, Sir Ector became a member of the Cult of K'Leth during its early years and rose quickly to the inner circle of the Knights Revenant. Though not a cruel or vindictive man, Ector believed in the hierarchical nature of his society and that low-borns should know their place, a stance that made him a natural fit among the higher ranks of the Cult.
For hundreds of years Sir Ector lived as a Knight Revenant, his soul being transposed into a new body as the last grew old, sick, or battle-injured. A tireless warrior, Ector was regarded highly by his fellow Knights Revenant — not only for his skill in combat, but for his generalship and strategic wit and vision. Often the first choice as leader when the Cult of K'Leth was forced to do battle, his rise to prominence might well have continued were it not for the infamous Battle of Mournsorrow. The Aravian authorities learned that the Cult had made the forlorn site, in an untamed land, a stronghold, and dispatched a force to drive it out. Their attack came at the time when a number of Knights were going through the critical stages of a soul transposition ceremony. Sir Ector was among them. Cultists fell to Elven spears and swords. Elves were hacked down with Cult axes and cudgels. Were it not for the ruthless cool of the Soul Shepherd leading the ceremony, who rallied the Cultists and organized the defense against the surprise attack, the Elves would surely have been victorious.
Despite the Cult's victory, the damage done by the interruption to Ector and the other Knights Revenant was devastating. Caught during mid-transference, their souls failed to lodge properly in their new host bodies. The other Knights Revenant perished, but Ector clung on to life, a sliver of his being having successfully pierced the essence of his new host. But while he was able to draw slowly back from the brink of death, he found himself forever changed.
Sir Ector was no more. Most of his soul was gone. He had only the vaguest memories of his past, just ghostly half-recollections that he feared were mere products of his imagination. From that day forth, the Knight Revenant once known as Sir Ector became known as the Soulless. The draining of so much of Ector's soul has left little of the former man behind. But some still remains: his disdain for those he considers his lessers can be heard in his miserable ramblings, and he has lost none of his combat prowess. Even so, his existence is one with little emotion, a gray and desolate realm of which he is a lonely king. Free of emotion, immune to pain, and protected by his heavy enchanted armor, Ector is immovable on the battlefield, and he gives his mountain-like defense a wicked edge with the hacking of his great war ax.
The bitter existence of the Soulless is alleviated only when he can claim the souls of others, often in the midst of battle — then he can experience second-hand those last fleeting sensations of raw emotion, potent draughts of fear and terror. In an effort to feast on these feelings and regain the emotions he has lost, he distorts soul gem magic to snare and imprison the souls of his foes into his weapons and armor, snagging them during combat and storing them up to experience their feelings at his leisure. Their tormented agony is still visible in the warped faces and clawing hands that adorn his shield and breastplate, their horror-stricken images feeding the Soulless and reminding him that, against the odds, he still lives and can still feel. The spirits he binds within his armor fade over time, and so the Soulless finds himself on an eternal quest, collecting the darkest of emotions as he tries in vain to fill his meaningless existence.
Soulless Storyline
The Soulless was a mortal King of Luzand, the city where the K'leth death cult is said to have been founded thousands of years ago. Desiring to rule Luzand indefinitely, he locked his soul to the Shield of Despair – the Luzandian symbol of royal power. At that moment the cursed city of Luzand and all its people were swallowed by the sand, leaving only their King alive. The Soulless wanders still, with no soul but his shield, reigning over none but his forsaken self…
Soulless Updates
Soulless Videos
Skratch: Soulless Champion Spotlight | Summoned and built the Best Void Nuker
Tyrauku: Battle of The Titans Soulless vs Hurndig MASSIVE Damage Dealers | Who Wins?
Cold Brew Gaming: Soulless is Not Broken! Champion Showcase