Overview

NAME: Astralon
FACTION: Sacred Order
RARITY: Legendary
ROLE: Attack
AFFINITY: Magic
RANK: B
USABILITY: Situational
TOMES: 13 (A2 A3)

Abilities

RSL_AoE_RemoveBuff
RSL_AoE_Stun
RSL_AoE_Weaken_25%
RSL_Random_Revive
RSL_Self_IncreaseTurnMeter
RSL_Self_Shield
RSL_Target_DecreaseDefense_60%
RSL_Target_IgnoreBuff

Obtain from

Ancient Shard
Sacred Shard
Astralon Fusion

Grinding

★★★★✰ Campaign
★★★★✰ Arena Defense
★★★★★ Arena Offense
★★✰✰✰ Clan Boss
★★★★★ Faction Wars

Dungeons

★★★★✰ Minotaur
★★★★✰ Spider
★★★✰✰ Fire Knight
★★★★✰ Dragon
★★★★✰ Ice Golem

Potion

★★★★✰ Arcane Keep
★★★★✰ Void Keep
★★★✰✰ Force Keep
★★★★✰ Spirit Keep
★★★★✰ Magic Keep

Doom Tower

★★★★★ Floors
★★★★✰ Magma Dragon
★★★★✰ Nether Spider
★★★✰✰ Frost Spider
★★✰✰✰ Scarab King
★★★★✰ Celestial Griffin
★★★★✰ Eternal Dragon
★✰✰✰✰ Dreadhorn
★★★★★ Dark Fae
Astralon Skills
Hellbinder [ATK]
Attacks 1 enemy 2 times. Has a 30% chance of placing a 60% [Decrese DEF] debuff for 2 turns. Countess Lix will team up and join the attack if they are in the same team. Countess Lix will use their default skill. Countess Lix will not team up on this attack if the skill is used when counterattacking or when teaming up to attack with another Champion.
Level 2: Damage +5%
Level 3: Buff/Debuff Chance +10%
Level 4: Damage +5%
Level 5: Buff/Debuff Chance +10%
Damage Multiplier: 1.7 ATK
Overall Grading: Strong
Divine Immanence [ATK] (Cooldown: 4 turns)
Attacks 1 enemy. Will ignore [Increase DEF], [Strengthen] and [Ally Protection] buffs. Revives a random ally with 40% HP and places a [Shield] buff on them equal to 20% of their MAX HP for 2 turns if this attack kills an enemy. Also places a [Shield] buff on this Champion equal to 20% of their MAX HP for 2 turns if this attack kills an enemy.
Level 2: Damage +5%
Level 3: Damage +5%
Level 4: Damage +10%
Level 5: Cooldown -1
Damage Multiplier: 5.8 ATK
Overall Grading: Godlike
Light of Sanctity [ATK] (Cooldown: 5 turns)
Remove all buffs from targets under [Veil] or [Perfect Veil] buffs, then places a 25% [Weaken] debuff on enemies who have [Veil] or [Perfect Veil] buffs removes, then attacks all enemies. Also has a 75% chance of placing a [Stun] debuff on all enemies for 1 turn.
Level 2: Damage +10%
Level 3: Damage +10%
Level 4: Buff/Debuff Chance +10%
Level 5: Buff/Debuff Chance +15%
Level 6: Cooldown -1
Damage Multiplier: 4 ATK
Overall Grading: Godlike
Emissary [Passive]
Fills this champion's turn meter by 3% every time an ally is hit. Decreases incoming damage by 25% if the attacker's ATK is lower than this Champion's.
Astralon Equipment Guide
Arena, Campaign, Clan Boss, Dungeons, Doom Tower, Faction Wars

Recommended Artifacts

Savage, Cruel, Lethal, Offense, Accuracy, Perception, Speed

Stats Allocation

Weapon (ATK)
Helmet (HP)
Shield (DEF)
Gauntlets (C.RATE)
Chestplate (ATK%)
Boots (SPD)
Ring (ATK)
Amulet (C.DMG)
Banner (ACC / ATK)

Stats Priority

ATK%, C.RATE, C.DMG, SPD, ACC
Astralon Mastery Guide
Arena, Doom Tower, Faction Wars
Offense

Deadly Precision
Keen Strike
Shield Breaker
Ruthless Ambush
Single Out
Cycle of Violence
Bring it Down
Kill Streak
Methodical
Helmsmasher

Support

Pinpoint Accuracy
Charged Focus
Swarm Smiter
Lore of Steel
Sniper
Campaign, Clan Boss, Dungeons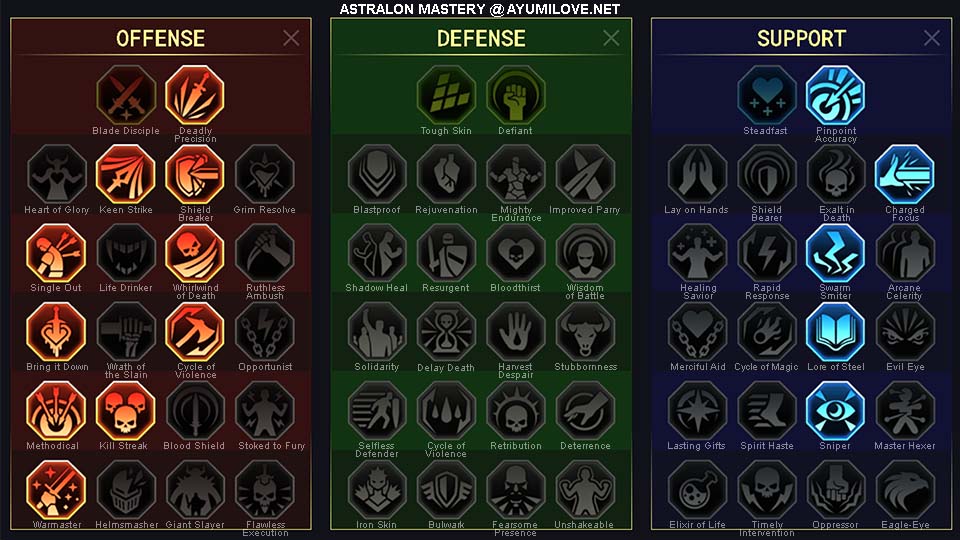 Offense

Deadly Precision
Keen Strike
Shield Breaker
Whirlwind of Death
Single Out
Cycle of Violence
Bring it Down
Kill Streak
Methodical
Warmaster

Support

Pinpoint Accuracy
Charged Focus
Swarm Smiter
Lore of Steel
Sniper
Astralon Reference
Below is a reference to the artifacts equipped on Astralon, which are Cruel Set obtained from Clan Boss daily rewards. The Cruel Sets stats prioritized for Astralon are a balance of Critical Rate, Speed, Accuracy, and Attack stats. Accuracy is required to enable Astralon to stun his enemies while a decent amount of Attack, Critical Rate, and Critical Damage enables him to deal a high amount of damage to his target! Using Cruel Set artifacts provides additional Attack stats as well as Ignore Defense capabilities, which benefits him great against high defensive champions.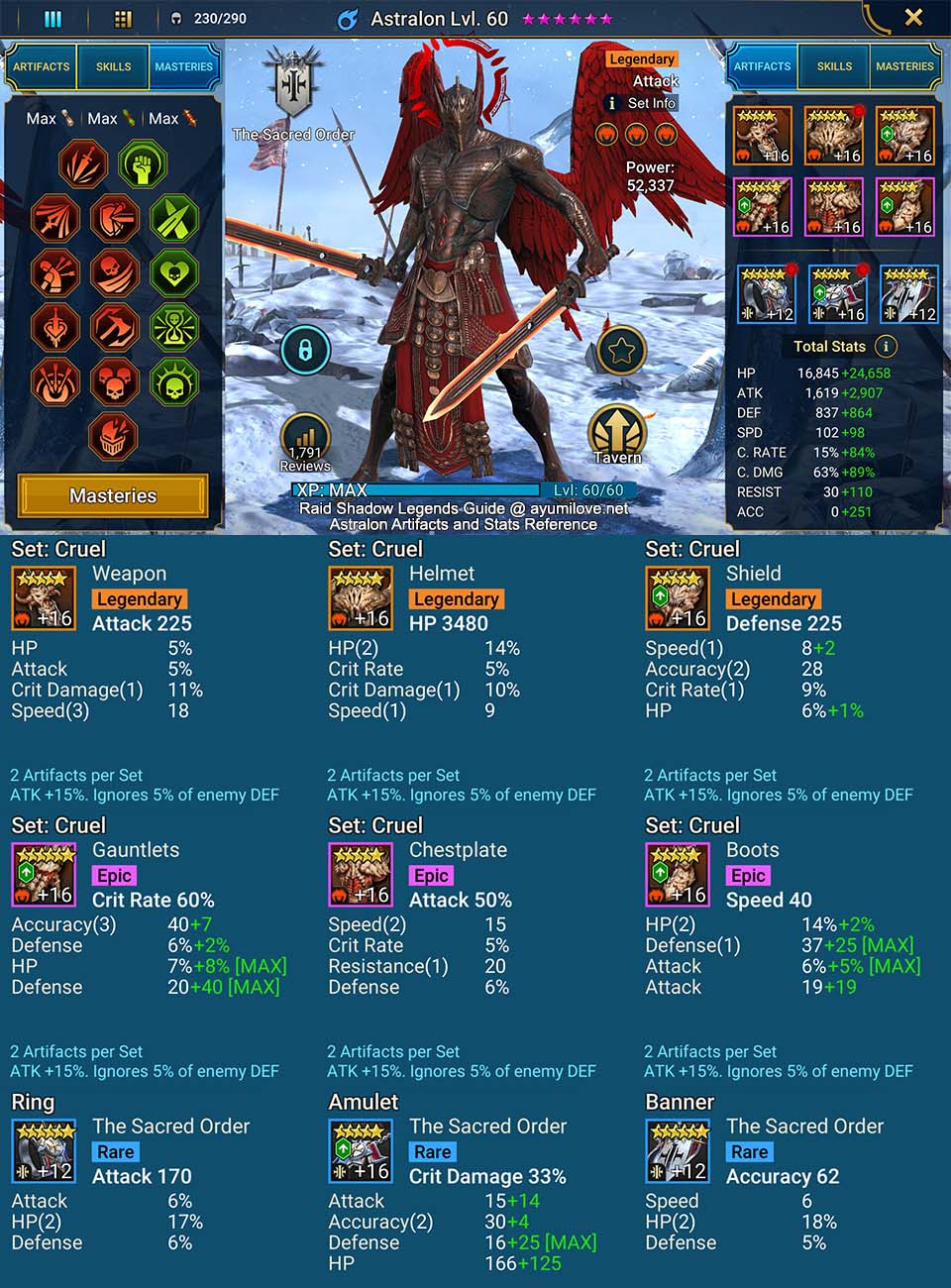 Astralon Storyline
It is known far and wide that Lumaya had created her faithful herald – the Arbiter – to serve as the protector of Teleria when she herself could not interfere in mortal affairs. Lesser known are the Champions of the young races, uplifted to immortality for their deeds, or angelic spirits brought into being to help the Arbiter fulfill her mission. Astralon is one such creature. He was the winged bearer of Lumaya's word and the bringer of righteous wrath, whose name inspired terror in the hearts of the unholy. As the Arbiter's emissary, Astralon sought out heroes worthy of joining her cause in eons past. As her Strategos, he led mighty warhosts to do battle with the vile Demonspawn of Siroth in defense of younger races. Triumphant at every turn, he knew neither fear nor doubt, and duty was all that gave him joy; yet even an angel is powerless when his heart rebels against the mind. At the height of the Great Wars – a time of realm-shattering conflict between the forces of Darkness and Light millennia ago – Astralon's army clashed with the legions of Countess Lix, the Mistress of Plagues. For months the hosts were engaged in an intricate dance of maneuver and ruse, and neither general gained an advantage over the other. Brutal skirmishes erupted across the bloodied plains, and the Demon Countess taunted Astralon in missive her imps delivered almost daily. Frustrated and impressed in equal measure, Astralon committed his warriors to the pursuit and cut deep into enemy territory. Many a trap he had evaded through cunning of his own, many battles he fought against overwhelming odds only to triumph once more. Lix too grew to respect her foe begrudgingly and brought her strongest minions against him. It was all in vain. Driven as they were by their Strategos' will, the warriors of Light proved stronger than whatever evil schemes she conjured. In the end, Astralon cornered the legions under Lix's command near the southern coast of Krokhan, and a decisive battle began. Both sides fought with vicious abandon, turning the tide of war several times before Astralon himself spearheaded the final attack that was meant to put an end to the Mistress of Plagues once and for all. Their vanguards clashed, and mighty warriors perished on both sides while Astralon and Lix crossed blades amid the swirling melee. What passed between them is lost to legend, but it is known the angel proved to be stronger and triumphed after a long duel, albeit he too suffered terrible wounds and could barely stand. At that critical moment, Astralon could not bring himself to take his adversary's life. Horrified, he realized that he had come to love the Countess over these months. Her wicked intelligence, her determination and strength, her eerie beauty struck a chord within him, and Astralon could not resist her. And yet he could not give in either, for he was a creature of Lumaya and it was his duty to protect the realms of mortals. Thus Astralon forced his defeated foe to accept a new fate – that of service to the Goddess as one of her Champions – unwilling though Lix was at first. But he too could no longer serve as he did before. Recognizing his own weakness, Astralon abandoned his place at the Arbiter's side and implored her to bind his soul to a Champion's Shard. It was the only way he believed he could atone and stay close to the creature he had come to love. To this day, Astralon nurtures a vain hope of truly redeeming Lix, while she likewise seeks to bring him into the embrace of Darkness. Neither succeeded for many thousands of years, but their twisted relationship endures – a strange alliance of sin and piety that only the mightiest of summoners can hope to bring to their cause.
Astralon Updates
Astralon Videos
Raid Shadow Legends Astralong Champion Guide by BGE
Raid Shadow Legends Astralong Champion Guide by MurderInc
Raid Shadow Legends Astralong Champion Guide by Hyperyor
Raid Shadow Legends Astralong Champion Guide by Deathwish
https://youtu.be/Ykh4q6WsVg8