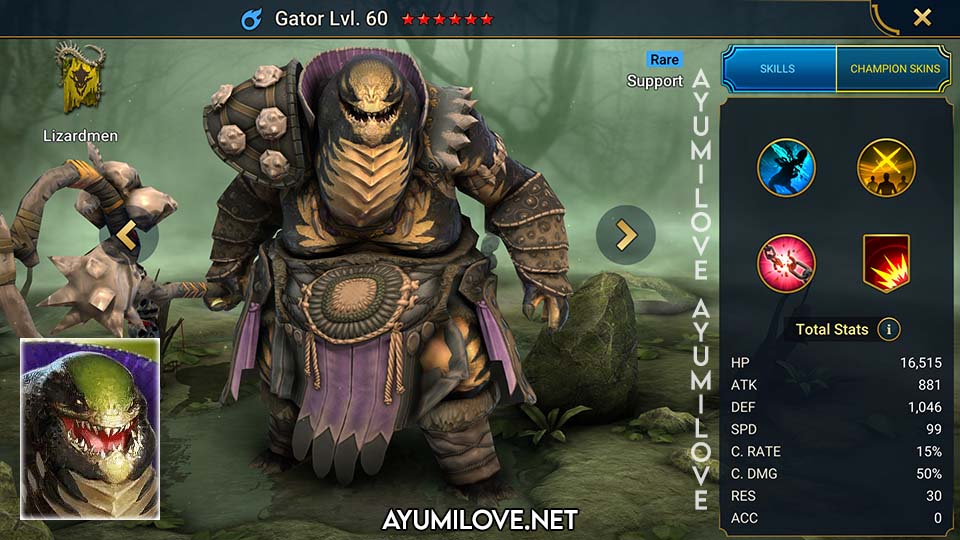 Obtain from

Mystery Shard
Ancient Shard

Overview

NAME: Gator
FACTION: Lizardmen
RARITY: Rare
ROLE: Support
AFFINITY: Magic
RANK: B
USABILITY: Situational
TOMES: 6 (A2 A3)

Total Stats (6★)

Health Points (HP): 16,515
Attack (ATK): 881
Defense (DEF): 1,046
Speed (SPD): 99
Critical Rate (C.RATE): 15%
Critical Damage (C.DMG): 50%
Debuff Resistance (RESIST): 30
Debuff Accuracy (ACC): 0

Grinding

★★★✰✰ Campaign
★★★✰✰ Arena Defense
★★★✰✰ Arena Offense
★★★✰✰ Clan Boss
★★★★✰ Faction Wars

Dungeons

★★★★✰ Minotaur
★★★✰✰ Spider
★★★✰✰ Fire Knight
★★★★✰ Dragon
★★★★✰ Ice Golem

Potion

★★★★✰ Void Keep
★★★✰✰ Force Keep
★★★★★ Spirit Keep
★★★★✰ Magic Keep

Doom Tower

✰✰✰✰✰ Magma Dragon
✰✰✰✰✰ Nether Spider
✰✰✰✰✰ Frost Spider
✰✰✰✰✰ Scarab King
Gator Skills
Hex Smash [ATK]
Attacks 1 enemy. Has a 30% chance of placing a 50% [Heal Reduction] debuff for 2 turns.
Level 2: Damage +5%
Level 3: Damage +5%
Level 4: Buff/Debuff Chance +10%
Level 5: Buff/Debuff Chance +10%
Damage Multiplier: 5.1 ATK
Radiate Frenzy (Cooldown: 4 turns)
Places a 25% [Increase ATK] buff on all allies for 2 turns.
Level 2: Cooldown -1
Defy the Witch (Cooldown: 4 turns)
Removes all debuffs from all allies.
Level 2: Cooldown -1
Aura
Increases Magic Ally C.RATE in all Battles by 22%.
Gator Equipment Guide
Equipment Set for Arena, Campaign, Faction Wars
3 Speed Set
2 Speed Set, 1 Life Set
Equipment Set for Clan Boss, Dungeons, Doom Tower
1 Lifesteal Set, 1 Accuracy Set
1 Lifesteal Set, 1 Speed Set
2 Accuracy Set, 1 Speed Set
Equipment Stat Priority
Defense%, HP%, Speed, Accuracy, Resist
Weapon (Attack)
Helmet (HP)
Shield (Defense)
Gauntlets (Defense% / HP%)
Chestplate (Defense% / HP%)
Boots (Speed)
Ring (Defense / HP)
Amulet (Defense / HP)
Banner (Accuracy / Resist)
Gator Mastery Guide
Arena, Campaign, Clan Boss, Dungeons, Doom Tower, Faction Wars
Offense

Deadly Precision
Keen Strike
Shield Breaker
Life Drinker
Bring it Down
Methodical
Warmaster

Defense

N/A

Support

Pinpoint Accuracy
Exalt in Death
Rapid Resposne
Arcane Celerity
Evil Eye
Lore of Steel
Sniper
Master Hexer
Gator Storyline
In his childhood, Gator's magical ability was out of control – presenting a danger to himself and others. Were it not for a travelling magi belonging to the Coven, he would have likely killed himself with one failed spell or the other. But fate saw fit to give the young lizardman another chance and provide him with tutors open-minded enough to pass their knowledge to a creature many would not see as anything beyond a beast. Such good fortune was not wasted, and when Gator returned to his people, it was a full-fledged mage, well-versed in arts that not many shamans would dare to replicate.