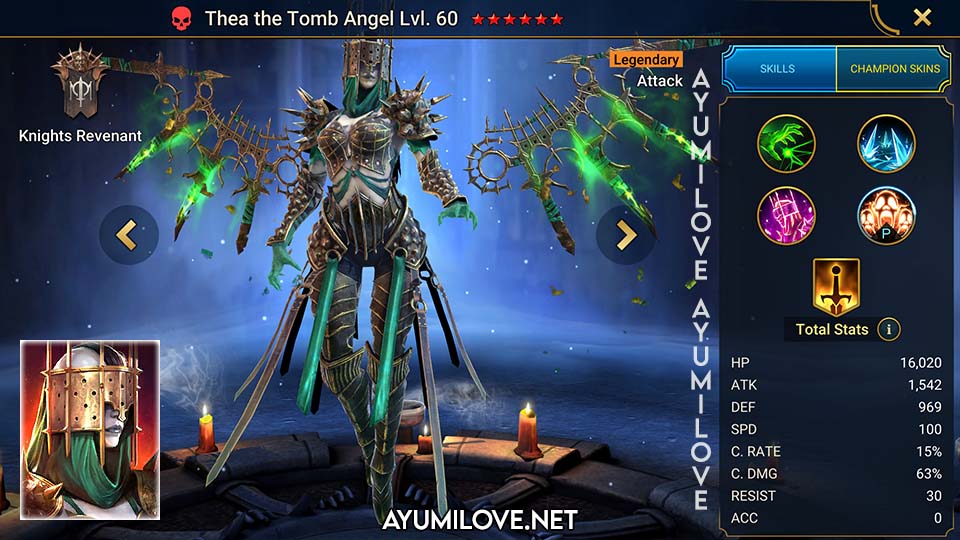 Overview

NAME: Thea the Tomb Angel
FACTION: Knights Revenant
RARITY: Legendary
ROLE: Attack
AFFINITY: Force
RANK: B
USABILITY: Mid-Late Game
TOMES: 6 (A1 A2)

Total Stats (6★)

Health Points (HP): 16,020
Attack (ATK): 1,542
Defense (DEF): 969
Speed (SPD): 100
Critical Rate (C.RATE): 15%
Critical Damage (C.DMG): 63%
Debuff Resistance (RESIST): 30
Debuff Accuracy (ACC): 0

Obtain from

Grinding

★★★★✰ Campaign
★★★★✰ Arena Defense
★★★★★ Arena Offense
★★★✰✰ Clan Boss
★★★★★ Faction Wars

Dungeons

★★★★✰ Minotaur
★★★✰✰ Spider
★★★★✰ Fire Knight
★★★★★ Dragon
★★★✰✰ Ice Golem

Potion

★★★✰✰ Arcane Keep
★★★✰✰ Void Keep
★★✰✰✰ Force Keep
★★✰✰✰ Spirit Keep
★★★✰✰ Magic Keep

Doom Tower

★★★✰✰ Floors
★★✰✰✰ Magma Dragon
★✰✰✰✰ Nether Spider
★★✰✰✰ Frost Spider
★✰✰✰✰ Scarab King
★✰✰✰✰ Celestial Griffin
★★✰✰✰ Eternal Dragon
★✰✰✰✰ Dreadhorn
★★✰✰✰ Dark Fae
Thea the Tomb Angel Skills
Befoulment [ATK]
Attacks 2 times at random. Has a 75% chance of placing a [Hex] debuff for 5 turns. This debuff cannot be resisted. Each critical hit decreases the cooldown of the [Not Of This World] skill by 1 turn.
Level 2: Damage +5%
Level 3: Damage +5%
Level 4: Buff/Debuff Chance +5%
Level 5: Buff/Debuff Chance +10%
Level 6: Buff/Debuff Chance +10%
Damage Multiplier: 2 ATK
Hexreaper [ATK] (Cooldown: 6 turns)
Attacks all enemies. Damage increases by 50% for each [Hex] debuff on the enemy team. Stacks up to 300% Removes all [Hex] debuff from all enemies after attacking.
Level 2: Cooldown -1
Damage Multiplier: 3.5 ATK
Not of This World (Cooldown: 6 turns)
Places a [Perfect Veil] buff on this Champion for 3 turns. Grants an Extra Turn.
Cruel Angel [Passive]
Has a 50% chance of placing a [True Fear] debuff on all enemies for 1 turn when an enemy loses 30% or more of their MAX HP in a single hit.
Thea the Tomb Angel Equipment Guide
Arena, Doom Tower, Faction Wars
Campaign, Clan Boss, Dungeons

Recommended Artifacts

1 Cruel Set, 1 Relentless Set
1 Cruel Set, 1 Savage Set
1 Cruel Set, 2 Offense Set

Recommended Artifacts

1 Cruel Set, 1 Relentless Set
1 Cruel Set, 1 Savage Set
1 Cruel Set, 2 Offense Set

Recommended Stats

ATK%, C.RATE, C.DMG, SPD
Weapon (ATK)
Helmet (HP)
Shield (DEF)
Gauntlets (C.RATE)
Chestplate (ATK%)
Boots (SPD)
Ring (ATK)
Amulet (C.DMG)
Banner (ATK)

Recommended Stats

ATK%, C.RATE, C.DMG, SPD
Weapon (ATK)
Helmet (HP)
Shield (DEF)
Gauntlets (C.RATE)
Chestplate (ATK%)
Boots (SPD)
Ring (ATK)
Amulet (C.DMG)
Banner (ATK)
Thea the Tomb Angel Mastery Guide
Arena, Campaign, Clan Boss, Dungeons, Doom Tower, Faction Wars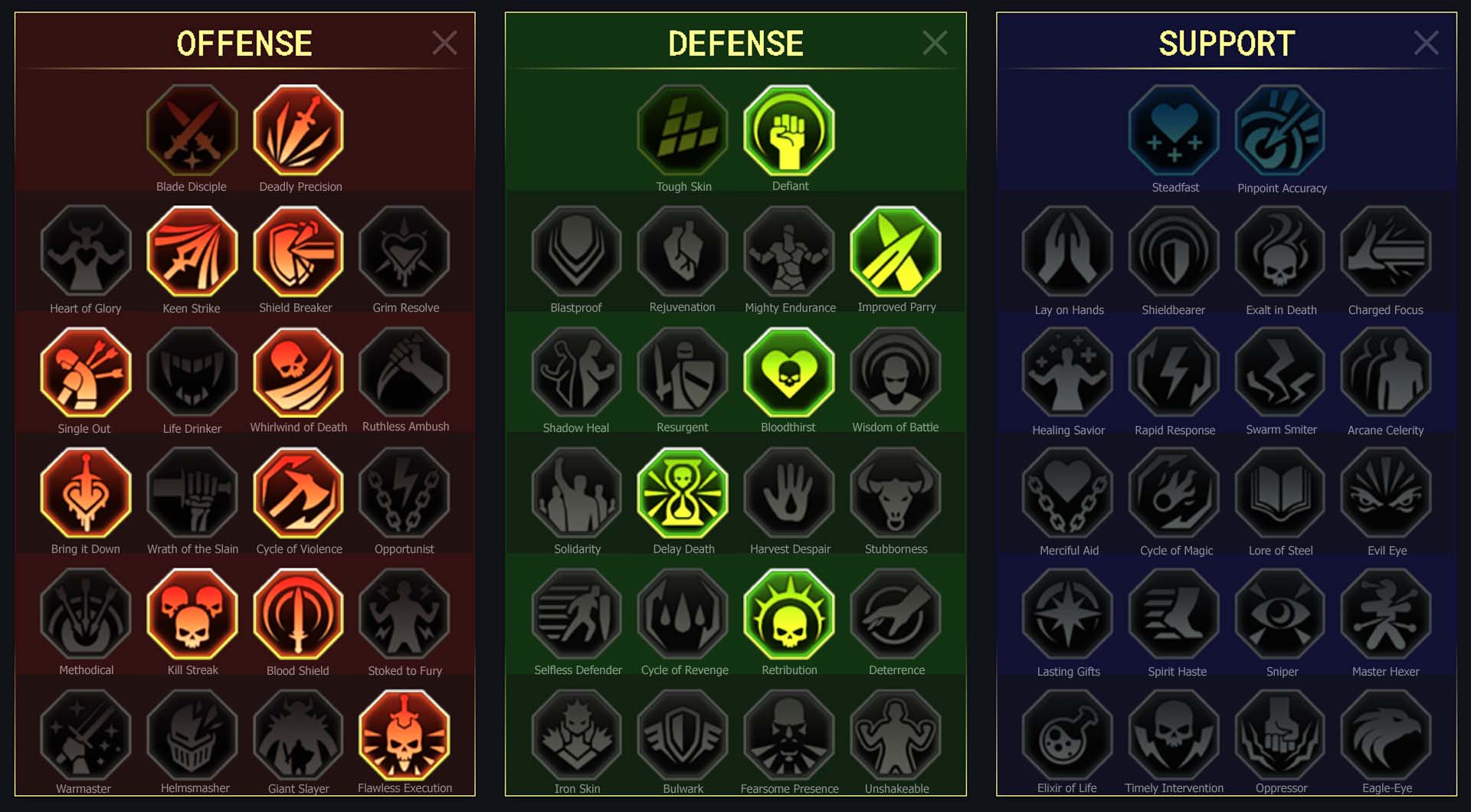 Offense

Deadly Precision
Keen Strike
Shield Breaker
Single Out
Whirlwind of Death
Cycle of Violence
Bring it Down
Blood Shield
Kill Streak
Flawless Execution

Defense

Defiant
Improved Parry
Bloodthirst
Delay Death
Retribution
Thea the Tomb Angel Videos
Raid Shadow Legends Thea the Tomb Angel Guide by ASH
Raid Shadow Legends Thea the Tomb Angel Guide by BGE
Raid Shadow Legends Thea the Tomb Angel Guide by MurderInc
Raid Shadow Legends Thea the Tomb Angel Guide by MacChan