Overview

NAME: Tolf the Maimed
FACTION: Orcs
RARITY: Epic
ROLE: HP
AFFINITY: Void
RANK: F
USABILITY: Situational
TOMES: 10 (N/A)

Total Stats (6★)

Health Points (HP): 21,975
Attack (ATK): 793
Defense (DEF): 1,046
Speed (SPD): 94
Critical Rate (C.RATE): 15%
Critical Damage (C.DMG): 50%
Debuff Resistance (RESIST): 45
Debuff Accuracy (ACC): 0

Obtain from

Void Shard

Champion Fusion

Grinding

★★✰✰✰ Campaign
★★★✰✰ Arena Defense
★★★✰✰ Arena Offense
★✰✰✰✰ Clan Boss
★★★★✰ Faction Wars

Dungeons

★✰✰✰✰ Minotaur
★✰✰✰✰ Spider
★✰✰✰✰ Fire Knight
★✰✰✰✰ Dragon
★✰✰✰✰ Ice Golem

Potion

★✰✰✰✰ Arcane Keep
★✰✰✰✰ Void Keep
★✰✰✰✰ Force Keep
★✰✰✰✰ Spirit Keep
★★★★★ Magic Keep

Doom Tower

★★★✰✰ Floors
★✰✰✰✰ Magma Dragon
★✰✰✰✰ Nether Spider
★✰✰✰✰ Frost Spider
★✰✰✰✰ Scarab King
★✰✰✰✰ Celestial Griffin
★✰✰✰✰ Eternal Dragon
★✰✰✰✰ Dreadhorn
★✰✰✰✰ Dark Fae
Tolf the Maimed Review
Tolf the Maimed is an Epic HP Void champion from Orcs faction in Raid Shadow Legends. Tolf the Maimed was released on August 2021 in Patch 4.50 as part of Mother Cybele Champion Fusion Event! To obtain Tolf the Maimed from the event, you need to fuse Ashwalker, Candleguard, Hellfreak and Lumberer. He is a champion with some peculiar feature in his skill kit.
Tolf the Maimed's skills cannot trigger any Critical Hit. Hence, there is no need to prioritize Critical Rate nor Critical Damage stats in your build. Tolf the Maimed has a unique passive skill called Armor Cracker that decreases the enemies' shield capacity by half upon reaching his turn. The decreased shield amount boost Tolf's up to 25% MAX HP. This passive skill works regardless of Tolf's Accuracy stat! Therefore, prioritizing Tolf's HP and Speed stat allows him to bulk up quickly while reducing enemies shield. In addition, Tolf the Maimed's Cut Wide Open is a unique skill that decreases the non-boss enemy HP by 50% regardless of their defense by dealing pure damage aka ignore 100% defense. It inflicts Stun debuff on the target's if their HP is below 50%, which is good in crowd controlling the target.
In conclusion, Tolf the Maimed utility focus to combating against single-target high HP tanky champions and champions who utilize Shield skill or Shield Set. Nevertheless, there are many better champions that can be used to counter champions with Shield abilities by using Remove Buff or Steal Buff skill and Ignore Defense skills for tanky champions. Having said that, I would recommend vaulting this champion and save resources to be invested in a better champion. If you are just starting out in game and do not have any good champions for Magic Keep Boss, then Tolf the Maimed can aid you in this area very well until you found a better replacement.
Tolf the Maimed Skills
Blade Hand Butcher [HP]
Attacks 1 enemy 2 times. Each hit heals this Champion by 30% of the damage inflicted. This attack cannot be critical
Level 2: Damage +5%
Level 3: Damage +5%
Level 4: Damage +5%
Level 5: Damage +10%
Level 6: Damage +10%
Damage Multiplier: 0.21 HP
Cut Wide Open [HP] (Cooldown: 4 turns)
Attacks 1 enemy. When not attacking Bosses, inflicts pure damage and decrease the target's HP to 50%. Inflicts damage based on this Champion's MAX HP instead and places a [Stun] debuff for 1 turn if the target already has less than 50% HP. Inflicts damage based on this Champion's MAX HP when attacking Bosses. This attack cannot be critical.
Level 2: Damage +5%
Level 3: Damage +5%
Level 4: Damage +10%
Level 5: Damage +10%
Level 6: Cooldown -1
Damage Multiplier: 0.32 HP (Non-Boss), 1 HP (Boss)
Armor Cracker [Passive]
Decreases the values of all Enemy [Shield] buffs by 50% at the start of every turn, then increases this Champion's MAX HP by the same amount (up to 25% of their MAX HP).
Tolf the Maimed Equipment Guide
Arena, Campaign, Clan Boss, Dungeons, Doom Tower, Faction Wars

Recommended Artifacts

Destroy, Guardian, Immortal, Life, Resilience, Speed, Accuracy, Perception

Recommended Stats

HP%, SPD, ACC, DEF%
Weapon (ATK)
Helmet (HP)
Shield (DEF)
Gauntlets (HP%)
Chestplate (HP%)
Boots (SPD / HP%)
Ring (HP)
Amulet (HP)
Banner (HP / ACC)
Tolf the Maimed Mastery Guide
Arena, Campaign, Clan Boss, Dungeons, Doom Tower, Faction Wars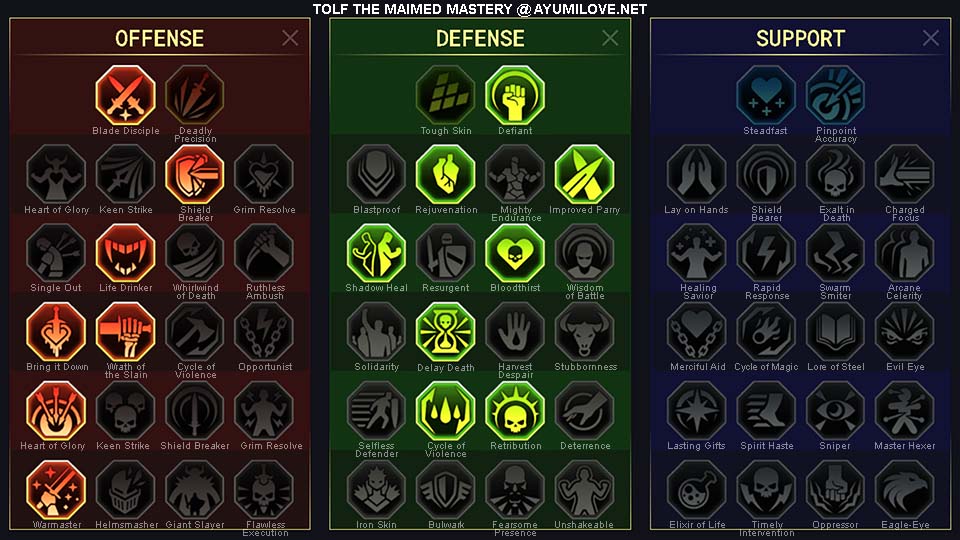 Offense

Blade Disciple
Shield Breaker
Life Drinker
Bring it Down
Wrath of the Slain
Methodical
Warmaster

Defense

Defiant
Improved Parry
Rejuvenation
Bloodthirst
Shadow Heal
Delay Death
Retribution
Cycle of Violence

Support

N/A
Tolf the Maimed Reference
This section covers Tolf the Maimed's builds for specific areas in Raid Shadow Legends.
Tolf the Maimed Shield Destroyer Build
Here is Tolf the Maimed's artifacts and masteries by Ayumilove optimised for countering Shield champions in Arena, Faction Wars and Doom Tower. Tolf the Maimed is equipped with Destroy Set to allow him to chip away enemies MAX HP, which is good against champions who generate Shield buff based on their MAX HP. The stats prioritized on Tolf are Health, Speed and Accuracy. Accuracy is required if you would like to utilize the Stun debuff on his A2 skill. Speed stat is crucial for Tolf, so he can take multiple turns quickly to reduce enemy massive Shield rapidly.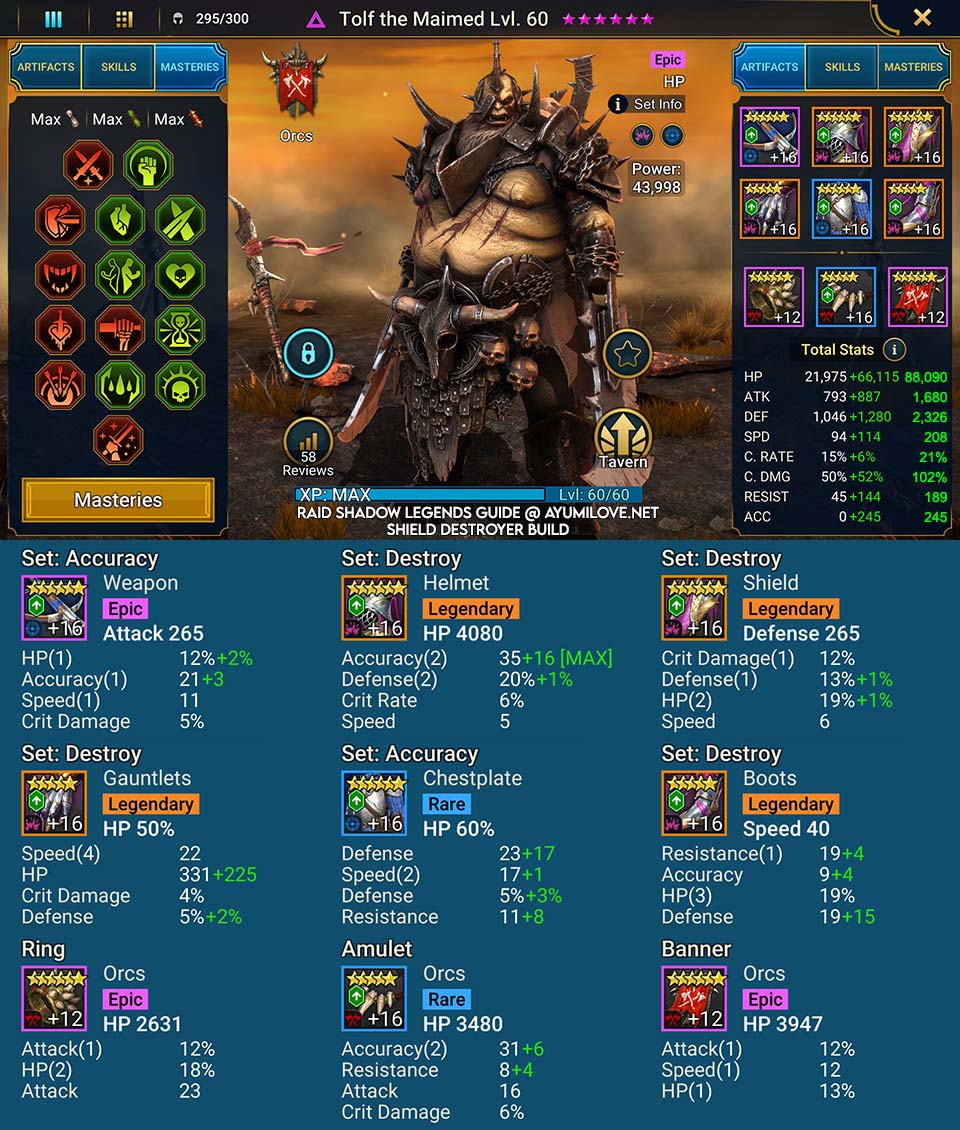 Tolf the Maimed Updates
Tolf the Maimed Videos
Raid Shadow Legends Tolf the Maimed Champion Guide by Grumpy Jeff
Raid Shadow Legends Tolf the Maimed Champion Guide by Cold Brew Gaming
Raid Shadow Legends Tolf the Maimed Champion Guide by Smileky TK
Raid Shadow Legends Patch 4.50 New Champions by ASH