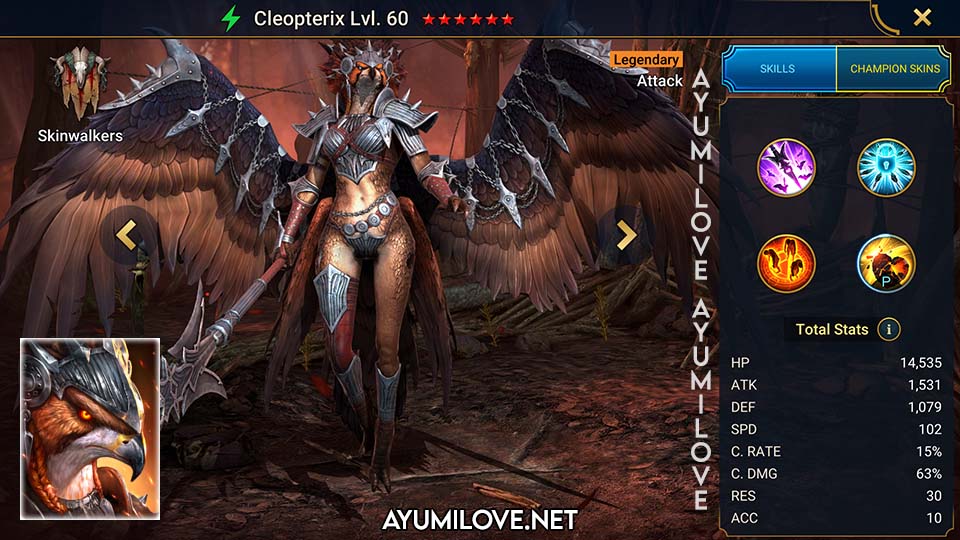 Overview

NAME: Cleopterix
FACTION: Skinwalkers
RARITY: Legendary
ROLE: Attack
AFFINITY: Spirit
RANK: B
USABILITY:
TOMES: 13 (A2 A3)

Abilities

RSL_AoE_BlockActiveSkills
RSL_AoE_Fear_Untrue
RSL_AoE_Hex
RSL_Dependent_Hex_Special
RSL_Self_CounterAttack_Passive
RSL_Self_IncreaseAccuracy_50%
RSL_Self_IncreaseCriticalDamage_30%
RSL_Self_IncreaseCriticalRate_30%
RSL_Self_Passive
RSL_Self_Veil_Perfect
RSL_Target_Weaken_25%

Obtain from

Ancient Shard
Daily Login Rewards 390 days

Blessings Recommendation

Cruelty (Hydra Clan Boss)
Lightning Cage (Arena)
Soul Reap (Damage Dealer)

Grinding

★★★★★ Campaign
★★★★✰ Arena Defense
★★★★✰ Arena Offense
★✰✰✰✰ Clan Boss
★★★✰✰ Hydra
★★★★✰ Faction Wars

Dungeons

★★★★✰ Minotaur
★★★✰✰ Spider
★✰✰✰✰ Fire Knight
★★★✰✰ Dragon
★★★★✰ Ice Golem
★✰✰✰✰ Iron Twins
★✰✰✰✰ Sand Devil
★✰✰✰✰ Phantom Shogun

Potion

★★★✰✰ Arcane Keep
★★★✰✰ Void Keep
★★★✰✰ Force Keep
★★★✰✰ Spirit Keep
★★✰✰✰ Magic Keep

Doom Tower

★★★★★ Floors
★✰✰✰✰ Magma Dragon
★✰✰✰✰ Nether Spider
★★✰✰✰ Frost Spider
★★★✰✰ Scarab King
★★★★✰ Celestial Griffin
★★★✰✰ Eternal Dragon
★✰✰✰✰ Dreadhorn
★✰✰✰✰ Dark Fae
Cleopterix Skills
Death Dive
Attacks 1 enemy. Has a 30% Chance of placing a 25% [Weaken] debuff for 2 turns. The chance increases to 50% if the target is under a [Hex] debuff. Places a [Perfect Veil] buff on this champion for 1 turn if this attack kills an enemy under [Hex] debuff.
Level 2: Damage +5%
Level 3: Damage +5%
Level 4: Buff/Debuff Chance +10%
Level 5: Buff/Debuff Chance +10%
Damage Multiplier: 3.5 ATK
Feather Barrage (Cooldown: 4 turns)
Places a 30% [Increase C.RATE] buff and a 30% [Increase C.DMG] buff on this champion for 2 turns, then attacks all enemies. Has a 75% chance of placing a [Block Active Skills] debuff for 2 turns on targets under [Hex] debuffs.
Level 2: Damage +10%
Level 3: Buff/Debuff chance +10%
Level 4: Buff/Debuff chance +15%
Level 5: Cooldown -1
Damage Multiplier: 4.5 ATK
Sky Punishment (Cooldown: 5 turns)
Places a 50% [Increase ACC] buff on this champion for 2 turns, then attacks all enemies. Has a 75% chance of placing a [Hex] debuff for 3 turns. Has a 100% chance of placing a [Fear] debuff for 1 turn instead of enemies under [Hex] debuffs.
Level 2: Damage +5%
Level 3: Damage +10%
Level 4: Buff/Debuff chance +10%
Level 5: Buff/Debuff chance +15%
Level 6: Cooldown -1
Damage Multiplier: 4.7 ATK
Countermand (Passive)
Counterattacks with the default skill every time this Champion loses 30% HP or more in a single turn. Always counterattacks when attacked if 2 or more allies are dead.
Cleopterix Equipment Guide
Arena, Campaign, Clan Boss, Dungeons, Doom Tower, Faction Wars

Recommended Artifacts

Lifesteal, Bloodthirst, Accuracy, Perception, Speed

Recommended Stats

ATK%, C.RATE, C.DMG, SPD, ACC
Weapon (ATK)
Helmet (HP)
Shield (DEF)
Gauntlets (C.RATE / C.DMG)
Chestplate (ATK%)
Boots (SPD)
Ring (ATK)
Amulet (C.DMG)
Banner (ATK / ACC)
Cleopterix Mastery Guide
Arena, Campaign, Clan Boss, Dungeons, Doom Tower,Faction Wars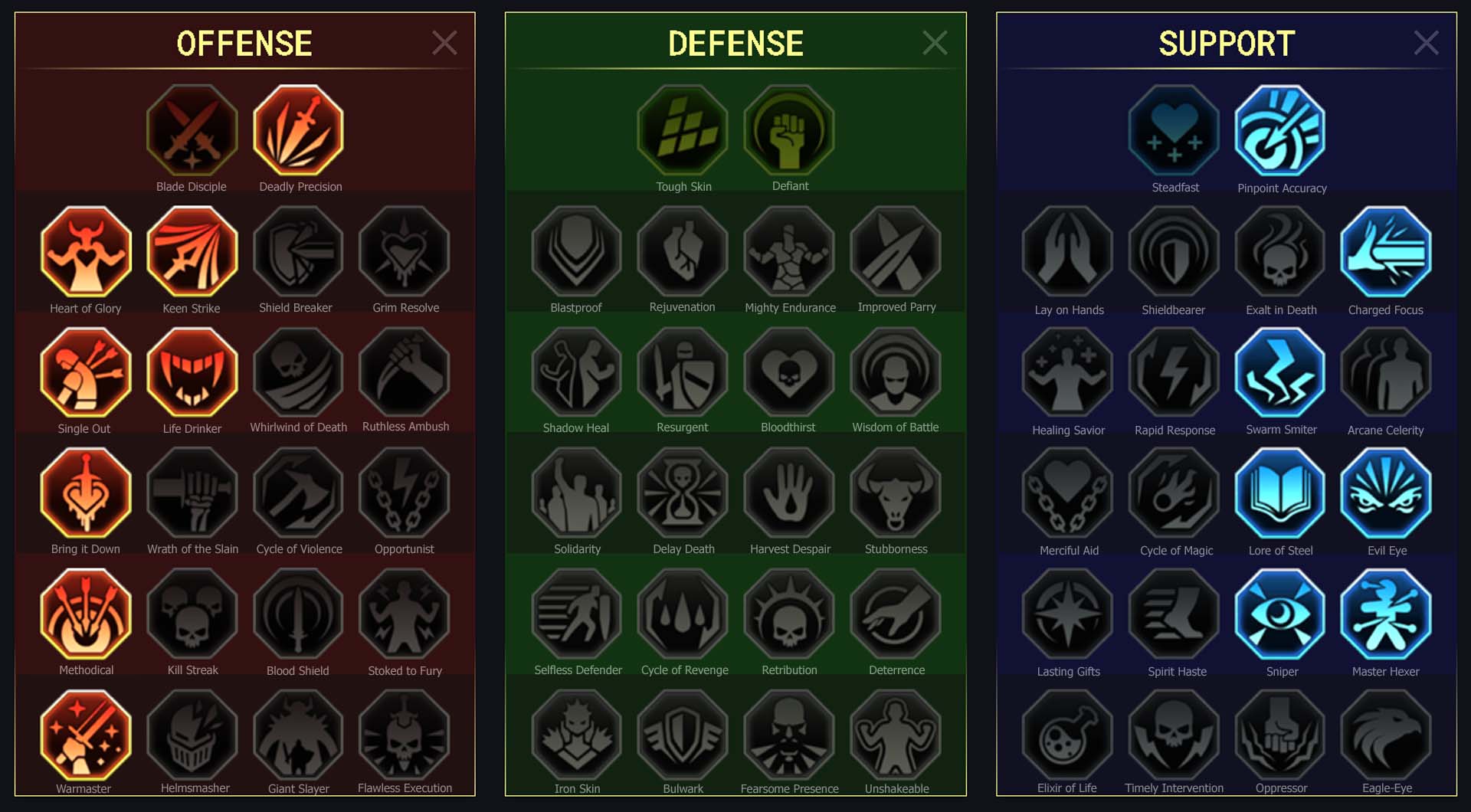 Offense

Deadly Precision
Keen Strike
Heart of Glory
Life Drinker
Single Out
Bring it Down
Methodical
Warmaster

Support

Pinpoint Accuracy
Charged Focus
Swarm Smiter
Evil Eye
Lore of Steel
Master Hexer
Sniper
Cleopterix Review
Raid Shadow Legends – Cleopterix is a Legendary Attack Spirit affinity champion from the Skinwalker factions where she can be obtained from Ancient Shards and Sacred Shards. Cleopterix will be added into the game in Patch 4.40 to provide Hex debuff, Weaken debuff and Block Active Skills debuff capabilities. Cleopterix is best paired with other Hex champions such as Thea the Tomb Angel and Ruel the Huntmaster to unleash their full potential of inflicting high amount of nuke damage! In addition, Cleopterix brings a unique passive skill that counterattacks enemies whenever there are 2 or more dead allies or losing a specific amount of HP, which could make her a great candidate for Campaign/Dungeon farmer!
Cleopterix Champion Lore
Cleopterix began her life in the Krokhan Desert among the ranks of a band of highwaymen, the Ergkarakk, who operated out of a number of camps between the Deadlands and the Krokhan proper. In those treacherous badlands, it was easy for them to conceal various hideouts and caches. From there the Ergkarakk swooped in to prey upon merchant caravans trundling along the timeworn trade routes of central Peltas. In skirmishes with caravan guards, Cleopterix honed the arts of combat, preferring spears and polearms as her weapons. From her fellow Ergkarakk she learned the honor of thieves and the ways of a family of outlaws: fairness to her brothers and sisters in banditry, stony silence to all outsiders, and violent resistance to the forces of law, order, and tyranny. From the desert and badlands, she learned the lessons of nature's merciless trials. Her mentors called the falcon the model bandit, for the predatory birds they often saw hunt always struck from on high with speed and grace.
Cleopterix accumulated influence and prestige due to her victories, and thought that a place on the council of Ergkarakk leadership would surely await her. But her rapid rise caused jealousy in the more established of her band. Together, they agreed that while changes in leadership were to come, Cleopterix and her followers would never be suitable power-holders. Their reasoning was spurious and Cleopterix's merits were undeniable, but it was the will of the old guard that she be made an example of, a warning to others tempted to risk upsetting the order of things.
And so it happened that she fell for a trap. The Ergkarakk patriarchs heard of a powerful Dwarven merchant-prince who loathed the band and plotted to divide and weaken them. Seeing a chance to rid themselves of Cleopterix and maintain an alibi, the band's leaders struck a deal with the Dwarf behind her back. Cleopterix and her loyal raiders were sent to intercept a caravan that resembled any other. Not long after their attack began, previously concealed elite heavy infantry comprising battle-hardened Humans, Orcs, and Dwarves poured forth from the wagons. After heavy fighting, Cleopterix alone survived, having fled deep into canyons that were unknown to her.
Wounded and without provisions, Cleopterix felt doom creep close as a day and a night passed in those barren chasms. Thirst and hunger weakened her, and falcons and buzzards circled overhead. She cursed her fate and her betrayal again and again, wishing she could strangle the foolish old leaders of the Ergkarakk who did this to her, for by now she realized her folly. Though weak, she summoned the strength to break the long, spindly necks of the handful of vultures that came near her. She did not eat their flesh, for she knew that when raw, it would sicken her. For three days, Cleopterix lay in a stalemate between death and its carrion birds. The scrawny vultures had by now learned that though Cleopterix was dying, she was still too dangerous to go near. Then a falcon swooped down among the vultures, unaware of what they knew, and approached her.
Slipping into delirium, Cleopterix stared at the bird. She recalled how her treacherous mentors revered the falcon for its virtue in hunting and its noble, handsome lines. Their faces flashed before her eyes. The virtues they had taught her had been the lies of hypocrites. With a last burst of vigor, she seized the falcon just like she did the vultures, and killed it with her hands and teeth, suffering grievous wounds from its claws and beak in the struggle. Facing death and the horror of being eaten by the vultures, she wanted to feast one last time. She drank the falcon's blood and ate its flesh raw, as a last, savage act of living before death could finally take her.
Stories tell of how when Cleopterix drank the bird's blood, a wild and furious power rushed into her and thrashed within her being, fighting for dominance, demanding a place. She screamed to the sky and the buzzards dispersed in a massive cloud, squawking in panic at what had been created. For she was now a Skinwalker, a hybrid of raptor and Human, and when she fully regained control of her body and her senses, she found a new chance at life had been granted to her. Whether it will be a life of bloody vengeance or a journey on a new and different path is a question whose answer is unfolding even now.
Cleopterix Updates
Cleopterix Videos
ASH: CLEOPTERIX: A FREE S-TIER NUKER! MY NEW FAV!
MacChan: BEST Spirit Nuker Which Everyone Can Get… Cleopterix
Skratch: BEST NUKERS!!! FROM TRASH TO TREASURE | CLEOPTERIX CHAMPION SPOTLIGHT
StewGaming: Strongest FREE champ Cleopterix | Cleopterix Review