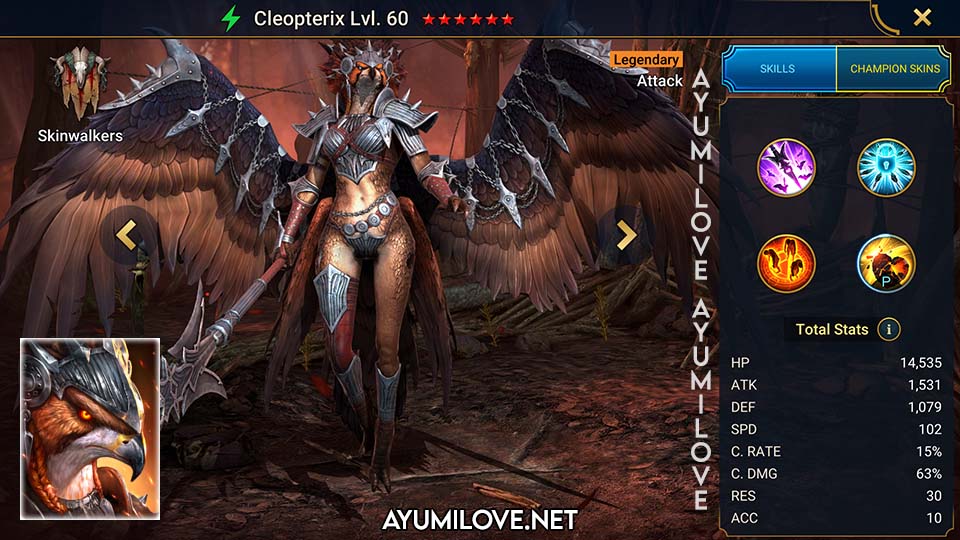 Overview

NAME: Cleopterix
FACTION: Skinwalkers
RARITY: Legendary
ROLE: Attack
AFFINITY: Spirit
RANK: B
USABILITY:
TOMES: 13 (A2 A3)

Abilities

RSL_AoE_BlockActiveSkills
RSL_AoE_Fear_Untrue
RSL_Self_CounterAttack_Passive
RSL_Self_IncreaseAccuracy_50%
RSL_Self_IncreaseCriticalDamage_30%
RSL_Self_IncreaseCriticalRate_30%
RSL_Self_Passive
RSL_Self_Veil_Perfect
RSL_Target_Weaken_25%

Obtain from

Ancient Shard
Daily Login Rewards 390 days

Blessings Recommendation

Grinding

★★★★★ Campaign
★★★★✰ Arena Defense
★★★★✰ Arena Offense
★✰✰✰✰ Clan Boss
★★★✰✰ Hydra
★★★★✰ Faction Wars

Dungeons

★★★★✰ Minotaur
★★★✰✰ Spider
★✰✰✰✰ Fire Knight
★★★✰✰ Dragon
★★★★✰ Ice Golem
★✰✰✰✰ Iron Twins

Potion

★★★✰✰ Arcane Keep
★★★✰✰ Void Keep
★★★✰✰ Force Keep
★★★✰✰ Spirit Keep
★★✰✰✰ Magic Keep

Doom Tower

★★★★★ Floors
★✰✰✰✰ Magma Dragon
★✰✰✰✰ Nether Spider
★★✰✰✰ Frost Spider
★★★✰✰ Scarab King
★★★★✰ Celestial Griffin
★★★✰✰ Eternal Dragon
★✰✰✰✰ Dreadhorn
★✰✰✰✰ Dark Fae
Cleopterix Skills
Death Dive [ATK]
Attacks 1 enemy. Has a 30% Chance of placing a 25% [Weaken] debuff for 2 turns. The chance increases to 50% if the target is under a [Hex] debuff. Places a [Perfect Veil] buff on this champion for 1 turn if this attack kills an enemy under [Hex] debuff.
Level 2: Damage +5%
Level 3: Damage +5%
Level 4: Buff/Debuff Chance +10%
Level 5: Buff/Debuff Chance +10%
Damage Multiplier: 3.5 ATK
Feather Barrage [ATK] (Cooldown: 4 turns)
Places a 30% [Increase C.RATE] buff and a 30% [Increase C.DMG] buff on this champion for 2 turns, then attacks all enemies. Has a 75% chance of placing a [Block Active Skills] debuff for 2 turns on targets under [Hex] debuffs.
Level 2: Damage +10%
Level 3: Buff/Debuff chance +10%
Level 4: Buff/Debuff chance +15%
Level 5: Cooldown -1
Damage Multiplier: 4.5 ATK
Sky Punishment [ATK] (Cooldown: 5 turns)
Places a 50% [Increase ACC] buff on this champion for 2 turns, then attacks all enemies. Has a 75% chance of placing a [Hex] debuff for 3 turns. Has a 100% chance of placing a [Fear] debuff for 1 turn instead of enemies under [Hex] debuffs.
Level 2: Damage +5%
Level 3: Damage +10%
Level 4: Buff/Debuff chance +10%
Level 5: Buff/Debuff chance +15%
Level 6: Cooldown -1
Damage Multiplier: 4.7 ATK
Countermand [Passive]
Counterattacks with the default skill every time this Champion loses 30% HP or more in a single turn. Always counterattacks when attacked if 2 or more allies are dead.
Cleopterix Equipment Guide
Arena, Campaign, Clan Boss, Dungeons, Doom Tower, Faction Wars

Recommended Artifacts

Lifesteal, Bloodthirst, Accuracy, Perception, Speed

Recommended Stats

ATK%, C.RATE, C.DMG, SPD, ACC
Weapon (ATK)
Helmet (HP)
Shield (DEF)
Gauntlets (C.RATE / C.DMG)
Chestplate (ATK%)
Boots (SPD)
Ring (ATK)
Amulet (C.DMG)
Banner (ATK / ACC)
Cleopterix Mastery Guide
Arena, Campaign, Clan Boss, Dungeons, Doom Tower,Faction Wars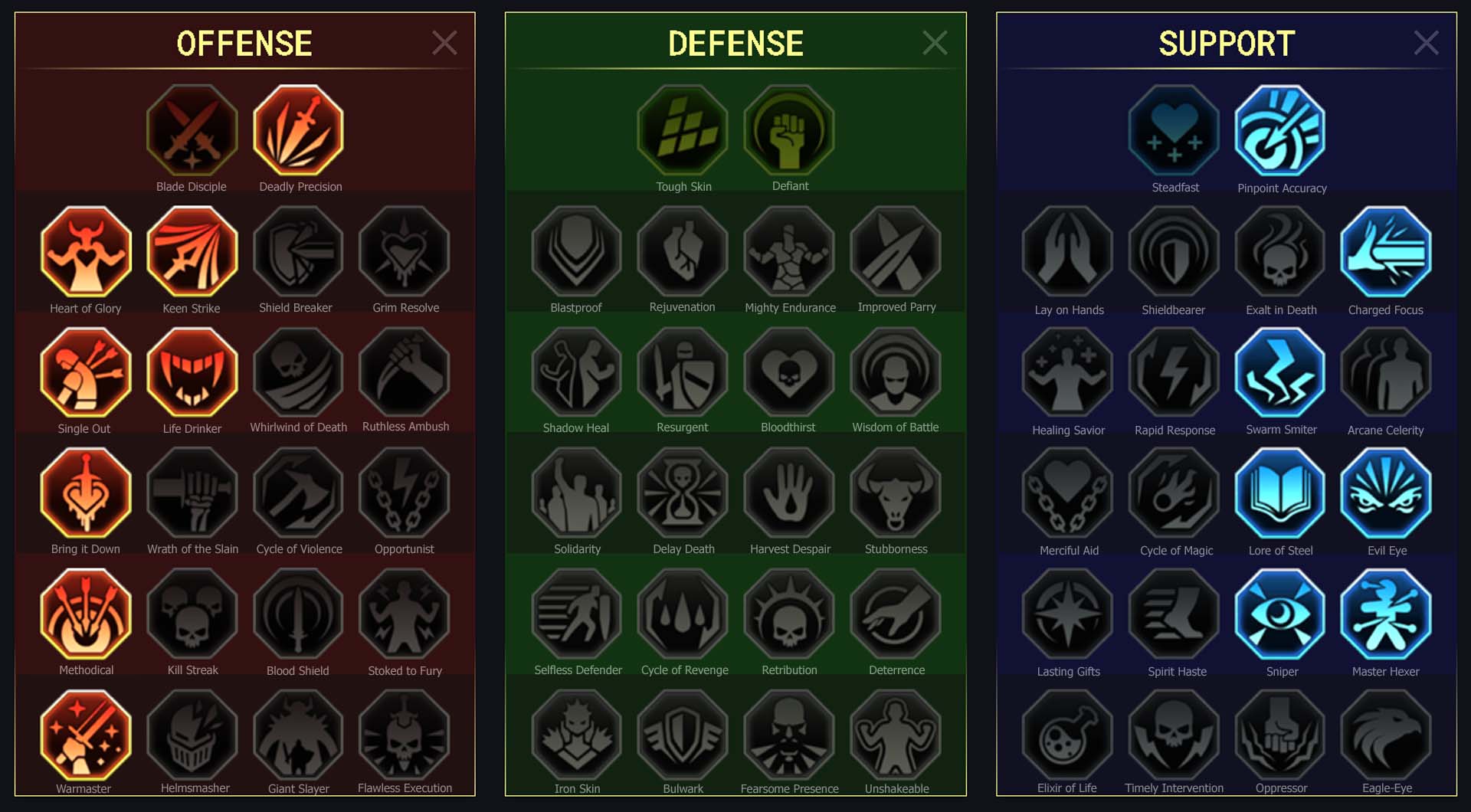 Offense

Deadly Precision
Keen Strike
Heart of Glory
Life Drinker
Single Out
Bring it Down
Methodical
Warmaster

Support

Pinpoint Accuracy
Charged Focus
Swarm Smiter
Evil Eye
Lore of Steel
Master Hexer
Sniper
Cleopterix Review
Raid Shadow Legends – Cleopterix is a Legendary Attack Spirit affinity champion from the Skinwalker factions where she can be obtained from Ancient Shards and Sacred Shards. Cleopterix will be added into the game in Patch 4.40 to provide Hex debuff, Weaken debuff and Block Active Skills debuff capabilities. Cleopterix is best paired with other Hex champions such as Thea the Tomb Angel and Ruel the Huntmaster to unleash their full potential of inflicting high amount of nuke damage! In addition, Cleopterix brings a unique passive skill that counterattacks enemies whenever there are 2 or more dead allies or losing a specific amount of HP, which could make her a great candidate for Campaign/Dungeon farmer!
Cleopterix Updates
Cleopterix Videos
ASH: CLEOPTERIX: A FREE S-TIER NUKER! MY NEW FAV!
MacChan: BEST Spirit Nuker Which Everyone Can Get… Cleopterix
Skratch: BEST NUKERS!!! FROM TRASH TO TREASURE | CLEOPTERIX CHAMPION SPOTLIGHT
StewGaming: Strongest FREE champ Cleopterix | Cleopterix Review