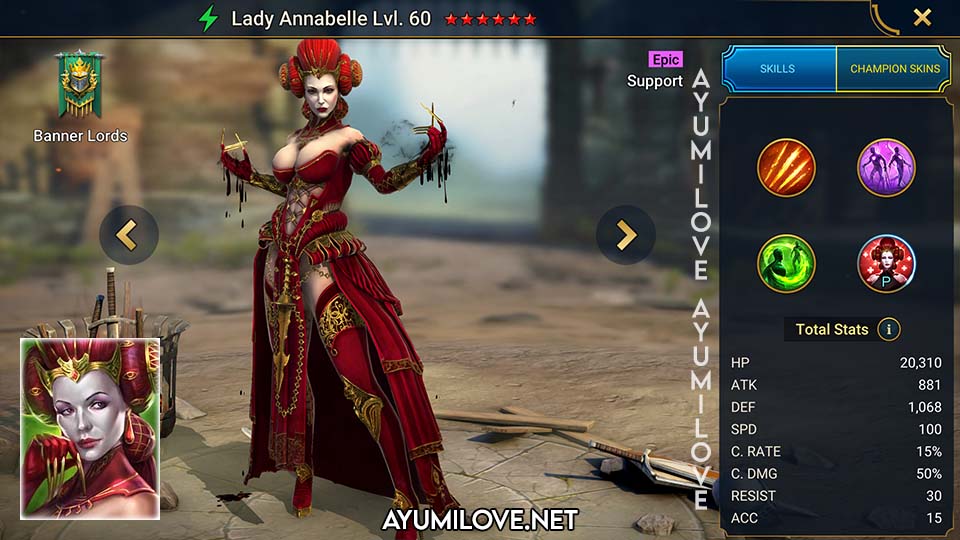 Overview

NAME: Lady Annabelle
FACTION: Banner Lords
RARITY: Epic
ROLE: Support
AFFINITY: Spirit
RANK: B
USABILITY: Situational
TOMES: 11 (A2 A3)

Abilities

RSL_AoE_DecreaseSpeed_30%
RSL_AoE_IncreaseSpeed_30%
RSL_AoE_Leech
RSL_Self_Heal
RSL_Self_Heal_Passive
RSL_Self_ReviveOnDeath
RSL_Target_BasicAttack_2Hits
RSL_Target_ReviveOnDeath

Obtain from

Ancient Shard
Sacred Shard

Blessings Recommendation

Chainbreaker (Debuffer)

Grinding

★★★✰✰ Campaign
★★✰✰✰ Arena Defense
★★✰✰✰ Arena Offense
★★✰✰✰ Clan Boss
★★★★✰ Hydra
★★★★✰ Faction Wars

Dungeons

★★★★✰ Minotaur
★★★✰✰ Spider
★★★✰✰ Fire Knight
★★✰✰✰ Dragon
★★✰✰✰ Ice Golem
★★★✰✰ Iron Twins
★★✰✰✰ Sand Devil

Potion

★★★★✰ Arcane Keep
★★★★✰ Void Keep
★★★★✰ Force Keep
★★★★✰ Spirit Keep
★★★★✰ Magic Keep

Doom Tower

★★★★✰ Floors
★✰✰✰✰ Magma Dragon
★✰✰✰✰ Nether Spider
★★★✰✰ Frost Spider
★★✰✰✰ Scarab King
★★✰✰✰ Celestial Griffin
★★✰✰✰ Eternal Dragon
★★★★★ Dreadhorn
★✰✰✰✰ Dark Fae
Lady Annabelle Skills
Covetous Nails
Attacks 1 enemy 2 times. Each hit heals this Champion by 3% of their MAX HP.
Level 2: Damage +5%
Level 3: Damage +5%
Level 4: Damage +5%
Level 5: Damage +5%
Damage Multiplier: 2.4 ATK
Captivator (Cooldown: 4 turns)
Attacks all enemies. Has a 75% chance of placing a [Leech] debuff for 2 turns. Also has a 75% chance of placing a 30% [Decrease SPD] debuff for 2 turns on targets with less than 50% Turn Meter.
Level 2: Damage +10%
Level 3: Damage +10%
Level 4: Buff/Debuff Chance +10%
Level 5: Buff/Debuff Chance +15%
Level 6: Cooldown -1
Damage Multiplier: 4.4 ATK
Sanguine Exchange (Cooldown: 6 turns)
Swaps HP with a target ally. If this Champion's HP is equal to or higher than the target's after the swap, places a [Revive On Death] buff on the target ally for 2 turns. If this Champion's HP is lower than the target's after the swap, places a [Revive on Death] buff on this Champion for 2 turns. Also places a 30% [Increase SPD] buff on all allies for 2 turns.
Level 2: Cooldown -1
Level 3: Cooldown -1
The Red Lady (Passive)
Heals this Champion by 50% of their MAX HP whenever an ally or enemy dies.
Lady Annabelle Equipment Guide
Arena, Campaign, Clan Boss, Dungeons, Doom Tower, Faction Wars

Recommended Artifacts

PvE: Accuracy, Perception, Speed, Regeneration, Immortal, Guardian
PvP: N/A

Stats Allocation

Weapon (ATK)
Helmet (HP)
Shield (DEF)
Gauntlets (HP% / DEF%)
Chestplate (HP% / DEF%)
Boots (SPD)
Ring (HP / DEF)
Amulet (HP / DEF)
Banner (ACC / HP / DEF)

Stats Priority

PvE: ACC, SPD, HP%, DEF%
PvP: N/A
Lady Annabelle Mastery Guide
Arena, Campaign, Clan Boss, Dungeons Doom Tower, Faction Wars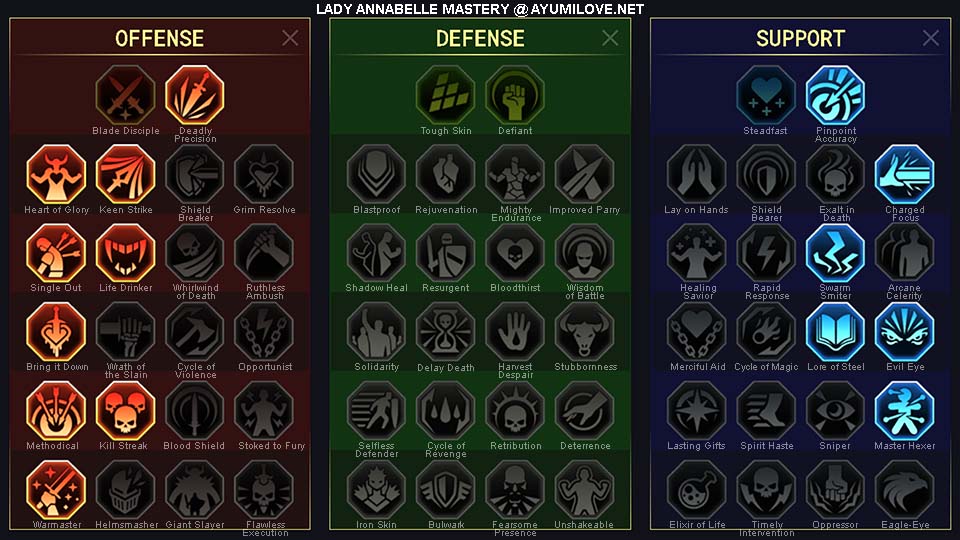 Offense

Deadly Precision
Keen Strike
Heart of Glory
Single Out
Life Drinker
Bring it Down
Methodical
Kill Streak
Warmaster

Support

Pinpoint Accuracy
Charged Focus
Swarm Smiter
Evil Eye
Lore of Steel
Master Hexer
Lady Annabelle Review
Lady Annabelle, an Epic Support Spirit affinity champion from the Banner Lords faction in Raid Shadow Legends, had an unusual fascination with the afterlife. She was drawn to the vampiric cults of old like a moth to a flame, hoping to join their ranks and partake in their otherworldly powers. One fateful night, she was bitten by Ma'Shalled, a venerable vampire, and felt the venom coursing through her veins. Her skin turned ashen and cold, but to her surprise, she did not succumb to the undead's curse. Instead, she inherited their unique healing abilities, which she wielded with pride.
Come October 2022, Lady Annabelle found herself in the spotlight as Raid's newest Halloween champion, debuting in patch 6.20. Her kit revolved around the principles of leeching and healing, making her a formidable opponent on the battlefield. Her passive, similar to Burangiri's, opened up a world of possibilities, allowing her to solo with the finesse of a Bommal-style acrobat. Furthermore, her AoE Decreased Speed and AoE Leech made her a valuable asset in any wave-based content, especially during the mid-game when her kit shone the brightest. It wouldn't be a surprise to see her in some Hydra teams, thanks to her unique set of skills. In short, Lady Annabelle was a force to be reckoned with, whether in life or death.
Lady Annabelle Videos
Zaonne: Lady Annabelle is MVP For Bommal 90 HARD | RAID: SHADOW LEGENDS