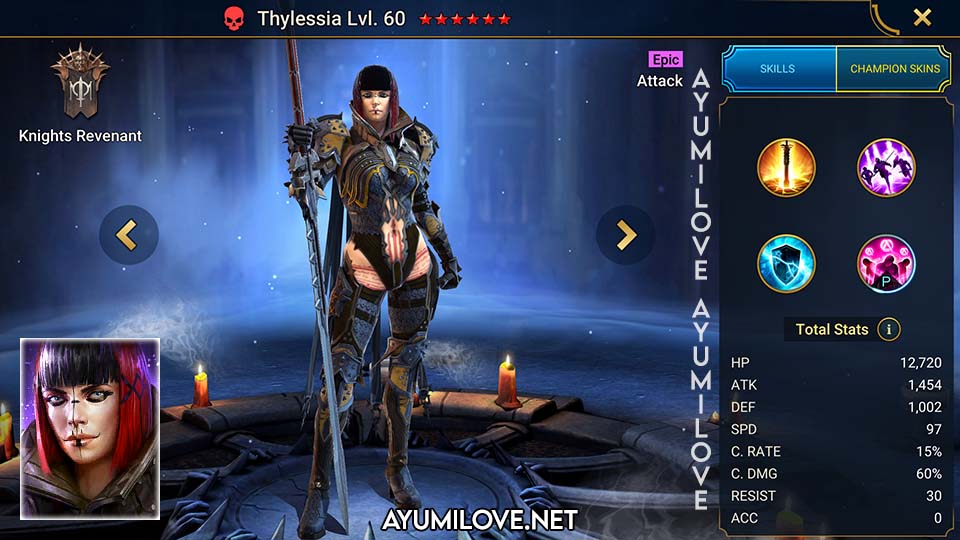 Overview

NAME: Thylessia
FACTION: Knights Revenant
RARITY: Epic
ROLE: Attack
AFFINITY: Force
RANK: B
USABILITY: Early-Mid Game
TOMES: 13 (A3)

Abilities

RSL_AoE_DecreaseDefense_60%
RSL_AoE_Hex
RSL_AoE_IncreaseDebuffDuration_All
RSL_AoE_Passive_Enemy
RSL_Dependent_DecreaseDefense_Special
RSL_Dependent_Hex_Special
RSL_Passive_Hex_Special
RSL_Target_Hex
RSL_Target_Passive_Enemy
RSL_Target_DebuffSpread

Obtain from

Ancient Shard
Sacred Shard
Sigmund the Highshield Fusion

Grinding

★★★★✰ Campaign
★★★★✰ Arena Defense
★★★★✰ Arena Offense
★★✰✰✰ Clan Boss
★★★★✰ Faction Wars

Dungeons

★★★★✰ Minotaur
★★★★✰ Spider
★★✰✰✰ Fire Knight
★★★★✰ Dragon
★★★★✰ Ice Golem

Potion

★★★★✰ Arcane Keep
★★★★✰ Void Keep
★★★★✰ Force Keep
★★★✰✰ Spirit Keep
★★★★✰ Magic Keep

Doom Tower

★★★★★ Floors
★★★★✰ Magma Dragon
★✰✰✰✰ Nether Spider
★★★✰✰ Frost Spider
★✰✰✰✰ Scarab King
★★★✰✰ Celestial Griffin
★★✰✰✰ Eternal Dragon
★★✰✰✰ Dreadhorn
★★★✰✰ Dark Fae
Thylessia Review
Thylessia is an Epic Attack Force champion from Knights Revenant faction in Raid Shadow Legends. Thylessia was introduced in Patch 4.60.2 as one of the four champions required to fuse Sigmund the Highshield Champion Fusion Event on October 2021! To obtain Thylessia, you will need to collect fragments of her through tournaments and events while Sigmund the Highshield Fusion is active!
Weft of Madness (A1 Skill) is Thylessia default attack that has a unique ability to spread debuff on hexed enemies. This synergizes well with single-target debuffer champions such as Drexthar Bloodtwin, which allows you to spread HP Burn debuff on all spiderlings in Spider's Den to quickly dwindle down the Spider boss HP!
Melancholia (A3 Skill) enables Thylessia to inflict Decrease Defense debuff on all enemies to allow her allies to deal more damage on them! Shrieking Voices (A2 Skill) is another useful skill that increases debuff duration, so enemies will be under debuff for a longer period of time to reduce their battle effectiveness.
Last but not least, Thylessia has a passive skill Feast of Woe that allows her to place Hex debuff on enemies whenever she attacks an enemy under Decrease Defense debuff. However, the success rate is kinda low, which does not make her a reliable champion to spread debuff to all enemies in battle consistently by herself. Hence, it's recommended to pair her with a champion who can 100% apply AoE Hex debuff such Ruel the Huntmaster.
Thylessia Skills
Weft of Madness [ATK]
Attacks 1 enemy. Has a 50% chance of applying a [Debuff Spread] effect, taking 1 random debuff from the target and placing it on all enemies under [Hex] debuffs.
Level 2: Damage +5%
Level 3: Buff/Debuff Chance +5%
Level 4: Damage +5%
Level 5: Buff/Debuff Chance +5%
Level 6: Damage +10%
Level 7: Buff/Debuff Chance +10%
Damage Multiplier: 3.5 ATK
Shrieking Voices (Cooldown: 3 turns)
Attacks all enemies. Increases the duration of all debuffs on all enemies by 1 turn.
Level 2: Damage +5%
Level 3: Damage +5%
Level 4: Damage +10%
Damage Multiplier: 3.7 ATK
Melancholia (Cooldown: 4 turns)
Attacks all enemies. Places a 60% [Decrease DEF] debuff for 2 turns.
Level 2: Damage +5%
Level 3: Damage +5%
Level 4: Damage +5%
Level 5: Cooldown -1
Damage Multiplier: 3.7 ATK
Feast of Woe [Passive]
When attacking enemies under [Decrease DEF] debuffs, has a 50% chance of placing a [Hex] debuff on them for 2 turns.
Thylessia Equipment Guide
Arena, Campaign, Clan Boss, Dungeons, Doom Tower, Faction Wars

Recommended Artifacts

Lifesteal, Bloodthirst, Accuracy, Perception, Speed, Stun

Stats Allocation

Weapon (ATK)
Helmet (HP)
Shield (DEF)
Gauntlets (C.RATE / C.DMG)
Chestplate (ATK%)
Boots (SPD)
Ring (ATK)
Amulet (C.DMG)
Banner (ACC / ATK)

Stats Priority

Damage Dealer & Debuffer: ATK%, C.RATE, C.DMG, SPD, ACC
Thylessia Mastery Guide
Arena, Campaign, Clan Boss, Dungeons, Doom Tower, Faction Wars
Here is Thylessia masteries optimized as an all-rounder build for all areas in the game without requiring any specific speed-tuning for a particular team composition.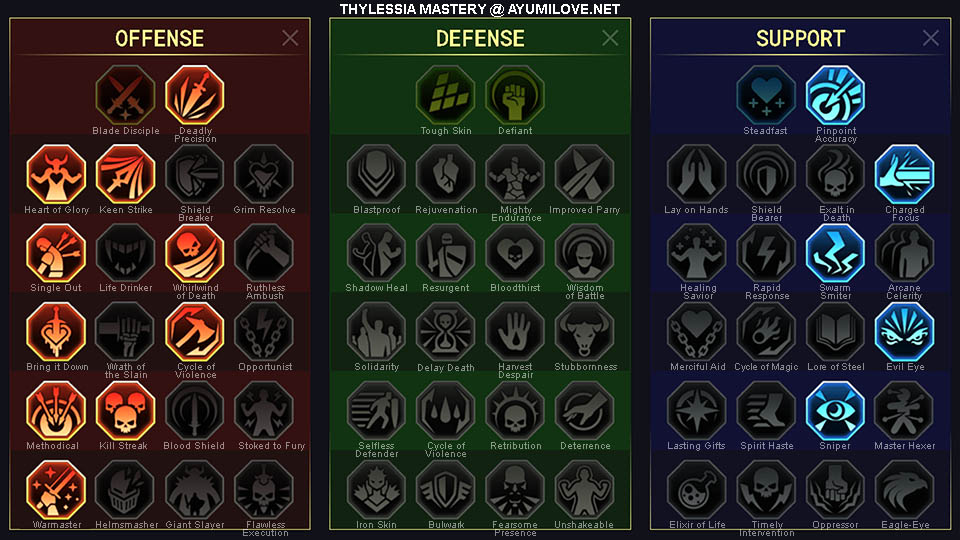 Offense

Deadly Precision
Keen Strike
Heart of Glory
Whirlwind of Death
Single Out
Bring it Down
Cycle of Violence
Kill Streak
Methodical
Warmaster

Support

Pinpoint Accuracy
Charged Focus
Swarm Smiter
Evil Eye
Sniper
Thylessia Reference
Thylessia Damage Dealer Build
Here is Thylessia artifacts and masteries by Skratch built as a damage dealer and debuffer for Arena, Dungeons, Doom Tower and Faction Wars. Thylessia is equipped in mix artifacts of Cruel, Speed and Immortal Set to gain additional Attack, Speed and HP stats. The stats to prioritize on Thylessia are Attack, Critical Rate, Critical Damage, Speed and decent amount of Accuracy for her to inflict Hex debuff and Decrease Defense debuff. You will only need 225 Accuracy to be able to apply debuff on enemies located in Dungeons, Faction Wars and Doom Tower Normal difficulty.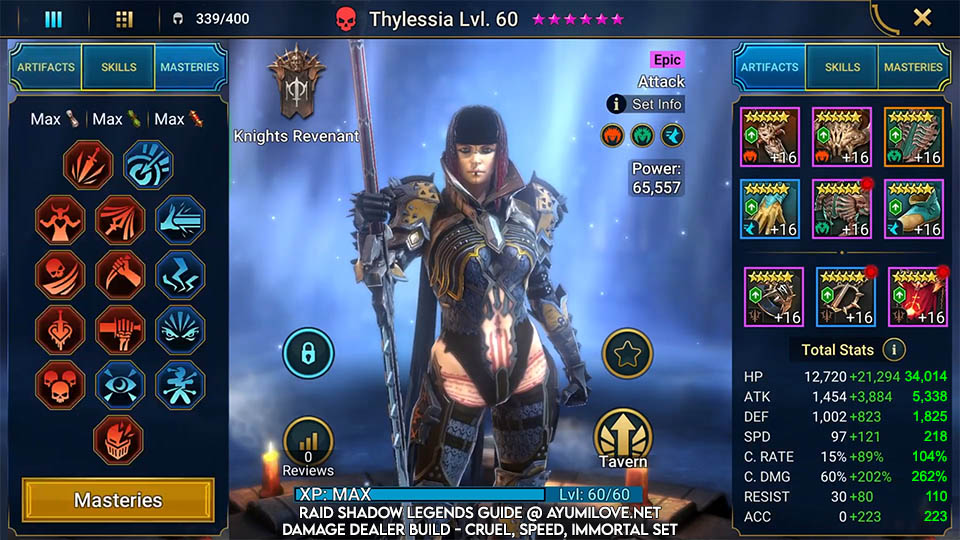 Thylessia Updates
Thylessia Videos
ASH: Thylessia – Why Nobody Should Sleep on Her!
StewGaming: Thylessia A Read Guide – Unstoppable power
Skratch: Thylessia Champion Spotlight (Timeline: 18:55)