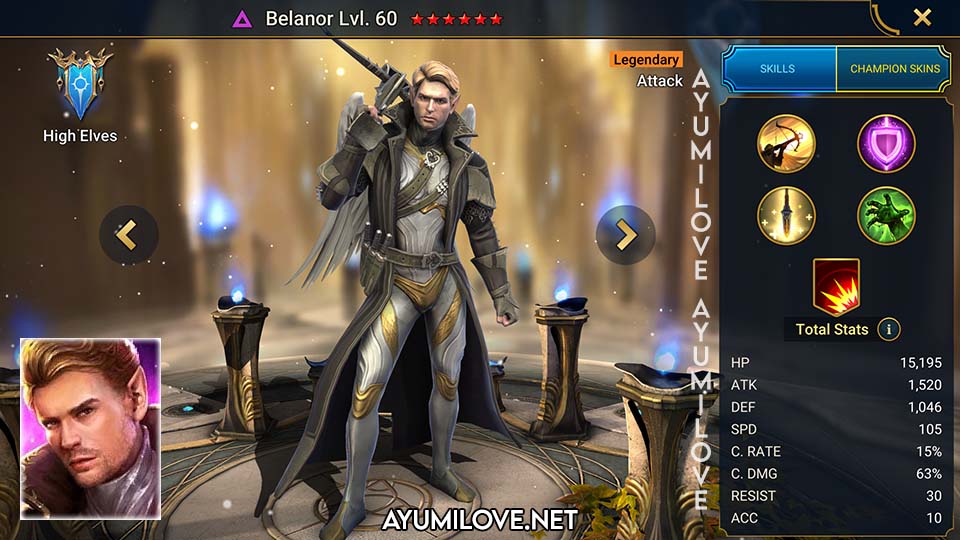 Overview

NAME: Belanor
FACTION: High Elves
RARITY: Legendary
ROLE: Attack
AFFINITY: Void
RANK: A
USABILITY: Situational
TOMES: 9 (A3)

Abilities

RSL_AllBattles_CriticalRateAura
RSL_Ally_A1AoE
RSL_AoE_DecreaseDefense_60%
RSL_AoE_IncreaseCriticalRate_30%
RSL_AoE_Weaken_25%
RSL_Partner_Passive
RSL_Self_Veil_Perfect

Obtain from

Void Shard

Blessings Recommendation

Soul Reap (Damage Dealer)
Temporal Chains (Debuffer)

Use Case

Blessings Recommendation

Brimstone (Debuffer)
Intimidating Presence (Arena Offense)
Soul Reap (Damage Dealer)

Grinding

★★★★✰ Campaign
★★★✰✰ Arena Defense
★★★★✰ Arena Offense
★★★★★ Clan Boss
★★✰✰✰ Hydra
★★★✰✰ Faction Wars

Dungeons

★★★★★ Minotaur
★★★★✰ Spider
★★✰✰✰ Fire Knight
★★★★★ Dragon
★★★★✰ Ice Golem
★★★✰✰ Iron Twins

Potion

★★★★★ Arcane Keep
★★★★★ Void Keep
★★★★★ Force Keep
★★★★✰ Spirit Keep
★★★★✰ Magic Keep

Doom Tower

★★★★✰ Floors
★★★★★ Magma Dragon
★★★★✰ Nether Spider
★★★★✰ Frost Spider
★★★★★ Scarab King
★★★✰✰ Celestial Griffin
★★★✰✰ Eternal Dragon
★✰✰✰✰ Dreadhorn
★★✰✰✰ Dark Fae
Belanor Skills
Swordleader
Attacks 1 enemy. Places a 30% [Increase C.RATE] buff on all allies for 1 turn if this attack is critical.
Level 2: Damage +5%
Level 3: Damage +5%
Level 4: Damage +10%
Level 5: Damage +10%
Damage Multiplier: 3.6 ATK
Insurmountable (Cooldown: 3 turns)
Attacks all enemies. Places a 60% [Decrease DEF] debuff and a 25% [Weaken] debuff for 2 turns. These debuffs cannot be resisted when Zavia is on the same team. Also places a [Perfect Veil] buff on this Champion for 2 turns.
Level 2: Damage +5%
Level 3: Damage +10%
Level 4: Damage +10%
Damage Multiplier: 4.2 ATK
Overkill (Cooldown: 4 turns)
Attacks 1 enemy. Will attack the enemy with the lowest HP with any surplus damage if this attack kills an enemy. The surplus damage cannot be critical.
Level 2: Damage +10%
Level 3: Cooldown -1
Damage Multiplier: 6.8 ATK
Tactical Partner (Cooldown: 4 turns)
Activates this Champion's Overkill skill. Also activates Zavia's Poison Rain Skill when Zavia is on the same team.
Aura
Increases Ally C.RATE in all Battles by 24%.
Belanor Equipment Guide
Arena, Campaign, Clan Boss, Dungeons, Doom Tower, Faction Wars

Recommended Artifacts

PvE: Lifesteal, Speed, Offense, Cruel, Perception, Accuracy
PvP: Savage, Lethal, Cruel, Offense, Speed

Stats Allocation

Weapon (ATK)
Helmet (HP)
Shield (DEF)
Gauntlets (C.RATE / C.DMG)
Chestplate (ATK%)
Boots (SPD / ATK%)
Ring (ATK)
Amulet (C.DMG)
Banner (ATK / ACC)

Stats Priority

PvE: ATK%, C.RATE, C.DMG, SPD, ACC
PvP: ATK%, C.RATE, C.DMG, SPD
Belanor Mastery Guide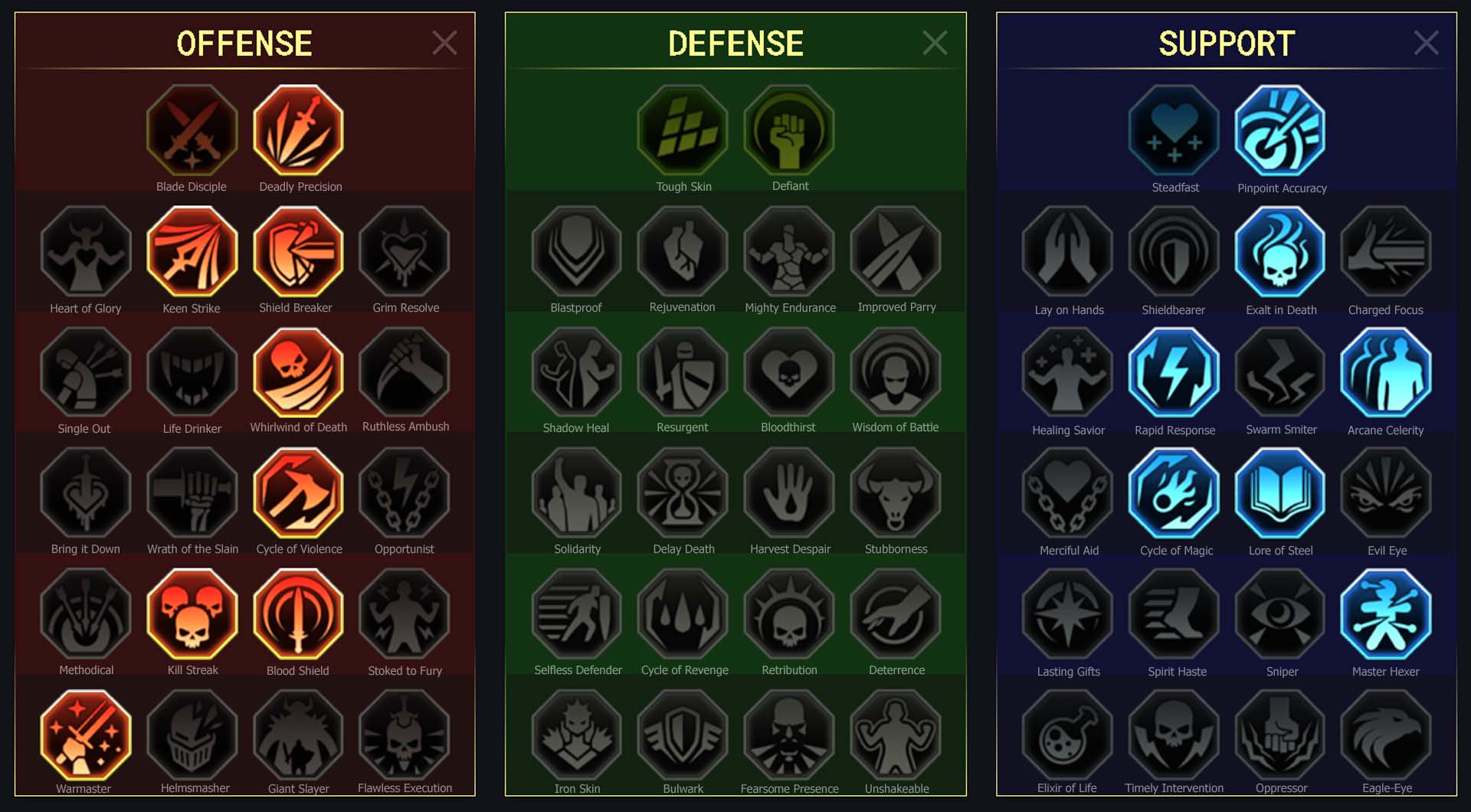 Offense

Deadly Precision
Keen Strike
Shield Breaker
Whirlwind of Death
Cycle of Violence
Kill Streak
Blood Shield
Warmaster

Support

Pinpoint Accuracy
Exalt in Death
Rapid Response
Arcane Celerity
Cycle of Magic
Lore of Steel
Master Hexer
Belanor Storyline
Hatred is a powerful thing, one that is, perhaps, as hard as death to overcome. Yet even here love finds a way, in the story of Belanor and Zavia. Cruel fate had them fight on different sides of one of the many conflicts between the High Elves of Aravia and the exiles known as Dark Elves. Still, even though the bloody fog of war, through hate, and fury, these two souls were united.
As stragglers of a battle between the warring Elven factions, they were initially forced to survive an unwelcoming orc-infested desert together. The sheer adversity and the dangers they faced allowed them to see a person behind the mask of an enemy. The passion that was sparked then survived far beyond a temporary alliance of convenience. And, in the end, both Belanor and Zavia chose to escape together rather than continue the feud. Now seen as traitors and deserters by their former allies, the two of them had no choice but to live on the run.
They faced persecution, poverty, and mortal danger together. Finally, they were captured and sentenced to death for their crimes. Yet when the first light of dawn broke and the jailors arrived to take the fugitives to the scaffold, they were taken aback. The cell was locked and secured, with not a single hint at how the captives escaped. The only thing they found were two feathers on the stone floor, one black as night, the other – white as Lumaya's light. To this day no one knows what transpired on that night, though some, as they often do, attribute the miraculous escape to the Arbiter.
Belanor Review
Belanor is a Legendary Attack Void affinity champion from the High Elves faction in Raid Shadow Legends. He is known for his impeccable hair and powerful wings. Despite his striking appearance and the slight advantage his wings give him in battles, he is often overlooked in teams because all of his abilities are single targets.
However, Belanor's true strength is revealed when paired with Zavia, as their combination enhances his abilities. Belanor is capable of dealing heavy damage and is particularly effective in Clan Boss battles, especially when used as a debuffer in unkillable teams. In addition, he is also highly effective in Faction War boss fights and Dungeon bosses due to his decrease defense and weaken abilities.
For a long time, Belanor's potential remained untapped until the release of Patch 6.30. With this update, Belanor received a significant buff that transformed him into a formidable AOE damage dealer with the ability to decrease defense and weaken his enemies. This newfound strength made him a highly playable champion and a force to be reckoned with in battles.
Belanor's journey from a champion overlooked by many to a highly playable and sought-after hero is a testament to the ever-evolving world of Raid Shadow Legends. As new patches and updates are released, champions are given the opportunity to shine and their potential fully realized. Belanor is just one example of a champion who has been transformed by the game's ongoing development, and his story serves as an inspiration to players everywhere.
Belanor Updates
Belanor Videos
Raid Shadow Legends Belanor Champion Guide by StewGaming
Raid Shadow Legends Belanor Champion Guide by StewGaming
Raid Shadow Legends Belanor Champion Guide by AliAlPlays
Raid Shadow Legends Belanor Champion Guide by Dirtbag Gaming
Raid Shadow Legends Belanor Champion Guide by Fice Gaming TV
Champion Name Reference
English: Belanor
French: Bélanor
Deutsch:
Italian:
Spanish:
Chinese:
Korean:
Japanese:
Ukranian:
Russian:
Turkish:
Portuguese: