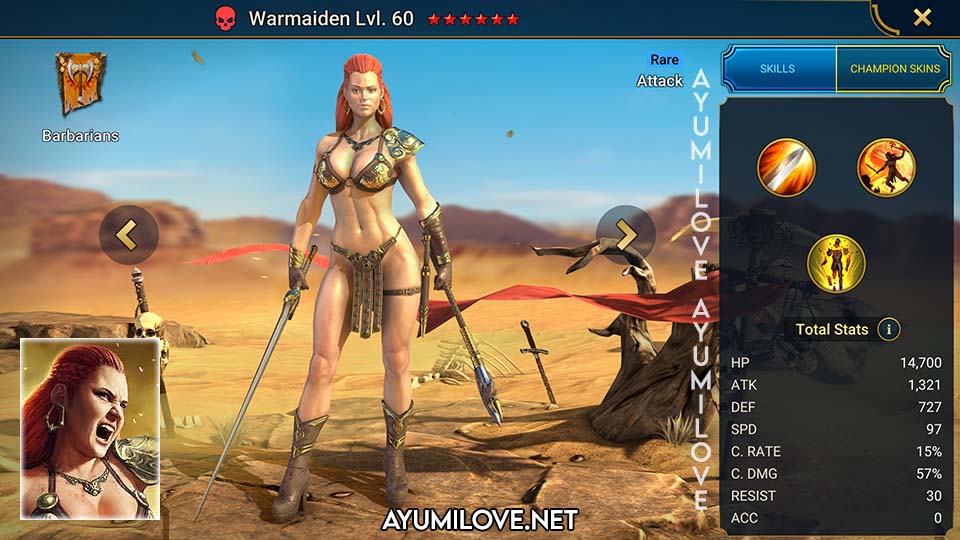 Overview

NAME: Warmaiden
FACTION: Barbarians
RARITY: Rare
ROLE: Attack
AFFINITY: Force
RANK: A
USABILITY: Early-Mid Game
TOMES: 13 (A3)

Abilities

RSL_AoE_DecreaseDefense_60%
RSL_Self_IncreaseAttack_50%
RSL_Target_Poison_2.5%

Obtain from

Mystery Shard
Ancient Shard
The Deadlands
Cillian the Lucky Fusion
Relickeeper Fusion
Shamrock Fusion

Blessings Recommendation

Grinding

★★★★✰ Campaign
★★★★★ Arena Defense
★★★★★ Arena Offense
★★★★✰ Clan Boss
★★✰✰✰ Hydra
★★★★★ Faction Wars

Dungeons

★★★★★ Minotaur
★★★★✰ Spider
★★★★✰ Fire Knight
★★★★★ Dragon
★★★★★ Ice Golem
★★✰✰✰ Iron Twins
★✰✰✰✰ Sand Devil

Potion

★★★★★ Arcane Keep
★★★★★ Void Keep
★★★★★ Force Keep
★✰✰✰✰ Spirit Keep
★★★★★ Magic Keep

Doom Tower

★★★★★ Floors
★★★★★ Magma Dragon
★✰✰✰✰ Nether Spider
★★★★★ Frost Spider
★★★★★ Scarab King
★★✰✰✰ Celestial Griffin
★✰✰✰✰ Eternal Dragon
★✰✰✰✰ Dreadhorn
★★★✰✰ Dark Fae
Warmaiden Skills
Ferocious Attack
Attacks 1 enemy. Has a 30% chance of placing a 2.5% [Poison] debuff for 1 turn.
Level 2: Damage +5%
Level 3: Damage +5%
Level 4: Damage +10%
Level 5: Damage +10%
Level 6: Damage +10%
Damage Multiplier: 2.5 ATK
Opportunity Strike (Cooldown: 3 turns)
Attacks 1 enemy. Places a 50% [Increase ATK] buff on this Champion and places an extra hit if this attack is critical. The extra hit cannot be critical.
Level 2: Damage +5%
Level 3: Damage +5%
Level 4: Damage +5%
Level 5: Damage +5%
Damage Multiplier: 3 ATK
Crumbling Blast (Cooldown: 4 turns)
Attacks all enemies. Has a 75% chance of placing a 60% [Decrease DEF] debuff for 2 turns.
Level 2: Damage +10%
Level 3: Buff/Debuff Chance +10%
Level 4: Buff/Debuff Chance +15%
Level 5: Cooldown -1
Damage Multiplier: 4 ATK
Warmaiden Equipment Guide
Arena, Doom Tower, Faction Wars
Campaign, Clan Boss, Dungeons

Recommended Artifacts

2 Offense Set, 1 Speed Set
1 Accuracy Set, 1 Speed Set, 1 Offense Set

Recommended Artifacts

1 Lifesteal Set, 1 Accuracy Set
1 Lifesteal Set, 1 Speed Set

Recommended Stats

ATK%, C.RATE, C.DMG, SPD, ACC
Weapon (ATK)
Helmet (HP)
Shield (DEF)
Gauntlets (C.RATE / C.DMG)
Chestplate (ATK%)
Boots (SPD)
Ring (ATK)
Amulet (C.DMG)
Banner (ACC)

Recommended Stats

HP%, C.RATE, SPD, ACC
Weapon (ATK)
Helmet (HP)
Shield (DEF)
Gauntlets (C.RATE / C.DMG)
Chestplate (ATK% / HP%)
Boots (SPD)
Ring (ATK / DEF)
Amulet (DEF / C.DMG)
Banner (ACC)
Warmaiden Mastery Guide
Arena, Campaign, Clan Boss, Dungeons, Doom Tower, Faction Wars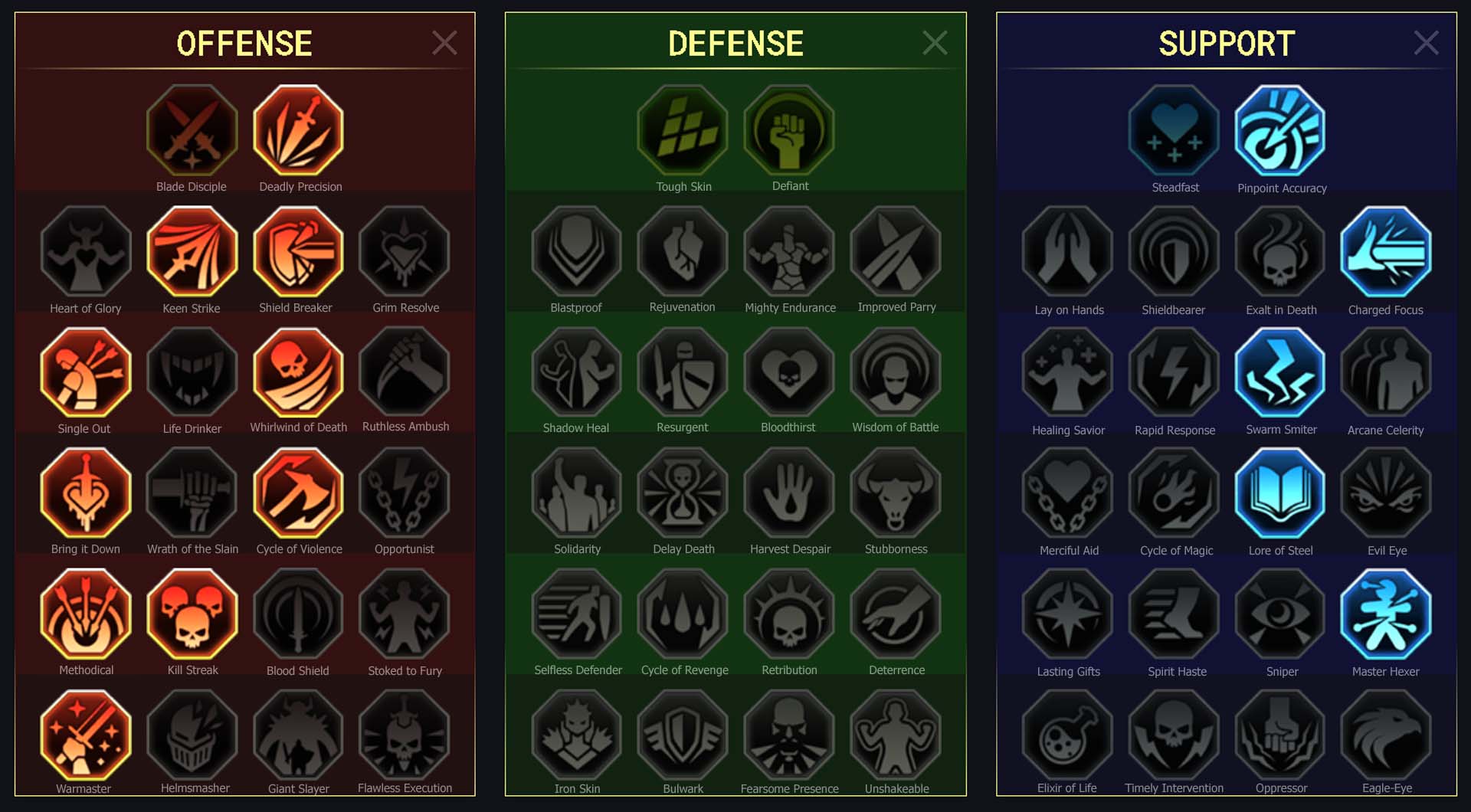 Offense

Deadly Precision
Keen Strike
Shield Breaker
Whirlwind of Death
Single Out
Bring it Down
Cycle of Violence
Kill Streak
Methodical
Warmaster

Support

Pinpoint Accuracy
Charged Focus
Swarm Smiter
Lore of Steel
Master Hexer
Warmaiden Reference
This section covers various Warmaiden build specialized for specific areas in Raid Shadow Legends.
Warmaiden All-Rounder Build
Here is Warmaiden artifacts and masteries by Ayumilove optimized as a debuffer champion for Arena, Dungeons, Faction Wars and Doom Tower Secret Rooms. She is equipped in Divine Life, Offense and Accuracy Set to provide her with additional Health, Attack and Accuracy Stats. The main stats to prioritize on Warmaiden are Speed, Accuracy and Health, so she can begin the battle first to inflict her Decrease Defense debuff, have ample amount of Accuracy to land her debuff successfully and sufficient health to tank the damage from enemies. If you have decent quality artifact substats, then you can focus on boosting her Critical Rate, Attack and Critical Damage stats to enable her to deal some damage. The masteries selected for Warmaiden are Offense and Support mastery tree. Offense mastery tree provides additional damage boost to her as she will be mainly used for raiding dungeon bosses during early-mid game. Support mastery tree supplements her with more Accuracy stats as well as extending her debuff duration.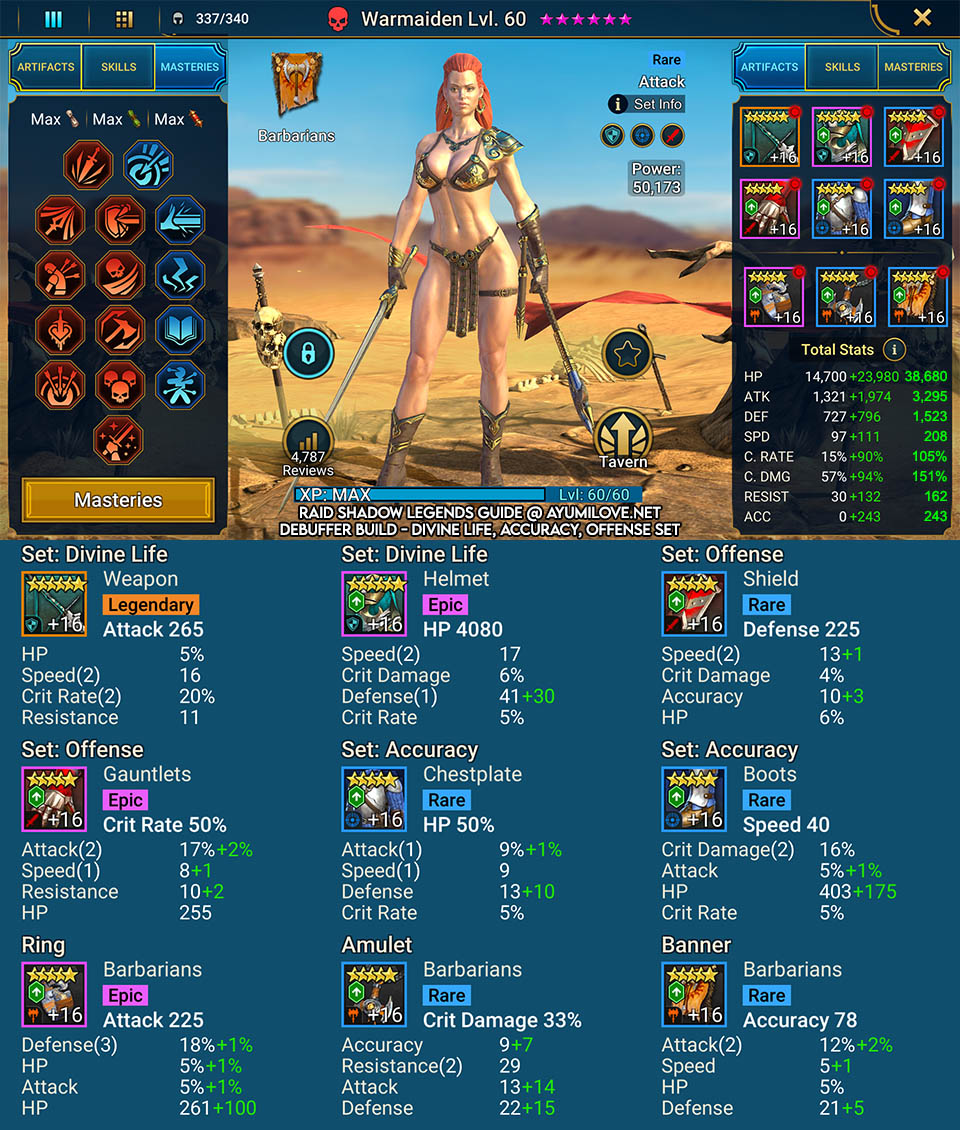 Warmaiden Review
Warmaiden is a Rare Attack Magic champion from Barbarians faction in Raid Shadow Legends. Warmaiden is farmable from The Deadlands (Campaign Stage 9) and can also be summoned from Mystery Shards and Ancient Shards.
Warmaiden is extremely valuable during the early-mid game as she can inflict AoE Decrease Defense debuff with her Crumbling Blast (A3 Skill). This allows your team to deal more damage to the enemies, and potentially wipe them out in the first turn! She synergizes well with your starter champion (Kael, Athel, Elhain, Galek) to unleash their full damage potential as an AoE damage nuker. She is commonly paired with High Khatun in Arena to boost her Turn Meter to go second in the battle to apply the debuff followed by the damage dealer.
Overall, Warmaiden is a great champion who can be used from early-mid-late games to farm Dungeon 1~25 and clear difficult content such as Faction Wars and Doom Tower Secret Room. She is a great addition to your arsenal, especially for F2P (Free to Play) players who have a limited amount of decent heroes, to begin with.
Warmaiden Videos
Raid Shadow Legends Warmaiden Guide by ASH
Raid Shadow Legends Warmaiden Guide by BGE
Raid Shadow Legends Warmaiden Guide by Cold Brew Gaming
Raid Shadow Legends Warmaiden Guide by Chofly