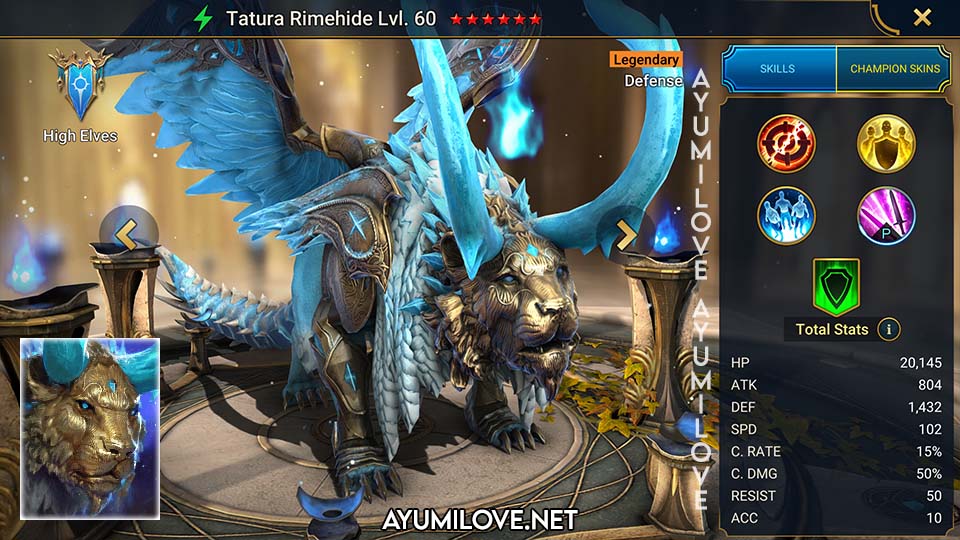 Overview

NAME: Tatura Rimehide
FACTION: High Elves
RARITY: Legendary
ROLE: Defense
AFFINITY: Spirit
USABILITY: Late Game
TOMES: 9 (A2 A3)

Total Stats (6★)

Health Points (HP): 20,145
Attack (ATK): 804
Defense (DEF): 1,432
Speed (SPD): 102
Critical Rate (C.RATE): 15%
Critical Damage (C.DMG): 50%
Debuff Resistance (RESIST): 50
Debuff Accuracy (ACC): 10

Obtain from

Ancient Shard
Sacred Shard
Tatura Rimehide Fusion

Grinding

★★★✰✰ Campaign
★★★★✰ Arena Defense
★★★★✰ Arena Offense
★★★★✰ Clan Boss
★★★★★ Faction Wars

Dungeons

★★★★✰ Minotaur
★★★★★ Spider
★★✰✰✰ Fire Knight
★★★★✰ Dragon
★★★★✰ Ice Golem

Potion

★★★★✰ Arcane Keep
★★★★✰ Void Keep
★★★★✰ Force Keep
★★★★✰ Spirit Keep
★★★★✰ Magic Keep

Doom Tower

★★★★★ Floors
★★★★★ Magma Dragon
★★✰✰✰ Nether Spider
★★★✰✰ Frost Spider
★★★✰✰ Scarab King
★★★★✰ Celestial Griffin
★★★★✰ Eternal Dragon
★★★★★ Dreadhorn
★★✰✰✰ Dark Fae
Tatura Rimehide Review
Tatura Rimehide is a Legendary Defense Spirit champion from High Elves faction in Raid Shadow Legends. Tatura Rimehide was released on December 2021 in Patch 5.00 as part of Tatura Rimehide Christmas Champion Fusion Event. To obtain Tatura Rimehide, you need to fuse Umetogi, Masamoto, Visionary and Broodlord.
Solar Ray (A1 Skill) is Tatura's basic ability that has 100% chance to apply Decrease Accuracy debuff on a single-target enemy. This skill is useful for late game content such as Bommal the Dreadhorn. It helps to reduce the boss's Accuracy stat by half, so you can avoid his Bomb debuff and resist his buff removal in a high resist team setup.
Wings of Shelter (A2 Skill) is his support skill that applies AoE Block Debuff and Increase Defense buff on your allies to fortify their defenses against enemies debuff and direct high damage. It's beneficial against Clan Bosses such as Demon Lord and Hydra as you will need sustain through a lengthy battle.
Otherworld Breach (A3 Skill) is Tatura's signature skill, which applies AoE Perfect Veil on all allies while simultaneously applying Shield buff to protect himself. The Veil buff adds another layer to reduce the incoming damage while preventing enemies from attack them. Apart from that, it's useful against preventing True Fear inflicted by "Head of Torment" (Hydra Clan Boss) and protecting your speed farm team for Spider's Den (Coldheart + Renegade) if you do not have Miscreated Monster.
Glimmer Hide is a one-of-a-kind passive skill that inflicts Freeze debuff on the enemy who attacks Tatura Rimehide. This mechanics works the same as being equipped in a Frost Set. This skill synergizes very well with his Otherworld Breach skill as the enemies have no one else to target except him. In addition, it also reflects a portion of the damage to the attacker if they manage to break his shield! Last but not least, he has a useful Defense Aura that works only in Doom Tower to improve the survivability rate of your champions.
Overall, Tatura Rimehide is a decent Legendary champion who can carry you in some areas of the game, especially for difficult content such as Doom Tower Hard mode and Clan Boss. For early-mid game players, it would not help much as you will be focusing more towards creating your speed team to farm dungeons more quickly rather than having a sustain champion. He would be helpful in clearing a particular tricky dungeon stages once where you do not have strong affinity champions to farm in that area, or setup a strong Arena Defense team.
Tatura Rimehide Skills
Solar Ray [DEF]
Attacks 1 enemy. Has an 80% chance of placing a 50% [Decrease ACC] debuff for 2 turns.
Level 2: Damage +5%
Level 3: Damage +10%
Level 4: Buff/Debuff Chance +10%
Level 5: Buff/Debuff Chance +10%
Damage Multiplier: 3.8 DEF
Wings of Shelter (Cooldown: 5 turns)
Places a [Block Debuffs] buff and a 60% [Increase DEF] buff on all allies for 2 turns.
Level 2: Cooldown -1
Level 3: Cooldown -1
Otherworld Breach (Cooldown: 5 turns)
Attacks all enemies. Places a [Perfect Veil] buff on all allies except this Champion for 2 turns. Also places a [Shield] buff on this Champion for 2 turns equal to 20% of the damage inflicted.
Level 2: Damage +5%
Level 3: Damage +10%
Level 4: Cooldown -1
Damage Multiplier: 4.2 DEF
Glimmer Hide [Passive]
When attacked, reflects 30% of the damage this Champion receives back to the attacker. Also has a 30% chance of placing a [Freeze] debuff on the attacker for 1 turn.
Aura
Increases Ally DEF in Doom Tower Battles by 35%
Tatura Rimehide Equipment Guide
Arena, Campaign, Clan Boss, Dungeons, Doom Tower, Faction Wars

Recommended Artifacts

Accuracy, Perception, Speed, Immortal, Regeneration, Resist, Taunt

Recommended Stats

Weapon (ATK)
Helmet (HP)
Shield (DEF)
Gauntlets (HP% / DEF% / C.RATE)
Chestplate (HP% / DEF% / RESIST / ACC)
Boots (SPD)
Ring (HP / DEF)
Amulet (HP / DEF / C.DMG)
Banner (RESIST / ACC / DEF)

Stats Priority

Supporter: HP%, DEF%, SPD, ACC, RESIST
Damage Dealer: DEF%, C.RATE, C.DMG, ACC
Tatura Rimehide Mastery Guide
Arena, Doom Tower, Faction Wars
Defense

Defiant
Improved Parry
Rejuvenation
Wisdom of Battle
Resurgent
Harvest Despair
Delay Death
Retribution
Unshakeable

Support

Steadfast
Shield Bearer
Rapid Response
Lore of Steel
Spirit Haste
Lasting Gifts
Campaign, Clan Boss, Dungeons,
Offense

Deadly Precision
Keen Strike
Heart of Glory
Single Out
Life Drinker
Bring it Down
Methodical
Warmaster

Support

Pinpoint Accuracy
Shield Bearer
Swarm Smiter
Lore of Steel
Evil Eye
Spirit Haste
Lasting Gifts
Tatura Rimehide Updates
Tatura Rimehide Videos
ASH: Tatura Rimehide is a MONSTER!! (Relentless Build)
Tyrauku: Tatura Rimehide (Built Like This) Makes Progression EASY!
MurderInc: Tatura Rimehide Built DIFFERENT Fusion Guide, Gameplay, and Masteries