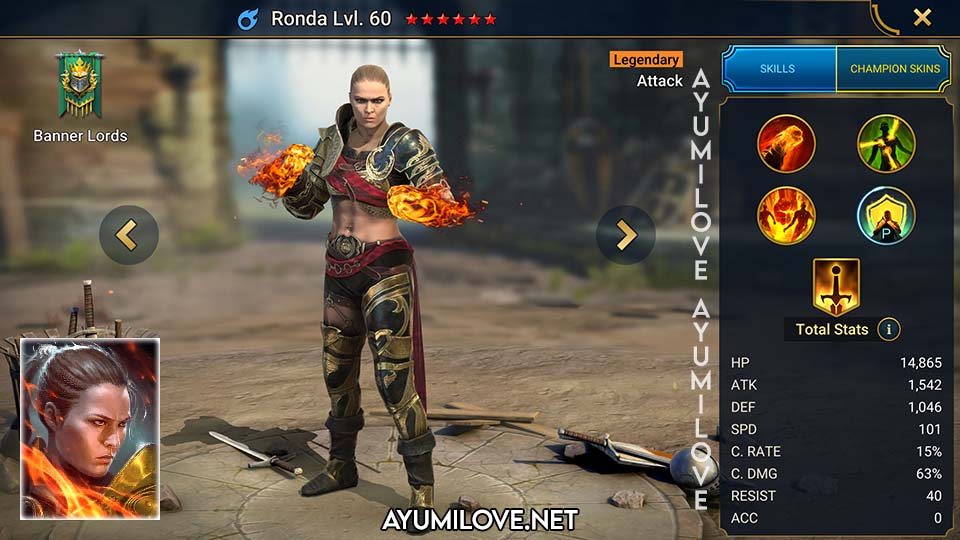 Overview

NAME: Ronda
FACTION: Banner Lords
RARITY: Legendary
ROLE: Attack
AFFINITY: Magic
RANK: B
USABILITY: Situational
TOMES: 10 (A2 A3)

Abilities

RSL_AllBattles_AttackAura
RSL_Passive_AllyJoinAttack_Special
RSL_Self_Shield
RSL_Self_DecreaseTurnMeter_Immune
RSL_Target_BasicAttack_3Hits
RSL_Target_BlockActiveSkills
RSL_Target_BlockPassiveSkills

Obtain from

Ronda Chase (Time-Limited Event)

Blessings Recommendation

Brimstone (Clan Boss)
Cruelty (Fire Knight)
Lightning Cage (Arena Offense)
Phantom Touch (Damage Dealer)

Grinding

★★★✰✰ Campaign
★★★★✰ Arena Defense
★★★★✰ Arena Offense
★★★★✰ Clan Boss
★✰✰✰✰ Hydra
★★★★✰ Faction Wars

Dungeons

★★★✰✰ Minotaur
★★✰✰✰ Spider
★★★★★ Fire Knight
★★★✰✰ Dragon
★★✰✰✰ Ice Golem
★✰✰✰✰ Iron Twins
★★✰✰✰ Sand Devil
★✰✰✰✰ Phantom Shogun

Potion

★★★✰✰ Arcane Keep
★★★✰✰ Void Keep
★★✰✰✰ Force Keep
★★★✰✰ Spirit Keep
★★★★✰ Magic Keep

Doom Tower

★★★★✰ Floors
★✰✰✰✰ Magma Dragon
★★★✰✰ Nether Spider
★★✰✰✰ Frost Spider
★★★✰✰ Scarab King
★★✰✰✰ Celestial Griffin
★★✰✰✰ Eternal Dragon
★✰✰✰✰ Dreadhorn
★★✰✰✰ Dark Fae
Ronda Skills
Flaming Flurry
Attacks 1 enemy 3 times. Places an extra hit if the target has less than 50% HP after the third hit.
Level 2: Damage +5%
Level 3: Damage +5%
Level 4: Damage +5%
Level 5: Damage +5%
Damage Multiplier: 1.2 ATK
Phase Rushdown (Cooldown: 4 turns)
Attacks 1 enemy 3 times. Will ignore [Shield] buffs and 30% of the target's DEF. Place a [Block Passive Skills] debuff for 2 turns before attacking. This debuff cannot be resisted. Also, places a [Block Active Skills] debuff for 2 turns after attacking. This debuff cannot be resisted.
Level 2: Damage +10%
Level 3: Damage +10%
Level 4: Cooldown -1
Damage Multiplier: 1.9 ATK
Fury Tremor (Cooldown: 5 turns)
[Active Effect] Attacks all enemies 2 times. Damage increases by 30% if these champions have more than 50% HP.
[Passive Effect] Immune to Turn meter reduction effects when this skill is not on cooldown. Decreases all Turn Meter reduction effects used against this champion by 50% when this skill is on cooldown.
Level 2: Damage +10%
Level 3: Damage +10%
Level 4: Cooldown -1
Damage Multiplier: 1.9 ATK
In Your Corner (Passive)
Has a 15% chance to join an attack whenever an ally attacks an enemy. This champion will attack with her default skill. At the start of each round, places a [Shield] buff on this champion for 2 turns equal to 40% of their MAX HP.
Damage Multiplier: 1.2 ATK
Aura
Increases Ally ATK in all battles by 30%
Ronda Equipment Guide
Arena, Campaign, Clan Boss, Dungeons, Doom Tower, Faction Wars

Recommended Artifacts

PvE: Toxic, Relentless, Critical Damage
PvP: Savage, Lethal, Cruel, Stoneskin, Defiant

Stats Allocation

Weapon (ATK)
Helmet (HP)
Shield (DEF)
Gauntlets (C.RATE / C.DMG)
Chestplate (ATK%)
Boots (SPD)
Ring (ATK)
Amulet (C.DMG)
Banner (ATK)

Stats Priority

PvE & PvP: ATK%, C.RATE, C.DMG, SPD

Ronda Mastery Guide
Arena, Doom Tower, Faction Wars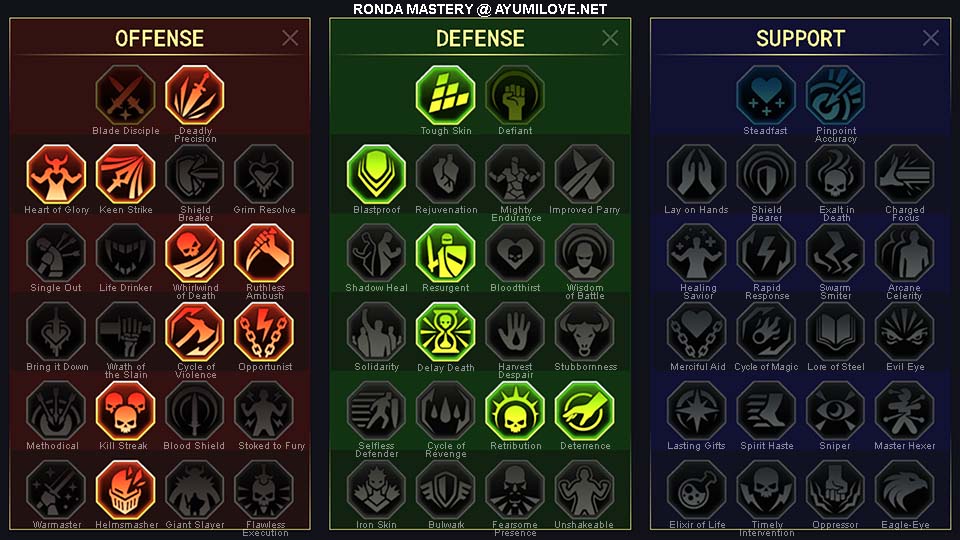 Offense

Deadly Precision
Keen Strike
Heart of Glory
Whirlwind of Death
Ruthless Ambush
Cycle of Violence
Opportunist
Kill Streak
Helmsmasher

Defense

Tough Skin
Blastproof
Resurgent
Delay Death
Retribution
Deterrence
Campaign, Clan Boss, Dungeons
Offense

Deadly Precision
Keen Strike
Heart of Glory
Life Drinker
Single Out
Bring it Down
Cycle of Violence
Methodical
Kill Streak
Giant Slayer

Defense

Tough Skin
Blastproof
Resurgent
Delay Death
Retribution
Ronda Reference
Ronda All-Rounder Build
Here is Ronda's artifacts and masteries optimised by ASH for all content in the game. Relentless Set is used to provide Ronda a chance to gain an Extra Turn to perform her attacks, whereas Critical Damage Set for additional Critical Damage stats! The stats prioritized for this build are a high amount of Attack, Critical Rate, Critical Damage, and Speed. She does not need Accuracy stats since her skills are able to inflict them without getting resisted! The masteries selected for Ronda are focussed on PvE content. If you are mainly using Ronda for PvE content, it's recommended to build her with some HP stats as she is prety squishy.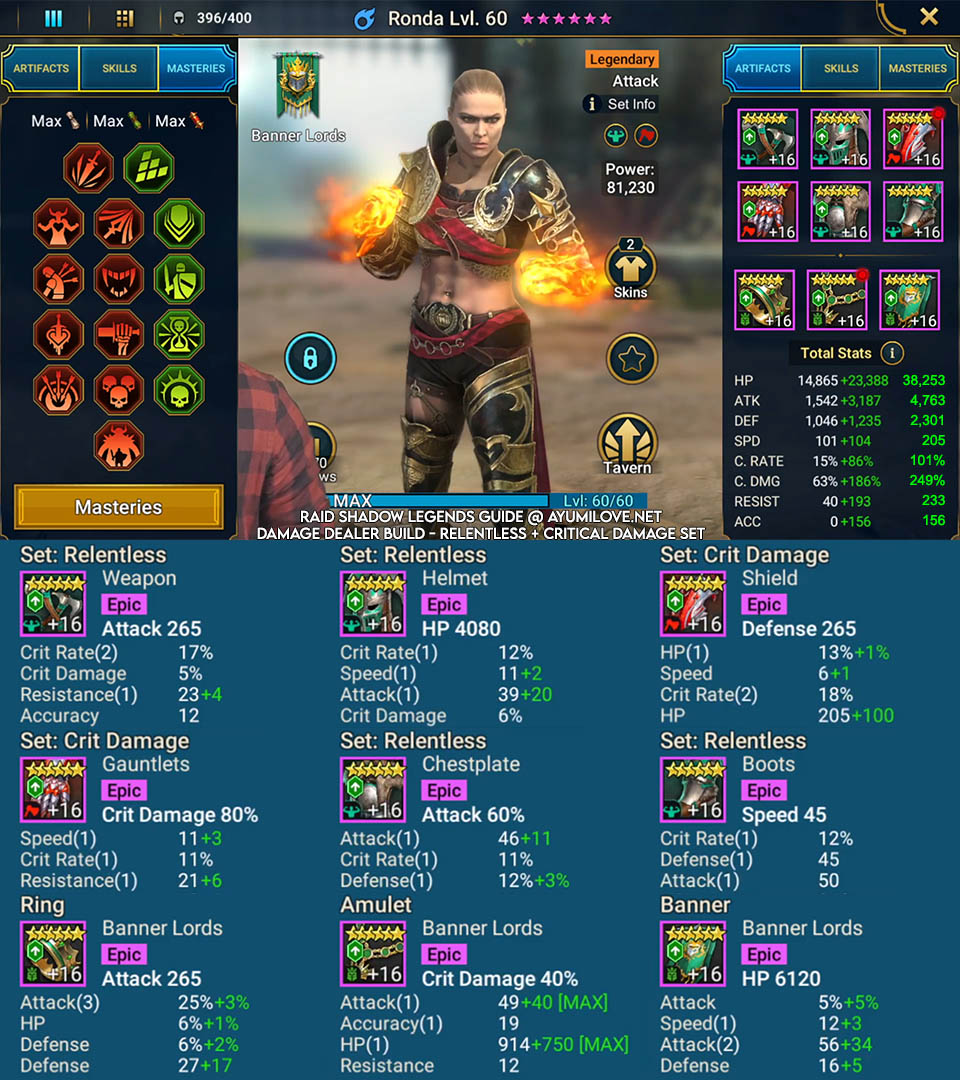 Ronda Review
Ronda is a Legendary Attack Magic champion from Banner Lords faction in Raid Shadow Legends. Ronda was introduced in Patch 6.22 on November 30th 2022 as a special collaboration with Ronda Rousey who is an American professional wrestler, actress, former judoka and mixed martial artist! Ronda can only be obtained for a limited time to all players for free by logging into the game for 7 days between November 30th 2022, and February 20th 2023 to acquire her! She will not be available to be summoned from Ancient Shards and Sacred Shards. Previously, Plarium released a champion based on a popular Twitch streamer who is known as Ninja with Shadowkin theme.
Use Promo Code "RAIDRONDA" to gain sweet in-game resources while the event is running!
Ronda is a champion that players receive as a login reward regardless of their progress in the game. Although she doesn't bring any crucial debuffs such as Decrease Defence or Attack, her pure focus on defeating enemies is noteworthy. With her irresistible Block Active and Block Passive Skills on her A2 for a single target, she becomes the second champion after Ramantu to have the ability to block Passive Skills. This feature may prove useful in later stages of the game, especially against the Mithrala Passive in Arena, and as an anti-Ultimate Deathknight mechanic in early game arena.
While Ronda's damage output is robust on all her abilities, she may not match the Trunda, Hephraak or Baron tier of damage dealers, which might limit her high-end arena viability. However, she is a suitable option for Mid Gold 5 and below, although there are several champions that can fill this role. Her damage output in early game is impressive and surpasses that of Kael, making her an excellent choice to beat up the Clan Boss with her Cardiel-like passive. Nonetheless, players might not want to prioritize her as the first champion to level up since she lacks the utility required to progress in many areas of the game.
Ronda's versatility is commendable, and she is expected to perform well in most areas of the game, with her multi-hit abilities making her particularly strong against the fire knight. Nonetheless, her usefulness is limited, and her lack of essential debuffs might restrict her ability to progress in higher stages of the game. Overall, Ronda is a decent champion, but players must be mindful of her limitations.
Ronda Updates
Ronda Videos
ASH: RONDA is SO BROKEN in THIS BUILD! (EVERYBODY DO THIS!)
NubRaids: RONDA'S TIME TO SHINE! Telerians Fire Knight Tournament
Raid Shadow Legends: Ronda Official Commercial
Raid Shadow Legends: Ronda Champion Spotlight