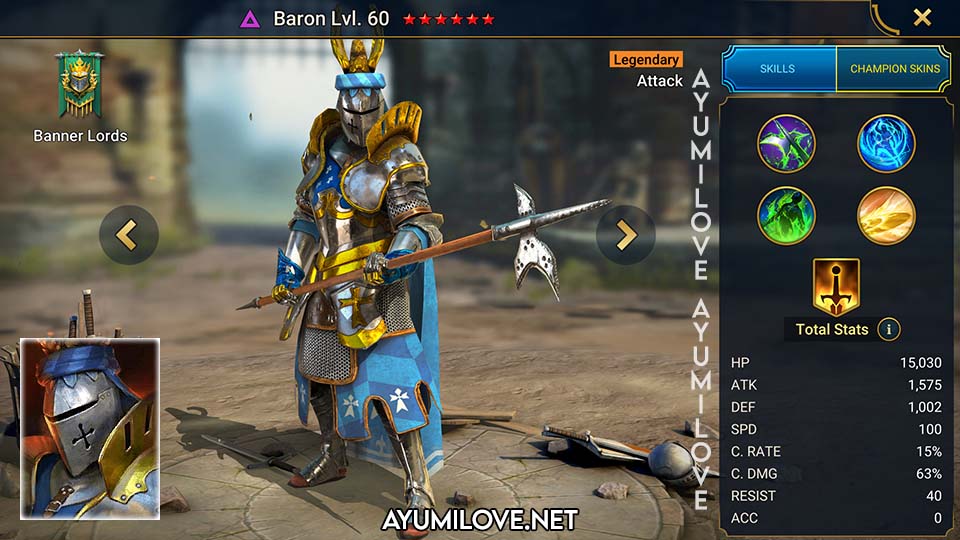 Overview

NAME: Baron
FACTION: Banner Lords
RARITY: Legendary
ROLE: Attack
AFFINITY: Void
RANK: A
USABILITY: Mid-Late Game
TOMES: 12 (A2 A3)

Abilities

RSL_AllBattles_AttackAura
RSL_AoE_IgnoreBlockDamage
RSL_AoE_IgnoreShield
RSL_Target_DecreaseDefense_60%

Obtain from

Void Shard

Blessings Recommendation

Lightning Cage (Arena)
Soul Reap (Damage Dealer)

Grinding

★★★★✰ Campaign
★★★★★ Arena Defense
★★★★★ Arena Offense
★★★✰✰ Clan Boss
★★★✰✰ Hydra
★★★★★ Faction Wars

Dungeons

★★★★✰ Minotaur
★★★★✰ Spider
★★✰✰✰ Fire Knight
★★★★✰ Dragon
★★★★✰ Ice Golem
★✰✰✰✰ Iron Twins
★★✰✰✰ Sand Devil
★★★✰✰ Phantom Shogun

Potion

★★★★✰ Arcane Keep
★★★★✰ Void Keep
★★★★✰ Force Keep
★★★★✰ Spirit Keep
★★★★✰ Magic Keep

Doom Tower

★★★★★ Floors
★★★★✰ Magma Dragon
★★★★✰ Nether Spider
★★★★✰ Frost Spider
★★★★✰ Scarab King
★★★✰✰ Celestial Griffin
★✰✰✰✰ Eternal Dragon
★✰✰✰✰ Dreadhorn
★★★✰✰ Dark Fae
Baron Skills
Trample
Attacks 1 enemy. Will attack all remaining enemies with any surplus damage if the target is killed.
Level 2: Damage +5%
Level 3: Damage +5%
Level 4: Damage +5%
Level 5: Damage +5%
Damage Multiplier: 3.6 ATK
Overall Grading: Godlike
Split Asunder (Cooldown: 4 turns)
Attacks 1 enemy. Places a 60% [Decrease DEF] debuff for 2 turns. This debuff is guaranteed.
Level 2: Damage +5%
Level 3: Damage +5%
Level 4: Damage +10%
Level 5: Cooldown -1
Damage Multiplier: 5.5 ATK
Overall Grading: Strong
Righteous Charge (Cooldown: 5 turns)
Attacks 1 enemy. Damage increases according to the number of buffs on this Champion.
Level 2: Damage +10%
Level 3: Damage +10%
Level 4: Cooldown -1
Level 5: Cooldown -1
Damage Multiplier: 3 ATK x (1 + 0.25 Buff)
Overall Grading: Strong
Skypiercer (Cooldown: 4 turns)
Attacks all enemies. Will ignore Shield and Block Damage buffs, as well as 50% of the targets DEF.
Damage Multiplier: 4.3 ATK
Overall Grading: Godlike
Aura
Increases Ally ATK in all Battles by 33%
Baron Equipment Guide
Arena, Campaign, Clan Boss, Dungeons, Doom Tower, Faction Wars

Recommended Artifacts

PvE & PvP: Retaliation, Savage, Cruel, Offense, Speed, Critical Damage, Critical Rate

Stats Allocation

Weapon (ATK)
Helmet (HP)
Shield (DEF)
Gauntlets (C.RATE / C.DMG)
Chestplate (ATK%)
Boots (SPD)
Ring (ATK)
Amulet (C.DMG)
Banner (ATK)

Stats Priority

PvE & PvP: ATK%, C.RATE, C.DMG, SPD
Baron Mastery Guide
Arena, Campaign, Clan Boss, Dungeons, Doom Tower, Faction Wars
Offense

Deadly Precision
Keen Strike
Shield Breaker
Single Out
Ruthless Ambush
Bring it Down
Cycle of Violence
Blood Shield
Flawless Execution

Defense

Defiant
Improved Parry
Bloodthirst
Stubborness
Retribution
Deterrence
Baron Review
Baron is a Legendary Attack Void affinity champion from the Banner Lords in Raid Shadow Legends. With his shiniest armor in all of Raid, Baron was a force to be reckoned with on the battlefield. It was rumored that he used a secret family polish passed down through generations, a secret that only added to his regal presence.
Before September 2022, Baron was a unique niche champion, with a secret Pure damage ability that had a low probability of unlocking. Only the most elite players used him for this skill, as it was impractical for most players. However, everything changed in September when Baron received a "buff" that transformed him into a formidable force on the battlefield.
With this "buff," Baron lost his Pure damage ability but gained a hard-hitting AOE attack in its place. This new ability made him one of the best champions in Raid for the arena and a great counter to the likes of Bolster shield set, Krisk the Ageless, and Nekhret the Great as it ignored shields. What's more, this new skill didn't require any books, making him an even more valuable addition to any player's arsenal.
But Baron's strength didn't stop there. He also possessed a powerful single-target Decrease DEF debuff that didn't require accuracy, making him a valuable asset in places like the Spider's Den. And of course, Baron's most famous ability was his A1 attack that dealt insane damage to all other enemies if he killed someone, a strategy that was commonly used in the treacherous Doom Tower waves.
Thanks to his newfound fame and power, Baron was no longer a niche champion, but a legend in his own right. He continued to fight with deadly precision, his trusty armor shining in the sunlight as he wielded his arsenal of powerful attacks and debuffs. And while his secret family polish may have been a well-guarded secret, there was no doubt that Baron's legacy would continue to shine brightly in the world of Raid Shadow Legends.
Baron Updates
Baron Videos
Raid Shadow Legends Baron Champion Guide by Cold Brew Gaming
Raid Shadow Legends Baron in Doom Tower Guide by MurderInc
Raid Shadow Legends Baron Champion Guide by Raid Overslimpified
Champion Name Reference
English: Baron
French:
Deutsch:
Italian:
Spanish: Baron
Chinese:
Korean:
Japanese:
Ukranian:
Russian:
Turkish:
Portuguese: