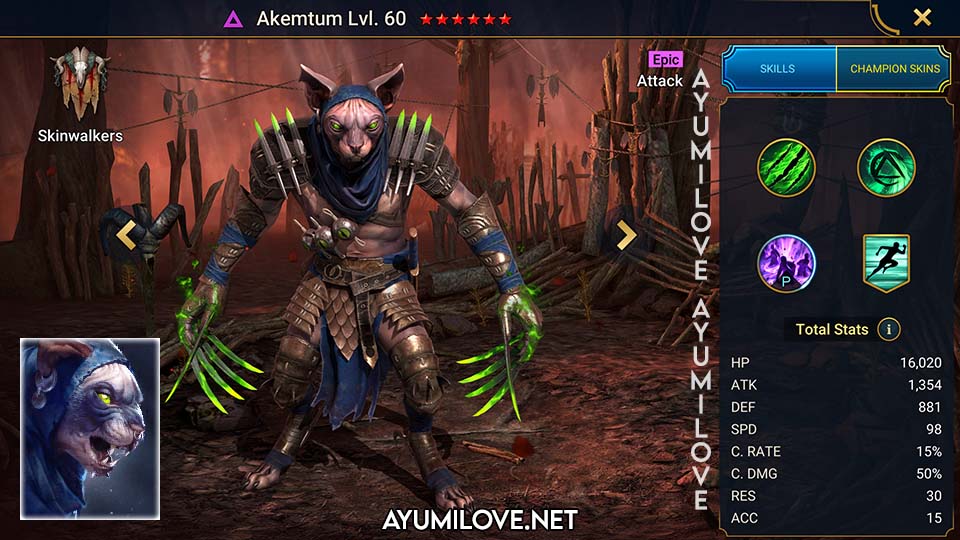 Overview

NAME: Akemtum
FACTION: Skinwalkers
RARITY: Epic
ROLE: Attack
AFFINITY: Void
RANK: S
USABILITY: Situational
TOMES: 11 (A2 A3)

Abilities

RSL_AllBattles_SpeedAura
RSL_AoE_Hex
RSL_AoE_IncreaseDebuffDuration_Specific
RSL_AoE_Passive_Enemy
RSL_Target_BasicAttack_3Hits
RSL_Target_DebuffSpread
RSL_Target_Poison_5%

Obtain from

Void Shard
Guaranteed Champion

Blessings Recommendation

Commanding Presence (Aura Lead)
Cruelty (Late Game)
Phantom Touch (Damage Dealer)

Grinding

★★★★✰ Campaign
★★★✰✰ Arena Defense
★★★★✰ Arena Offense
★★★★★ Clan Boss
★★★★✰ Hydra
★★★★✰ Faction Wars

Dungeons

★★★★✰ Minotaur
★★★✰✰ Spider
★★★★✰ Fire Knight
★★★★★ Dragon
★★★★★ Ice Golem
★✰✰✰✰ Iron Twins
★★✰✰✰ Sand Devil
★✰✰✰✰ Phantom Shogun

Potion

★★★★✰ Arcane Keep
★★★★✰ Void Keep
★★★★★ Force Keep
★★★★★ Spirit Keep
★★★★★ Magic Keep

Doom Tower

★★★★✰ Floors
★✰✰✰✰ Magma Dragon
★✰✰✰✰ Nether Spider
★✰✰✰✰ Frost Spider
★★★✰✰ Scarab King
★★★✰✰ Celestial Griffin
★★★✰✰ Eternal Dragon
★✰✰✰✰ Dreadhorn
★★★✰✰ Dark Fae
Akemtum Skills
Noxious Claws
Attacks 1 enemy 3 times. Each hit has a 40% chance of placing a 5% [Poison] debuff for 2 turns. If the target is under a [Hex] debuff, each hit also has a 40% chance of applying a [Debuff Spread] effect, taking 1 random debuff from the target and placing it on all enemies.
Level 2: Damage +5%
Level 3: Buff/Debuff Chance +5%
Level 4: Damage +5%
Level 5: Buff/Debuff Chance +5%
Damage Multiplier: 1.1 ATK
Immortal Malison (Cooldown: 5 turns)
Attacks all enemies 3 times. Each hit has a 60% chance of increasing the duration of any [Hex] debuffs on enemies by 1 turn. If enemies are not under a [Hex] debuff, each hit has a 60% chance of placing a [Hex] debuff for 2 turns.
Level 2: Damage +5%
Level 3: Buff/Debuff Chance +5%
Level 4: Damage +10%
Level 5: Buff/Debuff Chance +10%
Level 6: Cooldown -1
Level 7: Cooldown -1
Damage Multiplier: 1 ATK
Hex Blood (Passive)
Has an 80% chance of inflicting damage from one [Poison] debuff to enemies under a [Hex] debuff whenever their allies receive damage from [Poison] Debuffs.
Level 2: Buff/Debuff Chance +5%
Level 3: Buff/Debuff Chance +5%
Level 4: Buff/Debuff Chance +10%
Aura
Increases Ally SPD in all battles by 18%
Akemtum Equipment Guide
Arena, Campaign, Clan Boss, Dungeons, Doom Tower, Faction Wars

Recommended Artifacts

PvE: Perception, Accuracy, Speed, Lethal, Savage, Cruel, Speed, Lifesteal, Bloodthirst
PvP: Stoneskin, Lethal, Savage, Cruel

Stats Allocation

Weapon (ATK)
Helmet (HP)
Shield (DEF)
Gauntlets (C.RATE / C.DMG)
Chestplate (ATK%)
Boots (SPD)
Ring (ATK)
Amulet (C.DMG)
Banner (ATK / ACC)

Stats Priority

PvE: ACC, SPD, C.RATE, C.DMG, ATK%
PvP: ATK%, C.RATE, C.DMG, SPD
Akemtum Mastery Guide
Arena, Doom Tower, Faction Wars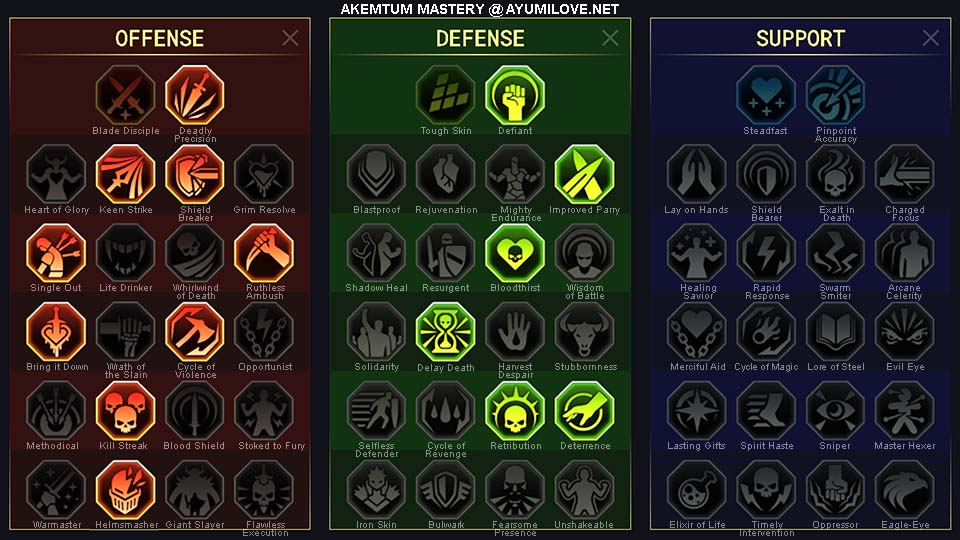 Offense

Deadly Precision
Keen Strike
Shield Breaker
Ruthless Ambush
Single Out
Cycle of Violence
Bring it Down
Kill Streak
Helmsmasher

Defense

Defiant
Improved Parry
Bloodthirst
Delay Death
Retribution
Deterrence
Campaign, Clan Boss, Dungeons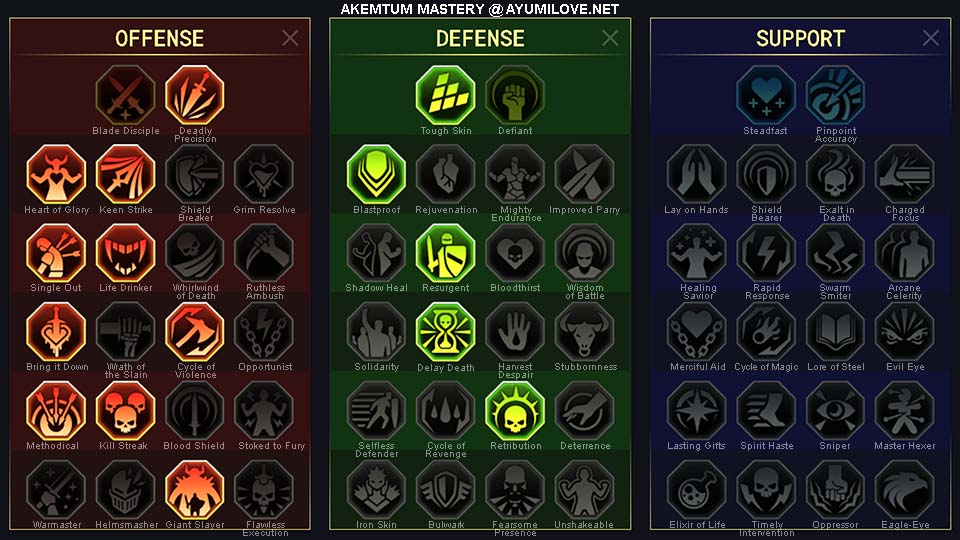 Offense

Deadly Precision
Keen Strike
Heart of Glory
Life Drinker
Single Out
Cycle of Violence
Bring it Down
Kill Streak
Methodical
Giant Slayer

Defense

Tough Skin
Blastproof
Resurgent
Delay Death
Retribution
Akemtum Review
Akemtum is an Epic Attack Void affinity champion from the Skinwalkers faction in Raid Shadow Legends. Armed with dangerous toxins and exceptional fighting skills, Akemtum joined the Skinwalkers as part of patch 6.40. His expertise lay in the art of poisons, and he was a master of inflicting them on his enemies.
Akemtum's attacks were swift and deadly. With his A1 attack, he could strike up to three times, and there is a 50% chance that he would place a Poison debuff on his target. What set Akemtum apart was his unique ability to place and interact with Hex debuffs. His A2 attack allowed him to strike all enemies three times, and each hit had a chance to either increase the duration of the Hex debuff or place it on his enemies for two turns.
Once Akemtum had placed a Hex debuff on his enemies, he could use his A1 attack to spread one random debuff to all enemies. This made him one of the most powerful debuff spreaders in the realm, and a valuable asset to any team. Additionally, his passive skill caused a poison debuff to also damage any enemy who was under a Hex debuff. This ability could potentially change the meta in some dungeon teams.
Akemtum's skills made him a powerful poisoner for any wave-based content, such as dungeon waves, faction wars, and Doom Tower waves. He was also an unstoppable force against Hydra Clan Boss. The combination of his debuff spreading and poison abilities made him a valuable addition to any team seeking to conquer the most challenging opponents.
And so, with his exceptional skill and mastery of poisons and debuffs, Akemtum became a legend in the realm of Brakus the Shifter. A warrior to be feared and respected by all who crossed his path, Akemtum's legacy would continue to inspire future generations of warriors.
Akemtum Updates
Akemtum Videos
Cold Brew Gaming: NEW EPIC CAN SOLO DRAGON AND BEAT SPIDER! AKEMTUM SHOWCASE
SkratchPlays: He MELTS HYDRA! But Is He Worth 40 Void Shards?? Akemtum Spotlight
finalKenpachi: Mithrala/Akemtum Solo Hard Spider 10 in 25 seconds!