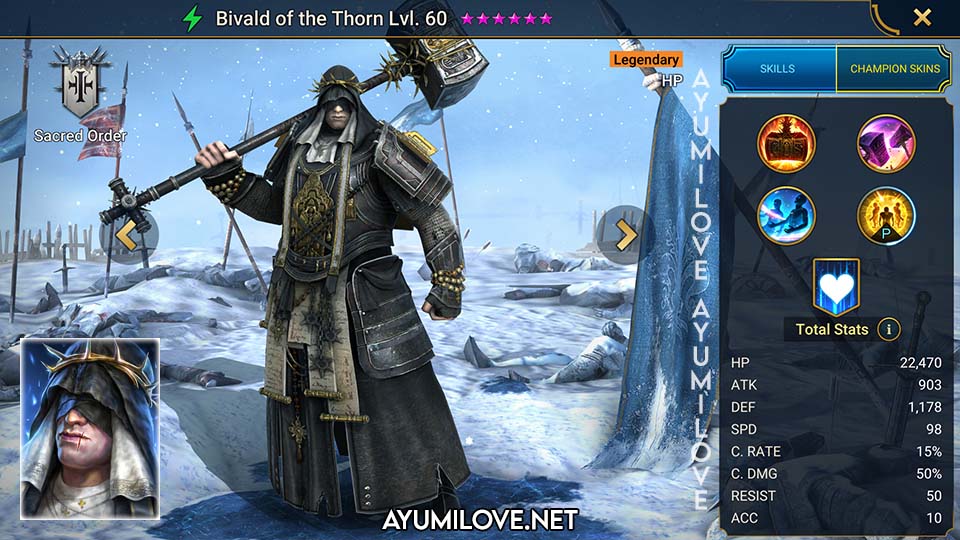 Overview

NAME: Bivald of the Thorn
FACTION: Sacred Order
RARITY: Legendary
ROLE: HP
AFFINITY: Spirit
RANK: B
USABILITY: Situational
TOMES: 10 (A1 A2 A3)

Abilities

RSL_AllBattles_HpAura
RSL_AoE_Heal
RSL_AoE_Leech
RSL_AoE_Passive_Ally
RSL_AoE_Provoke
RSL_AoE_Shield
RSL_LowestHp_Heal
RSL_Self_Strengthen_25%
RSL_Target_Provoke

Obtain from

Ancient Shard
Sacred Shard
Primal Shard
Fragment Fusion

Blessings Recommendation

Brimstone (Late Game)
Cruelty (Hydra Clan Boss)
Intimidating Presence (Aura Lead)

Grinding

★★★✰✰ Campaign
★★★★✰ Arena Defense
★★★★✰ Arena Offense
★★★★✰ Clan Boss
★★★★✰ Hydra
★★★★★ Faction Wars

Dungeons

★★★★✰ Minotaur
★★★★★ Spider
★★★✰✰ Fire Knight
★★★★✰ Dragon
★★★★✰ Ice Golem
★★★✰✰ Iron Twins
★✰✰✰✰ Sand Devil
★★✰✰✰ Phantom Shogun

Potion

★★★✰✰ Arcane Keep
★★★✰✰ Void Keep
★★★✰✰ Force Keep
★★★✰✰ Spirit Keep
★★✰✰✰ Magic Keep

Doom Tower

★★★★★ Floors
★★★★★ Magma Dragon
★★★✰✰ Nether Spider
★★★✰✰ Frost Spider
★★✰✰✰ Scarab King
★★★✰✰ Celestial Griffin
★★★✰✰ Eternal Dragon
★★✰✰✰ Dreadhorn
★★✰✰✰ Dark Fae
Bivald of the Thorn Review
Bivald of the Thorn is a Legendary HP Spirit affinity champion from the Sacred Order faction in Raid Shadow Legends. His heraldry knows no bounds, reminiscent of a templar of old. He cavaliers into Teleria with the goal of controlling all foes for your team, joining as part of the May Fragment Fusion Collection event.
Bivald's mace, wrapped in thorns, is a fearsome weapon. The barbed wire effect it inflicts upon his foes is enough to slay them. With two decent area-of-effect (AOE) hits on his A2 and A3, Bivald's kit is designed to help you progress through wave content. He excels as an excellent control champion and a strong healer, especially when built to deal damage. What sets him apart is his unique ability to land provokes on weak hits, ensuring that he always keeps your enemies in check. Whether you're in the early or mid-game stages, or seeking more control in the challenging Doom Tower, Bivald is a reliable choice, performing as well as other provoke champions. He can also be a valuable asset in Hydra battles if you're in need of crowd control (CC) and healing.
Bivald is a well-rounded champion who performs admirably in various areas of the game, although he doesn't excel in one particular area. However, his AOE provokes and leech abilities make him a formidable contender in the Spider dungeon, where he can shine the brightest. Additionally, Bivald's useful passive ability reduces incoming damage when champions are provoked, making him a potentially massive healer with his A3. He also brings leech and strengthen buff abilities to the battlefield, further enhancing his versatility and utility in battle.
Bivald of the Thorn Skills
Thorn Maul
Attacks 1 enemy. Has a 30% chance of placing a [Provoke] debuff for 1 turn. Also heals the ally with the lowest HP by 15% of the damage inflicted. The [Provoke] debuff can be placed even if this attack lands as a weak hit.
Level 2: Damage +5%
Level 3: Damage +5%
Level 4: Buff/Debuff Chance +10%
Level 5: Buff/Debuff Chance +10%
Damage Multiplier: 0.25 HP
Admonition of Barbs (Cooldown: 4 turns)
Attacks all enemies 2 times. The first hit has a 75% chance of placing a [Provoke] debuff for 1 turn. The second hit has a 75% chance of placing a [Leech] debuff for 2 turns. Also places a 25% [Strengthen] buff on this Champion.
Level 2: Damage +10%
Level 3: Buff/Debuff Chance +10%
Level 4: Buff/Debuff Chance +15%
Level 5: Cooldown -1
Damage Multiplier: 0.15 HP
Briar Nexus (Cooldown: 5 turns)
Attacks all enemies. Damage increases by 5% for each debuff on each enemy. Also heals all allies by 20% of the damage inflicted and places a [Shield] buff on them for 2 turns equal to 20% of the damage inflicted.
Level 2: Damage +10%
Level 3: Damage +10%
Level 4: Cooldown -1
Damage Multiplier: 0.25 HP * (1 + 0.05 * Debuffs on enemy)
Dethorned (Passive)
Decreases the damage taken by all allies from enemies under [Provoke] debuffs by 15%.
Aura
Increases Ally HP in all Battles by 28%.
Bivald of the Thorn Equipment Guide
Arena, Campaign, Clan Boss, Dungeons, Doom Tower, Faction Wars

Recommended Artifacts

Savage, Accuracy, Perception, Speed, Regeneration

Stats Allocation

Weapon (ATK)
Helmet (HP)
Shield (DEF)
Gauntlets (C.RATE / C.DMG)
Chestplate (HP%)
Boots (SPD)
Ring (HP)
Amulet (C.DMG)
Banner (ACC)

Stats Priority

Damage Dealer & Debuffer: HP%, C.RATE, C.DMG, ACC, SPD
Bivald of the Thorn Mastery Guide
Campaign, Clan Boss, Dungeons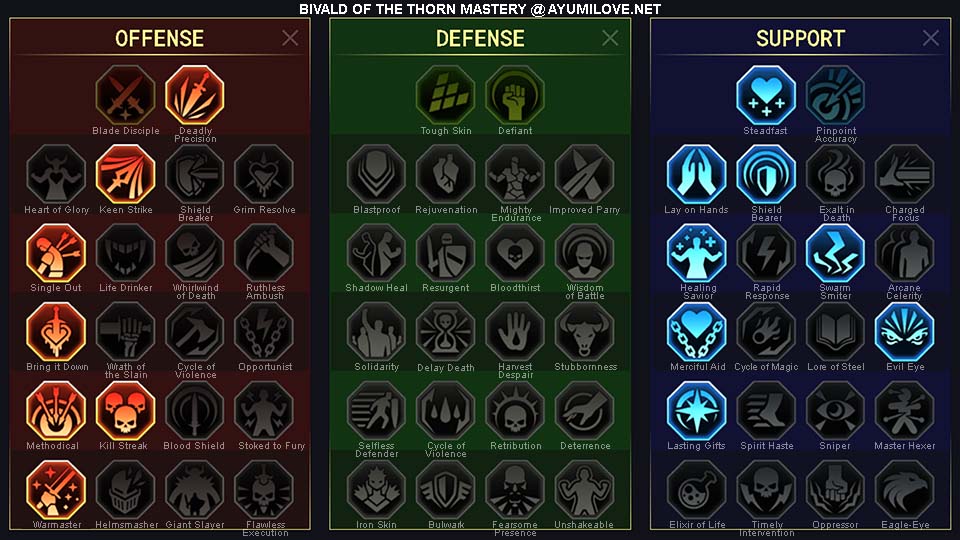 Offense

Deadly Precision
Keen Strike
Single Out
Bring it Down
Methodical
Kill Streak
Warmaster

Support

Steadfast
Lay on Hands
Shield Bearer
Healing Savior
Swarm Smiter
Merciful Aid
Evil Eye
Lasting Gifts
Bivald Champion Lore
In the early days of the Sacred Order, much credence was given to Lumaya's capacity for forgiveness — how even the most wicked souls could be redeemed through her love and grace. Many believed that only a tiny shaft of her Light was needed to pierce the veil of ignorance blinding someone, and the troubled would abandon their wickedness for piety and charity. Such was the case with a man called Jorvik – for he only needed to experience Lumaya's kindness once for him to renounce his avarice and sin, and be reborn as Bivald of the Thorn.
Once a bandit king who terrorized the routes around Kaerok's Lands of Rebirth, Jorvik was more mountain than man — unflinching, rugged, and cruel. His band of cutthroats pillaged any caravan they could find, stripping the possessions from anyone whether they were merchants, pilgrims, or nobles. Local garrisons, lordly armies, and even rival bandit groups tried to best Jorvik, but his greed was outmatched only by his ferocity in battle, and he defeated them all. Locals whispered that his treasure hoard could make a dragon jealous and, if he willed it, he could have toppled more than one of Kaerok's fledgling Free Cities with little effort. However, a chance meeting with one pilgrim caravan — apparently no different to any he had attacked before – changed Jorvik's life forever.
This humble caravan was transporting no gold or possessions worth speaking of. Its people were making the journey to the Lands of Rebirth, where the Sacred Order had established a stronghold for those willing to absolve themselves of past sin. Enraged by their lack of riches, Jorvik prepared to strike the pilgrims down in cold blood, but an elderly man among their number walked forward, grasped the bandit king's hand, and looked deep into his eyes. What exactly came to pass has been lost to time — some claim this was just an ordinary man, while others claim he was one of Lumaya's Lightbringers disguised in mortal form.
Whatever the truth was, Jorvik's face transformed as the man spoke soft words to him. His eyes, it is said, changed from milky blue to ink black, and the whites disappeared. The pilgrim spoke of Lumaya, and that no matter the darkness in Jorvik's heart, there was always time to repent. Jorvik wept bloody tears, beseeching Lumaya for forgiveness for his myriad crimes. He turned to his former friends and pleaded with them to also beg for Lumaya's mercy. Most of them ran at the sight of their leader sobbing blood and his death-black eyes.
Jorvik beseeched the old man and his fellow pilgrims, asking for their guidance as to how to right his wrongs. They requested that Jorvik accompany them to the Lands of Rebirth, where he would surely find the forgiveness he sought in service to Lumaya. His tears stilled. Wiping the blood from his eyes, Jorvik agreed, and followed the pilgrims into that valley of repentance. It was there that Jorvik was 'reborn', his sins washed away by years of devoted service and good deeds. He defended pilgrims from bandits, spent hours reading holy scripture, smote unholy creatures, and helped villagers in times of hardship.
Yet Jorvik's crimes continued to torment him. He prayed, self-flagellated, and fasted, but to no avail — he could not rid himself of his unbearable guilt. He spent many moons examining what he might do to relieve his anguish, and came to many conclusions. First he decided he must always be in pain, and so anointed himself with a wreath of thorns that also acted as a constant demonstration of his penance. Second he bound his eyes, for he was not worthy of looking upon Lumaya's creations. He decided also that he must become a man of peace, not of war, for he had killed enough. He took up the name of Bivald, that of a martyr of Lumaya famed for his refusal to shed blood, as it might pollute the Goddess' world, even though it cost him his life.
Bivald set out to become a protector of the caravans entering and leaving the Lands of Rebirth. While he still carried an immense, lavishly decorated war hammer wreathed in barbs, he hoped to never use it. Should bandits attack, he hoped to offer them kindness, mercy, and a way out of the cycle of violence that was shown to him. Bivald hoped maybe, just maybe, that by bringing souls to Lumaya his guilt might be assuaged. But if raiders refused his offer, he saw them worthy only of death, as he was before he saw the Light. Wielding his hammer in a whirlwind of death, he obliterated his enemies, reducing them to little more than a paste of blood, broken bone, and pulverized flesh.
Bivald of the Thorn Videos
Skratch: *BEWARE* Is Bivald Worth Your Time? Champion Spotlight Raid Shadow Legends
Cold Brew Gaming: Bivald One of The Best Fusion Champs! – Deep Dive Review – Beginner & End Game
YST: Bivald of the Thorn Showcase | Ultimate Support Damage Dealer?