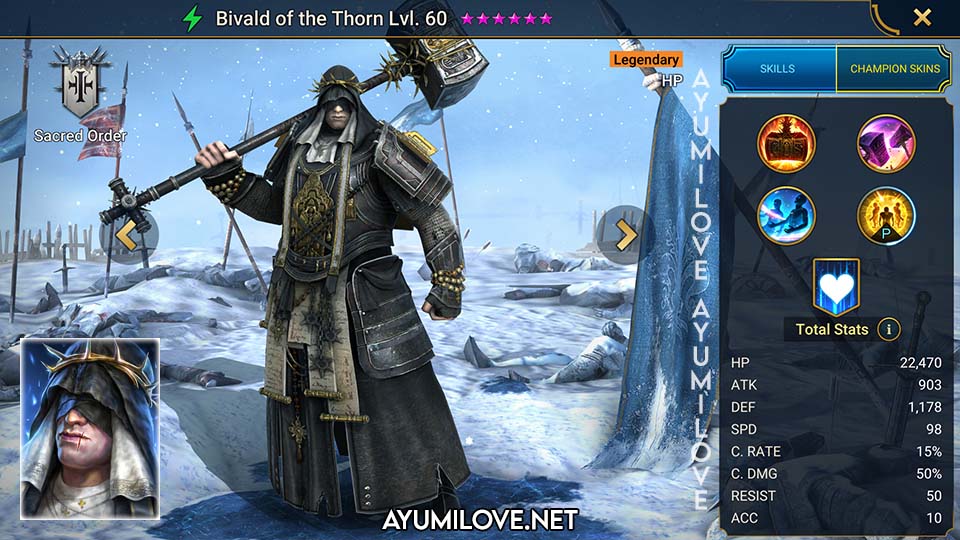 Overview

NAME: Bivald of the Thorn
FACTION: Sacred Order
RARITY: Legendary
ROLE: HP
AFFINITY: Spirit
RANK: B
USABILITY: Situational
TOMES: 10 (A1 A2 A3)

Total Stats (6 Stars)

Health Points (HP): 22,470
Attack (ATK): 903
Defense (DEF): 1,178
Speed (SPD): 98
Critical Rate (C.RATE): 15%
Critical Damage (C.DMG): 50%
Debuff Resistance (RESIST): 50
Debuff Accuracy (ACC): 10

Obtain from

Ancient Shard
Sacred Shard
Fragment Fusion

Grinding

★★★✰✰ Campaign
★★★★✰ Arena Defense
★★★★✰ Arena Offense
★★★✰✰ Clan Boss
★★★✰✰ Hydra
★★★★★ Faction Wars

Dungeons

★★★★✰ Minotaur
★★★★★ Spider
★★★✰✰ Fire Knight
★★★★✰ Dragon
★★★★✰ Ice Golem

Potion

★★★✰✰ Arcane Keep
★★★✰✰ Void Keep
★★★✰✰ Force Keep
★★★✰✰ Spirit Keep
★★✰✰✰ Magic Keep

Doom Tower

★★★★★ Floors
★★★★★ Magma Dragon
★★★✰✰ Nether Spider
★★★✰✰ Frost Spider
★★✰✰✰ Scarab King
★★★✰✰ Celestial Griffin
★★★✰✰ Eternal Dragon
★★✰✰✰ Dreadhorn
★★✰✰✰ Dark Fae
Bivald of the Thorn Skills
Thorn Maul [HP]
Attacks 1 enemy. Has a 30% chance of placing a [Provoke] debuff for 1 turn. Also heals the ally with the lowest HP by 15% of the damage inflicted. The [Provoke] debuff can be placed even if this attack lands as a weak hit.
Level 2: Damage +5%
Level 3: Damage +5%
Level 4: Buff/Debuff Chance +10%
Level 5: Buff/Debuff Chance +10%
Damage Multiplier: 0.25 HP
Admonition of Barbs [HP] (Cooldown: 4 turns)
Attacks all enemies 2 times. The first hit has a 75% chance of placing a [Provoke] debuff for 1 turn. The second hit has a 75% chance of placing a [Leech] debuff for 2 turns. Also places a 25% [Strengthen] buff on this Champion.
Level 2: Damage +10%
Level 3: Buff/Debuff Chance +10%
Level 4: Buff/Debuff Chance +15%
Level 5: Cooldown -1
Damage Multiplier: 0.15 HP
Briar Nexus [HP] (Cooldown: 5 turns)
Attacks all enemies. Damage increases by 5% for each debuff on each enemy. Also heals all allies by 20% of the damage inflicted and places a [Shield] buff on them for 2 turns equal to 20% of the damage inflicted.
Level 2: Damage +10%
Level 3: Damage +10%
Level 4: Cooldown -1
Damage Multiplier: 0.25 HP * (1 + 0.05 * Debuffs on enemy)
Dethorned [Passive]
Decreases the damage taken by all allies from enemies under [Provoke] debuffs by 15%.
Aura
Increases Ally HP in all Battles by 28%.
Bivald of the Thorn Equipment Guide
Arena, Campaign, Clan Boss, Dungeons, Doom Tower, Faction Wars

Recommended Artifacts

Savage, Accuracy, Perception, Speed, Regeneration

Stats Allocation

Weapon (ATK)
Helmet (HP)
Shield (DEF)
Gauntlets (C.RATE / C.DMG)
Chestplate (HP%)
Boots (SPD)
Ring (HP)
Amulet (C.DMG)
Banner (ACC)

Stats Priority

Damage Dealer & Debuffer: HP%, C.RATE, C.DMG, ACC, SPD
Bivald of the Thorn Mastery Guide
Campaign, Clan Boss, Dungeons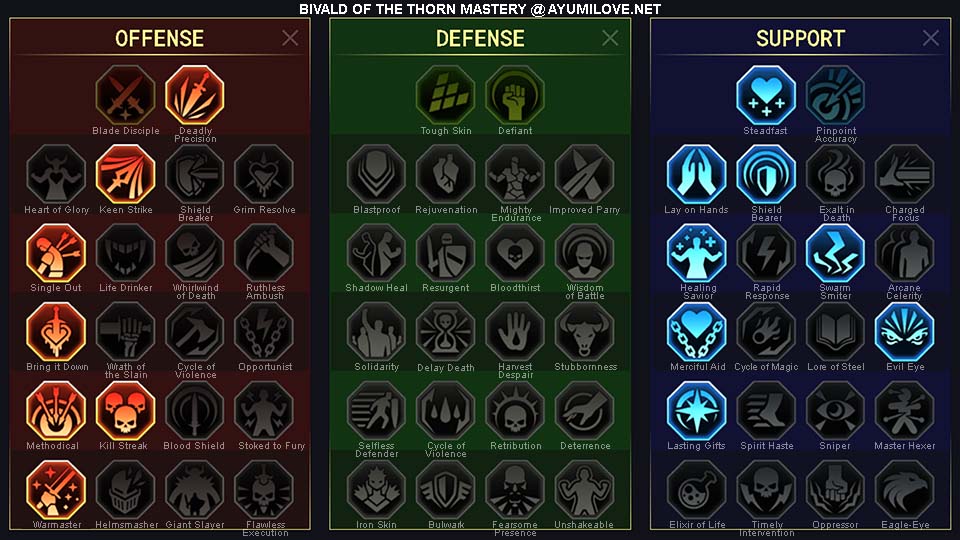 Offense

Deadly Precision
Keen Strike
Single Out
Bring it Down
Methodical
Kill Streak
Warmaster

Support

Steadfast
Lay on Hands
Shield Bearer
Healing Savior
Swarm Smiter
Merciful Aid
Evil Eye
Lasting Gifts
Bivald of the Thorn Videos
Skratch: *BEWARE* Is Bivald Worth Your Time? Champion Spotlight Raid Shadow Legends
Cold Brew Gaming: Bivald One of The Best Fusion Champs! – Deep Dive Review – Beginner & End Game
YST: Bivald of the Thorn Showcase | Ultimate Support Damage Dealer?