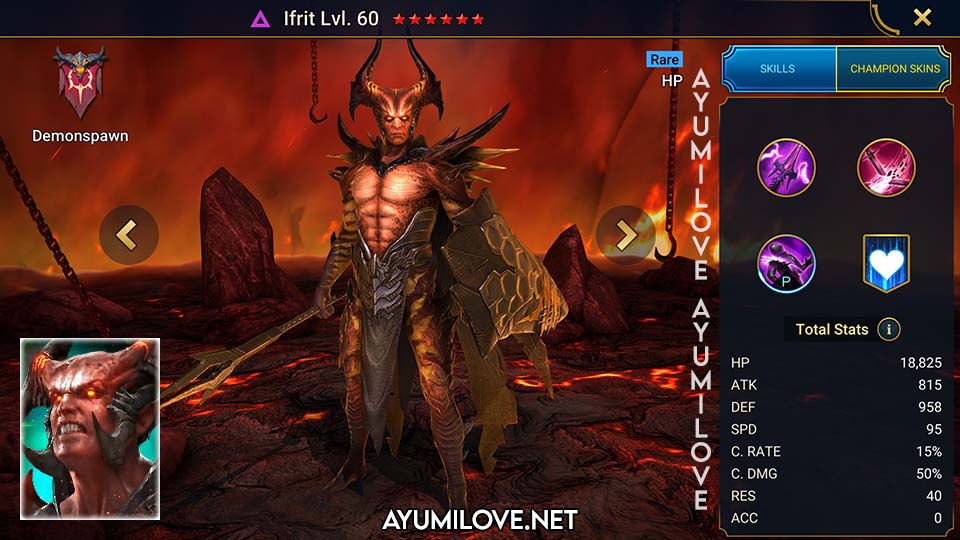 Obtain from

Void Shard

Champion Fusion

Overview

NAME: Ifrit
FACTION: Demonspawn
RARITY: Rare
ROLE: HP
AFFINITY: Void
RANK: C
USABILITY: N/A
TOMES: 9 (N/A)

Total Stats (6★)

Health Points (HP): 18,825
Attack (ATK): 815
Defense (DEF): 958
Speed (SPD): 95
Critical Rate (C.RATE): 15%
Critical Damage (C.DMG): 50%
Debuff Resistance (RESIST): 40
Debuff Accuracy (ACC): 0

Grinding

★✰✰✰✰ Campaign
★★★✰✰ Arena Defense
★★★✰✰ Arena Offense
★★★★✰ Clan Boss
★★✰✰✰ Faction Wars

Dungeons

★★★✰✰ Minotaur
★✰✰✰✰ Spider
★✰✰✰✰ Fire Knight
★★★✰✰ Dragon
★★★✰✰ Ice Golem

Potion

★★★✰✰ Void Keep
★★★✰✰ Force Keep
★★★✰✰ Spirit Keep
★★★✰✰ Magic Keep

Doom Tower

✰✰✰✰✰ Magma Dragon
✰✰✰✰✰ Nether Spider
✰✰✰✰✰ Frost Spider
✰✰✰✰✰ Scarab King
Ifrit Skills
Feebleness Curse [ATK]
Attacks 1 enemy. Places a 15% [Weaken] debuff for 1 turn.
Level 2: Damage +5%
Level 3: Damage +5%
Level 4: Damage +5%
Level 5: Damage +10%
Damage Multiplier: 5.1 ATK
Withering Bolt [ATK][HP] (Cooldown: 4 turns)
Attacks 1 enemy. Places a 25% [Decrease ATK] debuff for 2 turns. Damage increases according to this Champion's MAX HP.
Level 2: Damage +5%
Level 3: Damage +5%
Level 4: Damage +5%
Level 5: Damage +5%
Level 6: Cooldown -1
Damage Multiplier: 2.5 ATK + 0.2 HP
Shadow Field [Passive]
Decrease the damage received by 50% if damage from a single hit exceeds 30% HP. Places a 30% [Decrease DEF] debuff for 2 turns on the attacker if the attack is critical.
Aura
Increases Ally HP in all Battles by 15%
Ifrit Equipment Guide
Equipment Set for Arena, Campaign, Faction Wars
2 Offense Set, 1 Speed Set
Equipment Set for Clan Boss, Dungeons, Doom Tower
1 Lifesteal Set, 1 Accuracy Set
1 Lifesteal Set, 1 Speed Set
Equipment Stat Priority
Attack%, Critical Rate, Critical Damage, Speed, Accuracy
Weapon (Attack)
Helmet (HP)
Shield (Defense)
Gauntlets (Critical Rate)
Chestplate (Attack%)
Boots (Speed)
Ring (Attack)
Amulet (Critical Damage)
Banner (Accuracy)
Ifrit Mastery Guide
Arena, Campaign, Clan Boss, Dungeons, Doom Tower, Faction Wars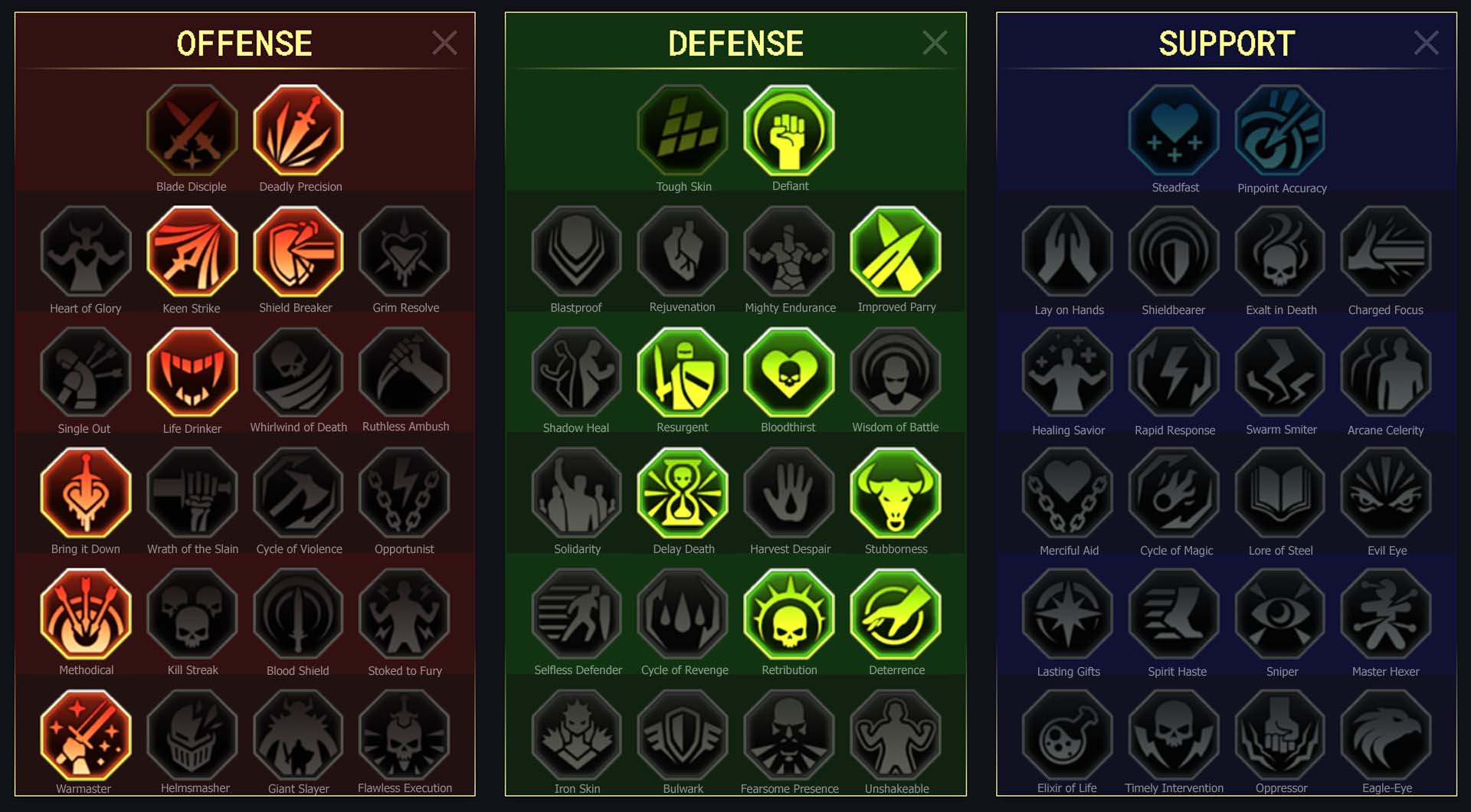 Offense

Deadly Precision
Keen Strike
Shield Breaker
Life Drinker
Bring it Down
Methodical
Warmaster

Defense

Defiant
Improved Parry
Bloodthirst
Resurgent
Delay Death
Stubbornness
Retribution
Deterrence

Support

N/A
Ifrit Storyline
Ifrits are a particular demonbreed that stands above the common foot soldiers of Siroth's hellish hierarchy. Often compared to wasps for their somewhat insectoid appearance and frequent reliance on sting-like spears, Ifrits are usually found at the head of smaller Demonspawn cohorts. Dark magic swirls around them like an unseen mist, allowing their unholy strikes to sap away the strength of their victims or even hex those that have the skill and courage to attack them.