Overview

NAME: Nethril
FACTION: Undead Hordes
RARITY: Legendary
ROLE: Attack
AFFINITY: Spirit
RANK: S
USABILITY: Early-Mid-Late Game
TOMES: 10 (A1 A2 A3)

Abilities

RSL_AoE_DecreaseSpeed_30%
RSL_AoE_DecreaseTurnMeter
RSL_AoE_Stun
RSL_Target_Poison_5%

Obtain from

Ancient Shard
Sacred Shard
Primal Shard

Blessings Recommendation

Brimstone (Debuffer)
Lightning Cage (Arena)
Soul Reap (Damage Dealer)

Grinding

★★★★★ Campaign
★★★★★ Arena Defense
★★★★★ Arena Offense
★★★★★ Clan Boss
★★★✰✰ Hydra
★★★★★ Faction Wars

Dungeons

★★★★★ Minotaur
★★★★★ Spider
★★★★★ Fire Knight
★★★★★ Dragon
★★★★★ Ice Golem
★★★✰✰ Iron Twins
★★★✰✰ Sand Devil
★✰✰✰✰ Phantom Shogun

Potion

★★★★★ Arcane Keep
★★★★★ Void Keep
★★★★★ Force Keep
★★★★★ Spirit Keep
★★✰✰✰ Magic Keep

Doom Tower

★★★★★ Floors
★★★✰✰ Magma Dragon
★★★★★ Nether Spider
★★★★★ Frost Spider
★★★★★ Scarab King
★★★✰✰ Celestial Griffin
★★★★★ Eternal Dragon
★✰✰✰✰ Dreadhorn
★★★★✰ Dark Fae
Nethril Skills
Blood Harvest
Attacks 1 enemy 3 times. Has a 30% chance of placing a 5% [Poison] debuff for 2 turns.
Level 2: Damage +10%
Level 3: Buff/Debuff Chance +10%
Level 4: Buff/Debuff Chance +10%
Damage Multiplier: 1.1 ATK
Ghastly Horrors (Cooldown: 5 turns)
Attacks all enemies. Has a 50% chance of placing a [Stun] debuff on all enemies for 1 turn. Places a 30% [Decrease SPD] debuff for 2 turns if the target is not under a [Stun] debuff.
Level 2: Buff/Debuff Chance +5%
Level 3: Buff/Debuff Chance +10%
Level 4: Buff/Debuff Chance +10%
Level 5: Cooldown -1
Damage Multiplier: 4.7 ATK
Bat Swarm (Cooldown: 5 turns)
Attacks all enemies. Decreases the Turn Meter by 75%.
Level 2: Damage +10%
Level 3: Damage +10%
Level 4: Cooldown -1
Damage Multiplier: 3.8 ATK
Nethril Equipment Guide
Arena, Doom Tower, Faction Wars
Campaign, Clan Boss, Dungeons

Recommended Artifacts

2 Speed Set, 1 Perception Set
2 Speed Set, 1 Accuracy Set
1 Speed Set, 2 Perception Set
1 Speed Set, 2 Accuracy Set

Recommended Artifacts

1 Lifesteal Set, 1 Accuracy Set
1 Lifesteal Set, 1 Perception Set
1 Lifesteal Set, 1 Speed Set

Recommended Stats

ATK%, C.RATE, C.DMG, ACC, SPD
Weapon (ATK)
Helmet (HP)
Shield (DEF)
Gauntlets (C.RATE / C.DMG)
Chestplate (ATK%)
Boots (Speed)
Ring (ATK)
Amulet (C.DMG)
Banner (ACC)

Recommended Stats

ATK%, C.RATE, C.DMG, ACC, SPD
Weapon (ATK)
Helmet (HP)
Shield (DEF)
Gauntlets (C.RATE / C.DMG)
Chestplate (ATK%)
Boots (Speed)
Ring (ATK / DEF)
Amulet (C.DMG / DEF)
Banner (ACC)
Nethril Mastery Guide
Arena, Campaign, Clan Boss, Dungeons, Doom Tower, Faction Wars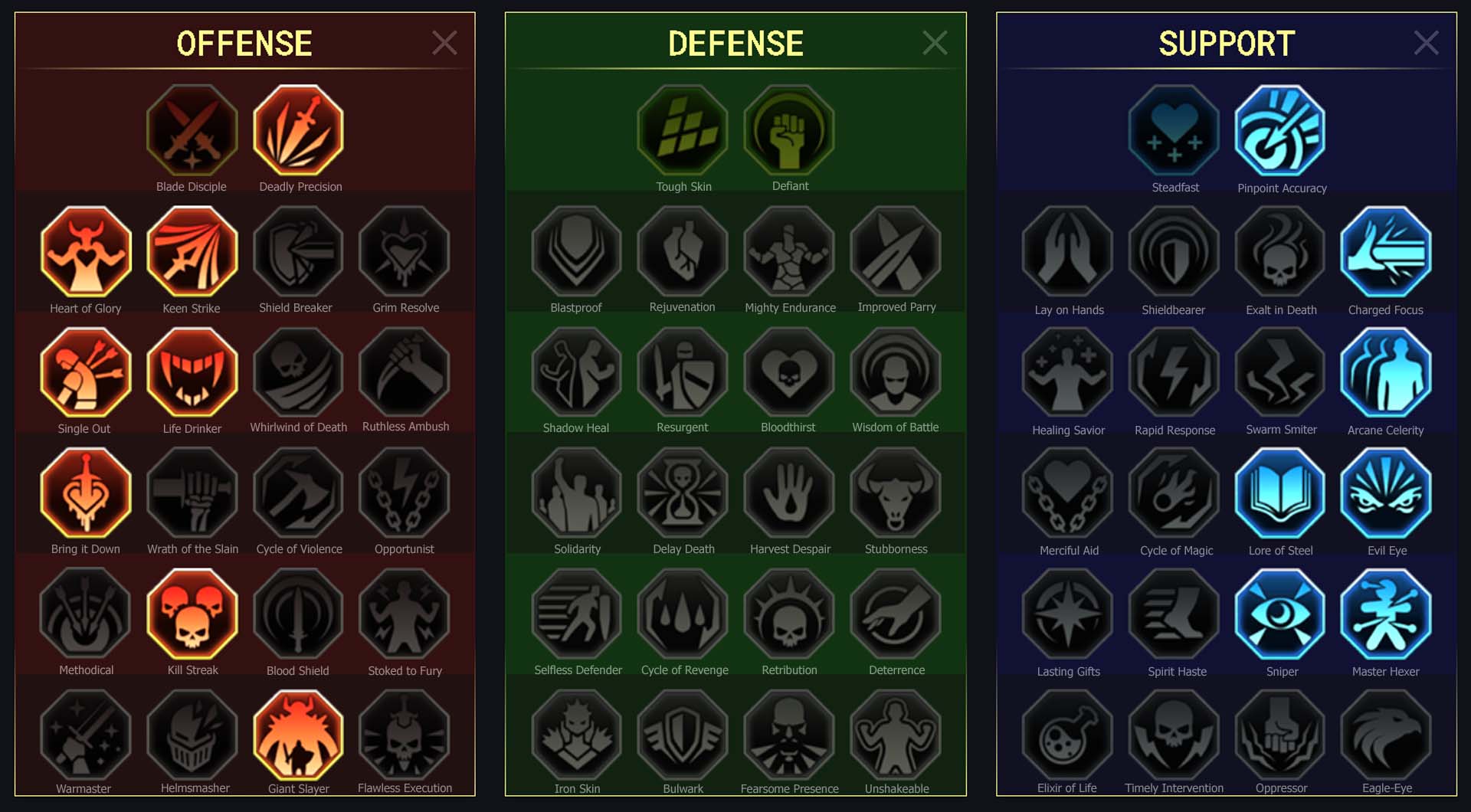 Offense

Deadly Precision
Keen Strike
Heart of Glory
Single Out
Life Drinker
Bring it Down
Kill Streak
Giant Slayer

Support

Pinpoint Accuracy
Charged Focus
Arcane Celerity
Lore of Steel
Evil Eye
Master Hexer
Sniper
Nethril Review
Nethril is a Legendary Attack Spirit champion from the Undead Hordes faction in Raid Shadow Legends. Being the first vampire to be sired by the infamous Ma'Shalled, was birthed into a world of ceaseless yearning and insatiable hunger. With a thirst for blood that could only be quenched by destruction, he devastated entire regions without mercy. His innate ability to slow and paralyze his prey made him a predator without equal. Even the Sacred Order, renowned for their prowess in vanquishing dark forces, has struggled to put an end to his reign of terror.
But fear not, dear friend! Nethril is not just some nefarious fiend to be feared and loathed. Nay, he is a Spirit affinity legendary from the Undead Hordes faction with an amazing kit that enables him to truly control enemy waves and bosses. His AOE turn meter reduction, decrease speed, and stuns are second to none, making him one of the best control champions in the game.
And not just in some measly dungeon, mind you – Nethril can wreak havoc in all Dungeons, becoming a true MVP in Spider 17-20, and particularly Spider 19 where many struggle with the affinity! Now, don't get too carried away with all this power talk. Nethril is a true team player, enabling others to do their damage by controlling the battlefield like a true maestro. But to truly unlock his potential, you'll need to equip him with high speed, high accuracy, and a strong HP level.
But wait, there's more! Nethril was buffed for Clan Boss in January 2021, with an AI that is now laser-focused on using his A1 and landing poisons. This has catapulted him into God Tier status when it comes to poisoning Clan Bosses. His A1 is a thing of beauty, especially when paired with a Tier 6 Giant Slayer mastery. All in all, Nethril is a fantastic and versatile legendary worthy of a six-star rating. So what are you waiting for? Get out there and unleash the power of this undead force of nature!
Nethril Updates
Nethril Videos
Raid Shadow Legends Nethril Champion Guide by Darth Microtransaction
Raid Shadow Legends Nethril Champion Guide by LamaRoo
Raid Shadow Legends Nethril Champion Guide by Cold Brew Gaming
Raid Shadow Legends Nethril Champion Guide by Sir Jaxo
Champion Name Reference
English: Nethril
French: Nethril
Deutsch:
Italian:
Spanish:
Chinese:
Korean:
Japanese:
Ukranian:
Russian:
Turkish:
Portuguese: