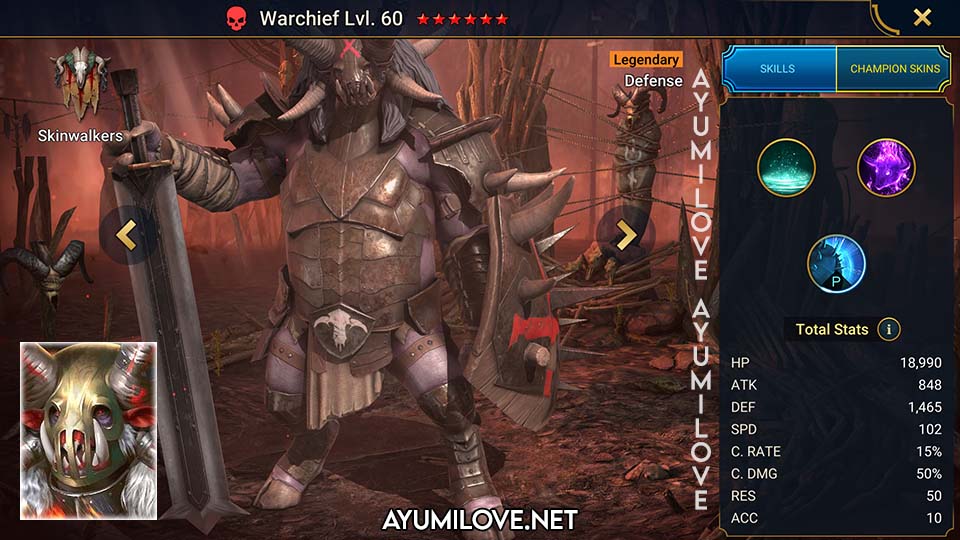 Overview

NAME: Warchief
FACTION: Skinwalkers
RARITY: Legendary
ROLE: Defense
AFFINITY: Force
RANK: B
USABILITY: Situational
TOMES: 9 (A2 A3)

Abilities

RSL_Self_IncreaseDefense_Passive
RSL_Self_Passive
RSL_Self_ReflectDamage_Passive
RSL_Target_BasicAttack_3Hits
RSL_Target_Passive_Enemy
RSL_Target_Provoke
RSL_Target_StealBuffs

Obtain from

Ancient Shard
Sacred Shard

Blessings Recommendation

Lightning Cage (Arena Offense)

Grinding

★★★★✰ Campaign
★★★★★ Arena Defense
★★★★★ Arena Offense
★★★✰✰ Clan Boss
★★★✰✰ Hydra
★★★★★ Faction Wars

Dungeons

★★★★✰ Minotaur
★✰✰✰✰ Spider
★★★★✰ Fire Knight
★★★★✰ Dragon
★★★★✰ Ice Golem
★✰✰✰✰ Iron Twins
★✰✰✰✰ Sand Devil

Potion

★★★★✰ Arcane Keep
★★★★✰ Void Keep
★★★★✰ Force Keep
★★★✰✰ Spirit Keep
★★★★✰ Magic Keep

Doom Tower

★★★★✰ Floors
★★★★★ Magma Dragon
★✰✰✰✰ Nether Spider
★✰✰✰✰ Frost Spider
★✰✰✰✰ Scarab King
★✰✰✰✰ Celestial Griffin
★✰✰✰✰ Eternal Dragon
★✰✰✰✰ Dreadhorn
★✰✰✰✰ Dark Fae
Warchief Review
Warchief is a Legendary Defense Force affinity champion from the Skinwalkers faction in Raid Shadow Legends. He once held great promise as a Clan Boss utility champion. However, with the nerfing of his reflect damage abilities, Warchief was relegated to the vault, waiting for his time to shine once more. That moment finally arrived with the release of Doom Tower in December 2020, when Warchief emerged as a top tier champion against the formidable Kuldath the Magma Dragon.
Warchief's ability to keep Kuldath provoked 100% of the time is a game-changer, preventing the dragon from unleashing his devastating attacks and giving Warchief's allies the opportunity to strike with deadly force. This newfound usefulness has elevated Warchief's status among players, as he has become a sought-after champion for those looking to take on the toughest challenges in Raid Shadow Legends.
While Warchief received a small buff in Patch 4.70, with his A2 cooldown reduced by one turn, it is his ability to provoke that truly sets him apart. Despite the minor tweak to his abilities, Warchief remains an indispensable champion for those seeking to conquer the most challenging battles in the game.
Warchief Skills
Brutal Force [DEF]
Attacks 1 enemy 3 times. Has a 25% chance of placing a [Provoke] debuff for 1 turn.
Level 2: Damage +5%
Level 3: Damage +5%
Level 4: Damage +10%
Level 5: Damage +10%
Level 6: Buff/Debuff Chance +10%
Damage Multiplier: 1 DEF
Marauder [DEF] (Cooldown: 3 turns)
Attacks 1 enemy. Places a [Provoke] debuff for 3 turns. Steals 2 random buffs from the target.
Level 2: Damage +5%
Level 3: Damage +5%
Level 4: Damage +10%
Level 5: Damage +10%
Level 6: Damage +10%
Level 7: Cooldown -1
Damage Multiplier: 4.3 DEF
Standstill [Passive]
Reflects 60% of the damage taken back to the attacker. DEF increases by 15% for each dead ally.
Warchief Equipment Guide
Arena, Doom Tower, Faction Wars
Campaign, Clan Boss, Dungeons

Recommended Artifacts

3 Immortal Set
3 Life Set
1 Retaliation Set, 1 Accuracy Set
1 Retaliation Set, 1 Defense Set

Recommended Artifacts

2 Defense Set, 1 Speed Set
1 Retaliation Set, 1 Defense Set
1 Lifesteal Set, 1 Defense Set

Recommended Stats

DEF%, HP%, SPD, ACC
Weapon (ATK)
Helmet (HP)
Shield (DEF)
Gauntlets (HP% / DEF%)
Chestplate (HP% / DEF%)
Boots (Speed)
Ring (HP / DEF)
Amulet (HP / DEF)
Banner (ACC)

Recommended Stats

DEF%, HP%, C.RATE, SPD, ACC
Weapon (ATK)
Helmet (HP)
Shield (DEF)
Gauntlets (C.RATE)
Chestplate (DEF% / HP%)
Boots (Speed)
Ring (DEF / HP)
Amulet (DEF / C.DMG)
Banner (ACC)
Warchief Mastery Guide
Arena, Campaign, Clan Boss, Dungeons, Doom Tower, Faction Wars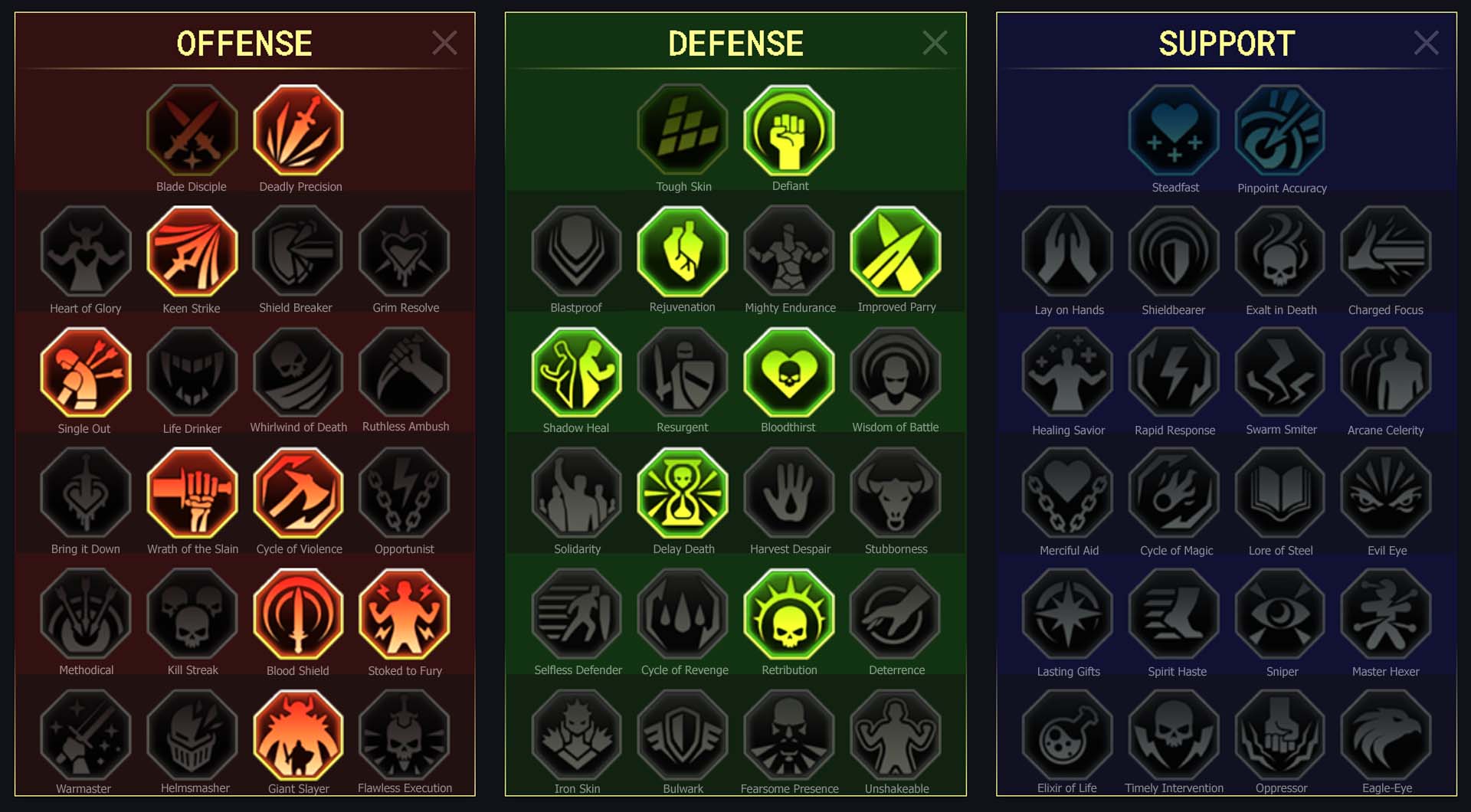 Offense

Deadly Precision
Keen Strike
Single Out
Wrath of the Slain
Ruthless Ambush
Cycle of Violence
Blood Shield
Stoked to Fury
Giant Slayer

Defense

Defiant
Rejuvenation
Improved Parry
Shadow Heal
Bloodthirst
Delay Death
Retribution
Warchief Updates
Warchief Videos
Raid Shadow Legends Warchief Champion Guide by Sir Jaxo
Raid Shadow Legends Warchief Champion Guide by Дядя О. (Russian)