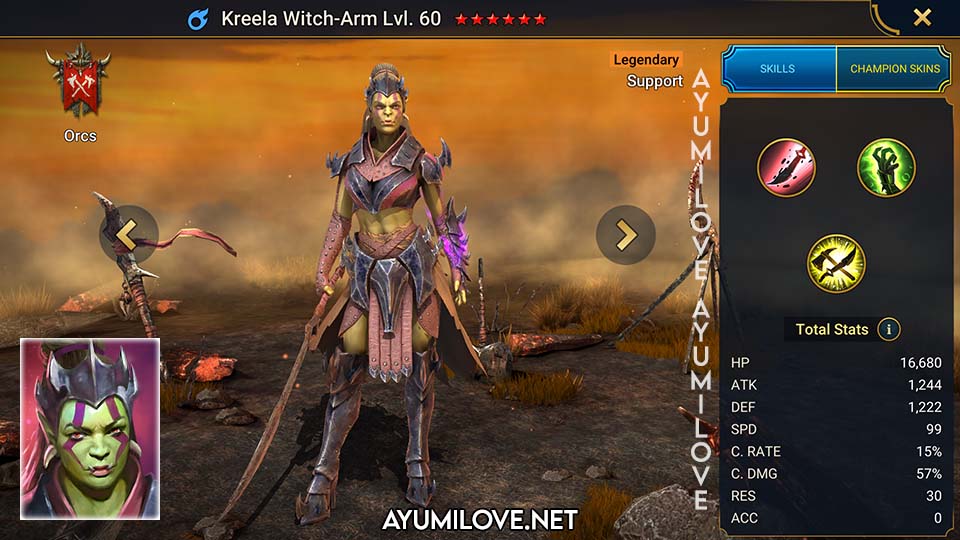 Overview

NAME: Kreela Witch-Arm
FACTION: Orcs
RARITY: Legendary
ROLE: Support
AFFINITY: Magic
RANK: A
USABILITY: Mid-Late Game
TOMES: 11 (A2 A3)

Abilities

RSL_3_AllyJoinAttack
RSL_AoE_IncreaseAttack_50%
RSL_AoE_IncreaseCriticalRate_30%
RSL_LowestHp_Shield
RSL_Target_Stun

Obtain from

Ancient Shard
Sacred Shard

Champion Fusion

Grinding

★★★★★ Campaign
★★★✰✰ Arena Defense
★★★★★ Arena Offense
★★★★★ Clan Boss
★★★★★ Faction Wars

Dungeons

★★★★★ Minotaur
★★★✰✰ Spider
★★★★★ Fire Knight
★★★★★ Dragon
★★★★★ Ice Golem

Potion

★★★★★ Arcane Keep
★★★★★ Void Keep
★★✰✰✰ Force Keep
★★★★✰ Spirit Keep
★★★★✰ Magic Keep

Doom Tower

★★★★✰ Floors
★★★✰✰ Magma Dragon
★★✰✰✰ Nether Spider
★★★✰✰ Frost Spider
★★★✰✰ Scarab King
★★★★★ Celestial Griffin
★★★✰✰ Eternal Dragon
★✰✰✰✰ Dreadhorn
★★★★✰ Dark Fae
Kreela Witch-Arm Skills
Witchlight Barrier [ATK]
Attacks 1 enemy. Places a [Shield] buff equal to 10% of this Champion's MAX HP on the ally with the lowest HP for 2 turns.
Level 2: Damage +5%
Level 3: Damage +5%
Level 4: Damage +10%
Level 5: Shield +5%
Level 6: Shield +10%
Damage Multiplier: 4.5 ATK
Blinding Glow [ATK] (Cooldown: 4 turns)
Attacks 1 enemy. Places a [Stun] debuff for 1 turn. Has an 80% chance of teaming up with 3 random allies to attack a random enemy. Allies joining the attack use their default skills.
Level 2: Damage +5%
Level 3: Damage +5%
Level 4: Buff/Debuff Chance +10%
Level 5: Buff/Debuff Chance +10%
Level 6: Cooldown -1
Damage Multiplier: 4.8 ATK
War Weirding [ATK] (Cooldown: 5 turns)
Places a 50% [Increase ATK] buff and a 30% [Increase C.RATE] buff on all allies for 3 turns, then attack all enemies.
Level 2: Cooldown -1
Damage Multiplier: 4.45 ATK
Kreela Witch-Arm Equipment Guide
Arena, Doom Tower, Faction Wars
Campaign, Clan Boss, Dungeons

Recommended Artifacts

3 Speed Set
1 Speed Set, 1 Retaliation Set
1 Speed Set, 1 Relentless Set

Recommended Artifacts

3 Speed Set
1 Speed Set, 1 Retaliation Set
1 Speed Set, 1 Relentless Set

Recommended Stats

ATK%, C.RATE, C.DMG, ACC, SPD
Weapon (ATK)
Helmet (HP)
Shield (DEF)
Gauntlets (C.RATE)
Chestplate (ATK%)
Boots (SPD)
Ring (ATK)
Amulet (C.DMG)
Banner (ACC)

Recommended Stats

ATK%, C.RATE, C.DMG, ACC, SPD
Weapon (ATK)
Helmet (HP)
Shield (DEF)
Gauntlets (C.RATE)
Chestplate (ATK%)
Boots (SPD)
Ring (ATK)
Amulet (C.DMG)
Banner (ACC)
Kreela Witch-Arm Mastery Guide
Arena, Campaign, Clan Boss, Dungeons, Doom Tower, Faction Wars (All Rounder)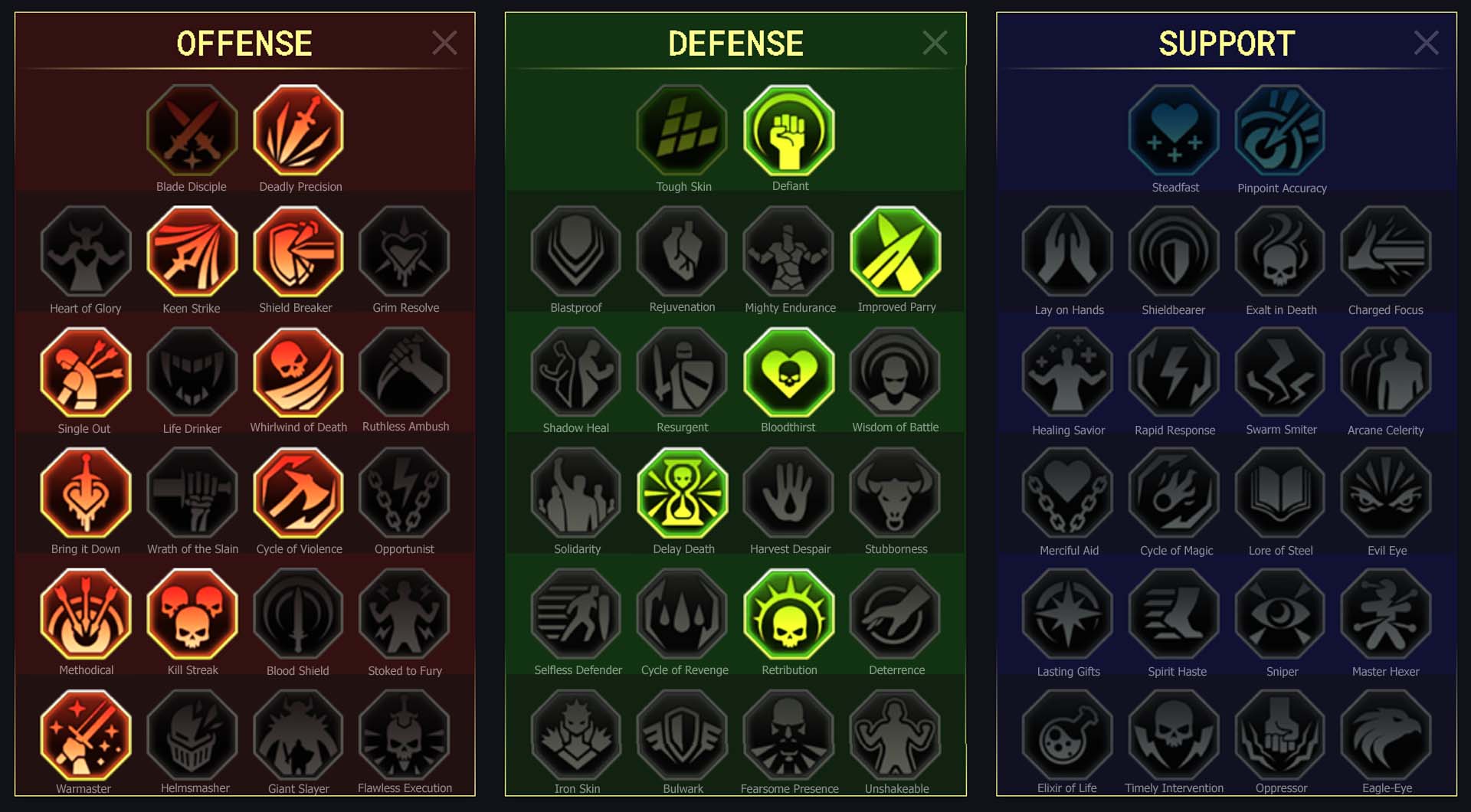 Offense

Deadly Precision
Keen Strike
Shield Breaker
Single Out
Whirlwind of Death
Cycle of Violence
Bring it Down
Kill Streak
Methodical
Warmaster

Defense

Defiant
Improved Parry
Bloodthirst
Delay Death
Retribution
Arena (Blender Team)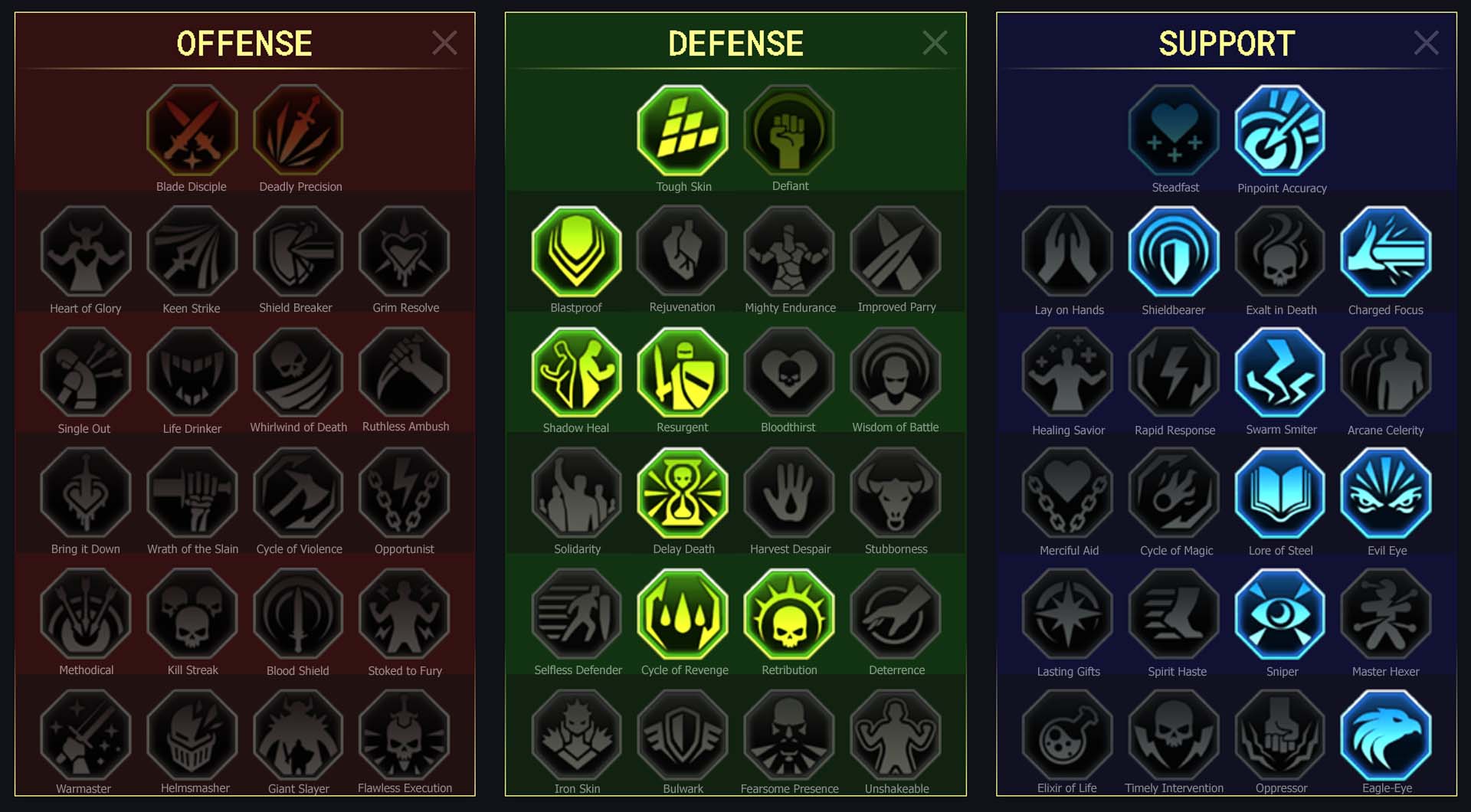 Defense

Tough Skin
Blastproof
Shadow Heal
Resurgent
Delay Death
Cycle of Revenge
Retribution

Support

Pinpoint Accuracy
Charged Focus
Shieldbearer
Swarm Smiter
Evil Eye
Lore of Steel
Sniper
Eagle-Eye
Clan Boss (Speed Tuned, Counter Attack)
Offense

Deadly Precision
Keen Strike
Heart of Glory
Single Out
Life Drinker
Bring it Down
Wrath of the Slain
Methodical
Warmaster

Defense

Tough Skin
Blastproof
Resurgent
Delay Death
Retribution
Deterrence
Kreela Witch-Arm Champion Lore
Kreela Witch-Arm was born in a small village in the Lost Isles, under the stars her clan believed signified sorrow and ancestry. The first star proved true all too soon, for Kreela's mother died in childbirth. The second star marked her as one with 'Hallowsight': a connection and ability to commune with the Orc realm of spirits. Soon after Kreela's birth, a Shaman called Tellok arrived in their village demanding the girl be handed over to her, so that she may be properly trained in the spiritual practices the Orcs of her home islands had observed for generations. Facing losing both his wife and daughter in a matter of days, Kreela's father refused. Furious, the Shaman cursed the child, and vibrant fuchsia, mauve, and lilac flames erupted from Kreela's left arm, forever marking her as one who refused the call of the ancestors. Fearful of provoking Tellok any further, the village elders banished Kreela and her father.
Kreela's father sought shelter for them among other Orc clans. They roamed from village to village, isle to isle, and the response was always the same: a firm refusal to welcome the child with the witch-arm. Realizing that she would never be accepted, Kreela's father accepted life as an outcast, and did his best to raise his daughter with love and optimism for a better life to come. Though their existence was harsh, Kreela grew into a happy, headstrong, and fearsome young Orc, skilled with any weapon, and adept at hunting, fishing, and surviving in the wilderness. When she was old enough to understand, Kreela's father told her of Shaman Tellok, and how, despite the curse, they would build a better life together. However, a time came when the star of sorrow proved prophetic once more. As Kreela was on the cusp of adolescence, a terrible sickness claimed her father's life. She wailed and howled for hours until exhaustion overcame her. Kreela collapsed beside her father's body, and fell into a deep and mournful sleep.
After opening her eyes, it was clear to Kreela that she was no longer in the cave in which she was raised. The landscape before her seemed to shift, images appearing then disappearing in mists as if drawn and erased by some spectral illustrator. It was unlike anything she had ever experienced, and though she may only have been dreaming, Kreela thought that somehow she had passed over into the ancestral plane. Unsure of what to do, or what was expected of her, she stood up and inspected this dreamlike place. As she explored, the landscape continued to blur and change, until she saw two Orcish figures, holding hands and walking toward the horizon. She chased quickly, eager to speak, but as she ran the figures seemed to become further away. Then, just as they were almost out of sight, the pair turned. Kreela's heart almost jumped out of her chest as she saw they were her father and an Orc that looked just like her, except older and without the cursed arm. The stranger gave her a tender smile and Kreela knew she was seeing her mother for the first time.
At that very moment, Kreela sat bolt upright, now back in the cave. Filled with immense grief, yet fizzing with a newfound purpose, she knew that she had to find Shaman Tellok and learn from her, so that she may again visit the ancestral plane and speak with her parents. Though it pained her to go to the one who cursed her, the one whom her father had lost everything to keep her away from, Kreela knew that she had to forge her own path, and accept the fate that the stars had laid out for her at her birth. When she found Tellok in a remote hut on an otherwise unpopulated island, the Shaman wasn't surprised to see the adolescent Orc standing there, for the spirits had told her of Kreela's coming moons prior. They began training immediately, Tellok keen to make up for lost time, and Kreela eager to learn.
Years passed, and Kreela honed her craft and widened her understanding of the rituals, spells, and practices passed down from Shaman to Shaman. Over time Kreela's power outstripped Tellok's, yet despite countless attempts, she could not reach that dreamlike place where she had seen her parents. With the old Shaman unable to teach her any more, Kreela set out on her own, desperate to find any clue or magic that might allow her to once again find her family. Lost and alone, she uses her gifts to seek something she may never find, her travels most recently taking her to the pirate port of Bleakhaven. Perhaps one day Kreela will snap out of her introspection, and she will find a new purpose looking outward to the future, instead of inward to the past.
Kreela Witch-Arm Storyline
As a daughter of a dying tribe, Kreela's early life was marked by loss and hopeless struggle. Her people were driven from their lands again and again by their rivals, by the neighboring humans, even by the restless dead that at times rose amid the sands of the Krokhan Desert. When her parents fell to the blades of slavers, she found herself chained and dragged away with the rest of the 'cattle'. Her fate was uncertain and grim. But there was yet a glimmer of hope, for an elderly orc Shaman saw the potential in a desperate and malnourished girl. Though the slavers were loath to give away one of their captives to the old man, they could not argue with the demands of their tribe's spiritual leader without incurring severe consequences. Thus they relented, and Kreela became apprenticed to her saviour. For years she had undergone gruelling training and learned both the art of combat and the means of communion with the beings Beyond. Through the use of meditation, chanting, and carefully brewed herbal concoctions, she could reach out to the Spirits of the land and the long-dead orcs. She walked among them at times and channeled their otherworldly strength to empower herself and the warriors in her charge. But Kreela had never forgotten the evils done to her and her kin, not even when she was accepted as a full member of the tribe. Long had she waited, plotting in secret and greedily gathering every bit of knowledge she could in the service of her mentor. It was not until he passed away that she struck, for while her blood demanded vengeance, she too had to honour the Shaman's kindness. Kreela gave a speech upon his funeral pyre, calling for unity and expansion of the tribe's domain – the Spirits had ordained it, she claimed. In reality, she sought to enact her own will rather than follow dreams and visions. With the help of younger tribesmen loyal to her, she orchestrated a series of 'omens' that all led to her designs being fulfilled. Slowly, she gathered the honoured and elder warriors – all of whom she knew were in the raiding party that captured her all those years ago – and set them to a task she knew was impossible. The signs that Kreela claimed to have seen were false, and the warriors fell upon a much greater foe with no hope of success. Many perished in the attempt, and those who survived were slain by Kreela's own minions as they retreated. Back in the village, Kreela manipulated events to see the families of the slain ruined and left with no means to survive. They were taken into servitude under the new Shaman's own authority, and though it was much less cruel than what she had endured, her vengeance was nonetheless complete and ruthless. It was then Kreela finally turned her gaze to expanding her influence. And while she was not above manufacturing her own prophecies when need be, her shamanic foresight remained no less genuine for it. With her revenge complete, nothing stopped Kreela from sending her tribe to battle the barbaric human neighbors that vied with them for territory and limited resources. To further cement her reputation, Kreela led the raiding party herself. She used her arcane abilities to empower the orcish warriors and drive them to greater heights of brutish courage and violence. Though the Norr they had faced on that day were mighty in their own right, the orcs proved to be stronger. They overcame the defenses, cut their way through the Barbarian fighters, and cheered when Kreela herself had slain the enemy Shaman in a duel of blade and magic. The sight of her standing over the fallen foe, her arm covered in blood and burning with eldritch fire, was what gave Kreela her moniker – Witch-Arm. It was under that name she became known to all surrounding tribes, and it was that name that inspired fear and respect among her fellow Orcs in equal measure.
Kreela Witch-Arm Updates
Kreela Witch-Arm Videos
Raid Shadow Legends Kreela Witch-Arm Champion Guide by ASH
Raid Shadow Legends Kreela Witch-Arm (3 Builds) by MurderInc
Raid Shadow Legends Kreela Witch-Arm (Clan Boss) by MurderInc