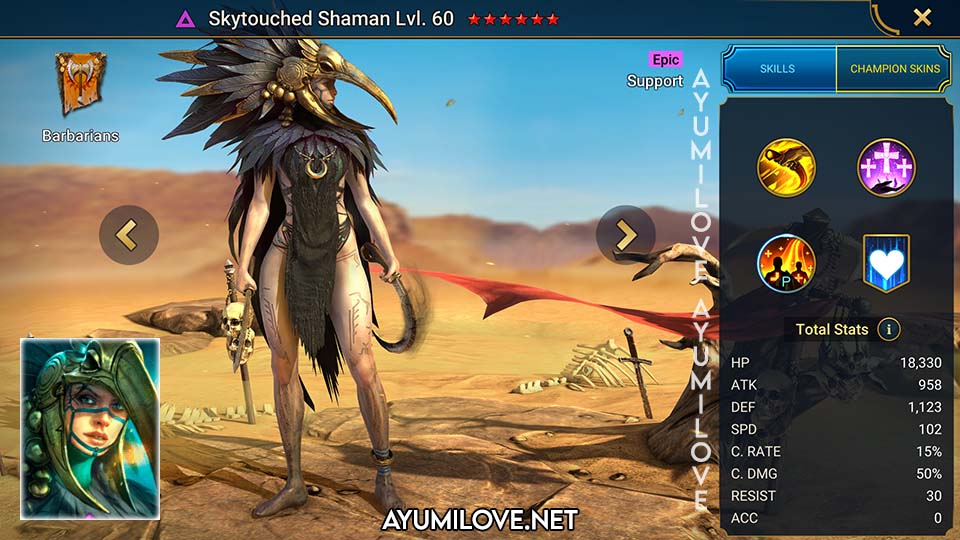 Overview

NAME: Skytouched Shaman
FACTION: Barbarians
RARITY: Epic
ROLE: Support
AFFINITY: Void
RANK: B
USABILITY: N/A
TOMES: 11 (A2)

Abilities

RSL_AllBattles_HpAura
RSL_AoE_BlockDebuffs
RSL_AoE_Heal
RSL_AoE_RemoveDebuffs
RSL_AoE_ReviveOnDeath
RSL_Enemy_A1AoE
RSL_Self_DecreaseSpeed_30%
RSL_Self_Heal

Obtain from

Void Shard
Rotos the Lost Groom Fusion

Blessings Recommendation

Chainbreaker (Supporter)
Commanding Presence (Aura Lead)

Grinding

★★★✰✰ Campaign
★★★★✰ Arena Defense
★★★★★ Arena Offense
★★★✰✰ Clan Boss
★★★✰✰ Hydra
★★★★★ Faction Wars

Dungeons

★★★★✰ Minotaur
★★★✰✰ Spider
★★★✰✰ Fire Knight
★★★★★ Dragon
★★★★★ Ice Golem
★★★✰✰ Iron Twins
★★★★✰ Sand Devil

Potion

★★★✰✰ Arcane Keep
★★★✰✰ Void Keep
★★★✰✰ Force Keep
★★★✰✰ Spirit Keep
★★★✰✰ Magic Keep

Doom Tower

★★★✰✰ Floors
★★★✰✰ Magma Dragon
★★★✰✰ Nether Spider
★★★★★ Frost Spider
★★✰✰✰ Scarab King
★★★✰✰ Celestial Griffin
★★★★✰ Eternal Dragon
★★★✰✰ Dreadhorn
★★★✰✰ Dark Fae
Skytouched Shaman Skills
Talon Knives
Attacks all enemies. Heals by 15% of the damage inflicted if this Champion has less than 50% HP. Boosts this Champion's Turn Meter by 20% instead if this Champion has 50% HP or higher.
Level 2: Damage +5%
Level 3: Damage +5%
Level 4: Damage +5%
Level 5: Damage +10%
Level 6: Damage +10%
Damage Multiplier: 2.2 ATK
Overall Grading: Weak
Immortal Skies (Cooldown: 6 turns)
Removes all debuffs from all allies, then places a [Revive On Death] buff and a [Block Debuffs] buff on all allies for 2 turns.
Level 2: Cooldown -1
Level 3: Cooldown -1
Bloodstain Ritual [Passive]
Damages this Champion by 10% of their MAX HP at the start of each turn. Heals all allies except this Champion equal to half of the lost HP. Places a 30% [Decrease SPD] debuff on this Champion for 1 turn at the start of each turn. Also has a 50% chance of placing a [Fear] debuff on this Champion for 1 turn. The lost HP refers to the current total HP subtracted from the total MAX HP, instead of the half of 10% MAX HP loss! For example, if her HP is 40%, she heals her allies by 30% of her MAX HP (100 – 40% and then divided by 2 = 30%)
Level 2: Heal +5%
Level 3: Heal +5%
Level 4: Heal +5%
Level 5: Heal +5%
Aura
Increases Ally HP in all Battles by 25%.
Skytouched Shaman Equipment Guide
Arena, Doom Tower, Faction Wars
Campaign, Clan Boss, Dungeons

Recommended Artifacts

1 Immunity Set, 1 Resist Set
3 Immortal Set
3 Life Set

Recommended Artifacts

3 Immortal Set
3 Life Set

Recommended Stats

DEF%, HP%, SPD, RESIST
Weapon (ATK)
Helmet (HP)
Shield (DEF)
Gauntlets (HP%)
Chestplate (HP% / RESIST)
Boots (SPD)
Ring (HP / DEF)
Amulet (HP / DEF)
Banner (HP / DEF / RESIST)

Recommended Stats

DEF%, HP%, SPD, RESIST
Weapon (ATK)
Helmet (HP)
Shield (DEF)
Gauntlets (HP%)
Chestplate (HP% / RESIST)
Boots (SPD)
Ring (HP / DEF)
Amulet (HP / DEF)
Banner (HP / DEF / RESIST)
Skytouched Shaman Mastery Guide
Arena, Doom Tower, Faction Wars
Pre-requisite: Skytouched Shaman to be equipped with Immunity Set and Resist Set (or equipment with high Resist substat) to prevent enemies from inflicting any debuffs on her and removing her buffs especially Block Debuff provided by Immunity Set. This allows her to perform her abilities without getting Crowd Control by enemies (Stun Set, Sleep Set, Taunt Set) to remove debuffs from her allies before they take their turns. The mastery below focusses on providing additional resist stat and increase her overall sustainability, so she can passively heal her allies and remove debuffs in a lengthy battle. This mastery is highly recommended for Skytouched Shaman especially for higher tier Arena against opponent's team who relies heavily on debuff to Crowd Control or reducing your champions battle efficiency and sustainability with debuff.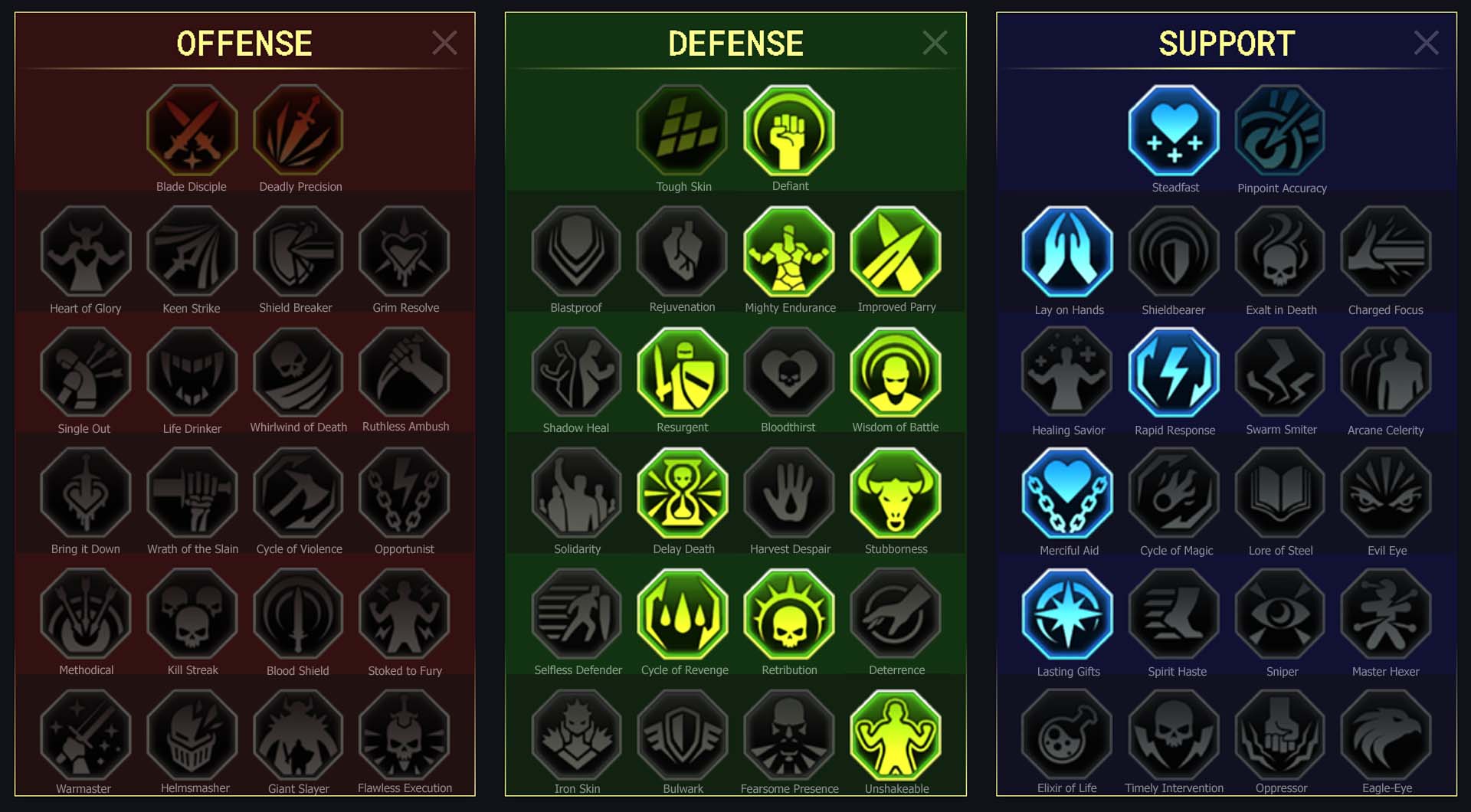 Offense

N/A

Defense

Defiant
Improved Parry
Mighty Endurance
Resurgent
Wisdom of Battle
Delay Death
Stubborness
Retribution
Cycle of Revenge
Unshakeable

Support

Steadfast
Lay on Hands
Rapid Response
Merciful Aid
Lasting Gifts
Campaign, Clan Boss, Dungeons
Pre-requisite: Skytouched Shaman to be equipped with Immortal Set or Life Set to boost her HP (Hit Points aka Health), so she can provide a larger AoE heal from her passive skill especially when her HP dips below 50%. Although her damage is quite low, her is able to heal without fail regardless of her state (e.g. Fear). The mastery below allows her to deal some damage to bosses and enemies with high MAX HP via Warmaster (Tier 6 Offense Mastery) while providing extra healing through Support Mastery. Use this mastery setup if you are having trouble sustaining your team in battle. Once you found a replacement of her in Clan Boss and Dungeons, I recommend switching Skytouched Shaman mastery to the Arena, Campaign and Faction Wars mastery setup.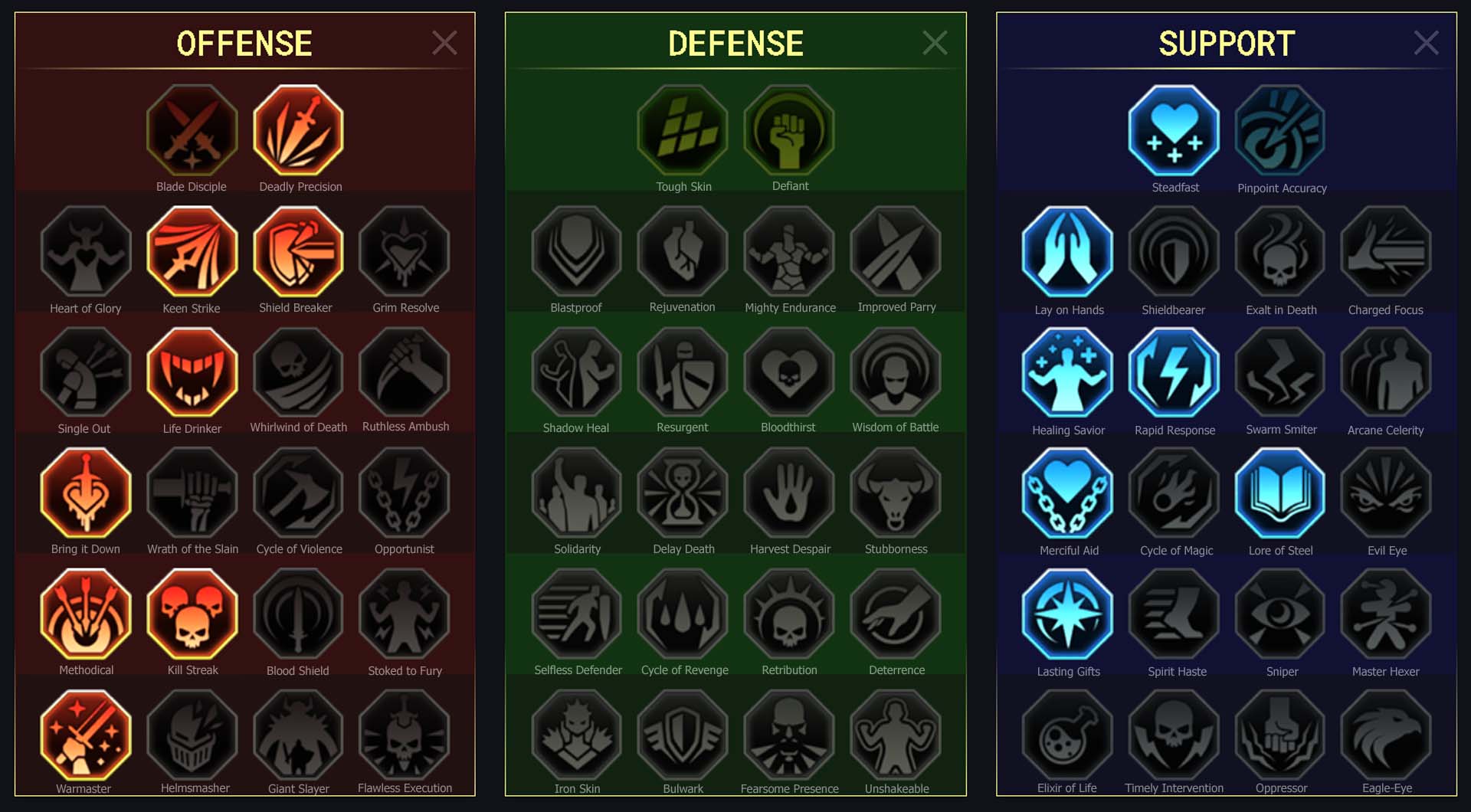 Offense

Deadly Precision
Keen Strike
Shield Breaker
Life Drinker
Bring it Down
Methodical
Kill Streak
Warmaster

Defense

N/A

Support

Steadfast
Lay on Hands
Rapid Response
Healing Savior
Lore of Steel
Merciful Aid
Lasting Gifts
Skytouched Shaman Review
Raid Shadow Legends – Skytouched Shaman is an Epic Void Support champion from the Barbarians faction where she can be obtained from Void Shards. She is added into Raid Shadow Legends on February 14th 2020 (Patch 1.13). Skytouched Shaman was one of Epic champions used for Rotos the Lost Groom Champion Fusion!
Champion Purpose
AoE Healer: Skytouched Shaman has an amazing passive skill that allows her to heal her allies based on the amount of her HP (Health) she has lost. Hence, its recommended to build her with high amount of HP stats to take advantage of this unique skill!
AoE Debuff Cleanser: Skytouched Shaman is well-knowned for her debuff removing capability. She is able to remove all debuffs from her allies that were inflicted by enemies in case they have started the round first. This makes her viable for end-game content such as Doom Tower and Arena.
Champion Limitation
Self-Inflict Debuff: Skytouched Shaman will inflict herself with 2 debuffs, which are Fear and Decrease Speed everytime she takes a turn! Fear prevents her from triggering her skills successfully while Decrease Speed prevents her from quickly healing her allies. In addition, she also injures herself to enable her passive skill to perform the massive healing on her allies.
Low Damage: Skytouched Shaman will have low damage output as her skills are based on Attack while the stats that benefits her the most are HP%, DEF%, Resist and Speed stat as it synergizes with her skills and passive much better. This results in having her as tanky as possible, so she could provide the best support to her allies throughout the battle.
Champion Equipment
Immunity Set: The self-inflicting debuffs can be countered by equipping her with Immunity Set that grants her 2 turns of Block Debuff. This is crucial especially for Arena where you would want to be certain that she is always available to remove allies debuff without fearing herself on her first turn!
Resist Set: Skytouched Shaman is a defensive supporter champion and having her in high resist will prevent enemies from inflicting debuffs that could drastically lower her survivability especially when she is low on health! Having her in high resist opens up more opportunity to use her till end-game content such as Doom Tower (e.g. Sorath the Frost Spider) as she can consistently put up Block Debuff to prevent enemies with high Accuracy to inflict debuffs onto your champions who has low resist stat.
Immortal Set: This artifact set offers Skytouched Shaman with high amount of HP, which makes her particulary tanky and also helps in slowing down the self-injury that she puts on herself every turn. This set is recommended if you are not using her in areas where you need her to be consistently reliable such as Arena.
Champion Synergy
Any reviver and cleanser (remove debuff) champions to revive Skytouched Shaman upon her death due to her passive skill.
Reliquary Tender is an excellent choice to pair with Skytouched Shaman as she has the capability to revive and remove debuff (e.g. Fear and Decrease Speed).
Arbiter is also an outstanding option to pair with Skytouched Shaman since she can increase her Turn Meter to counteract with the Decrease Speed debuff, and heals her HP when below 50%.
Skytouched Shaman Storyline
The religious traditions of the Barbarian tribes in the Deadlands are rich and varied, drawn from different cultures and often intermixed with one another. Some worship the 'old gods' – often these are powerful spirits, demons, fae, or other mystical creatures taking advantage of the primitive societies – while others gravitate towards revering the Ancestors or even the forces of nature. The latter are often represented as living beings in their own right or spirits that reside in particular elements. It is no wonder that the spirits are depicted with familiar imagery, such as the Goddess of the Wind well-known among the tribes of Eastern Krokhan is often said to take the form of a giant vulture. The priesthood dedicated to her is exclusively female, usually young orphan girls taken in by the elder Shamans and taught the ways of the Goddess. They adorn their bodies with gold jewellery and wrap themselves in cloaks of vulture feathers, their faces covered with intricate tattoos and concealed by masks of bird skulls. Upon initiation, the Skytouched are granted daggers fashioned to resemble talons of ivory and steel. These are the most important tools a Shaman can wield, for her Goddess is cruel and demanding. She, above all, craves mortal blood, and it is the Skytouched Shaman's duty to deliver that sacrifice. Thus one of the most important rituals they perform involved bloodletting – one carried out by the Shaman herself – it is a painful and gruelling process that can leave the Skytouched drained, but her cruel patron's favour ensures that her allies are revitalized and ready to take on the foe, even if the Shaman herself has to pay the ultimate price.
Skytouched Shaman Updates
Skytouched Shaman Videos
Raid Shadow Legends Skytouched Shaman Champion Guide by ASH
Raid Shadow Legends Skytouched Shaman Champion Guide by LokiMagics
Raid Shadow Legends Skytouched Shaman Champion Guide by MurderInc