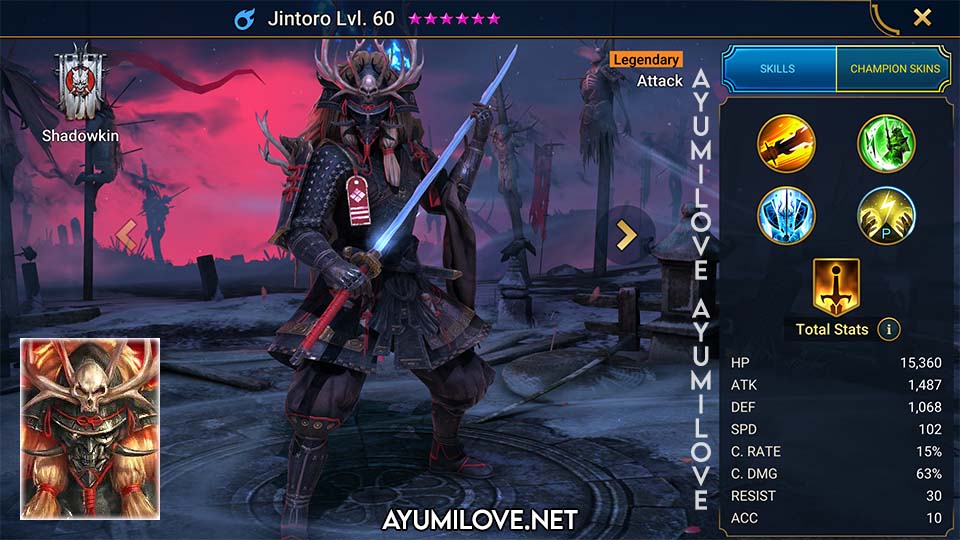 Obtain from

Ancient Shard
Sacred Shard

Overview

FACTION: Shadowkin
RARITY: Legendary
ROLE: Attack
AFFINITY: Magic
USABILITY: Situational
TOMES: 12 (A2 A3)

Total Stats (6★)

Health Points (HP): 15,360
Attack (ATK): 1,487
Defense (DEF): 1,068
Speed (SPD): 102
Critical Rate (C.RATE): 15%
Critical Damage (C.DMG): 63%
Debuff Resistance (RESIST): 30
Debuff Accuracy (ACC): 10

Grinding

★★★★★ Campaign
★★★✰✰ Arena Defense
★★★★✰ Arena Offense
★★★★★ Clan Boss
★★★★★ Faction Wars

Dungeons

★★★✰✰ Minotaur's Labyrinth
★★★★★ Spider's Den
★★★✰✰ Fire Knight's Castle
★★★★★ Dragon's Lair
★★★★✰ Ice Golem's Peak

Potion

★★★✰✰ Void Keep
★★★✰✰ Force Keep
★★✰✰✰ Spirit Keep
★★★✰✰ Magic Keep

Doom Tower

★★★★✰ Magma Dragon
★★★★★ Nether Spider
★★★★✰ Frost Spider
★✰✰✰✰ Scarab King
Jintoro Skills
Soul Drinker [ATK]
Attacks 1 enemy. Grants an Extra Turn if this attack kills an enemy
Level 2: Damage +5%
Level 3: Damage +5%
Level 4: Damage +5%
Level 5: Damage +5%
Damage Multiplier: 3.8 ATK
Blood Freeze (Cooldown: 4 turns)
Attacks 1 enemy. Steals 100% of the target's turn meter. Decreases the cooldown of Oni's Rage by 1 turn if the target is immune to Turn Meter reduction effects.
Level 2: Damage +5%
Level 3: Damage +10%
Level 4: Damage +10%
Level 5: Cooldown -1
Damage Multiplier: 5.8 ATK
Oni's Rage (Cooldown: 4 turns)
Attacks 1 enemy. Places a 60% [Decrease DEF] and 25% [Weaken] debuff for 2 turns. Will attack 5 times instead of 1 on every 4th use of this skill against the same target in one round.
Level 2: Damage +5%
Level 3: Damage +10%
Level 4: Damage +10%
Level 5: Cooldown -1
Damage Multiplier: 5.7 ATK
Vigorous [Passive]
All Turn Meter fill effects are increased by 50% on this Champion.
Aura
Increases Ally ATK in all Battles by 29%
Jintoro Review
RAID Shadow Legends – Jintoro is a Legendary Attack Magic Champion from the Shadowkin faction where he can be obtained from Ancient Shards and Sacred Shards. Jintoro is introduced to the game in Patch 3.40 as the first batch of Shadowkin champions!
Jintoro Updates
Jintoro Videos
Raid Shadow Legends Jintoro Champion Guide by Skratch
Raid Shadow Legends Jintoro Champion Guide by MurderInc
Raid Shadow Legends Jintoro Champion Guide by DeadwoodJedi
Raid Shadow Legends Jintoro Champion Guide by Hell Hades
Raid Shadow Legends Jintoro Champion Guide by Farbstoff RSL