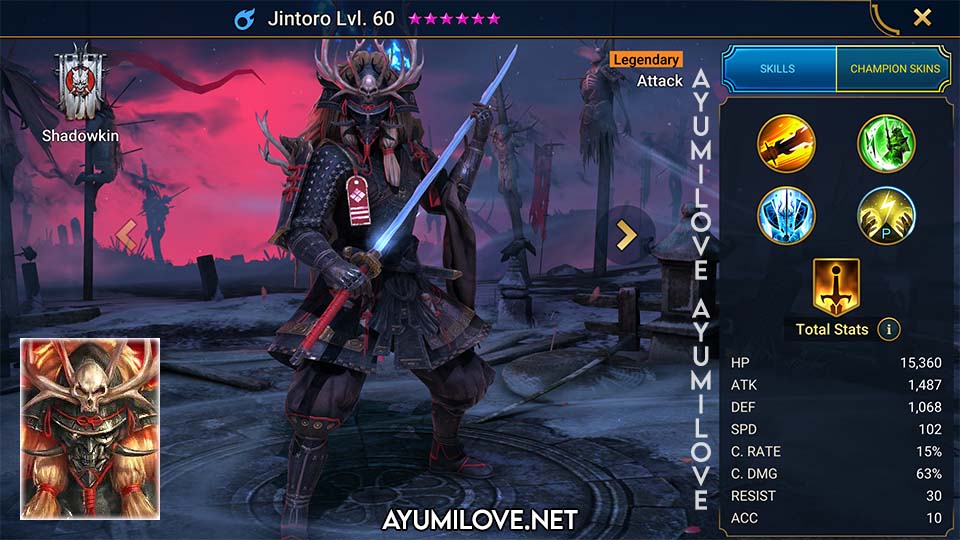 Overview

NAME: Jintoro
FACTION: Shadowkin
RARITY: Legendary
ROLE: Attack
AFFINITY: Magic
RANK: S
USABILITY: Situational
TOMES: 12 (A2 A3)

Abilities

RSL_AllBattles_AttackAura
RSL_Self_DecreaseSkillCooldown
RSL_Self_ExtraTurn
RSL_Target_BasicAttack_1Hit
RSL_Target_DecreaseDefense_60%
RSL_Target_StealTurnMeter
RSL_Target_Weaken_25%

Obtain from

Ancient Shard
Sacred Shard
Primal Shard

Blessings Recommendation

Grinding

★★★★★ Campaign
★★★★✰ Arena Defense
★★★★★ Arena Offense
★★★★★ Clan Boss
★★✰✰✰ Hydra
★★★★★ Faction Wars

Dungeons

★★★★✰ Minotaur
★★★★★ Spider
★★★✰✰ Fire Knight
★★★★✰ Dragon
★★★★✰ Ice Golem
★★✰✰✰ Iron Twins
★★✰✰✰ Sand Devil
★★★✰✰ Phantom Shogun

Potion

★★★★★ Arcane Keep
★★★★★ Void Keep
★★★★✰ Force Keep
★★★★★ Spirit Keep
★★★★★ Magic Keep

Doom Tower

★★★✰✰ Floors
★★★★✰ Magma Dragon
★★★★★ Nether Spider
★★★★✰ Frost Spider
★★★✰✰ Scarab King
★★★✰✰ Celestial Griffin
★★★✰✰ Eternal Dragon
★✰✰✰✰ Dreadhorn
★★★★★ Dark Fae
Jintoro Skills
Soul Drinker
Attacks 1 enemy. Grants an Extra Turn if this attack kills an enemy
Level 2: Damage +5%
Level 3: Damage +5%
Level 4: Damage +5%
Level 5: Damage +5%
Damage Multiplier: 3.8 ATK
Blood Freeze (Cooldown: 4 turns)
Attacks 1 enemy. Steals 100% of the target's turn meter. Decreases the cooldown of Oni's Rage by 1 turn if the target is immune to Turn Meter reduction effects.
Level 2: Damage +5%
Level 3: Damage +10%
Level 4: Damage +10%
Level 5: Cooldown -1
Damage Multiplier: 5.8 ATK
Oni's Rage (Cooldown: 4 turns)
Attacks 1 enemy. Places a 60% [Decrease DEF] and 25% [Weaken] debuff for 2 turns. Will attack 5 times instead of 1 on every 4th use of this skill against the same target in one round.
Level 2: Damage +5%
Level 3: Damage +10%
Level 4: Damage +10%
Level 5: Cooldown -1
Damage Multiplier: 5.7 ATK
Vigorous (Passive)
All Turn Meter fill effects are increased by 50% on this Champion.
Aura
Increases Ally ATK in all Battles by 29%
Jintoro Equipment Guide
Arena, Campaign, Clan Boss, Dungeons, Doom Tower, Faction Wars

Recommended Artifacts

Relentless, Speed, Savage, Offense, Cruel, Accuracy, Perception, Lifesteal, Bloodthirst

Recommended Stats

Weapon (ATK)
Helmet (HP)
Shield (DEF)
Gauntlets (C.RATE / C.DMG)
Chestplate (ATK%)
Boots (SPD / ATK%)
Ring (ATK)
Amulet (C.DMG / ATK)
Banner (ACC / ATK)

Stats Priority

ATK%, C.RATE, C.DMG, SPD, ACC
Jintoro Mastery Guide
Arena, Campaign, Clan Boss, Dungeons, Doom Tower, Faction Wars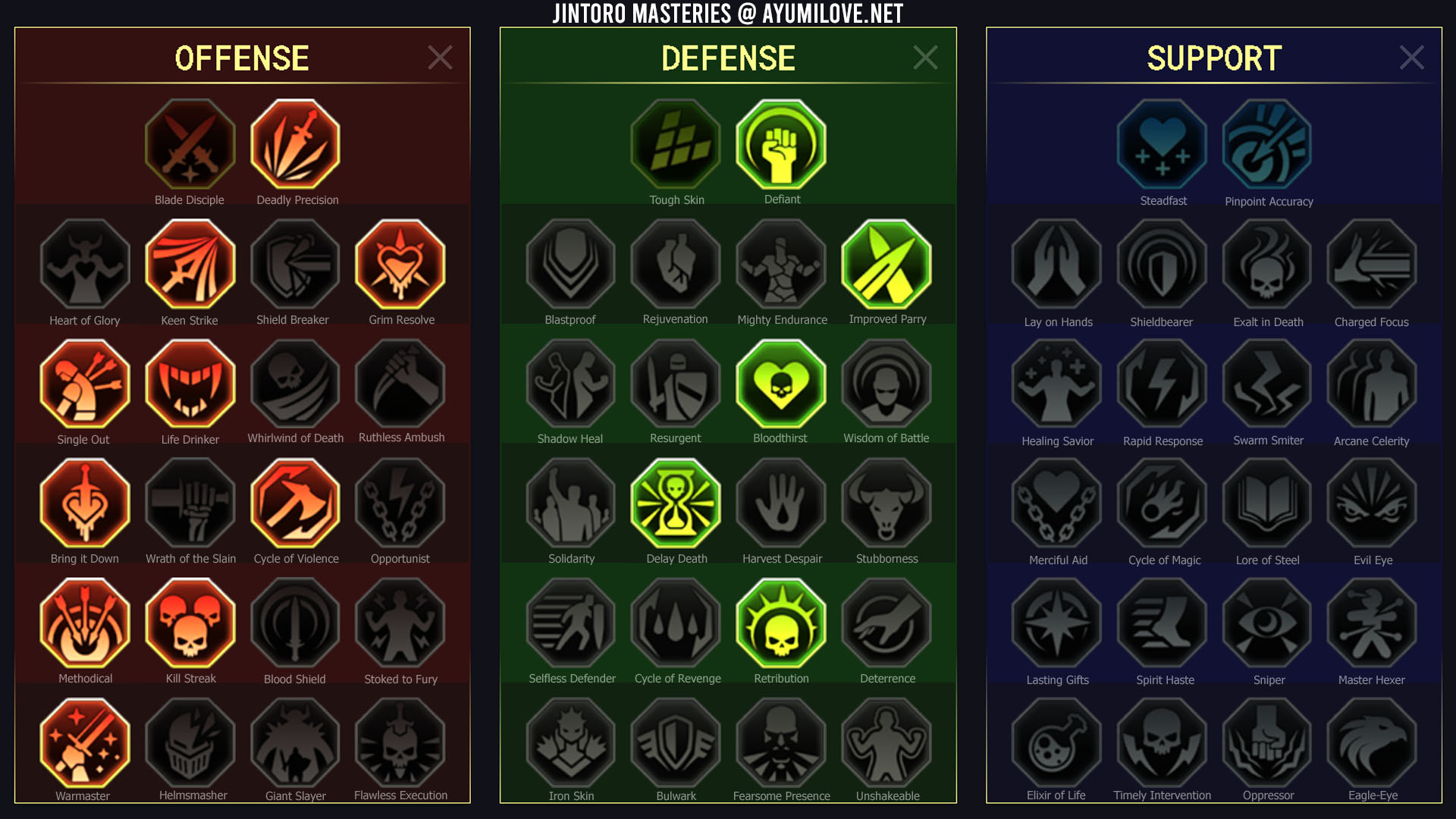 Offense

Deadly Precision
Keen Strike
Grim Resolve
Life Drinker
Single Out
Bring it Down
Cycle of Violence
Methodical
Kill Streak
Warmaster

Defense

Defiant
Improved Parry
Bloodthirst
Delay Death
Retribution
Jintoro Review
Jintoro is a Legendary Attack Magic affinity champion from the Shadowkin faction in Raid Shadow Legends. Jintoro was introduced in Patch 3.40 as the first batch of Shadowkin champions! Jintoro is renowned for his ultimate nuking skill Oni's Rage that allows him to deal a massive amount of damage when it's used against the same target repeatedly. This makes him one of the best candidate for Clan Boss with this special ability. Jintoro also inflicts Decrease Defense and Weaken debuff on an enemy, which further increases the overall team damage output! However, he is kinda squishy with the low base Health and Defense. Hence, I would advise using Jintoro in Unkillable Clan Boss Team such as BatEater to unlock his full damage potential.
Jintoro Reference
Jintoro Clan Boss Build
Here is Jintoro's artifacts and masteries optimized for BatEater Clan Boss build. This setup is also suitable for speed farming Spider's Den Dungeon too! Jintoro is equipped with Relentless Set to provide him additional Extra Turn, so he could unleash his Ultimate Skill Oni's Rage frequently. This results in higher damage output in extended battle, such as raiding Clan Boss. The stats prioritized on Jintoro are Accuracy, Speed, Attack, Critical Rate and Critical Damage. He needs at least 225~250 Accuracy for Jintoro to inflict his debuff successfully in Ultra Nightmare Clan Boss and Dungeon Stages 20 and above! In addition, 5000 Attack with 100% Critical Rate and 200~250% Critical Damage is recommended for Jintoro to deal high amount of damage. For the Speed stat, it's recommended to have him above 200+ for Dungeon Content, while Clan Boss will depend on the speed tuning on the team composition. For BatEater, Jintoro as a DPS (Damage/Nuker) champion will need to be around 218~227 speed.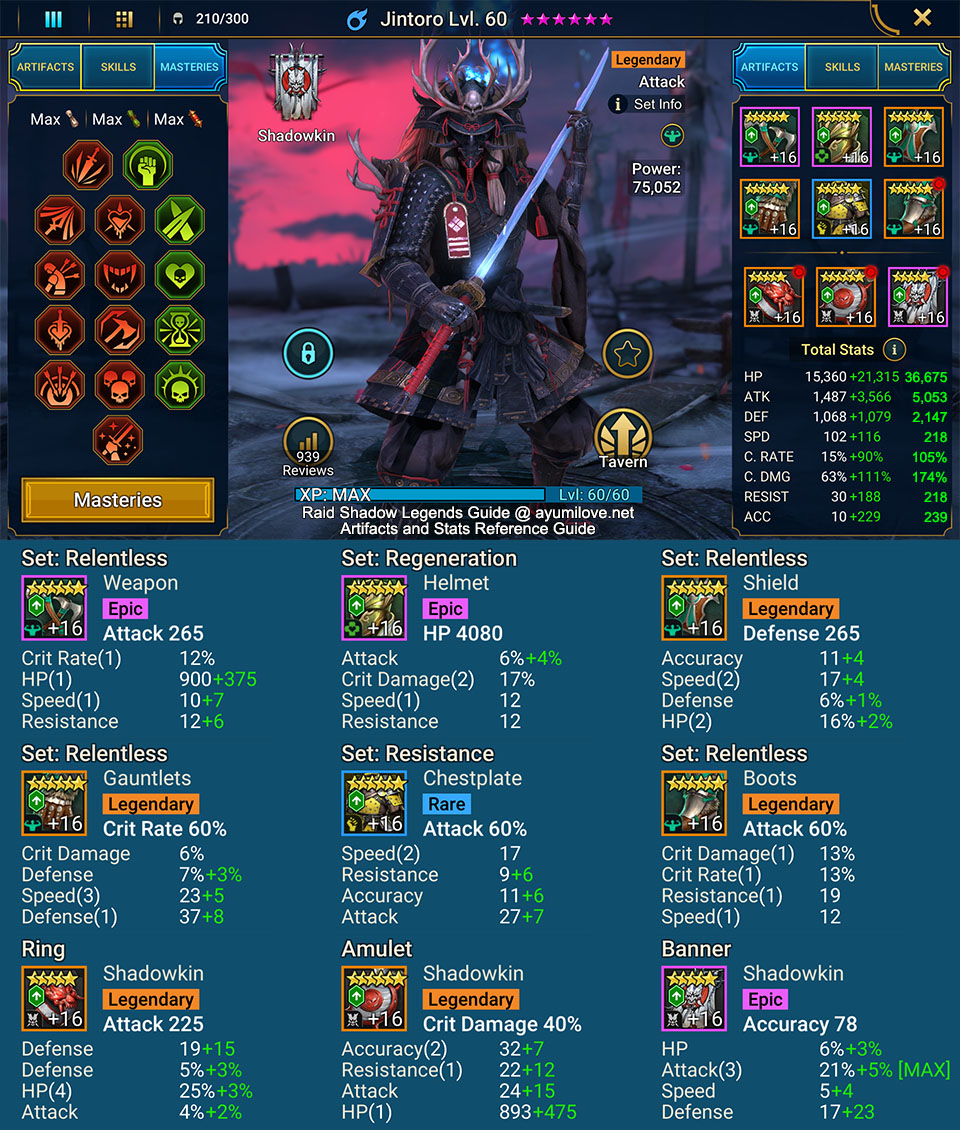 Jintoro Updates
Related Articles
Jintoro Videos
Raid Shadow Legends Jintoro Champion Guide by Skratch
Raid Shadow Legends Jintoro Champion Guide by MurderInc
Raid Shadow Legends Jintoro Champion Guide by DeadwoodJedi
Raid Shadow Legends Jintoro Champion Guide by Farbstoff RSL
Champion Name Reference
English: Jintoro
French: Jintoro
Deutsch:
Italian:
Spanish:
Chinese:
Korean:
Japanese:
Ukranian:
Russian:
Turkish:
Portuguese: