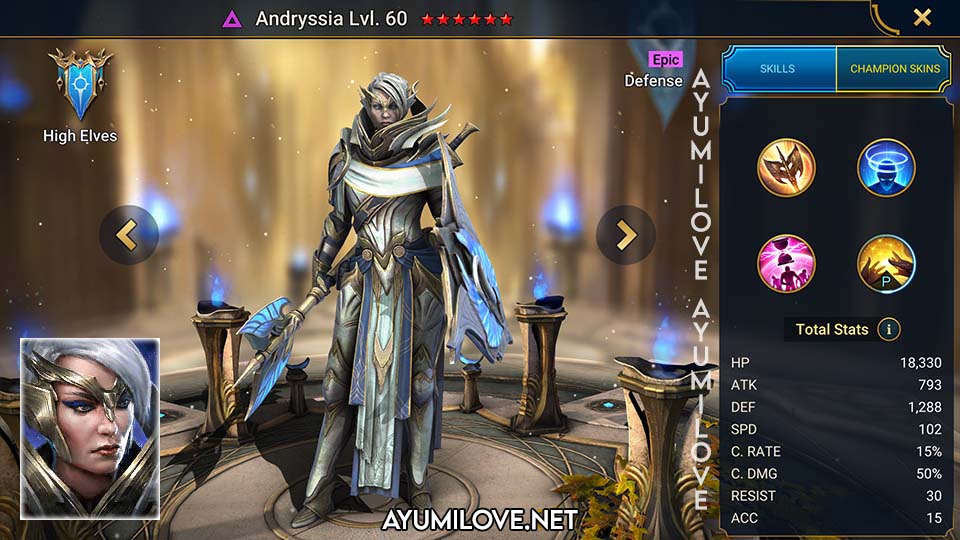 Overview
NAME: Andryssia
FACTION: High Elves
RARITY: Epic
ROLE: Defense
AFFINITY: Void
USABILITY: Situational
TOMES: 12 (A1 A2 A3)
Total Stats (6★)
Health Points (HP): 18,330
Attack (ATK): 793
Defense (DEF): 1,288
Speed (SPD): 102
Critical Rate (C.RATE): 15%
Critical Damage (C.DMG): 50%
Debuff Resistance (RESIST): 30
Debuff Accuracy (ACC): 15
Obtain from
Void Shard
Grinding
★★★★✰ Campaign
★★★✰✰ Arena Defense
★★★★✰ Arena Offense
★★★✰✰ Clan Boss
★★★★★ Faction Wars
Dungeons
★★★★✰ Minotaur
★★★✰✰ Spider
★★✰✰✰ Fire Knight
★★★✰✰ Dragon
★★★★✰ Ice Golem
Potion
★★★★★ Arcane Keep
★★★★✰ Void Keep
★★★★★ Force Keep
★★★★★ Spirit Keep
★★★★★ Magic Keep
Doom Tower
★★★★✰ Floors
★★✰✰✰ Magma Dragon
★★★✰✰ Nether Spider
★★★✰✰ Frost Spider
★★✰✰✰ Scarab King
★★✰✰✰ Celestial Griffin
★★✰✰✰ Eternal Dragon
★✰✰✰✰ Dreadhorn
★★✰✰✰ Dark Fae
Andryssia Skills
Censorious Bludgeon [DEF]
Attacks 1 enemy. Has a 40% chance of placing a 30% [Decrease C.DMG] debuff for 2 turns.
Level 2: Damage +10%
Level 3: Buff/Debuff Chance +15%
Level 4: Damage +10%
Level 5: Buff/Debuff Chance +15%
Damage Multiplier: 3.3 DEF
Mind Prison [DEF] (Cooldown: 4 turns)
Attacks 1 enemy. Has a 75% chance of placing a [Stun] debuff for 1 turn if the target does not have any active buffs. Has a 75% chance of placing a [Stun] debuff for 2 turns if the target does have any active buffs.
Level 2: Buff/Debuff Chance +10%
Level 3: Buff/Debuff Chance +15%
Level 4: Cooldown -1
Damage Multiplier: 5.7 DEF
Pointed Justice [DEF] (Cooldown: 4 turns)
Attacks all enemies. Has a 75% chance of decreasing the duration of all enemy buffs by 2 turns. Increases the duration of all [Increase DEF] buffs on all allies by 1 turn.
Level 2: Damage +10%
Level 3: Buff/Debuff Chance +10%
Level 4: Damage +10%
Level 5: Buff/Debuff Chance +15%
Level 6: Cooldown -1
Damage Multiplier: 3.7 DEF
Heartstrong [Passive] (Cooldown: 5 turns)
At the start of each turn, places a 50% [Ally Protection] buff for 2 turns on the ally with the lowest HP. Will not be placed on this Champion. Also places a 25% [Strengthen] buff and a 60% [Increase DEF] buff on this Champion for 2 turns.
Andryssia Videos
ASH: Andryssia – A Unique New Epic Worth BUILDING!