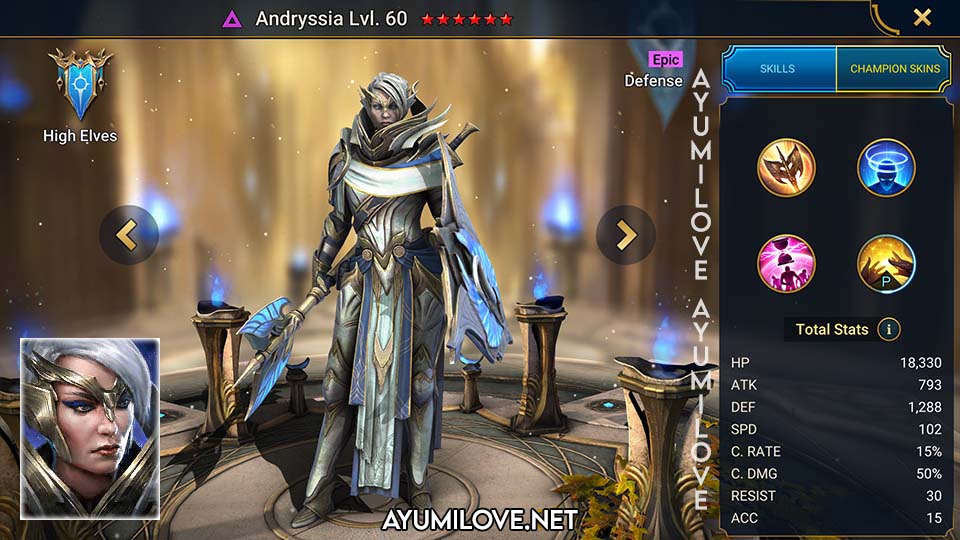 Overview
NAME: Andryssia
FACTION: High Elves
RARITY: Epic
ROLE: Defense
AFFINITY: Void
RANK: B
USABILITY: Situational
TOMES: 12 (A1 A2 A3)
Abilities
RSL_Target_DecreaseCriticalDamage_30%
RSL_AoE_DecreaseBuffDuration
RSL_AoE_IncreaseBuffDuration_Specific
RSL_LowestHp_AllyProtection_50%
RSL_Self_IncreaseDefense_60%
RSL_Self_Passive
RSL_Self_Strengthen_25%
RSL_Target_Stun
Obtain from
Void Shard
Blessings Recommendation
Carapace (Early Game)
Grinding
★★★★✰ Campaign
★★★✰✰ Arena Defense
★★★★✰ Arena Offense
★★★✰✰ Clan Boss
★★★✰✰ Hydra
★★★★★ Faction Wars
Dungeons
★★★★✰ Minotaur
★★★✰✰ Spider
★★✰✰✰ Fire Knight
★★★✰✰ Dragon
★★★★✰ Ice Golem
★★✰✰✰ Iron Twins
Potion
★★★★★ Arcane Keep
★★★★✰ Void Keep
★★★★★ Force Keep
★★★★★ Spirit Keep
★★★★★ Magic Keep
Doom Tower
★★★★✰ Floors
★★✰✰✰ Magma Dragon
★★★✰✰ Nether Spider
★★★✰✰ Frost Spider
★★✰✰✰ Scarab King
★★✰✰✰ Celestial Griffin
★★✰✰✰ Eternal Dragon
★✰✰✰✰ Dreadhorn
★★✰✰✰ Dark Fae
Andryssia Skills
Censorious Bludgeon
Attacks 1 enemy. Has a 40% chance of placing a 30% [Decrease C.DMG] debuff for 2 turns.
Level 2: Damage +10%
Level 3: Buff/Debuff Chance +15%
Level 4: Damage +10%
Level 5: Buff/Debuff Chance +15%
Damage Multiplier: 3.3 DEF
Mind Prison (Cooldown: 4 turns)
Attacks 1 enemy. Has a 75% chance of placing a [Stun] debuff for 1 turn if the target does not have any active buffs. Has a 75% chance of placing a [Stun] debuff for 2 turns if the target does have any active buffs.
Level 2: Buff/Debuff Chance +10%
Level 3: Buff/Debuff Chance +15%
Level 4: Cooldown -1
Damage Multiplier: 5.7 DEF
Pointed Justice (Cooldown: 4 turns)
Attacks all enemies. Has a 75% chance of decreasing the duration of all enemy buffs by 2 turns. Increases the duration of all [Increase DEF] buffs on all allies by 1 turn.
Level 2: Damage +10%
Level 3: Buff/Debuff Chance +10%
Level 4: Damage +10%
Level 5: Buff/Debuff Chance +15%
Level 6: Cooldown -1
Damage Multiplier: 3.7 DEF
Heartstrong (Passive, Cooldown: 5 turns)
At the start of each turn, places a 50% [Ally Protection] buff for 2 turns on the ally with the lowest HP. Will not be placed on this Champion. Also places a 25% [Strengthen] buff and a 60% [Increase DEF] buff on this Champion for 2 turns.
Andryssia Equipment Guide
Arena, Campaign, Clan Boss, Dungeons, Doom Tower, Faction Wars

Recommended Artifacts

PvE: Perception, Speed, Immortal
PvP: Perception, Speed

Stats Allocation

Weapon (ATK)
Helmet (HP)
Shield (DEF)
Gauntlets (DEF% / HP%)
Chestplate (DEF% / HP%)
Boots (SPD)
Ring (DEF / HP)
Amulet (DEF / HP)
Banner (ACC / RESIST)

Stats Priority

PvE: SPD, ACC, DEF%, C.RATE
PvP: SPD, ACC, HP%, DEF%
Andryssia Mastery Guide
Arena, Campaign, Clan Boss, Dungeons, Doom Tower, Faction Wars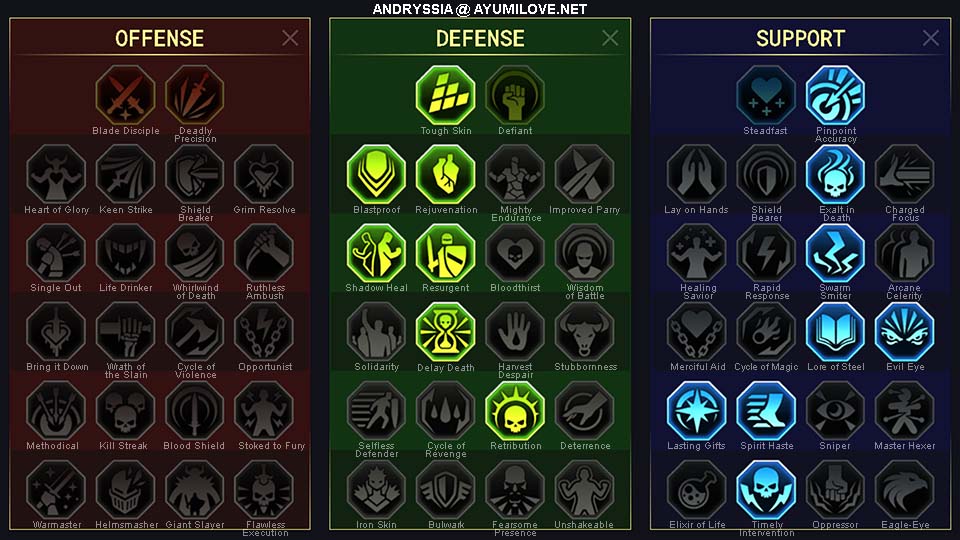 Defense

Tough Skin
Blastproof
Rejuvenation
Resurgent
Shadow Heal
Delay Death
Retribution

Support

Pinpoint Accuracy
Exalt in Death
Swarm Smiter
Lore of Steel
Evil Eye
Spirit Haste
Lasting Gifts
Timely Intervention
Andryssia Review
Andryssia is an Epic Defense Void affinity champion from the High Elves faction in Raid Shadow Legends. She is a champion of great strength and conviction who has recently joined as part of Patch 5.20. Designed to help control enemies and keep struggling allies alive, Andryssia is a defense-based champion with impressive abilities.
Her A2 attack is quite rare, as it places a 2-turn stun on a single target, and her A3 is a strong-hitting AOE that also decreases enemy buff durations by 2 turns. This potent ability can be used to extend any increase in defense buffs, keeping your team alive and thriving. In addition to her combat abilities, Andryssia has a passive that provides ally protection to the lowest HP ally. However, this ability is on a 4-turn cooldown, making it difficult to use effectively.
While Andryssia may not be the most impressive epic champion, she excels in the Doom Tower, where her abilities can be used to control enemies and remove buffs. She is particularly effective against Mortu, thanks to her 2-turn stun, which can easily lock them down.
Overall, Andryssia is a solid choice for any team looking to control their enemies and protect their allies, particularly in the challenging environment of the Doom Tower. With her strength and conviction, Andryssia is sure to be a valuable addition to any team.
Andryssia Updates
Andryssia Videos
ASH: Andryssia – A Unique New Epic Worth BUILDING!