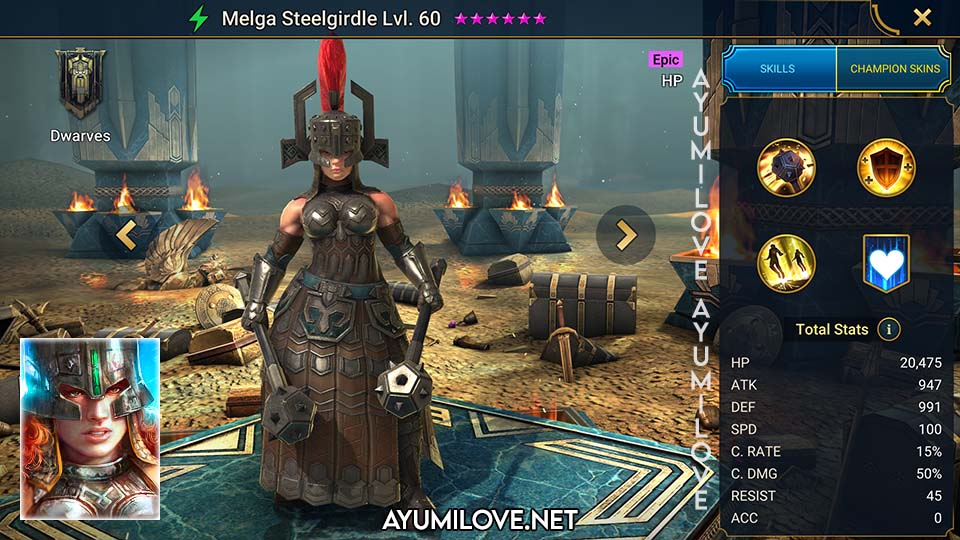 Obtain from

Ancient Shard
Sacred Shard

Overview

FACTION: Dwarves
RARITY: Epic
ROLE: HP
AFFINITY: Spirit
USABILITY: Early-Mid-Late Game
TOMES: 15 (A1 A2 A3)

Total Stats (6★)

Health Points (HP): 20,475
Attack (ATK): 947
Defense (DEF): 991
Speed (SPD): 100
Critical Rate (C.RATE): 15%
Critical Damage (C.DMG): 50%
Debuff Resistance (RESIST): 45
Debuff Accuracy (ACC): 0

Grinding

★★★★★ Campaign
★★★★✰ Arena Defense
★★★★✰ Arena Offense
★★★★★ Clan Boss
★★★★★ Faction Wars

Dungeons

★★★★★ Minotaur's Labyrinth
★★★★✰ Spider's Den
★★★★✰ Fire Knight's Castle
★★★★★ Dragon's Lair
★★★★★ Ice Golem's Peak

Potion

★★★★★ Void Keep
★★★★★ Force Keep
★★★★✰ Spirit Keep
★★★★✰ Magic Keep

Doom Tower

★★★★★ Magma Dragon
★★★★★ Nether Spider
★★★★★ Frost Spider
★★★★★ Scarab King
Raid Shadow Legends Melga Steelgirdle is an Epic HP Spirit champion from the Dwarves faction where she can be obtained from Ancient Shards and Sacred Shards. She was added in Raid Shadow Legends on January 14th 2020 (Patch 3.20). Melga Steelgirdle main role is to support her allies in battle by providing Shield buff to absorb the incoming damage from enemies as well as providing Continuous Healing buff to heal them every turn the allies take. Apart from that, she could also revive any allies who has fallen, so they can continue to fight and win the battle! Her default attack has a special ability, which allows Melga Steelgirdle to remove debuff from her allies whenever they have received a debuff. These skills makes her a vital instrument as she can immensely improve your team's survivability immensely in many areas of the game.
Melga Steelgirdle Skills
Inspiring Violence [HP]
Attacks 1 enemy. Has a 50% chance of removing 1 random debuff from a random ally. Cannot remove a debuff from this Champion.
Level 2: Damage +5%
Level 3: Buff/Debuff Chance +5%
Level 4: Damage +5%
Level 5: Buff/Debuff Chance +5%
Level 6: Buff/Debuff Chance +5%
Level 7: Damage +5%
Level 8: Damage +10%
Level 9: Buff/Debuff Chance +10%
Damage Multiplier: 0.15 HP
Sheer Grit [HP] (Cooldown: 4 turns)
Place a [Shield] buff on all allies equal to 20% of this Champion's MAX HP for 2 turns. Also places a 15% [Continuous Heal] buff on all allies for 2 turns.
Level 2: Shield 5%
Level 3: Shield 5%
Level 4: Shield 5%
Level 5: Shield 5%
Level 6: Cooldown -1
Glorious Return (Cooldown: 7 turns)
Revives 2 random allies with 20% HP and 20% Turn Meter. Also places a [Shield] buff on the revived allies for 2 turns equal to 30% of their max HP.
Level 2: Cooldown -1
Level 3: Cooldown -1
Aura
Increases Ally HP in all Battles by 15%
Melga Steelgirdle Equipment Guide
Arena, Doom Tower, Faction Wars
Campaign, Clan Boss, Dungeons

Recommended Artifacts

2 Immortal Set, 1 Resist Set
2 Life Set, 1 Resist Set
1 Shield Set, 1 Life Set
1 Shield Set, 1 Immortal Set

Recommended Artifacts

2 Immortal Set, 1 Resist Set
2 Life Set, 1 Resist Set
1 Lifesteal Set, 1 Life Set
1 Lifesteal Set, 1 Immortal Set

Recommended Stats

SPD, HP%, DEF%, RESIST
Weapon (ATK)
Helmet (HP)
Shield (DEF)
Gauntlets (HP% / DEF%)
Chestplate (HP% / DEF%)
Boots (SPD)
Ring (DEF)
Amulet (DEF)
Banner (RESIST)

Recommended Stats

SPD, HP%, DEF%, RESIST
Weapon (ATK)
Helmet (HP)
Shield (DEF)
Gauntlets (HP% / DEF%)
Chestplate (HP% / DEF%)
Boots (SPD)
Ring (DEF)
Amulet (DEF)
Banner (HP% / RESIST)
Melga Steelgirdle Mastery Guide
Arena, Campaign, Faction Wars, Doom Tower
Offense

N/A

Defense

Defiant
Improved Parry
Rejuvenation
Shadow Heal
Delay Death
Retribution
Cycle of Revenge
Unshakeable

Support

Steadfast
Shieldbearer
Rapid Response
Healing Savior
Lore of Steel
Evil Eye
Spirit Haste
Campaign, Clan Boss, Dungeons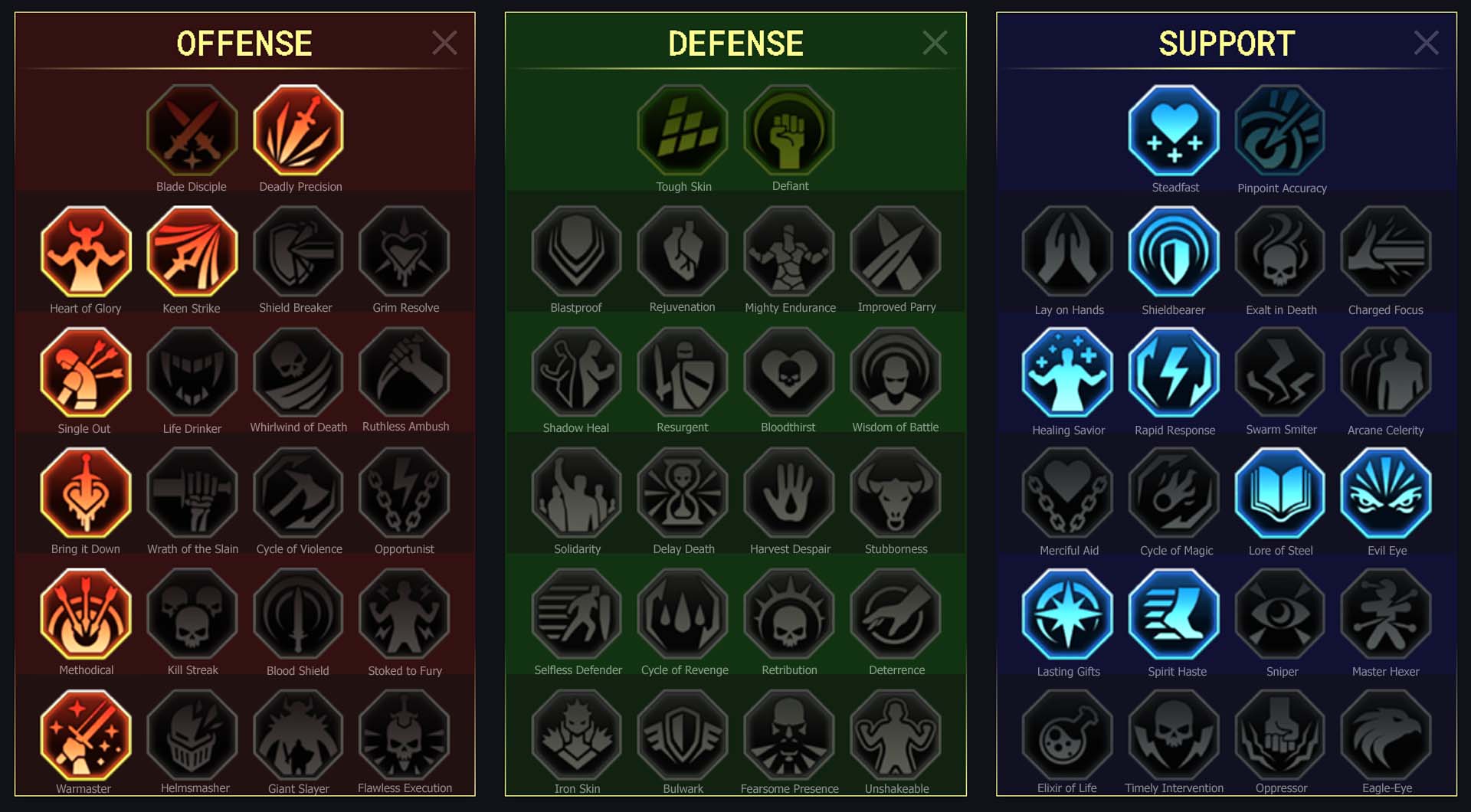 Offense

Deadly Precision
Keen Strike
Heart of Glory
Single Out
Bring it Down
Methodical
Warmaster

Defense

N/A

Support

Steadfast
Shieldbearer
Rapid Response
Healing Savior
Lore of Steel
Evil Eye
Spirit Haste
Lasting Gifts
Melga Steelgirdle Updates
Melga Steelgirdle Mastery Videos
Raid Shadow Legends Melga Steelgirdle Champion Guide by Skratch AK47

Raid Shadow Legends Melga Steelgirdle Champion Guide by MurderInc