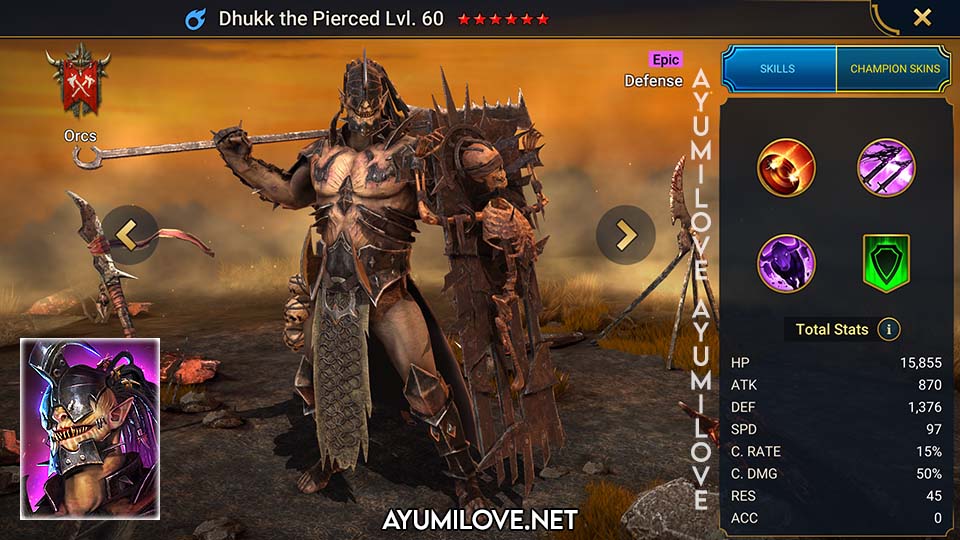 Obtain from

Ancient Shard
Sacred Shard

Overview

FACTION: Orcs
RARITY: Epic
ROLE: Defense
AFFINITY: Magic
USABILITY: Early-Mid-Late Game
TOMES: 12 (A1 A2 A3)

Total Stats (6★)

Health Points (HP): 15,855
Attack (ATK): 870
Defense (DEF): 1,376
Speed (SPD): 97
Critical Rate (C.RATE): 15%
Critical Damage (C.DMG): 50%
Debuff Resistance (RESIST): 45
Debuff Accuracy (ACC): 0

Grinding

★★★★★ Campaign
★★★★★ Arena Defense
★★★★★ Arena Offense
★★★★★ Clan Boss
★★★★★ Faction Wars

Dungeons

★★★★★ Minotaur's Labyrinth
★★★★★ Spider's Den
★★★★★ Fire Knight's Castle
★★★★★ Dragon's Lair
★★★★★ Ice Golem's Peak

Potion

★★★★★ Void Keep
★★★★✰ Force Keep
★★★★★ Spirit Keep
★★★★★ Magic Keep

Doom Tower

★★★★★ Magma Dragon
★★★★✰ Nether Spider
★★★★★ Frost Spider
★✰✰✰✰ Scarab King
Raid Shadow Legends Dhukk the Pierced is an Epic Defense Magic champion from the Orcs faction where he can be obtained from Ancient Shards and Sacred Shards. He was added in Raid Shadow Legends on January 14th 2020 (Patch 3.20). His abilities primarily revolves around reducing enemies damage output and survivability with Decrease Attack and Decrease Defense debuff. In addition, Dhukk the Pierced inflicts Provoke to crowd control enemies and protects himself with Unkillable while reflecting a portion of the damage to the enemies with Reflect Damage! He is capable of applying Decrease Accuracy debuff on a single-target enemy with his default attack to reduce their ability of applying debuffs on your allies too. All of these skills makes him as an exceptional Epic champion for many areas from early-late game!
Dhukk the Pierced Skills
Mad Chopper [DEF]
Attacks 1 enemy 2 times. Each hit has a 30% chance of placing a 50% [Decrease ACC] debuff for 2 turns.
Level 2: Damage +5%
Level 3: Damage +5%
Level 4: Buff/Debuff Chance +5%
Level 5: Buff/Debuff Chance +5%
Damage Multiplier: 1.9 DEF
Lunatic Outburst [DEF] (Cooldown: 4 turns)
Attacks all enemies. Has a 75% chance of placing a 50% [Decrease ATK] debuff for 2 turns. Also has a 75% chance of placing a 60% [Decrease DEF] debuff for 2 turns on each critical hit.
Level 2: Damage +10%
Level 3: Damage +10%
Level 4: Buff/Debuff Chance +5%
Level 5: Buff/Debuff Chance +10%
Level 6: Buff/Debuff Chance +10%
Level 7: Cooldown -1
Damage Multiplier: 3.5 DEF
Shrieking Display (Cooldown: 6 turns)
Places a [Provoke] debuff for 1 turn on the target enemy. Also has a 75% chance of placing a [Provoke] debuff for 1 turn on 2 random enemies. Places a 30% [Reflect Damage] buff on this champion for 2 turns and a [Unkillable] buff on this champion for 1 turn.
Level 2: Cooldown -1
Level 3: Cooldown -1
Aura
Increase Ally DEF in Faction Crypts by 31%
Dhukk the Pierced Equipment Guide
Arena, Doom Tower, Faction Wars
Campaign, Clan Boss, Dungeons

Recommended Artifacts

1 Speed Set, 2 Perception Set
1 Speed Set, 2 Accuracy Set

Recommended Artifacts

1 Speed Set, 2 Perception Set
1 Speed Set, 2 Accuracy Set
1 Lifesteal Set, 1 Perception Set
1 Lifesteal Set, 1 Accuracy Set

Recommended Stats

ACC, SPD, C.RATE, DEF%, HP%
Weapon (ATK)
Helmet (HP)
Shield (DEF)
Gauntlets (C.RATE)
Chestplate (DEF% / ACC)
Boots (SPD)
Ring (DEF)
Amulet (DEF / C.DMG)
Banner (ACC)

Recommended Stats

ACC, SPD, C.RATE, DEF%, HP%
Weapon (ATK)
Helmet (HP)
Shield (DEF)
Gauntlets (C.RATE)
Chestplate (DEF% / ACC)
Boots (SPD)
Ring (DEF)
Amulet (DEF / C.DMG)
Banner (ACC)
Dhukk the Pierced Mastery Guide
Arena, Campaign, Faction Wars, Doom Tower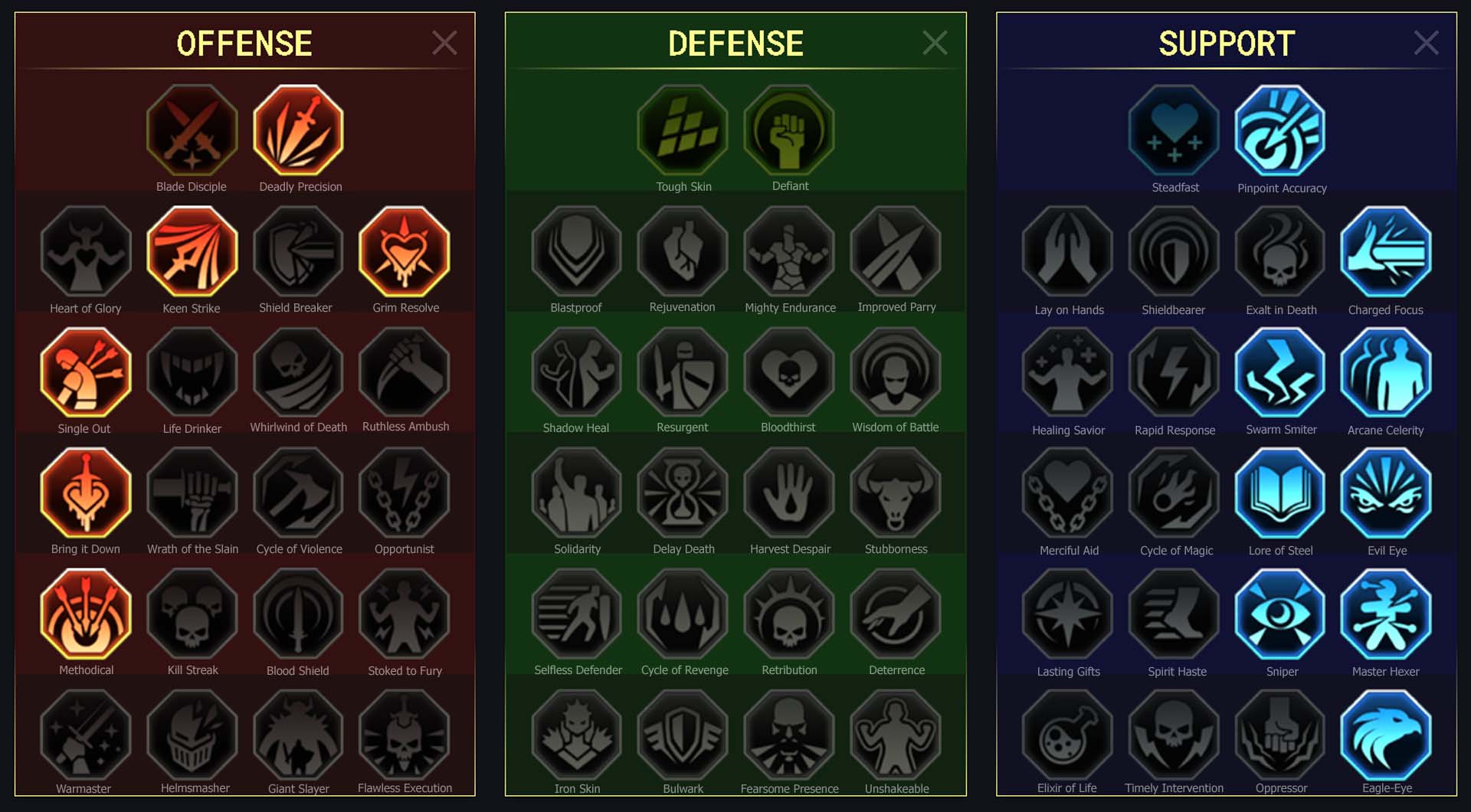 Offense

Deadly Precision
Keen Strike
Grim Resolve
Single Out
Bring it Down
Methodical

Defense

N/A

Support

Pinpoint Accuracy
Charged Focus
Swarm Smiter
Arcane Celerity
Evil Eye
Lore of Steel
Master Hexer
Sniper
Eagle-Eye
Clan Boss, Dungeons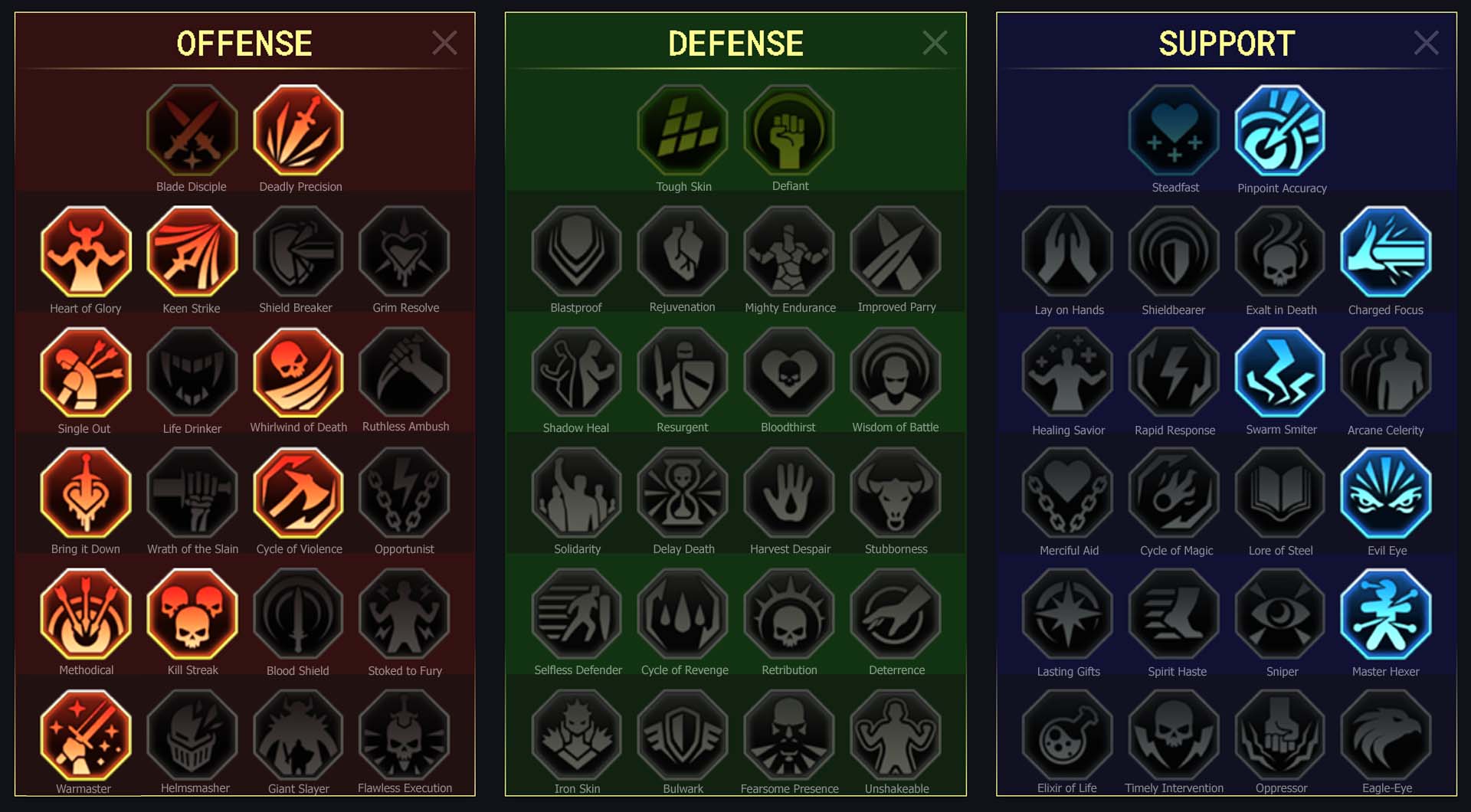 Offense

Deadly Precision
Keen Strike
Heart of Glory
Single Out
Whirlwind of Death
Bring it Down
Cycle of Violence
Methodical
Kill Streak
Warmaster

Defense

N/A

Support

Pinpoint Accuracy
Charged Focus
Swarm Smiter
Evil Eye
Master Hexer
Dhukk the Pierced Updates
Dhukk the Pierced Videos
Raid Shadow Legends Dhukk the Pierced Champion Guide by StewGaming

Raid Shadow Legends Dhukk the Pierced Champion Guide by IceMan Gaming

Raid Shadow Legends Dhukk the Pierced Champion Guide by Hell Hades

Raid Shadow Legends Dhukk the Pierced Champion Guide by DicesTV

Raid Shadow Legends Dhukk the Pierced Champion Guide by MurderInc