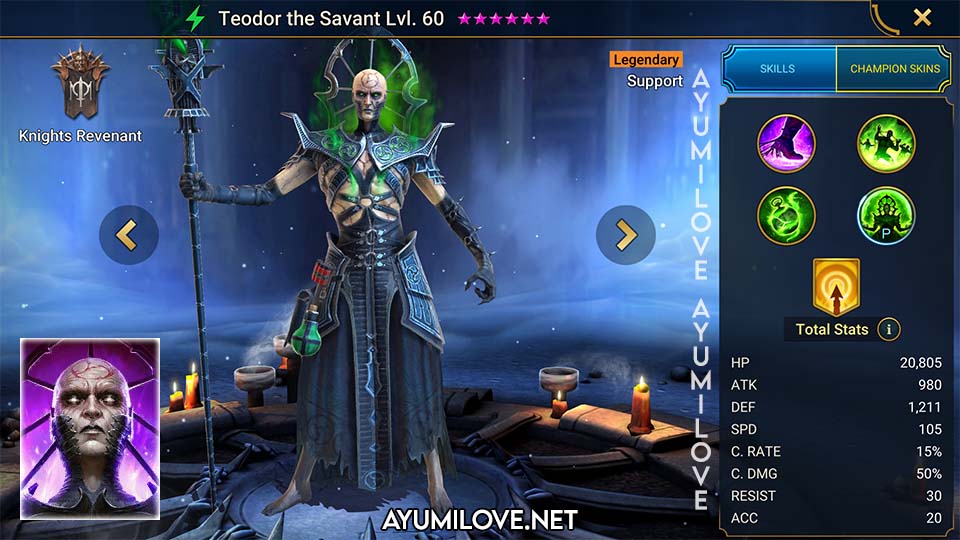 Overview

NAME: Teodor the Savant
FACTION: Knights Revenant
RARITY: Legendary
ROLE: Support
AFFINITY: Spirit
RANK: S
USABILITY: Early-Mid-Late Game
TOMES: 12 (A2 A3)

Abilities

RSL_AllBattles_AccuracyAura
RSL_AoE_ActivatePoison
RSL_AoE_ActivateHpBurn
RSL_AoE_BasicAttack_1Hit
RSL_AoE_DecreaseSpeed_30%
RSL_AoE_IncreasePoisonDuration
RSL_AoE_IncreaseSpeed_30%
RSL_AoE_Poison_5%
RSL_AoE_PoisonSensitivity_25%
RSL_Self_IncreaseResistance_Passive

Obtain from

Ancient Shard
Sacred Shard

Blessings Recommendation

Brimstone (Late Game)

Grinding

★★★★★ Campaign
★★★✰✰ Arena Defense
★★★✰✰ Arena Offense
★★★★★ Clan Boss
★★★★★ Hydra
★★★★★ Faction Wars

Dungeons

★★★★★ Minotaur
★★★★★ Spider
★★★★★ Fire Knight
★★★★★ Dragon
★★★★★ Ice Golem
★★★★★ Iron Twins
★✰✰✰✰ Sand Devil

Potion

★★★★★ Arcane Keep
★★★★✰ Void Keep
★★★★★ Force Keep
★★★★✰ Spirit Keep
★★✰✰✰ Magic Keep

Doom Tower

★★★★★ Floors
★★★✰✰ Magma Dragon
★★★★✰ Nether Spider
★★★★★ Frost Spider
★★✰✰✰ Scarab King
★★★★✰ Celestial Griffin
★★★★✰ Eternal Dragon
★✰✰✰✰ Dreadhorn
★★★★✰ Dark Fae
Teodor Skills
Vile Physick
Attacks all enemies. Has a 30% chance of placing a 30% [Decrease SPD] debuff for 2 turns.
Level 2: Damage +5%
Level 3: Damage +5%
Level 4: Buff/Debuff Chance +10%
Level 5: Buff/Debuff Chance +10%
Damage Multiplier: 3.1 DEF
Savant's Savvy (Cooldown: 4 turns)
Has a 75% chance of placing two 5% [Poison] debuffs and a 25% [Poison Sensitivity] debuff on all enemies for 2 turns. Also places a 30% [Increase SPD] buff on all allies for 2 turns.
Level 2: Buff/Debuff Chance +10%
Level 3: Buff/Debuff Chance +15%
Level 4: Cooldown -1
Chymistry (Cooldown: 5 turns)
Increases the duration of all [Poison] debuffs and [HP Burn] debuffs on all enemies by 1 turn. Then, instantly activates any [Poison] debuffs and a [HP Burn] debuffs on each enemy. Places a 25% [Weaken] debuff for 2 turns on enemies not under [Poison] debuffs or [HP Burn] debuffs.
Level 2: Cooldown -1
Level 3: Cooldown -1
Fumigator (Passive)
This Champion's RES is increased by 5 for each [Poison] debuff on the enemy team.
Aura
Increases Ally ACC in all Battles by 50
Teodor the Savant Equipment Guide
Arena, Campaign, Clan Boss, Dungeons, Doom Tower, Faction Wars

Recommended Artifacts

Regeneration, Immortal, Accuracy, Perception, Speed

Stats Allocation

Weapon (ATK)
Helmet (HP)
Shield (DEF)
Gauntlets (DEF% / HP%)
Chestplate (DEF% / HP% / ACC / RESIST)
Boots (SPD)
Ring (DEF / HP)
Amulet (DEF / HP)
Banner (ACC / RESIST)

Stats Priority

HP%, DEF%, SPD, ACC, RESIST
Teodor the Savant Mastery Guide
Dungeons (Solo Boss)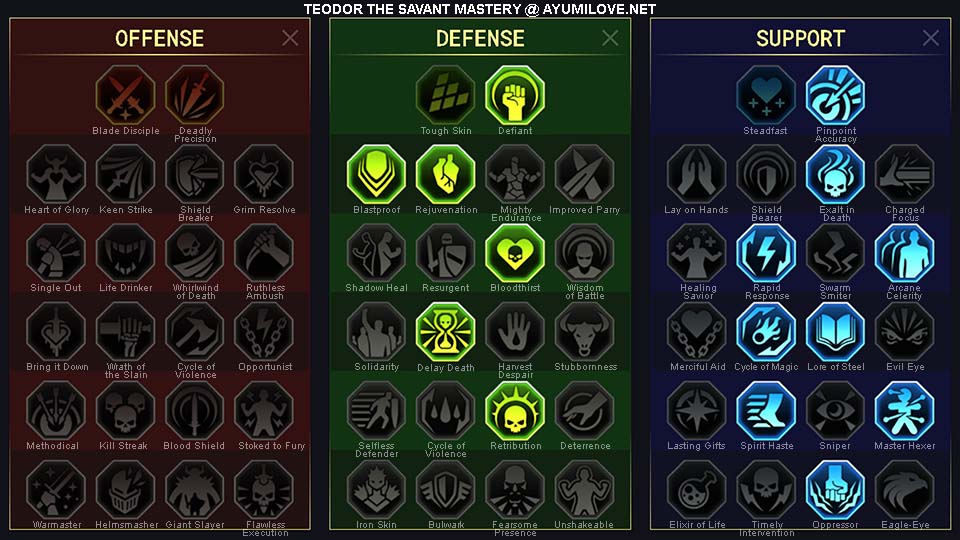 Defense

Defiant
Rejuvenation
Blastproof
Bloodthirst
Delay Death
Retribution

Support

Pinpoint Accuracy
Exalt in Death
Rapid Response
Arcane Celerity
Lore of Steel
Cycle of Magic
Master Hexer
Spirit Haste
Oppressor
Teodor the Savant Updates
Teodor the Savant Videos
Nub Raids: TEODOR is the BEST CHAMP Added in a Long Time!!
Skratch Plays: The MOST INSANE PVE Champion!! Teodor Champion Spotlight
Tyrauku: SOLO'S Dragon 25 Faster Than MOST TEAMS!