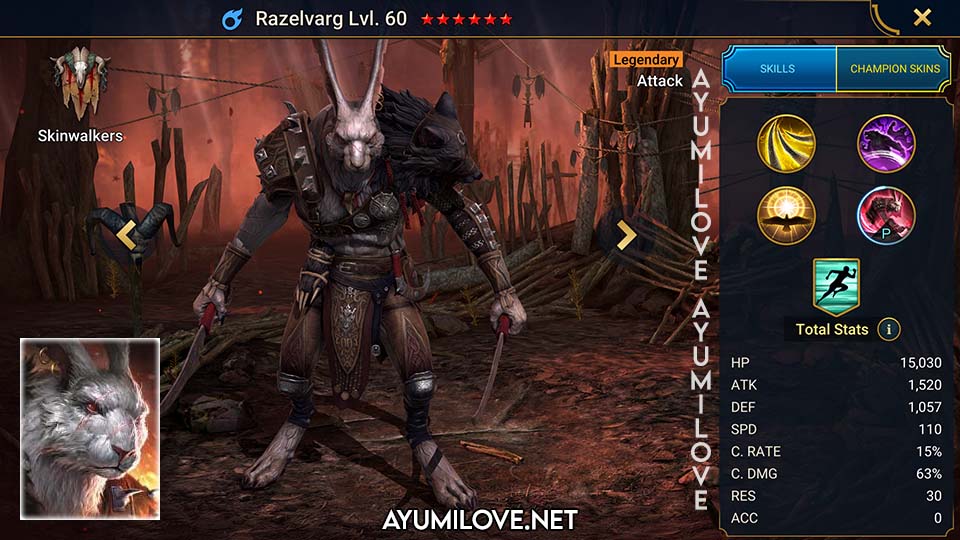 Overview

NAME: Razelvarg
FACTION: Skinwalkers
RARITY: Legendary
ROLE: Attack
AFFINITY: Magic
RANK: A
USABILITY: Mid-Late Game
TOMES: 12 (A2 A3)

Abilities

RSL_AllBattles_SpeedAura
RSL_AoE_IncreaseAccuracy_50%
RSL_AoE_IncreaseSpeed_30%
RSL_AoE_Leech
RSL_Self_Heal
RSL_Self_IncreaseSpeed_Passive
RSL_Self_IncreaseTurnMeter
RSL_Self_Passive
RSL_Target_BasicAttack_3Hits

Obtain from

Ancient Shard
Sacred Shard
Primal Shard
Razelvarg Fusion

Blessings Recommendation

Grinding

★★✰✰✰ Campaign
★★✰✰✰ Arena Defense
★★★★✰ Arena Offense
★★★★★ Clan Boss
★★★★★ Hydra
★★★★✰ Faction Wars

Dungeons

★★★★✰ Minotaur
★★★✰✰ Spider
★★★★★ Fire Knight
★★★★✰ Dragon
★★★★✰ Ice Golem
★★★★✰ Iron Twins
★★★✰✰ Iron Twins
★✰✰✰✰ Sand Devil
★★★✰✰ Phantom Shogun

Potion

★★★★✰ Arcane Keep
★★★★✰ Void Keep
★★★★✰ Force Keep
★★★★✰ Spirit Keep
★★★★✰ Magic Keep

Doom Tower

★★★★✰ Floors
★★★✰✰ Magma Dragon
★★★✰✰ Nether Spider
★★★★✰ Frost Spider
★✰✰✰✰ Scarab King
★★★✰✰ Celestial Griffin
★★✰✰✰ Eternal Dragon
★✰✰✰✰ Dreadhorn
★★★★✰ Dark Fae
Razelvarg Skills
Hopping Mad
Attacks 1 enemy 3 times. Each hit will fill this Champion's Turn Meter by 5%
Level 2: Damage +5%
Level 3: Damage +5%
Level 4: Damage +5%
Level 5: Damage +5%
Damage Multiplier: (0.45 SPD / 100) ATK
Night of the Rabbit (Cooldown: 4 turns)
Attacks all enemies. Has a 75% chance of placing a [Leech] debuff for 2 turns. Heals this Champion by 10% of their MAX HP for each [Leech] debuff placed by this skill.
Level 2: Damage +10%
Level 3: Buff/Debuff chance +10%
Level 4: Buff/Debuff chance +15%
Level 5: Cooldown -1
Damage Multiplier: (1.5 + SPD / 100) ATK
Keep Up If You Can (Cooldown: 4 turns)
Attacks all enemies. Places a 30% [Increase SPD] buff and a 50% [Increase ACC] buff on all allies for 2 turns before attacking.
Level 2: Damage +5%
Level 3: Damage +5%
Level 4: Damage +10%
Level 5: Cooldown -1
Damage Multiplier: (1.5 + SPD / 100) ATK
Built for Speed (Passive)
Each [Increase SPD] buff placed by this Champion increases their SPD by 5 (Stacks up to 100).
Aura
Increases Ally SPD in all Battles by 20%.
Razelvarg Equipment Guide
Arena, Campaign, Clan Boss, Dungeons, Doom Tower, Faction Wars

Recommended Artifacts

PvE: Perception, Accuracy, Speed, Relentless, Lifesteal, Bloodthirst
PvP: Savage, Lethal, Cruel, Stoneskin

Stats Allocation

Weapon (ATK)
Helmet (HP)
Shield (DEF)
Gauntlets (C.RATE / C.DMG)
Chestplate (ATK%)
Boots (SPD)
Ring (ATK)
Amulet (C.DMG)
Banner (ATK / ACC)

Stats Priority

PvE: ATK%, C.RATE, C.DMG, SPD
PvE: ATK%, C.RATE, C.DMG, SPD, ACC
Razelvarg Mastery Guide
Arena, Doom Tower, Faction Wars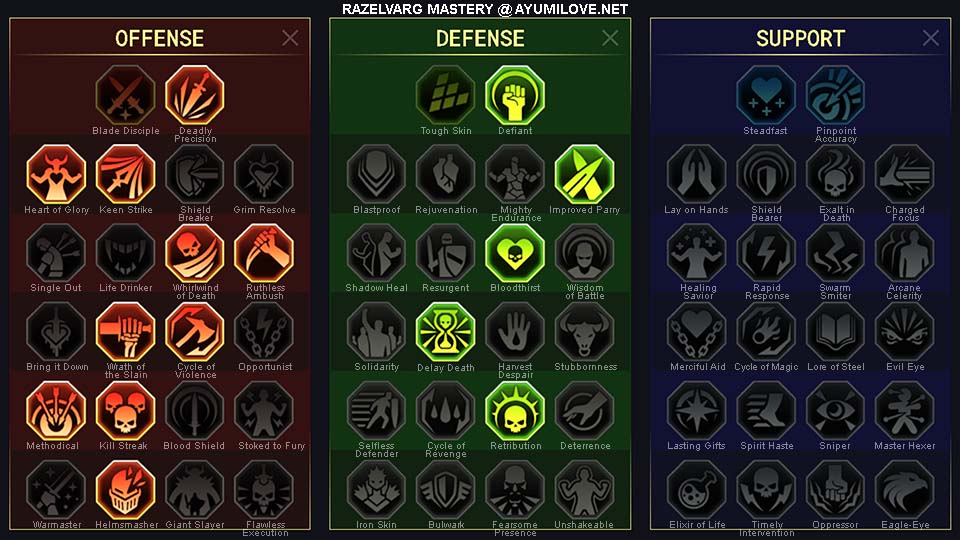 Offense

Deadly Precision
Keen Strike
Heart of Glory
Whirlwind of Death
Ruthless Ambush
Cycle of Violence
Wrath of the Slain
Methodical
Kill Streak
Helmsmasher

Defense

Defiant
Improved Parry
Bloodthirst
Delay Death
Retribution
Campaign, Clan Boss, Dungeons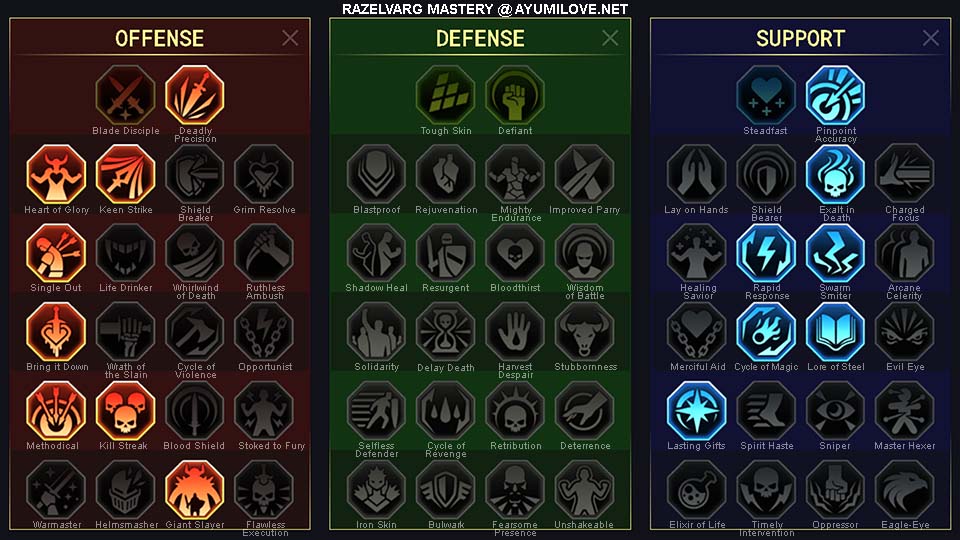 Offense

Deadly Precision
Keen Strike
Heart of Glory
Single Out
Bring it Down
Methodical
Kill Streak
Giant Slayer

Support

Pinpoint Accuracy
Exalt in Death
Rapid Response
Swarm Smiter
Lore of Steel
Cycle of Magic
Lasting Gifts
Razelvarg Review
Razelvarg is a Legendary Attack Magic affinity champion from the Skinwalkers faction in Raid Shadow Legends. Chief of the Were-Wabbits, Razelvarg was introduced in April 2023 as the Fusion Champion. He is a formidable choice for tackling late-game content, such as Hydra and Hard Mode Dungeons, due to his unique skill set. Let's examine his abilities in detail.
Speed is Razelvarg's forte, as he has a unique passive that increases his Speed by 100 in total, gaining 5 Speed for every placement of Increase Speed buff by Razelvarg. This makes him incredibly fast and allows him to cycle through his skills quickly. This is particularly advantageous as all his damage scales with ATK + SPD. In addition to this, Razelvarg also bestows [Increase SPD] on all his allies and provides a Speed aura during battle. However, this also presents a challenge in speed-tuning him with other champions, making him unsuitable for Clan Boss teams.
In addition to his passive, Razelvarg's A3 skill brings Increase Accuracy on a 3-turn cooldown, helping to reduce the stat requirements of your team as he is likely to be much faster than his allies. He also has an AoE Leech debuff on his A2 skill, making him useful in dungeons like Fire-Knight. His triple-hit A1 skill makes him a strong option for progression in the Fire-Knight dungeon. Razelvarg is a great mid-game champion who can help you clear wave content faster with his two AoE abilities, powerful buffs, and a 20% All Battles Aura. However, speed-tuning a team with him can be challenging due to his unique passive.
Razelvarg Updates
Razelvarg Videos
NubRaids: NEW FUSION IS "HOPPING MAD!!"