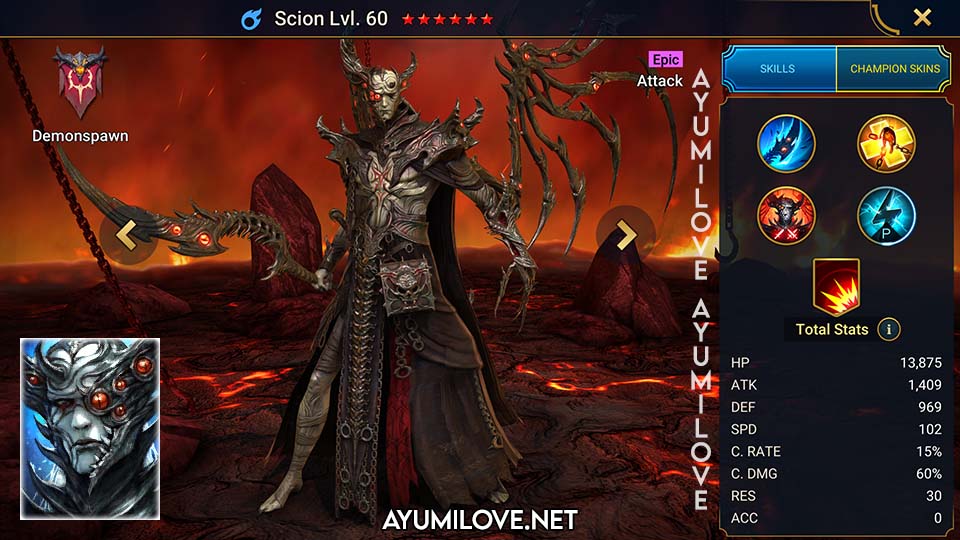 Overview

NAME: Scion
FACTION: Demonspawn
RARITY: Epic
ROLE: Attack
AFFINITY: Magic
USABILITY: N/A
TOMES: 10 (N/A)

Total Stats (6★)

Health Points (HP): 13,875
Attack (ATK): 1,409
Defense (DEF): 969
Speed (SPD): 102
Critical Rate (C.RATE): 15%
Critical Damage (C.DMG): 60%
Debuff Resistance (RESIST): 30
Debuff Accuracy (ACC): 0

Obtain from

Ancient Shard
Daily Login Rewards 450 Days

Grinding

★✰✰✰✰ Campaign
★✰✰✰✰ Arena Defense
★★✰✰✰ Arena Offense
★★✰✰✰ Clan Boss
★★★✰✰ Faction Wars

Dungeons

★★✰✰✰ Minotaur
★★✰✰✰ Spider
★★✰✰✰ Fire Knight
★★✰✰✰ Dragon
★★✰✰✰ Ice Golem

Potion

★★★✰✰ Arcane Keep
★★★✰✰ Void Keep
★★✰✰✰ Force Keep
★★★★★ Spirit Keep
★★★★★ Magic Keep

Doom Tower

★★★✰✰ Floors
★★✰✰✰ Magma Dragon
★✰✰✰✰ Nether Spider
★✰✰✰✰ Frost Spider
★★✰✰✰ Scarab King
★✰✰✰✰ Celestial Griffin
★✰✰✰✰ Eternal Dragon
★✰✰✰✰ Dreadhorn
★★✰✰✰ Dark Fae
Scion Review
Scion is an Epic Attack Magic affinity champion from Demonspawn faction in Raid Shadow Legends. Scion was introduced in Patch 4.90 as the new champion Daily Login Reward after Cleopterix (Each month 25 Fragments, 4 months to unlock).
Scion Skills
Nightmare Khopesh [ATK]
Attacks 1 enemy. Has a 20% chance of placing a [Block Active Skills] debuff for 1 turn.
Level 2: Damage +5%
Level 3: Damage +5%
Level 4: Damage +10%
Level 5: Buff/Debuff chance +10%
Damage Multiplier: 3.5 ATK
Evil Seed (Cooldown: 4 turns)
Attacks 1 enemy. Places a [Block Buffs] debuff and a 100% [Heal Reduction] debuff for 2 turns. Will ignore any [Shield] buffs.
Level 2: Damage +5%
Level 3: Damage +10%
Level 4: Cooldown -1
Damage Multiplier: 6 ATK
Crawling Chaos (Cooldown: 4 turns)
Removes all debuffs from this Champion, then attacks all enemies. Places a 50% [Increase ATK] buff and a 30% [Increase C.DMG] buff on this champion for 1 turn after attacking.
Level 2: Damage +10%
Level 3: Damage +10%
Level 4: Cooldown -1
Damage Multiplier: 3.8 ATK
Incarnate [Passive]
Enemies under [Block Active Skills], [Block Buffs] and [Heal Reduction] debuffs cannot decrease this Champion's Turn Meter.
Aura
Increases Ally C.Rate in Dungeons by 24%
Scion Equipment Guide
Arena, Campaign, Clan Boss, Dungeons, Doom Tower, Faction Wars

Recommended Artifacts

Perception, Accuracy, Speed, Savage, Cruel, Lifesteal, Bloodthirst

Stats Allocation

Weapon (ATK)
Helmet (HP)
Shield (DEF)
Gauntlets (C.RATE / C.DMG)
Chestplate (ATK% / HP%)
Boots (SPD)
Ring (ATK / DEF / HP)
Amulet (C.DMG / DEF / HP)
Banner (ACC / ATK / HP / DEF)

Stats Priority

PvP: ATK%, C.RATE, C.DMG, SPD
PvE: SPD, ACC, HP%, DEF%
Scion Mastery Guide
Arena, Campaign, Clan Boss, Dungeons, Doom Tower, Faction Wars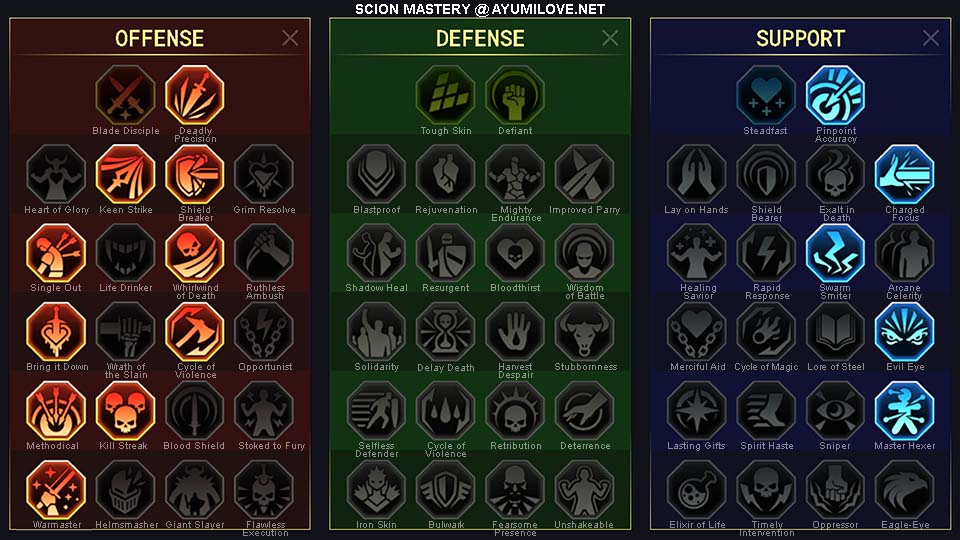 Offense

Deadly Precision
Keen Strike
Shield Breaker
Whirlwind of Death
Single Out
Cycle of Violence
Bring it Down
Methodical
Kill Streak
Warmaster

Support

Pinpoint Accuracy
Charged Focus
Swarm Smiter
Evil Eye
Master Hexer
Scion Notes
Plarium Perspective:
Scion is the champion who substitutes Cleopterix in the Daily Login Rewards system. This Champion is of Epic rarity, and we plan to release interchangeably Epic and Legendary champions in this category of Daily rewards.
Here is the reason for choosing this particular champion as the free reward: Allows players to get a grasp of Block Buffs and Cleanse gameplay mechanics.
He is perhaps not the best champion with those abilities, but he provides a player with a simple and clear opportunity to learn them be application.
This champion is intended to be useful against waves in the PvE locations and Hydra until a player has better alternatives.
Player Perspective:
Players who played for more than 1 year (270+ Days and additional 4 months for Cleopterix before getting Scion) would have better alternatives compared to Scion and being familiar on how Remove Debuff and Block Debuff mechanics work.
Based from previous announcement, Cleopterix was introduced as the Daily Login Reward, so players have at least a champion who can apply Hex debuff that might be useful for newer content such as Hydra Clan Boss.
However, Scion does not bring anything new in these aspects. Having to wait 2 months to collect all the fragments for a mediocre Epic champion causes the playerbase to rage since the original Daily Login Reward of 1 Sacred Shard and 5★ Chicken per month is much more useful.
Scion Updates
Scion Videos
mAd Capper: SCION I Built Them, So You Don't Have To
TeKnoVKNG23: SCION New Login Champ. We Lost a 5* CHICKEN & SACRED SHARD FOR THIS?
MurderInc: Next 271+ Login Reward Champion Revealed I Raid Shadow Legends