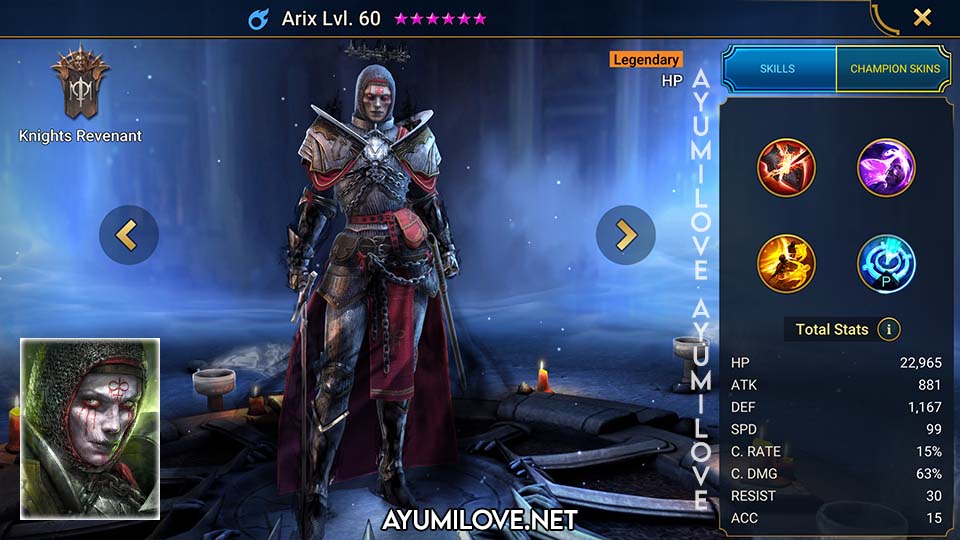 Overview

NAME: Arix
FACTION: Knights Revenant
RARITY: Legendary
ROLE: HP
AFFINITY: Magic
RANK: B
USABILITY: Situational
TOMES: 11 (A2 A3)

Abilities

RSL_AoE_AllyProtection
RSL_AoE_BasicAttack_1Hit
RSL_AoE_RemoveBuff
RSL_AoE_Stun
RSL_AoE_TransferDebuff
RSL_Self_CounterAttack
RSL_Self_Heal_Passive
RSL_Self_IncreaseTurnMeter_Passive

Obtain from

Ancient Shard
Daily Login Reward (750 Days)

Grinding

★★★✰✰ Campaign
★★★★✰ Arena Defense
★★★✰✰ Arena Offense
★★★★✰ Clan Boss
★★★★✰ Hydra
★★★★★ Faction Wars

Dungeons

★★★★✰ Minotaur
★★★★✰ Spider
★✰✰✰✰ Fire Knight
★★★✰✰ Dragon
★★★★✰ Ice Golem
★★✰✰✰ Iron Twins

Potion

★★★✰✰ Arcane Keep
★★★✰✰ Void Keep
★★✰✰✰ Force Keep
★★★✰✰ Spirit Keep
★★★✰✰ Magic Keep

Doom Tower

★★★★✰ Floors
★✰✰✰✰ Magma Dragon
★★✰✰✰ Nether Spider
★★★✰✰ Frost Spider
★★✰✰✰ Scarab King
★✰✰✰✰ Celestial Griffin
★★✰✰✰ Eternal Dragon
★✰✰✰✰ Dreadhorn
★★★★✰ Dark Fae
Arix Skills
Deathly Arts
Attacks all enemies. Has a 25% chance of removing 1 random buff from each target.
Level 2: Damage +10%
Level 3: Buff/Debuff Chance +5%
Level 4: Damage +10%
Level 5: Buff/Debuff Chance +5%
Damage Multiplier: 0.22 HP
Overall Grading: Average
Thornchain Malison (Cooldown: 4 turns)
Attacks all enemies. Has a 50% chance of placing a [Stun] debuff for 1 turn. Transfers a random debuff from this Champion to the targets that receive [Stun] debuffs from this skill.
Level 2: Damage +10%
Level 3: Buff/Debuff Chance +10%
Level 4: Damage +10%
Level 5: Buff/Debuff Chance +15%
Level 6: Cooldown -1
Damage Multiplier: 0.35 HP
Overall Grading: Strong
Warped Guidance (Cooldown: 5 turns)
Places a 50% [Ally Protection] buff on all allies except this Champion for 2 turns. Also places a [Counterattack] buff on this Champion for 2 turns.
Level 2: Cooldown -1
Level 3: Cooldown -1
Cynical (Passive)
Fills this Champion's Turn Meter by 5% each time an ally inflicts a critical hit.
Heals this Champion by 5% of their MAX HP each time an enemy inflicts a critical hit.
Arix Equipment Guide
Arena, Campaign, Clan Boss, Dungeons, Doom Tower, Faction Wars

Recommended Artifacts

PvE: Regeneration, Immortal, Stun, Taunting, Perception, Accuracy
PvP: Stoneskin, Stun, Protection, Immunity

Stats Allocation

Weapon (ATK)
Helmet (HP)
Shield (DEF)
Gauntlets (C.RATE / HP%)
Chestplate (HP% / DEF%)
Boots (SPD)
Ring (HP / DEF)
Amulet (HP / DEF)
Banner (ACC)

Stats Priority

PvE: HP%, DEF%, SPD, ACC, RESIST
PvP: SPD, ACC, HP%, DEF%
Arix Mastery Guide
Arena, Faction Wars, Doom Tower
Pre-requisite: Equip Arix with a Stun Set to enable her to apply Stun debuff on the enemies, so she can crowd control the enemies whenever she performs his AoE attacks!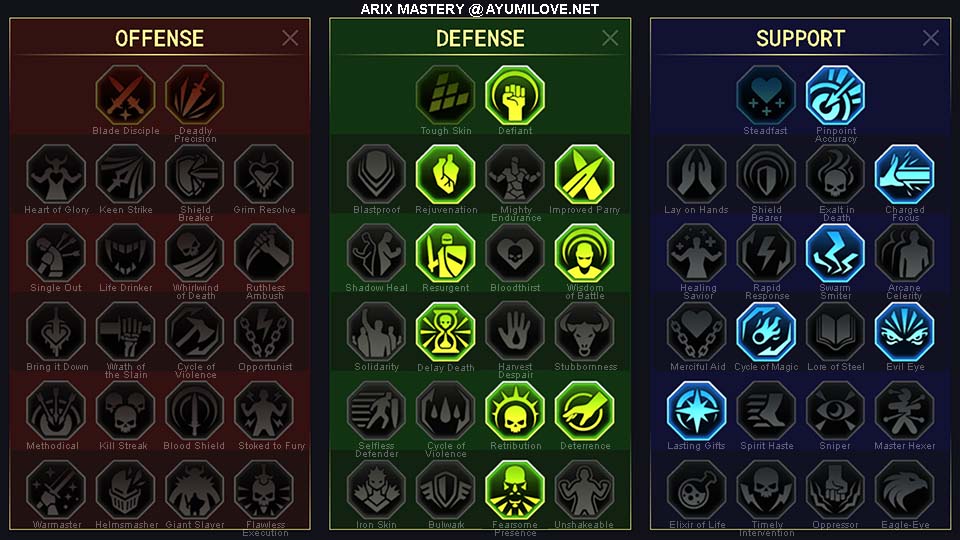 Defense

Defiant
Improved Parry
Rejuvenation
Resurgent
Wisdom of Battle
Delay Death
Retribution
Deterrence
Fearsome Presence

Support

Pinpoint Accuracy
Charged Focus
Swarm Smiter
Evil Eye
Cycle of Magic
Lasting Gifts
Campaign, Clan Boss, Dungeons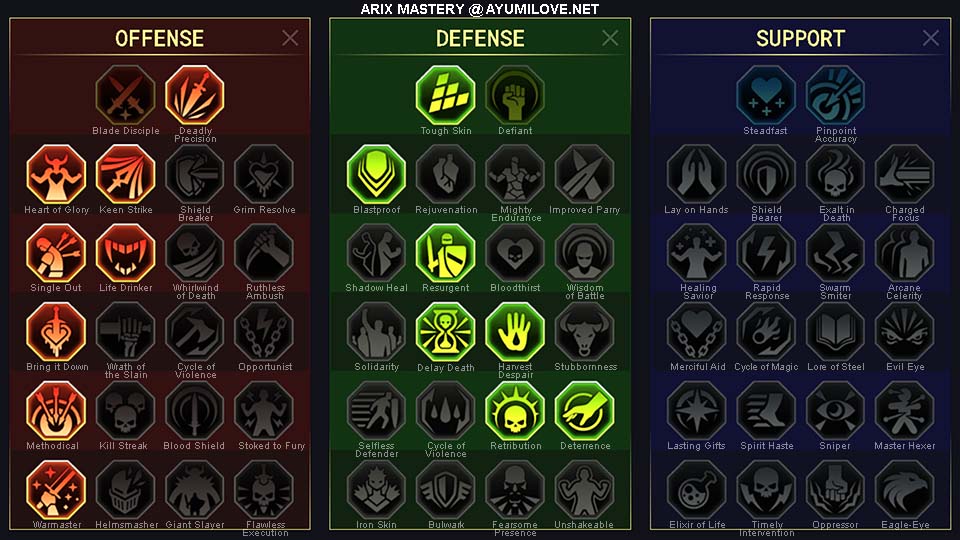 Offense

Deadly Precision
Keen Strike
Heart of Glory
Life Drinker
Single Out
Bring it Down
Methodical
Warmaster

Defense

Tough Skin
Blastproof
Resurgent
Delay Death
Harvest Despair
Retribution
Deterrence
Arix Updates
Arix Videos
YST: Arix Showcase & Gameplay! Is This FREE Champion Worth the Wait?