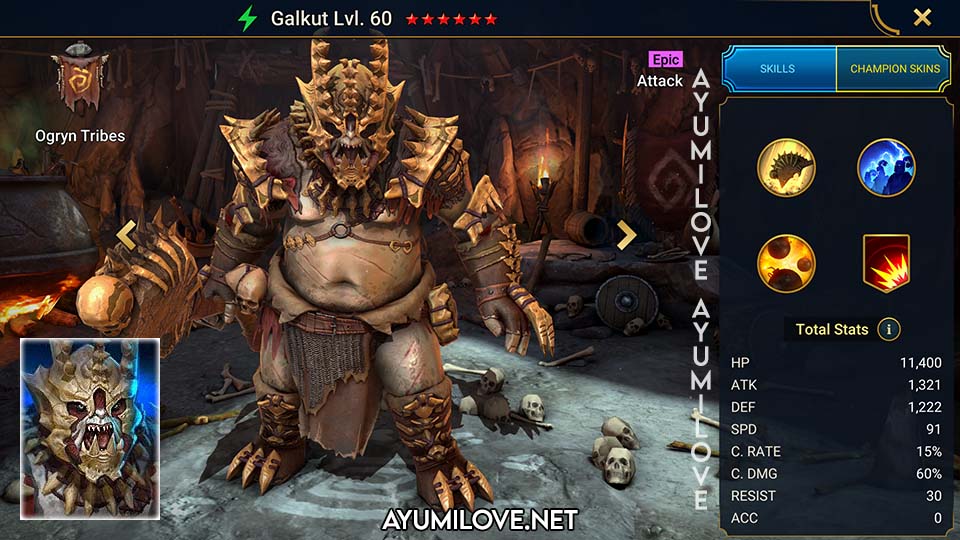 Obtain from

Ancient Shard
Sacred Shard

Overview

NAME: Galkut
FACTION: Ogryn Tribes
RARITY: Epic
ROLE: Attack
AFFINITY: Spirit
RANK: B
USABILITY: N/A
TOMES: 12 (A2 A3)

Total Stats (6★)

Health Points (HP): 11,400
Attack (ATK): 1,321
Defense (DEF): 1,222
Speed (SPD): 91
Critical Rate (C.RATE): 15%
Critical Damage (C.DMG): 60%
Debuff Resistance (RESIST): 30
Debuff Accuracy (ACC): 0

Grinding

★★★✰✰ Campaign
★★★✰✰ Arena Defense
★★★✰✰ Arena Offense
★★★★★ Clan Boss
★★★✰✰ Faction Wars

Dungeons

★★★★✰ Minotaur
★★★✰✰ Spider
★★★✰✰ Fire Knight
★★★★✰ Dragon
★★★★✰ Ice Golem

Potion

★★★★✰ Void Keep
★★★★✰ Force Keep
★★★★✰ Spirit Keep
★✰✰✰✰ Magic Keep

Doom Tower

✰✰✰✰✰ Magma Dragon
✰✰✰✰✰ Nether Spider
✰✰✰✰✰ Frost Spider
✰✰✰✰✰ Scarab King
Galkut Skills
Mangle Limbs [ATK]
Attacks 1 enemy 2 times. Has a 25% chance of placing a 60% [Decrease DEF] debuff for 2 turns.
Level 2: Damage +5%
Level 3: Damage +10%
Level 4: Buff/Debuff Chance +10%
Level 5: Buff/Debuff Chance +15%
Damage Multiplier: 1.85 ATK
Brutal Battering [ATK] (Cooldown: 4 turns)
Attacks all enemies 1 by 1 in random order. Damage inflicted decreases by 25% after each hit.
Level 2: Damage +5%
Level 3: Damage +5%
Level 4: Damage +10%
Level 5: Cooldown -1
Damage Multiplier: 6.7 ATK
Boom Barrage [ATK] (Cooldown: 5 turns)
Attacks all enemies. Places a [Bomb] that detonates after 2 turns.
Level 2: Damage +5%
Level 3: Damage +5%
Level 4: Damage +10%
Level 5: Cooldown -1
Damage Multiplier: 4 ATK
Bomb Damage Multiplier: 4 ATK
Aura
Increases Ally C.RATE in Dungeons by 24%.
Galkut Equipment Guide
Equipment Set for Arena, Campaign, Faction Wars
2 Offense Set, 1 Speed Set
1 Stun Set, 1 Speed Set
Equipment Set for Clan Boss, Dungeons, Doom Tower
1 Lifesteal Set, 1 Speed Set
Equipment Stat Priority
Attack%, Critical Rate, Critical Damage, Accuracy, Speed
Weapon (Attack)
Helmet (HP)
Shield (Defense)
Gauntlets (Critical Rate)
Chestplate (Attack%)
Boots (Speed)
Ring (Attack)
Amulet (Critical Damage)
Banner (Accuracy)
Galkut Mastery Guide
Arena, Campaign, Clan Boss, Dungeons, Doom Tower, Faction Wars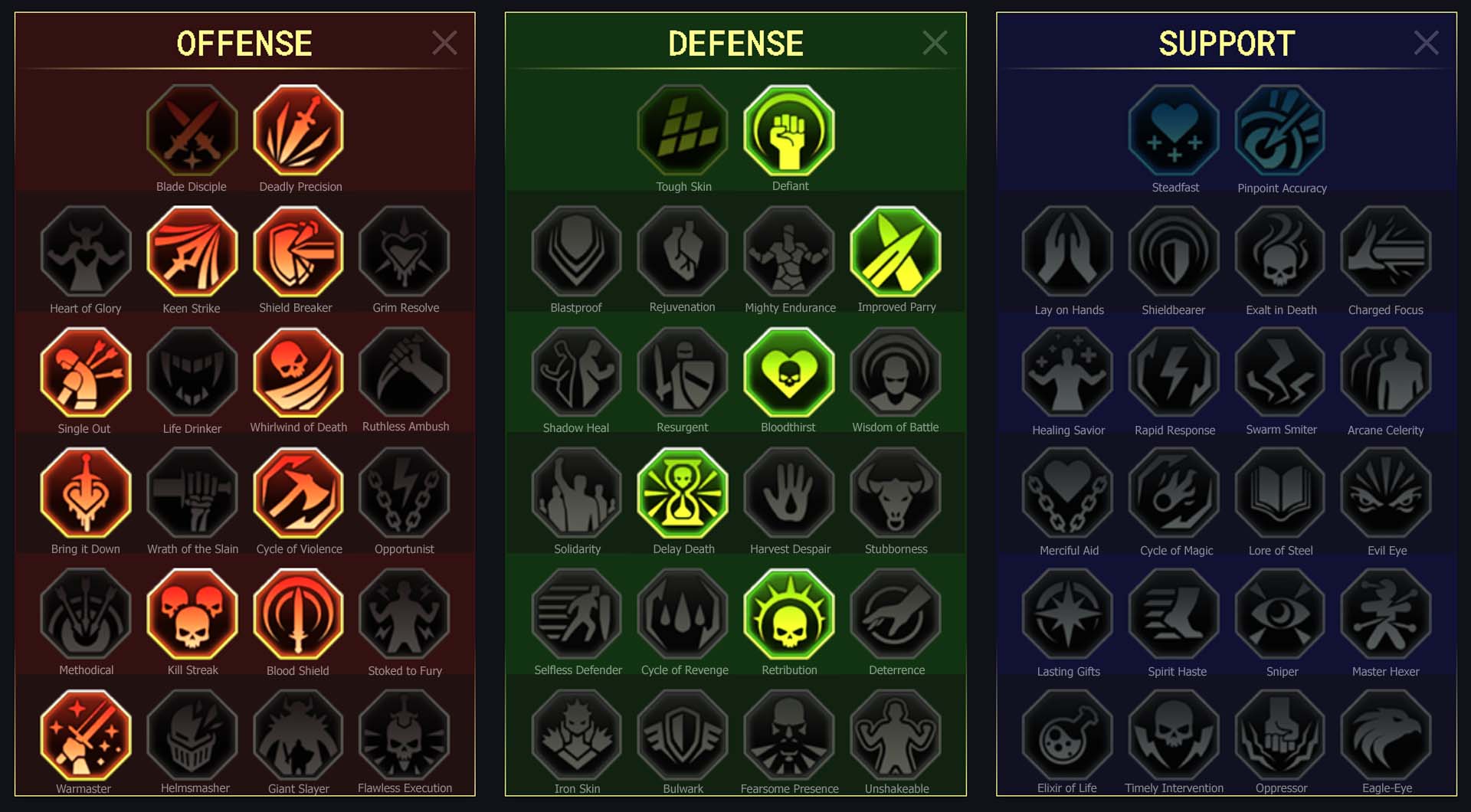 Offense

Deadly Precision
Keen Strike
Shield Breaker
Whirlwind of Death
Single Out
Cycle of Violence
Bring it Down
Kill Streak
Blood Shield
Warmaster

Defense

Defiant
Improved Parry
Bloodthirst
Delay Death
Retribution

Support

N/A
Galkut Storyline
Few of the Ogryn or Troll tribes living in the wilds have the means or knowledge required to tame steel. Thus, many of their warriors are armed with primitive clubs, stone axes, weapons looted on the battlefields or, sometimes, purchased from the rare merchants that are willing to trade with such dangerous customers. Galkut, on the other hand, takes a more creative approach. His arms and armour are crafted from the bones of slain enemies, serving both to offer protection and to inspire fear in the hearts of his opponents. And the best part? Each victory brings a chance to enhance Galkut's armour, assuming there is enough "material" left to work with.
Galkut Updates
Galkut Videos
Raid Shadow Legends Galkut Champion Guide by mAd Capper