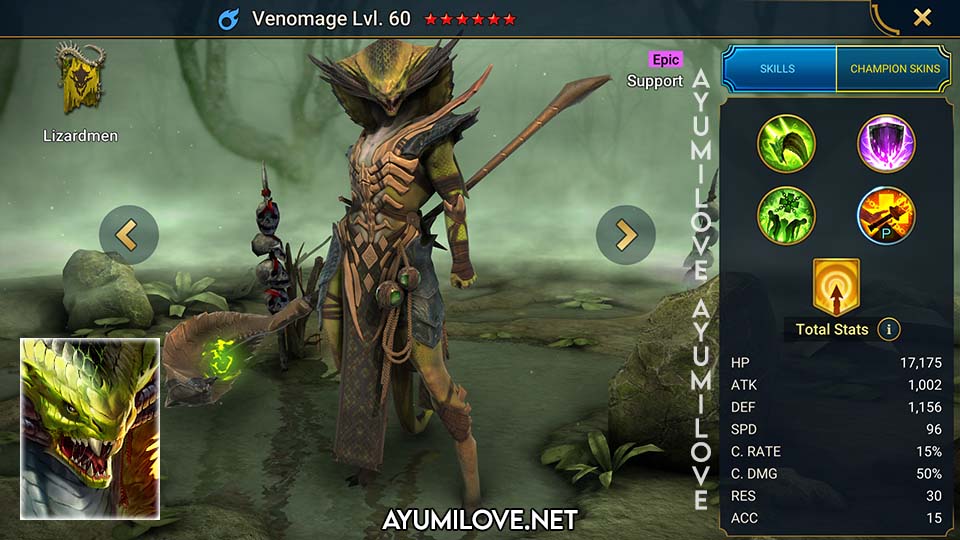 Obtain from

Ancient Shard
Sacred Shard

Overview

FACTION: Lizardmen
RARITY: Epic
ROLE: Support
AFFINITY: Magic
USABILITY: Early-Mid-Late Game
TOMES: 12 (A1 A2 A3)

Total Stats (6★)

Health Points (HP): 17,175
Attack (ATK): 1,002
Defense (DEF): 1,156
Speed (SPD): 96
Critical Rate (C.RATE): 15%
Critical Damage (C.DMG): 50%
Debuff Resistance (RESIST): 30
Debuff Accuracy (ACC): 15

Grinding

★★★✰✰ Campaign
★★✰✰✰ Arena Defense
★★✰✰✰ Arena Offense
★★★★★ Clan Boss
★★★★✰ Faction Wars

Dungeons

★★★✰✰ Minotaur's Labyrinth
★★★✰✰ Spider's Den
★★★★✰ Fire Knight's Castle
★★★★✰ Dragon's Lair
★★★✰✰ Ice Golem's Peak

Potion

★★★★✰ Arcane Keep
★★★★✰ Void Keep
★★✰✰✰ Force Keep
★★★★★ Spirit Keep
★★★★✰ Magic Keep

Doom Tower

★★★★✰ Magma Dragon
★★✰✰✰ Nether Spider
★★✰✰✰ Frost Spider
★★★★✰ Scarab King
★★✰✰✰ Celestial Griffin
★★✰✰✰ Eternal Dragon
Venomage Skills
Toxicity [ATK]
Attacks 1 enemy 2 times. Decreases the targets MAX HP by 75% of the damage inflicted if they are under [Heal Reduction] debuff. Each hit has a 35% chance of activating up to two Poison debuffs on the target.
Level 2: Damage +5%
Level 3: Damage +5%
Level 4: Buff/Debuff chance +5%
Level 5: Buff/Debuff chance +10%
Damage Multiplier: 2.4 ATK
Neurotoxin [ATK] (Cooldown: 4 turns)
Attacks 1 enemy. Has a 75% chance of placing a 60% [Decrease DEF] debuff for 2 turns. Also has a 75% chance of placing a 50% [Decrease ATK] debuff for 2 turns if the target is under a [Poison] debuff.
Level 2: Damage +10%
Level 3: Buff/Debuff chance +10%
Level 4: Buff/Debuff chance +15%
Level 5: Cooldown -1
Damage Multiplier: 6 ATK
Fleshmelter Venom [ATK] (Cooldown: 4 turns)
Attacks all enemies. Has a 75% chance of placing a 100% [Heal Reduction] debuff for 3 turns. Also has a 75% chance of placing two 5% [Poison] debuffs for 2 turns.
Level 2: Damage + 10%
Level 3: Buff/Debuff chance +10%
Level 4: Buff/Debuff chance +15%
Level 5: Cooldown -1
Damage Multiplier: 4 ATK
Pain Writhe [Passive]
Enemies under [Heal Reduction] debuffs inflict 15% less damage.
Aura
Increases Ally ACC in all Battles by 45
Venomage Equipment Guide
Arena, Campaign, Clan Boss, Dungeons, Doom Tower, Faction Wars

Recommended Artifacts

Lifesteal, Bloodthirst, Accuracy, Perception, Speed, Stalwart

Recommended Stats

HP%, DEF%, C.RATE, SPD, ACC
Weapon (ATK)
Helmet (HP)
Shield (DEF)
Gauntlets (HP% / DEF% / C.RATE)
Chestplate (HP% / DEF%)
Boots (SPD)
Ring (HP / DEF)
Amulet (HP / DEF)
Banner (ACC)
Venomage Mastery Guide
Arena, Campaign, Clan Boss, Dungeons, Doom Tower, Faction Wars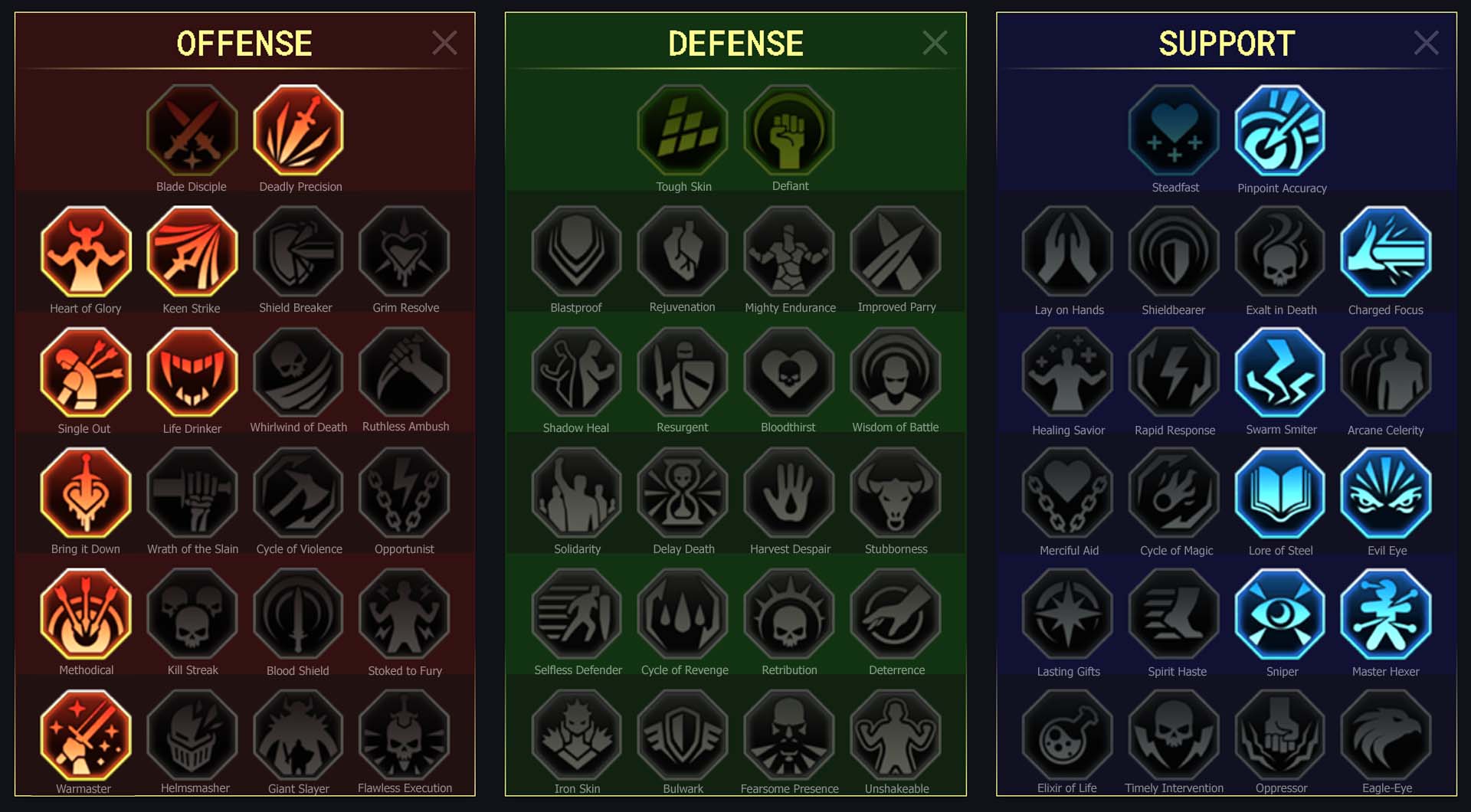 Offense

Deadly Precision
Keen Strike
Heart of Glory
Life Drinker
Single Out
Bring it Down
Methodical
Warmaster

Defense

N/A

Support

Pinpoint Accuracy
Charged Focus
Swarm Smiter
Lore of Steel
Evil Eye
Master Hexer
Sniper
Venomage Review
RAID Shadow Legends – Venomage is an Epic Support Magic affinity champion from the Lizardmen faction where she can be obtained from Ancient Shards and Sacred Shards! Venomage is introduced into the game in Patch 4.40. She inflicts a wide variety of debuffs against her foe, which includes Decrease Attack, Decrease Defense, Poison and Heal Reduction debuff! This makes her a great candidate for raiding bosses such as Clan Boss, Fire Knight and Spirit Keep. In addition, Venomage offers 2 unique skills, which are to reduce enemy damage whenever they have Heal Reduction debuff on them and the ability to instantly activate Poison debuff without waiting for the enemy reaching its turn! This makes her a good pair with with champion who has counterattack (e.g. Martyr, Valkyrie, Skullcrusher) and increase debuff duration (e.g. Vizier Overlis) abilities! Each counterattack enables Venomage to instantly activate the Poison debuff that are stacked on the boss by the increase duration debuffers!
Venomage Updates
Venomage Videos
Raid Shadow Legends Venomage Champion Guide by Skratch