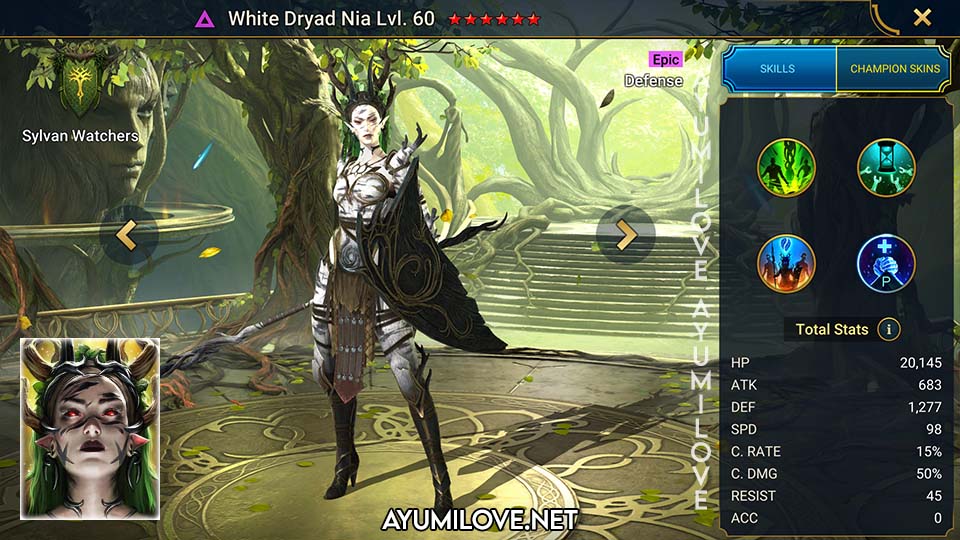 Overview

NAME: White Dryad Nia
FACTION: Sylvan Watchers
RARITY: Epic
ROLE: Defense
AFFINITY: Void
RANK: A
USABILITY: Early-Mid-Late Game
TOMES: 11 (A2, A3)

Abilities

RSL_AoE_AllyProtection_50%
RSL_AoE_DecreaseSpeed_30%
RSL_AoE_Heal
RSL_AoE_Strengthen_15%
RSL_Target_Heal
RSL_Target_RemoveDebuffs
RSL_Target_DecreaseSkillCooldown

Obtain from

Ancient Shard
Sacred Shard
Guaranteed Champion

Blessings Recommendation

Faultless Defense (Clan Boss)
Heavencast (Tank)

Grinding

★★★✰✰ Campaign
★★★★✰ Arena Defense
★★★★✰ Arena Offense
★★★★★ Clan Boss
★★★★✰ Hydra
★★★★★ Faction Wars

Dungeons

★★★★✰ Minotaur
★★★★✰ Spider
★★✰✰✰ Fire Knight
★★★✰✰ Dragon
★★★✰✰ Ice Golem
★★★★✰ Iron Twins
★✰✰✰✰ Sand Devil
★★★✰✰ Phantom Shogun

Potion

★★★★✰ Arcane Keep
★★★★✰ Void Keep
★★★★✰ Force Keep
★★★★✰ Spirit Keep
★★★★✰ Magic Keep

Doom Tower

★★★★✰ Floors
★★★✰✰ Magma Dragon
★✰✰✰✰ Nether Spider
★★★★★ Frost Spider
★★★✰✰ Scarab King
★★★✰✰ Celestial Griffin
★★★✰✰ Eternal Dragon
★✰✰✰✰ Dreadhorn
★✰✰✰✰ Dark Fae
White Dryad Nia Skills
Strangling Plants
Attacks all enemies. Has a 30% chance of placing a 30% [Decrease SPD] debuff for 2 turns.
Level 2: Damage +5%
Level 3: Buff/Debuff Chance +5%
Level 4: Damage +5%
Level 5: Buff/Debuff Chance +5%
Level 6: Buff/Debuff Chance +10%
Damage Multiplier: 2.5 DEF
Riotous Revival (Cooldown: 4 turns)
Removes all debuffs from a target ally, then heals them by 40% of their MAX HP. If the target of this skill is not this Champion, decrease the cooldown of all of the target's skills by 2 turns.
Level 2: Heal +5%
Level 3: Heal +5%
Level 4: Heal +5%
Level 5: Heal +5%
Level 6: Cooldown -1
Bark Flesh (Cooldown: 6 turns)
Places a 50% [Ally Protection] buff on all allies except this Champion for 2 turns. Also places a 15% [Strengthen] buff on all allies for 2 turns.
Level 2: Cooldown -1
Level 3: Cooldown -1
Level 4: Cooldown -1
Broad Roots
Whenever this Champion is healed, heals each ally except this Champion by 20% of that heal.
White Dryad Nia Equipment Guide
Arena, Campaign, Clan Boss, Dungeons, Doom Tower, Faction Wars

Recommended Artifacts

PvE: Guardian
PvP: Stoneskin, Protection, Immunity, Bolster
Shareable: Regeneration, Immortal

Stats Allocation

Weapon (ATK)
Helmet (HP)
Shield (DEF)
Gauntlets (HP% / DEF%)
Chestplate (HP% / DEF%)
Boots (SPD / HP%)
Ring (HP / DEF)
Amulet (HP / DEF)
Banner (HP / ACC / RESIST)

Stats Priority

PvE & PvP: HP%, DEF%, ACC, RESIST
White Dryad Nia Mastery Guide
Arena, Doom Tower, Faction Wars
Defense

Defiant
Rejuvenation
Improved Parry
Resurgent
Wisdom of Battle
Delay Death
Cycle of Violence
Retribution
Unshakeable

Support

Steadfast
Lay on Hands
Healing Savior
Merciful Aid
Cycle of Magic
Lasting Gifts
Campaign, Clan Boss, Dungeons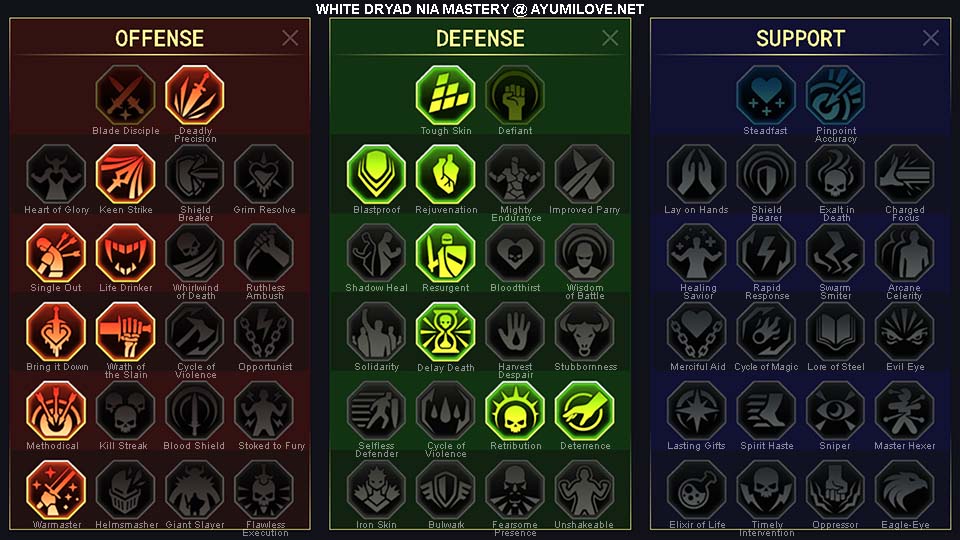 Offense

Deadly Precision
Keen Strike
Single Out
Life Drinker
Bring it Down
Wrath of the Slain
Methodical
Warmaster

Defense

Tough Skin
Blastproof
Rejuvenation
Resurgent
Delay Death
Retribution
Deterrence
White Dryad Nia Updates
White Dryad Nia Videos
YST: This Epic Is A GAME CHANGER "White Dryad Nia"
FuseBoxRaider: White Dryad Nia is One of a Kind!
IvyLeeGaming: Nia Vs Hydra Full Auto!