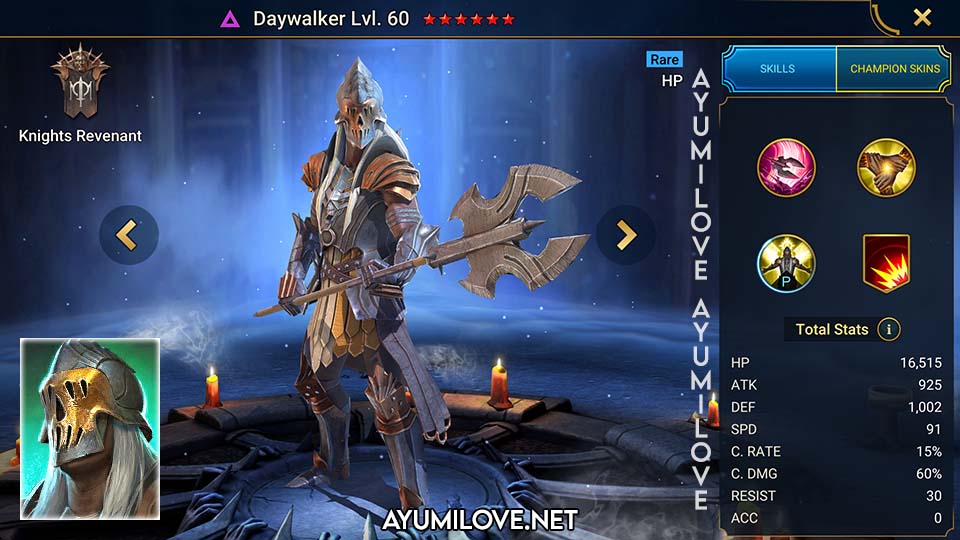 Overview

NAME: Daywalker
FACTION: Knights Revenant
RARITY: Rare
ROLE: HP
AFFINITY: Void
RANK: C
USABILITY: N/A
TOMES: 5 (N/A)

Abilities

RSL_AoE_AllyProtection_25%
RSL_Arena_CriticalRateAura
RSL_Self_BlockDebuffs
RSL_Self_RemoveDebuffs
RSL_Self_Passive
RSL_Self_Revive

Obtain from

Void Shard
Tormin the Cold Fusion

Blessings Recommendation

Phantom Touch (Damage Dealer)

Grinding

★★✰✰✰ Campaign
★★★✰✰ Arena Defense
★★★✰✰ Arena Offense
★★✰✰✰ Clan Boss
★✰✰✰✰ Hydra
★★✰✰✰ Faction Wars

Dungeons

★★★✰✰ Minotaur
★★✰✰✰ Spider
★★✰✰✰ Fire Knight
★★★✰✰ Dragon
★★★✰✰ Ice Golem
★✰✰✰✰ Iron Twins
★✰✰✰✰ Sand Devil
★✰✰✰✰ Phantom Shogun

Potion

★★★✰✰ Arcane Keep
★★★✰✰ Void Keep
★★★✰✰ Force Keep
★★★✰✰ Spirit Keep
★★★✰✰ Magic Keep

Doom Tower

★✰✰✰✰ Floors
★✰✰✰✰ Magma Dragon
★✰✰✰✰ Nether Spider
★✰✰✰✰ Frost Spider
★✰✰✰✰ Scarab King
★✰✰✰✰ Celestial Griffin
★★✰✰✰ Eternal Dragon
★✰✰✰✰ Dreadhorn
★★✰✰✰ Dark Fae
Daywalker Skills
Grave's Grasp
Attacks 1 enemy. Places an extra hit if the target has more HP than this Champion.
Level: 2 Damage +5%
Level: 3 Damage +5%
Level: 4 Damage +5%
Level: 5 Damage +5%
Damage Multiplier: 3 ATK
Unnatural Vigor (Cooldown: 4 turns)
Places a 25% [Ally Protection] buff on all allies for 2 turns. Places a [Block Debuffs] buff on this Champion for 2 turns. Removes all debuffs from this Champion.
Level: 2 Cooldown -1
Death Denied (Passive, Cooldown: 5 turns)
Revives this Champion with 30% HP and attacks all enemies after being killed. This hit cannot be critical.
Damage Multiplier: 6.2 ATK
Aura
Increases Ally C.RATE in the Arena by 21%.
Daywalker Equipment Guide
Arena, Campaign, Clan Boss, Dungeons, Doom Tower, Faction Wars

Recommended Artifacts

PvE: Immortal, Regeneration, Lifesteal, Bloodthirst
PvP: Savage, Lethal
Shareable: Cruel, Offense

Stats Allocation

Weapon (ATK)
Helmet (HP)
Shield (DEF)
Gauntlets (ATK% / C.RATE)
Chestplate (ATK%)
Boots (ATK% / SPD)
Ring (ATK)
Amulet (ATK)
Banner (ATK)

Stats Priority

PvE: ATK%, C.RATE, C.DMG, SPD
PvP: ATK%, ATK
Daywalker Mastery Guide
Arena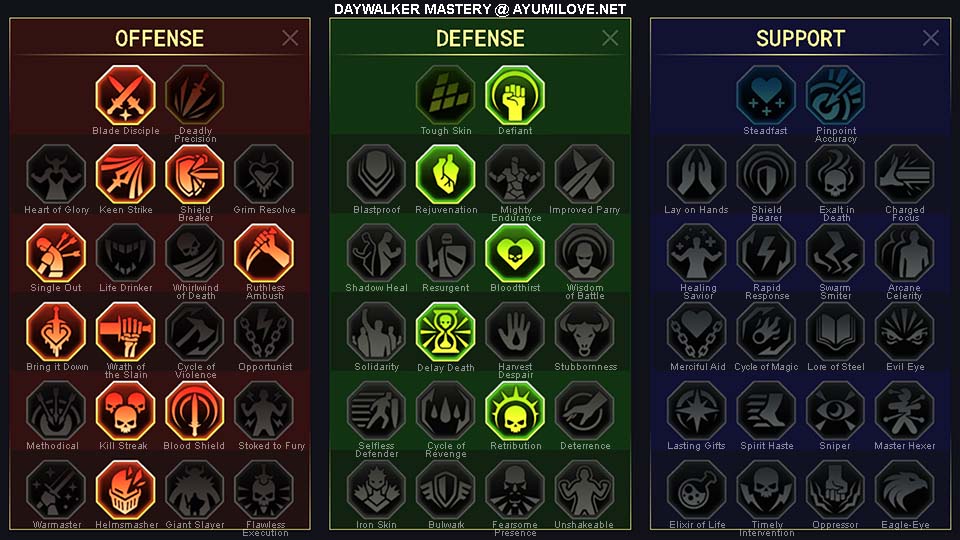 Offense

Blade Disciple
Keen Strike
Shield Breaker
Single Out
Ruthless Ambush
Wrath of the Slain
Bring it Down
Kill Streak
Blood Shield
Helmsmasher

Defense

Defiant
Rejuvenation
Bloodthirst
Delay Death
Retribution
Campaign, Clan Boss, Dungeons, Doom Tower, Faction Wars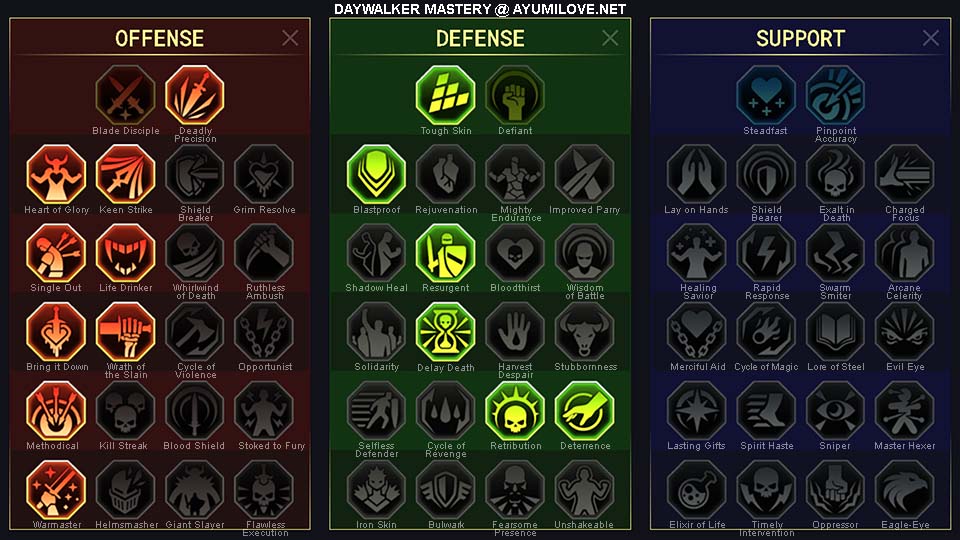 Offense

Deadly Precision
Keen Strike
Heart of Glory
Single Out
Life Drinker
Bring it Down
Wrath of the Slain
Methodical
Warmaster

Defense

Tough Skin
Blastproof
Resurgent
Delay Death
Retribution
Deterrence
Daywalker Storyline
In his past life, Daywalker was a common gravedigger in Kaerok. He lived his grim but ordinary life without complaint, until one day the corpse was brought to him of a lonely old man that had passed away in the slums abutting Kaerok Castle. The man had neither relatives nor acquaintances, nor coin to pay the Telerian priests to give the last rites. Taking pity on the wretch, the young gravedigger took it upon himself to bury the man. Preparing the body for burial, he found a strange scroll in the man's pocket. Upon the reading, it was a dying man's last wish to pronounce the words of a strange ritual over his body. Struggling with the unfamiliar glyphs, he spoke. The morning after, the young man left the Kaerok, and headed towards the Hallowed Halls. His old name forgotten, his visage fell and terrible, he struck down all he met upon his path. The soul of Daywalker had found its newest vessel.