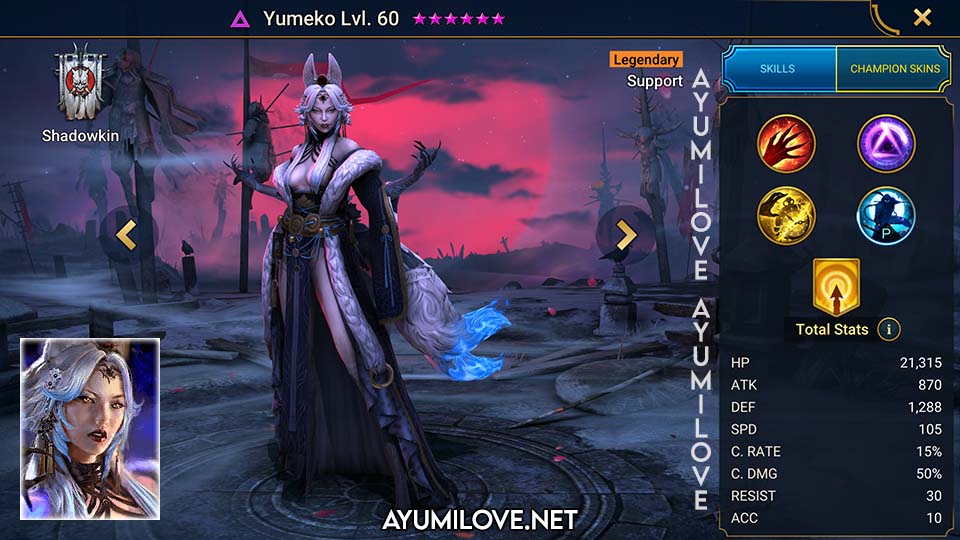 Overview
NAME: Yumeko
FACTION: Shadowkin
RARITY: Legendary
ROLE: Support
AFFINITY: Void
RANK: A
USABILITY: Early-Mid-Late Game
TOMES: 10 (A2 A3)
Abilities
RSL_AllBattles_AccuracyAura
RSL_AoE_DecreaseSkillCooldown
RSL_Random_TransferDebuffs
RSL_Self_Heal
RSL_Self_ImmuneDebuff_Passive
RSL_Self_IncreaseTurnMeter
RSL_Self_Passive
RSL_Self_Veil_PerfectVeil
RSL_Target_BasicAttack_2Hits
RSL_Target_StealBuffs
RSL_Target_StealTurnMeter
RSL_Target_Hex
RSL_Target_Passive_Enemy
Obtain from
Void Shard
Blessings Recommendation
Brimstone (Debuffer)
Intimidating Presence (Aura Lead)
Temporal Chains (Arena Defense)
Grinding
★★★✰✰ Campaign
★★★★✰ Arena Defense
★★★★★ Arena Offense
★★✰✰✰ Clan Boss
★★★✰✰ Hydra
★★★★★ Faction Wars
Dungeons
★★★★★ Minotaur
★★★★★ Spider
★★★★★ Fire Knight
★★★★★ Dragon
★★★★★ Ice Golem
★★★★✰ Iron Twins
★★★✰✰ Sand Devil
★★★★★ Phantom Shogun
Potion
★★★★★ Arcane Keep
★★★★★ Void Keep
★★★★★ Force Keep
★★★★★ Spirit Keep
★★★★★ Magic Keep
Doom Tower
★★★★★ Floors
★★★✰✰ Magma Dragon
★★★✰✰ Nether Spider
★★★★✰ Frost Spider
★★★★✰ Scarab King
★★★✰✰ Celestial Griffin
★★★✰✰ Eternal Dragon
★★✰✰✰ Dreadhorn
★★✰✰✰ Dark Fae
Yumeko Skills
Wereclaws
Attacks 1 enemy 2 times. Each hit steals 7.5% of the target's Turn Meter if this champion has 50% HP or more. Each hit heals this Champion by 30% of the damage inflicted if this Champion has less than 50% HP.
Level 2: Damage +5%
Level 3: Damage +5%
Level 4: Damage +10%
Damage Multiplier: 2.8 ATK
Destiny's Mirror (Cooldown: 4 turns)
Attacks 1 enemy. Has an 80% chance of placing a [Hex] debuff for 3 turns. Whenever an enemy tries to place debuffs on either this Champion or an ally, has a 55% chance of transferring those debuffs to a random enemy under a [Hex] debuff placed by this Champion. This happens before any debuffs are placed on the initial target. Has a 30% chance against Bosses. Whenever someone fills the Turn Meter of an enemy under a [Hex] debuff placed by this Champion, this Champion's Turn Meter will be filled instead. Only available when Karato Foxhunter is on the same team.
Level 2: Buff/Debuff Chance +10%
Level 3: Damage +10%
Level 4: Buff/Debuff Chance +10%
Level 5: Damage +10%
Level 6: Cooldown -1
Damage Multiplier: 6 ATK
Dance of Time (Cooldown: 7 turns)
Decreases the cooldowns of all ally skills by 3 turns and increases the cooldowns of all enemy skills by 3 turns. Will not decrease the cooldowns of this Champion's other skills.
Level 2: Cooldown -1
Level 3: Cooldown -1
Deep Cover (Passive)
Places a [Perfect Veil] buff on this Champion for 2 turns at the start of each Round. This champion is immune to all debuffs if they are under a [Veil] or [Perfect Veil] buff.
Whenever a [Veil] or [Perfect Veil] buff is placed on an enemy, has a 75% chance of stealing the buff. This happens before the buff is placed on the initial target. Only available when Karato Foxhunter is on the same team.
Aura
Increase Ally ACC in all Battles by 60
Yumeko Equipment Guide
Arena, Campaign, Clan Boss, Dungeons, Doom Tower, Faction Wars

Recommended Artifacts

Accuracy, Perception, Speed, Immortal, Regeneration, Stalwart

Stats Allocation

Weapon (ATK)
Helmet (HP)
Shield (DEF)
Gauntlets (HP% / DEF%)
Chestplate (HP% / DEF% / ACC)
Boots (SPD)
Ring (HP / DEF)
Amulet (HP / DEF)
Banner (ACC)

Stats Priority

ACC, SPD, HP, DEF
Yumeko Mastery Guide
Arena, Campaign, Clan Boss, Dungeons, Doom Tower, Faction Wars
Offense

Deadly Precision
Keen Strike
Heart of Glory
Single Out
Life Drinker
Bring it Down
Methodical
Warmaster

Support

Pinpoint Accuracy
Charged Focus
Swarm Smiter
Lore of Steel
Evil Eye
Master Hexer
Spirit Haste
Arena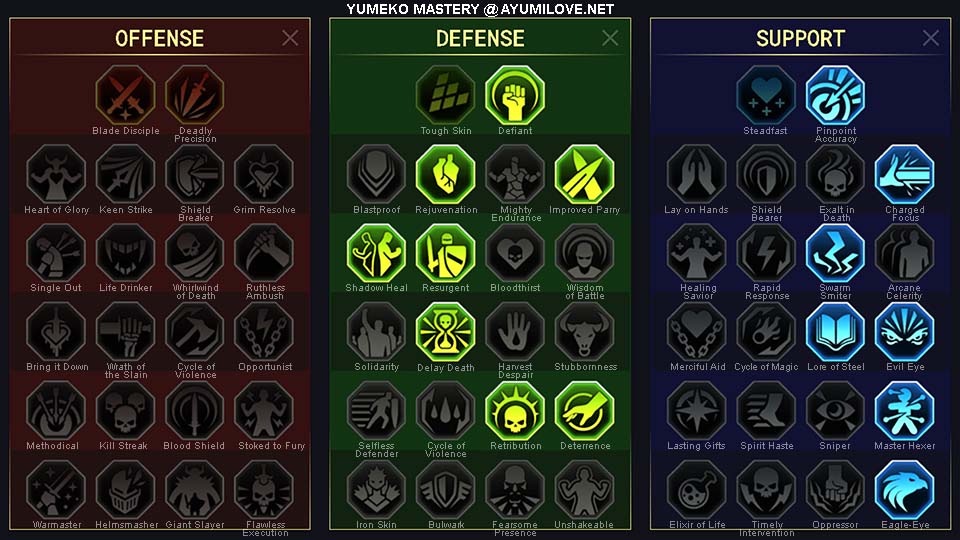 Defense

Defiant
Improved Parry
Rejuvenation
Resurgent
Shadow Heal
Delay Death
Retribution
Deterrence

Support

Pinpoint Accuracy
Charged Focus
Swarm Smiter
Evil Eye
Lore of Steel
Master Hexer
Eagle-Eye
Clan Boss (Speed Tuned)
Offense

Deadly Precision
Keen Strike
Heart of Glory
Single Out
Life Drinker
Bring it Down
Methodical
Warmaster

Defense

Tough Skin
Blastproof
Resurgent
Delay Death
Retribution
Deterrence
Yumeko Review
Yumeko is a Legendary Support Void champion from Shadowkin in Raid Shadow Legends. Yumeko the Fox Lady was released in Patch 5.20 on February 10th 2022 along with her Valentine's Day partner Karato Foxhunter.
Dance of Time (A3 Skill) is Yumeko's signature ability, which is a fusion of Prince Kymar and Warlord where she can increase the enemies skill cooldown while reducing her allies skill cooldown! This makes her an amazing support hero in most content due to this powerful ability! In addition, Destiny Mirror (A2 Skill) allows her to instantly transfer any debuff from her or ally to the enemy who she inflicted with Hex debuff, which could make her a good candidate against crowd control enemies such as Tormin the Cold and Hegemon.
Apart from that, Yumeko's Deep Cover passive skill makes her immune to all debuffs whenever she has Veil buff active on herself! She gains Perfect Veil buff at the start of the round through her passive to protect against an enemy who specializes in debuff to reduce your champion's survivability, especially in Arena. Her basic attack Wereclaws (A1 Skill) steals Turn Meter from an enemy, which is useful to slow down Fire Knight dungeon boss before he is able to put up his shield. However, its mechanics changes to heal her if her health drops below 50%. Finally, she has a useful Accuracy Aura for all battles that is helpful for early-mid game players before they can get their Accuracy Banner from Spider's Den or to boost your total Accuracy stats for end-game content such as Doom Tower.
Overall, Yumeko is a remarkable champion but it will be difficult to obtain her as she is only summonable from Void Shards. Fun Fact: Do you know that Valentine's Day champions always come in a pair of a Void champion with a non-Void champion? This condition makes it difficult for players to form this powerful duo team to beat other players easily.
Yumeko Champion Lore
There are few creatures in Teleria more enigmatic than the mystic foxes of Yakai. Born out of the chaos of the Dance of Darkness, the exact nature of these shapeshifting creatures is a point of some debate. Perhaps they were once lesser shards of Lumaya's light, sent spinning free during the Dance and allowed to roam through the ancient woodlands. Others say that the foxes are the spirit of the land itself, the essence of the Dawnlands — of Yakai – made into flesh and blood. Others still declare that the foxes have always been there in one or another of their many forms, since the First Dawn. Certainly the idea that the foxes are in some way bound to Yakai, to its verdant forests and mountains and streams, seems to hold some weight, for only a few are known to have ever traveled beyond its borders. One of those few is Yumeko.
Yumeko is a peaceful and furtive being, and though her guiles were well-known, few indeed were those who could claim to have set eyes upon her. That changed during the dark days of the Mikage Autocracy, when beings loyal to the Shadow God seized control of Yakai. The Mikage sought not only to kill and enslave the common people of the region, but to bend the land itself to their will. The forests were hacked down, the rivers were dammed, and the mountains were cruelly scarred with mines.
As part of the war the Mikage waged against the spirit of the Dawnlands, the foxes too became targets. Hunting parties ruthlessly tracked down and slew Yumeko's kind, their lush tails becoming trophies pinned to the armor and shields of brutal Mikage warlords. Though under the threat of extinction, their non-confrontational and peaceful nature meant that few sought to fight back, until Yumeko met Karato.
Among the hunters employed by the Mikage, none were as feared as Karato. No fox had ever escaped his bow or blade. Yet Yumeko detected something in him so many others missed. After one of his hunts, she concealed herself close to where he had slain one of her kin. She was shocked to observe Karato kneeling over the slain fox and murmuring a prayer, asking for forgiveness, hoping that the fox's spirit would know he had not acted out of hatred and malice. Yumeko realized that Karato was a reluctant killer, surely shaped as much by his upbringing and circumstances as she was shaped by the forests.
When Karato came for Yumeko, she hoped that by refusing to fight him she would bring out his reluctance, and perhaps show him that the path he walked was the wrong one. She led him on a chase that took them across half of Yakai. Despite the fact that he was a killer of her kind, Yumeko's taunting of her pursuer was always good-natured and playful. She knew that there was a chance to break a chain of violence for good. Karato would awake from a night's slumber to find Yumeko had carved his name and likeness into the bark of the tree he had been sleeping under, or the name of the next location she was traveling to spelled out in leaves and branches across the trail.
The hunt had to end eventually. Yumeko was slowly but surely driven from familiar territory, starving and exhausted. Karato finally cornered her on the edge of the mountains bordering western Yakai. It was only then, staring at her, with his arrow nocked, that the infamous Foxhunter finally broke down. Admitting his terrible deeds, he begged Yumeko for forgiveness. She admitted that the past could not be undone, but that it was possible to avoid further suffering in the future. They joined those rebelling against the Mikage, Yumeko reluctantly putting aside her refusal to harm others in an effort to stop the evil infecting the land. She and Karato soon came to trust and respect one another, as they found their talents, as fox and hunter, naturally played to one another's strengths. As they shared the struggle against the Mikage, they discovered their partnership growing into something more, Karato enamored by Yumeko's wits and spirit while she cleaved to his calm certainty and carefully-guarded inner kindness.
After the fall of the Mikage, Yumeko and Karato might have known peace, retiring to the forests together, but Karato could not shake off the feeling that he had still not absolved himself. He set out into wider Teleria with the intention of bringing good to the world. Yumeko loved the Dawnlands, but she had come to realize she loved Karato even more. She chose to accompany him, and from that day forth the story of the fox and the hunter became not just a Yakai fable, but a legend told by all of Teleria.
Yumeko Updates
Yumeko Videos
MurderInc: Yumeko is Insane!
Skratch: Karato and Yumeko Deadly Spotlight