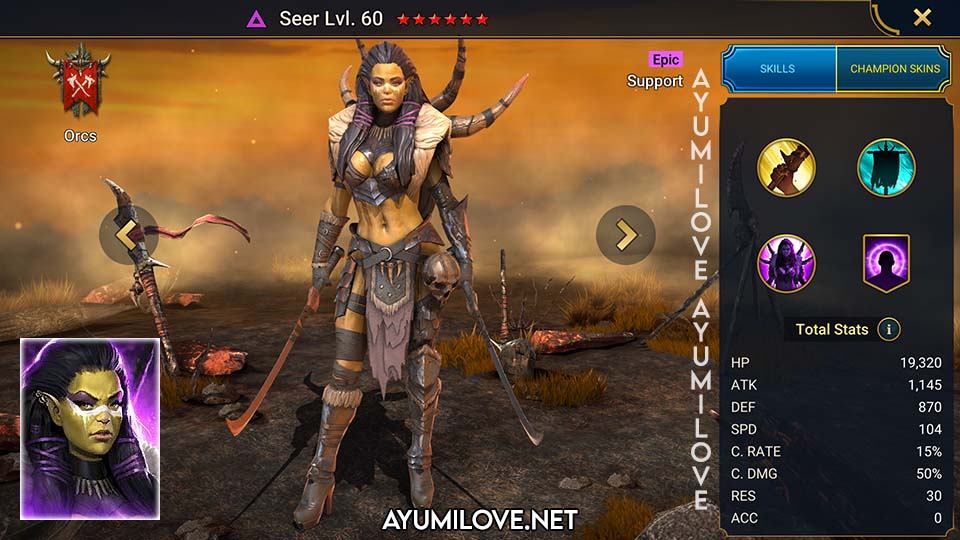 Overview

NAME: Seer
FACTION: Orcs
RARITY: Epic
ROLE: Support
AFFINITY: Void
RANK: A
USABILITY: Mid-Late Game
TOMES: 6 (A2 A3)

Total Stats (6★)

Health Points (HP): 19,320
Attack (ATK): 1,145
Defense (DEF): 870
Speed (SPD): 104
Critical Rate (C.RATE): 15%
Critical Damage (C. DMG): 50%
Debuff Resistance (RESIST): 30
Debuff Accuracy (ACC): 0

Obtain from

Void Shard

Use Case

Grinding

★✰✰✰✰ Campaign
★★★★★ Arena Defense
★★★★★ Arena Offense
★✰✰✰✰ Clan Boss
★✰✰✰✰ Hydra
★★★★★ Faction Wars

Dungeons

★★★★★ Minotaur
★★★★✰ Spider
★★★★★ Fire Knight
★★★★★ Dragon
★★★★★ Ice Golem

Potion

★★★★★ Arcane Keep
★★★★★ Void Keep
★★★★★ Force Keep
★★★★★ Spirit Keep
★★★★★ Magic Keep

Doom Tower

★★★★★ Floors
★✰✰✰✰ Magma Dragon
★✰✰✰✰ Nether Spider
★✰✰✰✰ Frost Spider
★✰✰✰✰ Scarab King
★✰✰✰✰ Celestial Griffin
★✰✰✰✰ Eternal Dragon
★✰✰✰✰ Dreadhorn
★✰✰✰✰ Dark Fae
Seer Skills
Knock Out [ATK]
Attacks 1 enemy. Has a 15% chance of granting an Extra Turn.
Level 2: Damage +5%
Level 3: Damage +5%
Level 4: Damage +10%
Level 5: Buff/Debuff Chance +5%
Damage Multiplier: 3.8 ATK
Clan Banner (Cooldown: 4 turns)
Places a 30% [Increase C.RATE] buff on all allies for 2 turns. Places a 25% [Weaken] debuff on all enemies for 2 turns.
Level 2: Cooldown -1
Karma Burn [Enemy MAX HP] (Cooldown: 6 turns)
Removes all buffs from all allies and enemies, then attacks all enemies. Damage increases according to the number of buffs removed. Has a 50% chance of placing a [Sleep] debuff on all enemies for 1 turn. The chance of placing a [Sleep] debuff increases by 5% for each buff removed, which inflicts less damage to Bosses.
Level 2: Cooldown -1
Level 3: Cooldown -1
Damage Multiplier (Boss): 0.1 Enemy MAX HP + 0.005 Enemy MAX HP * Total Buffs
Damage Multiplier (Mobs): 0.1 Enemy MAX HP + 0.030 Enemy MAX HP * Total Buffs
Aura
Increases Ally RESIST in all Battles by 40.
Seer Equipment Guide
Arena, Campaign, Clan Boss, Dungeons, Doom Tower, Faction Wars

Recommended Artifacts

1 Savage Set, 1 Cruel Set
1 Savage Set, 1 Critical Damage Set
2 Perception Set, 1 Speed Set
2 Accuracy Set, 1 Speed Set

Recommended Stats

C.RATE, C.DMG, SPD, ACC
Weapon (ATK)
Helmet (HP)
Shield (DEF)
Gauntlets (C.RATE / C.DMG)
Chestplate (HP%)
Boots (SPD)
Ring (DEF / HP)
Amulet (C.DMG)
Banner (DEF / HP / ACC)
Seer Mastery Guide
Arena, Campaign, Clan Boss, Dungeons, Doom Tower, Faction Wars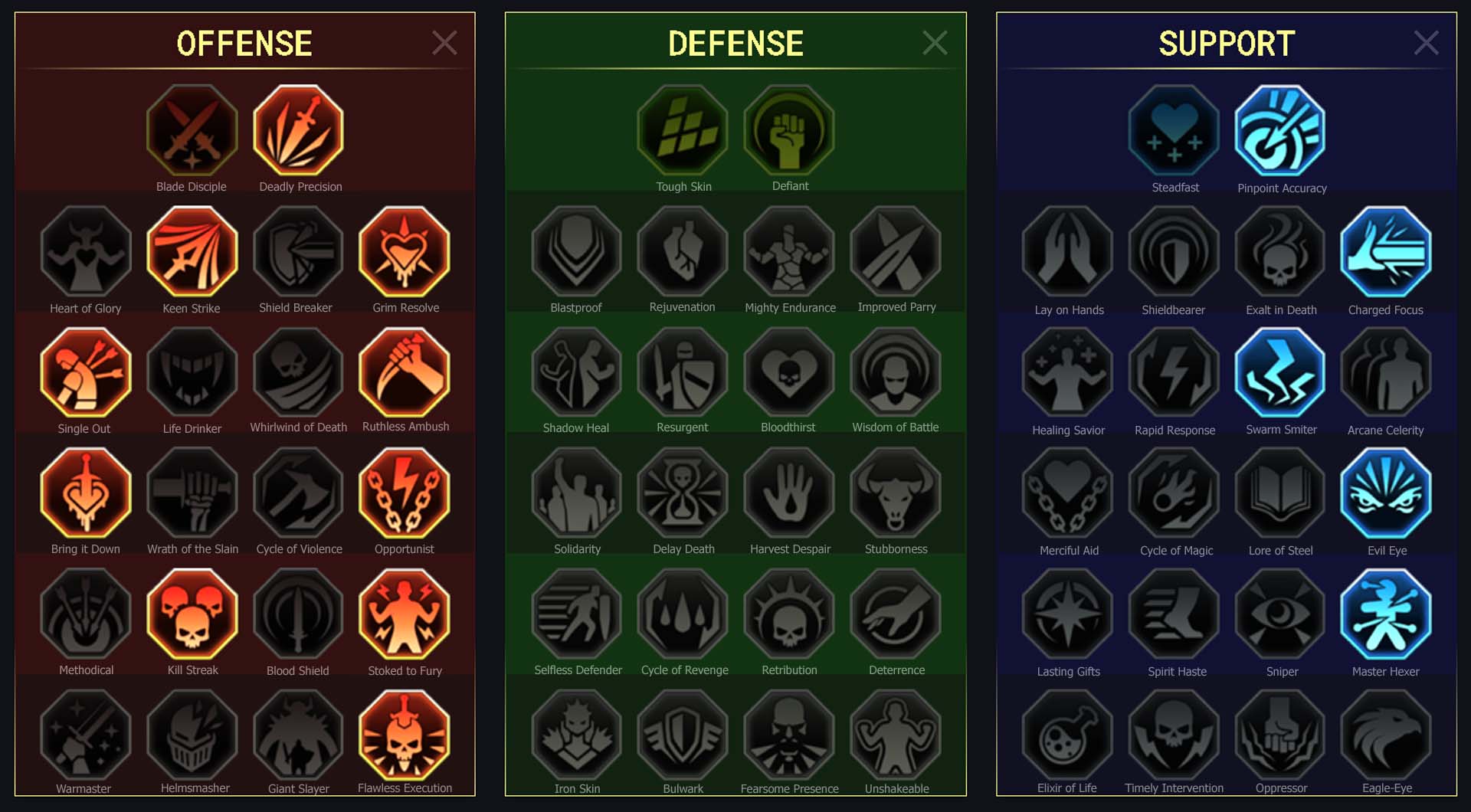 Offense

Deadly Precision
Keen Strike
Grim Resolve
Single Out
Ruthless Ambush
Bring it Down
Opportunist
Kill Streak
Stoked to Fury
Flawless Execution

Support

Pinpoint Accuracy
Charged Focus
Swarm Smiter
Evil Eye
Master Hexer
Seer References
Seer Speed Run Dungeon Build
Below is a reference of the artifacts equipped on Seer that is optimized for dungeon speed runnning. She is equipped with Savage Set to ignore 25% enemy's defense, which is quite useful against the new dungeon stages 21 to 25 as they have much more HP and Defense. Seer's masteries is focussed on dealing maximum amount of damage on her first hit using her A3 Karma Burn skill to nuke the enemies in 1 hit. The artifacts prioritizes on a high amount of Critical Rate and Critical Damage, followed by Speed and Accuracy. Accuracy is not essential if you are using her for nuking the waves. However, I had sufficient Accuracy to enable Seer to inflict her Weaken/Sleep debuff and removing enemies buffs for other content in the game such as Faction Wars.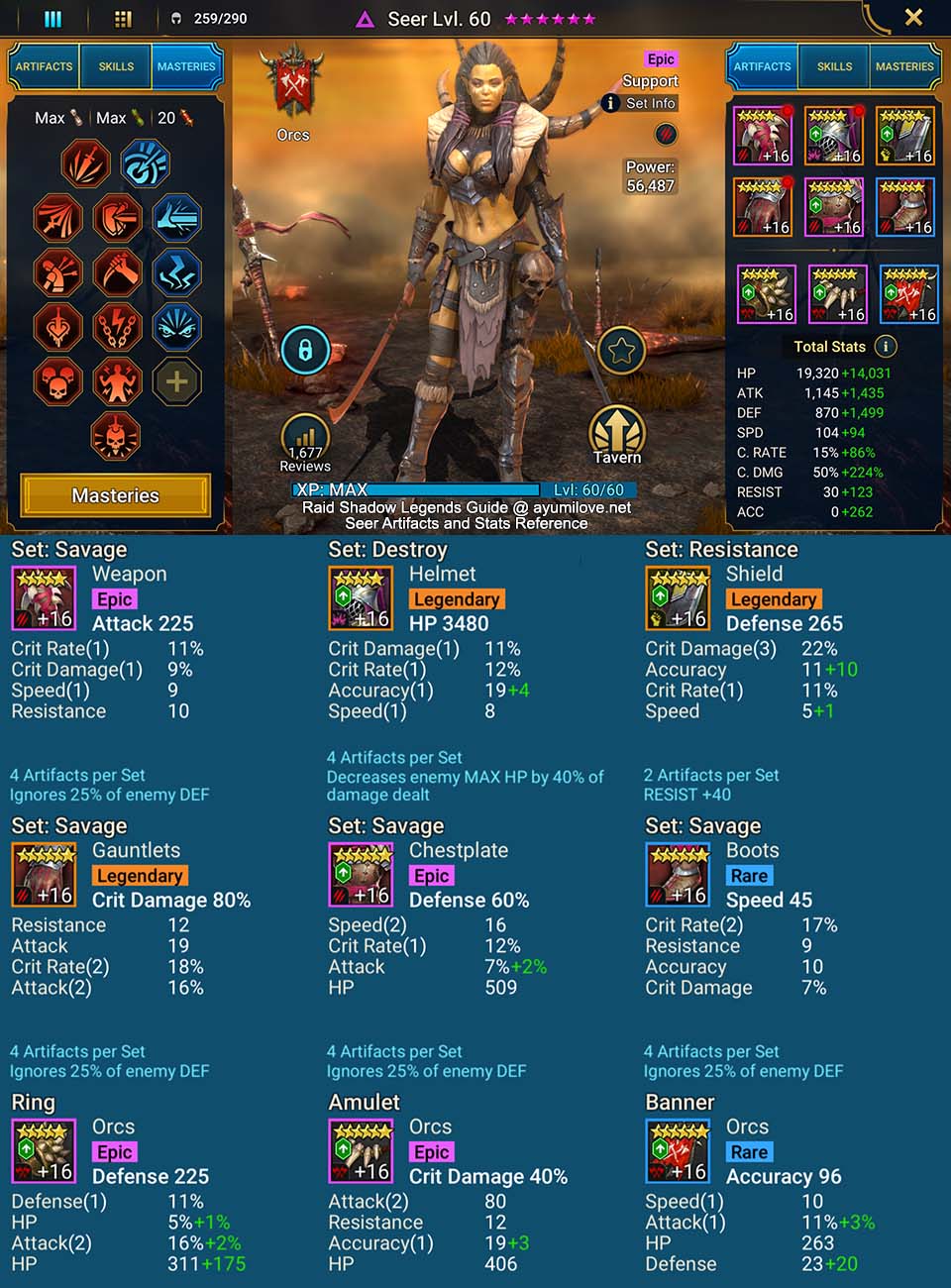 Seer Updates
Seer Videos
Raid Shadow Legends Seer Champion Guide by ASH
Raid Shadow Legends Seer Champion Guide by Chofly
Raid Shadow Legends Seer Champion Guide by StewGaming
Raid Shadow Legends Seer Champion Guide by MurderInc