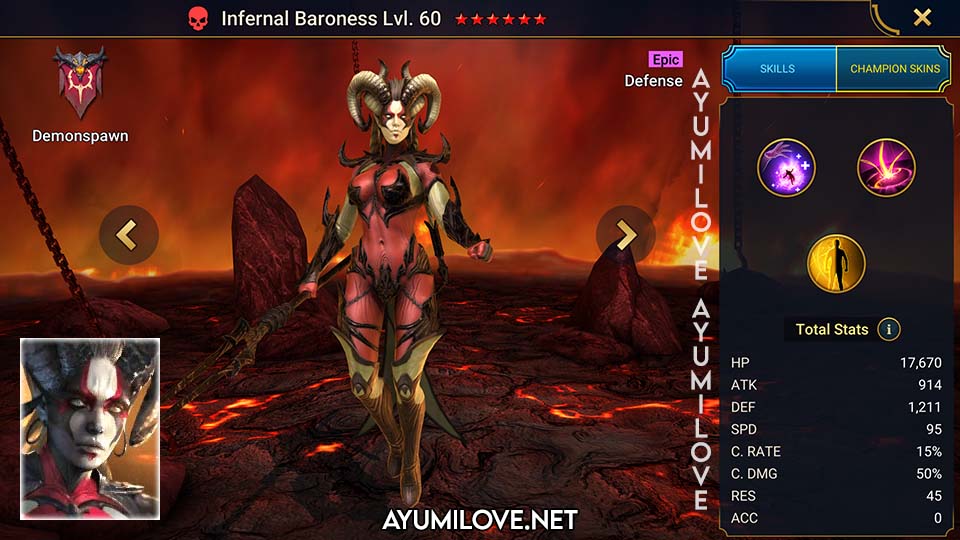 Obtain from

Ancient Shard
Sacred Shard

Overview

NAME: Infernal Baroness
FACTION: Demonspawn
RARITY: Epic
ROLE: Defense
AFFINITY: Force
RANK: B
USABILITY: Early-Mid-Late Game
TOMES: 10 (A2 A3)

Total Stats (6★)

Health Points (HP): 17,670
Attack (ATK): 914
Defense (DEF): 1,211
Speed (SPD): 95
Critical Rate (C.RATE): 15%
Critical Damage (C.DMG): 50%
Debuff Resistance (RESIST): 45
Debuff Accuracy (ACC): 0

Grinding

★★★★★ Campaign
★★★✰✰ Arena Defense
★★★★✰ Arena Offense
★★★★✰ Clan Boss
★★★★✰ Faction Wars

Dungeons

★★★★★ Minotaur
★★★★✰ Spider
★★✰✰✰ Fire Knight
★★★★★ Dragon
★★★★★ Ice Golem

Potion

★★★★✰ Void Keep
★★★★✰ Force Keep
★✰✰✰✰ Spirit Keep
★★★★✰ Magic Keep

Doom Tower

✰✰✰✰✰ Magma Dragon
✰✰✰✰✰ Nether Spider
✰✰✰✰✰ Frost Spider
✰✰✰✰✰ Scarab King
Infernal Baroness Skills
Life Syphon [DEF]
Attacks all enemies. Heals the ally with the lowest HP by 5% of the damage inflicted.
Level 2: Damage +5%
Level 3: Damage +5%
Level 4: Damage +5%
Level 5: Damage +10%
Damage Multiplier: 2.5 DEF
Clinging Dark [DEF] (Cooldown: 4 turns)
Attacks all enemies. Has a 50% chance of placing a 50% [Decrease ATK] debuff on all enemies for 2 turns.
Level 2: Damage +5%
Level 3: Damage +5%
Level 4: Buff/Debuff Chance +10%
Level 5: Buff/Debuff Chance +15%
Level 6: Cooldown -1
Damage Multiplier: 4.5 DEF
Disappear (Cooldown: 5 turns)
Places a [Perfect Veil] buff on an ally for 3 turns.
Level 2: Cooldown -1
Infernal Baroness Equipment Guide
Equipment Set for Arena, Campaign, Faction Wars
2 Defense Set, 1 Speed Set
1 Retaliation Set, 1 Speed Set
1 Stun Set, 1 Speed Set
Equipment Set for Clan Boss, Dungeons, Doom Tower
1 Lifesteal Set, 1 Speed Set
1 Retaliation Set, 1 Speed Set
1 Stun Set, 1 Speed Set
Equipment Stat Priority
Defense%, Critical Rate, Critical Damage, Speed, Accuracy
Weapon (Attack)
Helmet (HP)
Shield (Defense)
Gauntlets (Critical Rate)
Chestplate (Defense%)
Boots (Speed)
Ring (Defense)
Amulet (Critical Damage)
Banner (Accuracy)
Infernal Baroness Mastery Guide
Arena, Campaign, Clan Boss, Dungeons, Doom Tower, Faction Wars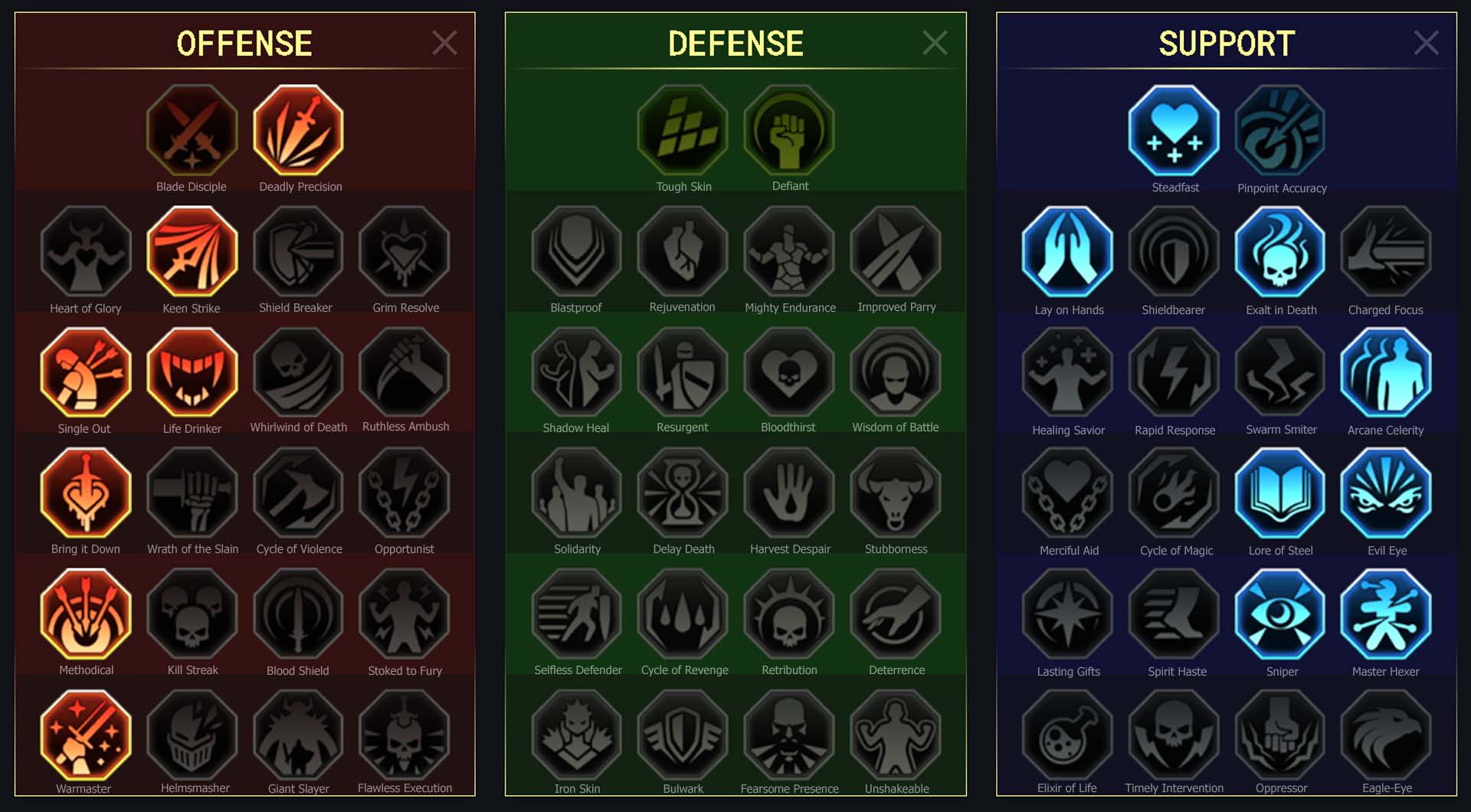 Offense

Deadly Precision
Keen Strike
Single Out
Life Drinker
Bring it Down
Methodical
Warmaster

Defense

N/A

Support

Steadfast
Lay on Hands
Exalt in Death
Arcane Celerity
Lore of Steel
Evil Eye
Master Hexer
Sniper
Dungeons (Spider's Den)
This mastery setup specializes for Spider's Den dungeon where Infernal Baroness will be the tank/bait champion to auto provoke the Spiderlings in a weak affinity stage (e.g. Spider's Den Stage 20 – Spirit Affinity). Infernal Baroness is required to be equipped with Retaliation Set or Lifesteal Set to heal from each of her AoE attacks. If you have a champion who could apply AoE Leech debuff to the spiderling's (e.g. Ma'Shalled), then Retaliation Set would be much more beneficial as she can counterattack each time the Spiderling attacks her from either the trigger from Retaliation Set or Retribution mastery. The Spiderling will have a higher chance of activating a Critical Hit against champions who are weaker than them. Hence, its appropriate to have Improved Parry and Delay Death mastery to reduce the incoming damage. Life Drinker and Rejuvenation will increase the amount of healing that Infernal Baroness gets when she attacks and heals. Warmaster mastery is crucial as it will deal the damage based on Enemy MAX HP, which will convert into a large chunk of healing for Infernal Baroness to enable her to survive longer in battle! Do take note that you need to have your tank bait with high resist stat to resist the Spiderling's poison debuff. For every Dungeon Level, multiply the Resist by 15 for a successful debuff resist! (Example: Stage 20 * 15 = 300 Resist). In addition, Bloodthirst and Blood Shield mastery does not proc against killing Spiderling, so these masteries would not benefit Infernal Baroness to increase her survivability in Spider's Den.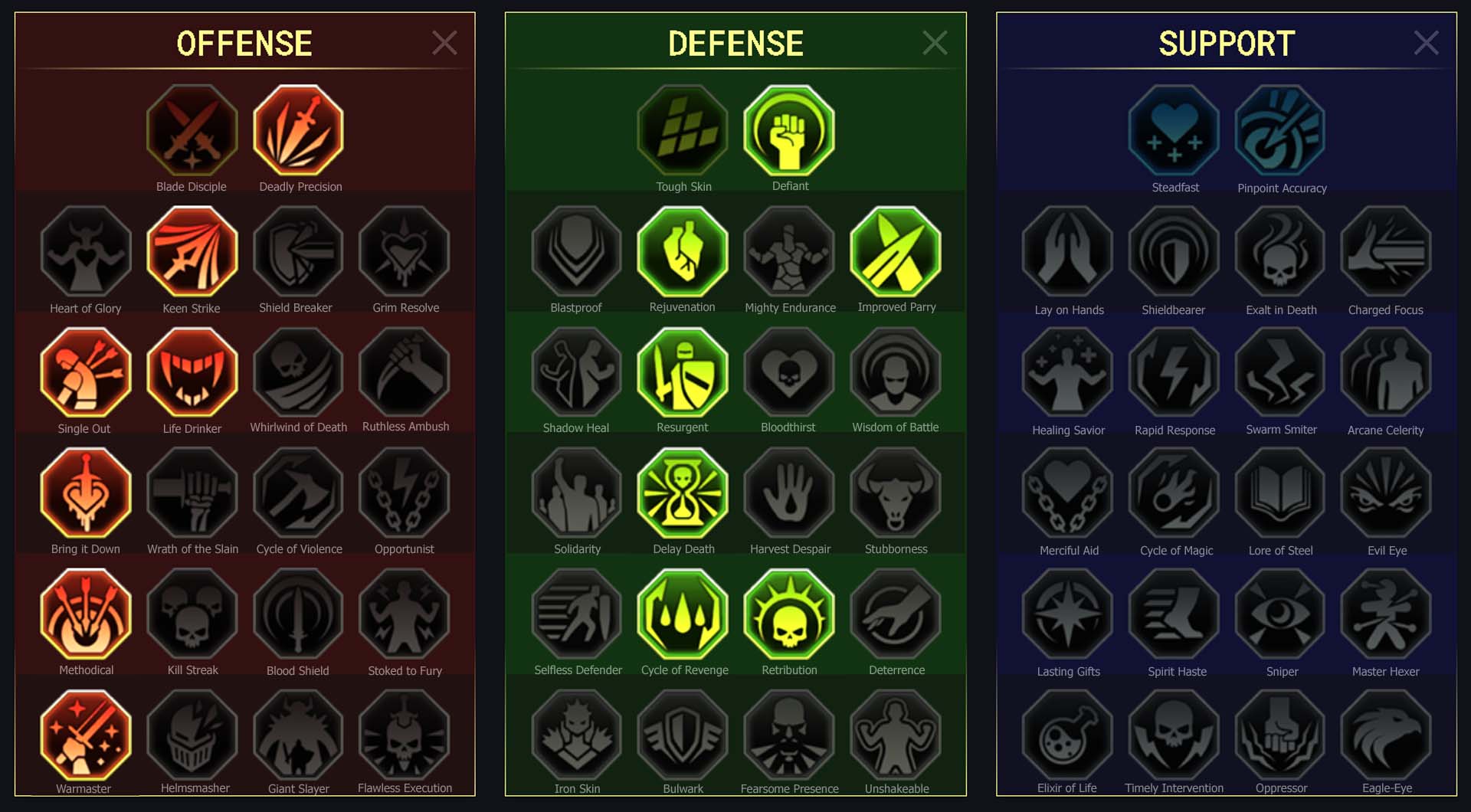 Offense

Deadly Precision
Keen Strike
Single Out
Life Drinker
Bring it Down
Methodical
Warmaster

Defense

Defiant
Improved Parry
Rejuvenation
Resurgent
Delay Death
Retribution
Cycle of Revenge

Support

N/A
Infernal Baroness Review
Raid Shadow Legends – Infernal Baroness is an Epic Defense Force champion from the Demonspawn faction where she is obtainable from Ancient Shards and Sacred Shards.
Infernal Baroness Storyline
For all their vile nature and often bestial ferocity in battle, Demonspawn legions are far from being an uncontrollable horde. Indeed, their discipline and organization are among the prime reasons why the servants of Siroth are so dangerous. Their twisted commanders bear many of the same titles of nobility that the Lords of Teleria are used to, and often direct their lesser kin with guile and ruthless intent. The Infernal Baroness prefers to let her minions – and, of course, a majestic being like her can only have minions, not allies – to do most of the fighting, while she directs them. One should not mistake that for inability to fight, however. This demoness is more than capable of dispatching foes in person, should the need arise, and she does strike out frequently, allowing those at her side to be strengthened by the blood she spills while her foes wither and turn frail. She is even capable of bending the shadows to her will and wrapping them around her chosen Champion, letting them move and make battle unseen.
Infernal Baroness Updates
Infernal Baroness Videos
Raid Shadow Legends Infernal Baroness Champion Guide by Fice Gaming TV
Raid Shadow Legends Infernal Baroness Champion Guide by Sir Jaxo
https://youtu.be/u-urXD0os6w