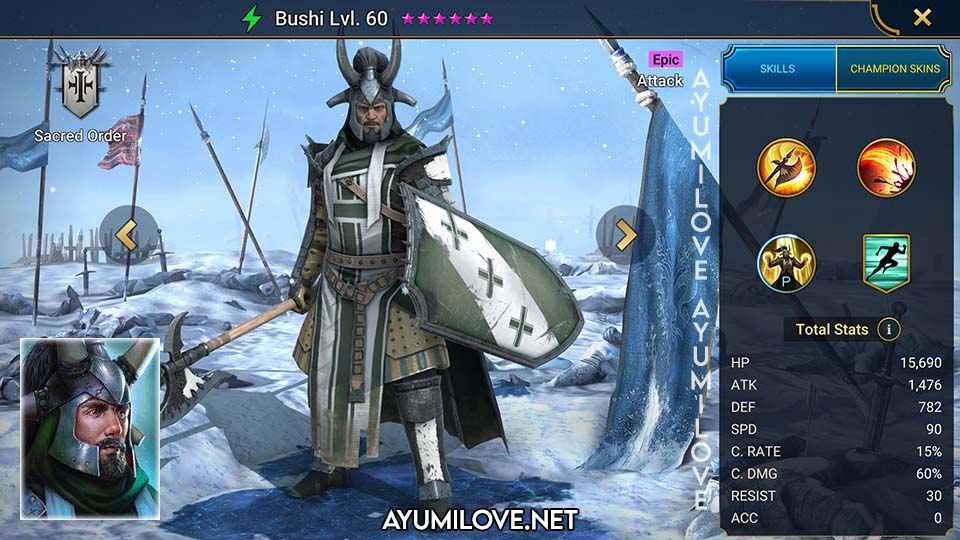 Overview

NAME: Bushi
FACTION: Sacred Order
RARITY: Epic
ROLE: Attack
AFFINITY: Spirit
RANK: C
USABILITY: N/A
TOMES: 10 (N/A)

Abilities

Obtain from

Ancient Shard
Sacred Shard

Champion Fusion

Grinding

★★★✰✰ Campaign
★★★✰✰ Arena Defense
★★★✰✰ Arena Offense
★★★✰✰ Clan Boss
✰✰✰✰✰ Hydra
★★★✰✰ Faction Wars

Dungeons

★★✰✰✰ Minotaur
★✰✰✰✰ Spider
★✰✰✰✰ Fire Knight
★★✰✰✰ Dragon
★★✰✰✰ Ice Golem

Potion

✰✰✰✰✰ Arcane Keep
★★✰✰✰ Void Keep
★★✰✰✰ Force Keep
★★✰✰✰ Spirit Keep
★✰✰✰✰ Magic Keep

Doom Tower

✰✰✰✰✰ Floors
✰✰✰✰✰ Magma Dragon
✰✰✰✰✰ Nether Spider
✰✰✰✰✰ Frost Spider
✰✰✰✰✰ Scarab King
✰✰✰✰✰ Celestial Griffin
✰✰✰✰✰ Eternal Dragon
✰✰✰✰✰ Dreadhorn
✰✰✰✰✰ Dark Fae
Bushi Skills
Rising Storm [ATK]
Attacks 1 enemy. Damage inflicted increases each time this skill is used. Stacks up to 4 times.
Level 2: Damage +5%
Level 3: Damage +5%
Level 4: Damage +5%
Level 5: Damage +5%
Damage Multiplier: ATK * (2.9 + 0.4 * SKILL USED)
Deadly Edge [ATK] (Cooldown: 4 turns)
Attacks 1 enemy. This attack is always critical. Places a 30% [Increase C.RATE] buff and a 15% [Increase SPD] buff on this Champion for 3 turns.
Level 2: Damage +5%
Level 3: Damage +10%
Level 4: Damage +10%
Level 5: Cooldown -1
Damage Multiplier: 7 ATK
Unbending [Passive] (Cooldown: 5 turns)
Revives this Champion with 30% HP. Places an [Unkillable] buff on this Champion for 1 turn.
Level 2: Cooldown -1
Level 3: Cooldown -1
Arena
Increases Ally SPD in the Arena by 20%.
Bushi Equipment Guide
Equipment Set for Arena, Campaign, Faction Wars
2 Offense Set, 1 Speed Set
1 Retaliation Set, 1 Speed Set
Equipment Set for Clan Boss, Dungeons, Doom Tower
1 Lifesteal Set, 1 Speed Set
Equipment Stat Priority
Attack%, Critical Rate, Critical Damage, Speed
Weapon (Attack)
Helmet (HP)
Shield (Defense)
Gauntlets (Critical Rate)
Chestplate (Attack%)
Boots (Speed)
Ring (Attack)
Amulet (Critical Damage)
Banner (Attack)
Bushi Mastery Guide
Arena, Campaign, Dungeons, Faction Wars
Offense

Deadly Precision
Keen Strike
Shield Breaker
Whirlwind of Death
Single Out
Cycle of Violence
Bring it Down
Kill Streak
Blood Shield
Warmaster

Defense

Defiant
Improved Parry
Bloodthirst
Delay Death
Retribution
Clan Boss
Pre-requisite: Bushi to be equipped with Lifesteal Set to replenish his HP (Hit Points aka Health) via Warmaster (Tier 6 Offense Mastery) when attacking the Clan Boss. He is mainly used for Unkillable Clan Boss Speed Tuned Setup where he is placed in Leader Position to take the Clan Boss Stun attack. To prevent desync of Bushi's skill cooldown, have a support Champion to remove the Stun debuff before he takes his turn or apply a Block Debuff on him before he receives the Stun attack.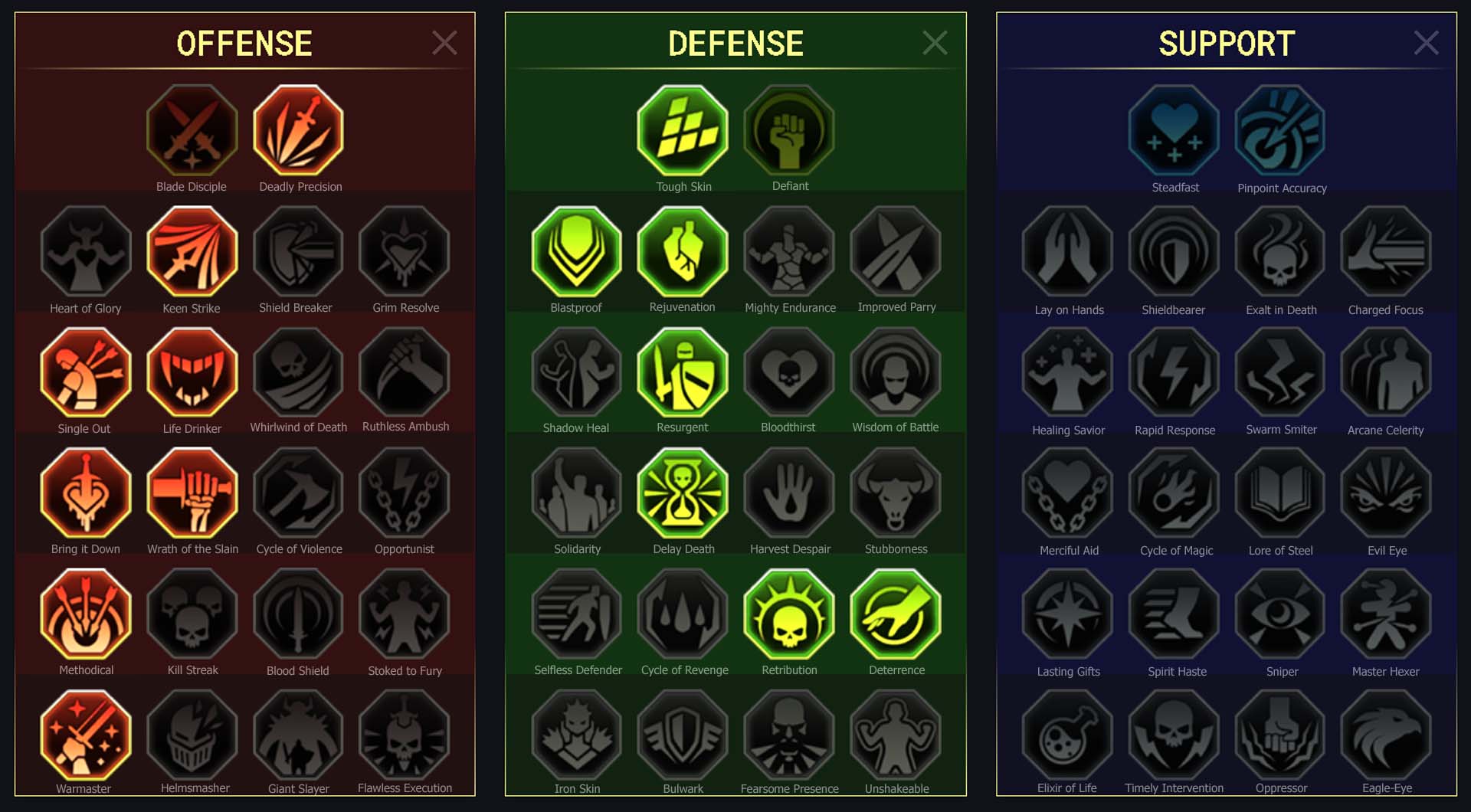 Offense

Deadly Precision
Keen Strike
Single Out
Life Drinker
Bring it Down
Wrath of the Slain
Methodical
Warmaster

Defense

Tough Skin
Blastproof
Rejuvenation
Delay Death
Retribution
Deterrence
Bushi Storyline
Bushi joined the ranks of The Sacred Order in early childhood, when Rangers of The Sacred Order found him in a settlement put to the torch by Orcs. Brought back to join their number, he was enrolled in the Order's secret academy. It was there he learned the way of the Sacred Warrior, how to weild his axe, and how to claim the heads of who deprived him of his people and his birthright those many years ago…
Bushi Updates
Bushi Videos
Raid Shadow Legends Bushi Champion Guide by StewGaming
Raid Shadow Legends Bushi Champion Guide by SecondStar Right