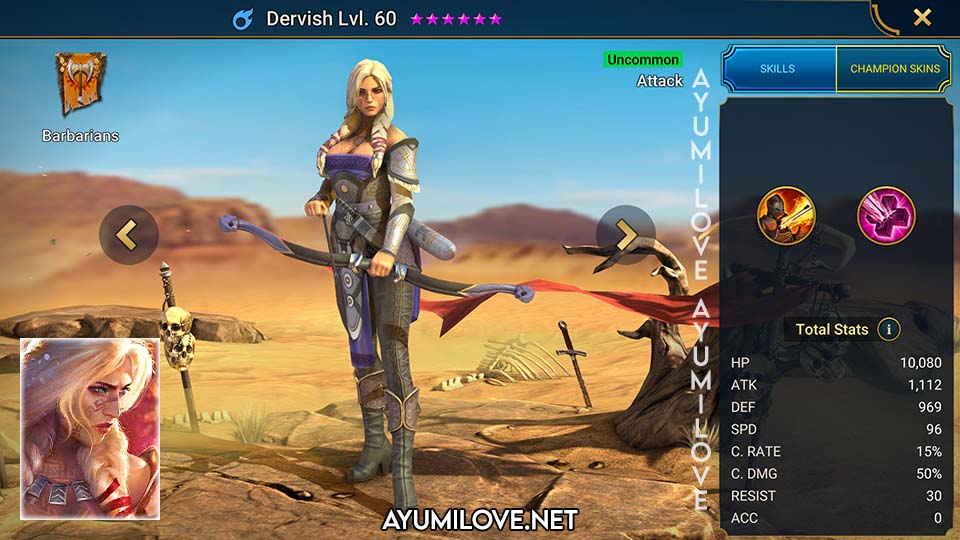 Overview

NAME: Dervish
FACTION: Barbarians
RARITY: Uncommon
ROLE: Attack
AFFINITY: Magic
RANK: S
USABILITY: Early Game
TOMES: 9 (A2)

Abilities

RSL_Random_DecreaseDefense_30%
RSL_Target_HealReduction_50%

Obtain from

Mystery Shard
Market

Grinding

★✰✰✰✰ Campaign
★✰✰✰✰ Arena Defense
★✰✰✰✰ Arena Offense
★★✰✰✰ Clan Boss
★✰✰✰✰ Hydra
★★✰✰✰ Faction Wars

Dungeons

★★★✰✰ Minotaur
★✰✰✰✰ Spider
★★★★★ Fire Knight
★★★✰✰ Dragon
★★★✰✰ Ice Golem
★✰✰✰✰ Iron Twins

Potion

★★★✰✰ Arcane Keep
★★★✰✰ Void Keep
★✰✰✰✰ Force Keep
★★★★★ Spirit Keep
★★★✰✰ Magic Keep

Doom Tower

★★★✰✰ Floors
★★★✰✰ Magma Dragon
★✰✰✰✰ Nether Spider
★✰✰✰✰ Frost Spider
★✰✰✰✰ Scarab King
★★★✰✰ Celestial Griffin
★✰✰✰✰ Eternal Dragon
★✰✰✰✰ Dreadhorn
★★★✰✰ Dark Fae
Dervish Skills
Flurry [ATK]
Attacks 2 times at random. Has a 25% chance of placing a 30% [Decrease DEF] debuff for 2 turns.
Level 2: Damage +5%
Level 3: Damage +5%
Level 4: Buff/Debuff Chance +5%
Level 5: Buff/Debuff Chance +5%
Damage Multiplier: 4.6 ATK
Sealing Arrow [ATK] (Cooldown: 4 turns)
Attacks 1 enemy. Has a 50% chance of placing a 50% [Heal Reduction] debuff for 2 turns.
Level 2: Buff/Debuff Chance +10%
Level 3: Buff/Debuff Chance +10%
Level 4: Buff/Debuff Chance +10%
Level 5: Buff/Debuff Chance +20%
Level 6: Cooldown -1
Damage Multiplier: 8.6 ATK
Dervish Equipment Guide
Arena, Doom Tower, Faction Wars
Campaign, Clan Boss, Dungeons

Recommended Artifacts

2 Offense Set, 1 Speed Set
1 Savage Set, 1 Cruel Set
2 Critical Damage Set, 1 Speed Set

Recommended Artifacts

1 Lifesteal Set, 1 Accuracy Set
1 Savage Set, 1 Cruel Set
2 Critical Damage Set, 1 Speed Set

Recommended Stats

ATK, C.RATE, C.DMG, SPD
Weapon (ATK)
Helmet (HP)
Shield (DEF)
Gauntlets (C.RATE / C.DMG)
Chestplate (ATK%)
Boots (SPD)
Ring (ATK)
Amulet (C.DMG)
Banner (ATK / ACC)

Recommended Stats

ATK, C.RATE, C.DMG, SPD
Weapon (ATK)
Helmet (HP)
Shield (DEF)
Gauntlets (C.RATE / C.DMG)
Chestplate (ATK%)
Boots (SPD)
Ring (ATK)
Amulet (C.DMG)
Banner (ATK / ACC)
Dervish Mastery Guide
Arena, Campaign, Clan Boss, Dungeons, Doom Tower, Faction Wars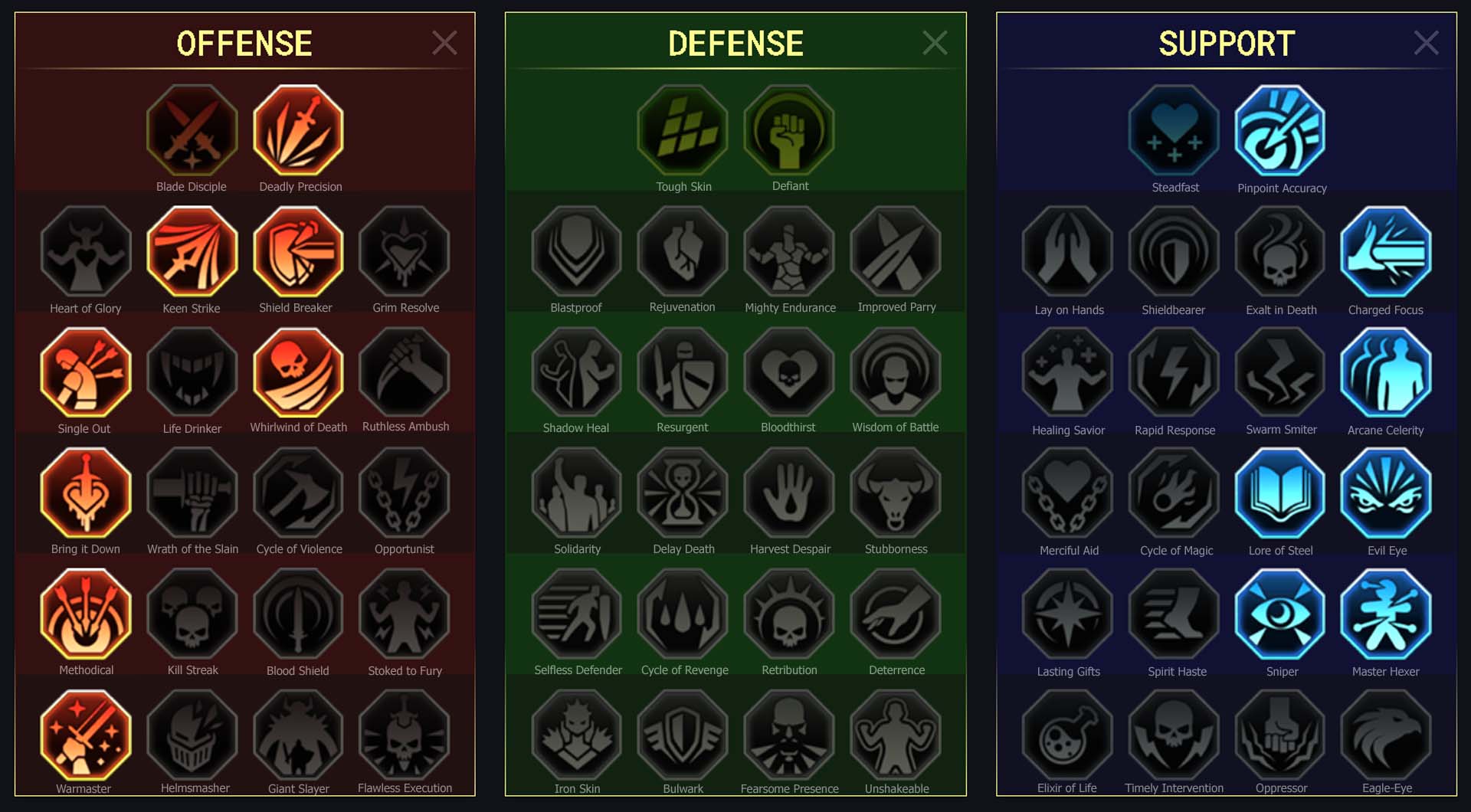 Offense

Deadly Precision
Keen Strike
Shield Breaker
Whirlwind of Death
Single Out
Bring it Down
Methodical
Warmaster

Defense

N/A

Support

Pinpoint Accuracy
Charged Focus
Arcane Celerity
Lore of Steel
Evil Eye
Master Hexer
Sniper
Dervish Review
Raid Shadow Legends – Dervish is an Uncommon Magic Attack champion from the Barbarians faction where she can be obtained from Mystery Shard and Ancient Shard. She can also be purchased from the Market every once awhile.
Champion Purpose
Dervish is a good candidate against Spirit Keep where she can apply Heal Reduction on the enemies to prevent them from recovering her health especially the boss in Spirit Keep.
Dervish has a very high skill damage multiplier compared to most champions in the game. Its recommended to build her as a glass cannon to inflict high damage on enemy.
Use a damage build setup to achieve high damage output by prioritizing high Critical Rate, Critical Damage and Attack stats.
However, this approach is suitable for early game where enemies do not deal high nuke damage. For mid-late game, its recommended pairing her with champions that can tank/support her.
Champion Synergy
Dervish has a low HP (Hit Points aka Health) and low Defense stats. Hence, its highly recommend to pair her with Champions who can mitigate the damage from her (Ally Protection, Block Damage, Unkillable, Shield) or revive her when she dies from enemy nuke attacks.
Dervish Videos
Raid Shadow Legends Dervish Champion Spotlight by Skratch