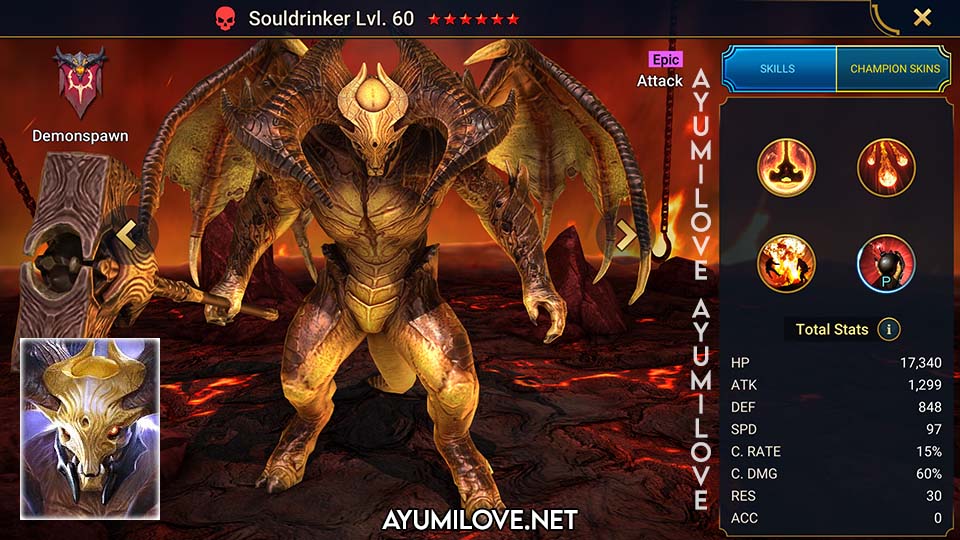 Overview

NAME: Souldrinker
FACTION: Demonspawn
RARITY: Epic
ROLE: Attack
AFFINITY: Force
RANK: C
USABILITY: Arena
TOMES: 12 (A3)

Abilities

RSL_AoE_Bomb
RSL_AoE_Bomb_Passive
RSL_AoE_Passive_Enemy
RSL_Random_Bomb_DecreaseDuration
RSL_Target_Bomb_DecreaseDuration

Obtain from

Ancient Shard
Sacred Shard

Blessings Recommendation

Crushing Rend (Damage Dealer)

Grinding

★★★✰✰ Campaign
★★★★✰ Arena Defense
★★★★✰ Arena Offense
★✰✰✰✰ Clan Boss
★✰✰✰✰ Hydra
★★★★✰ Faction Wars

Dungeons

★★★✰✰ Minotaur
★✰✰✰✰ Spider
★✰✰✰✰ Fire Knight
★★★★✰ Dragon
★★★✰✰ Ice Golem
★✰✰✰✰ Iron Twins

Potion

★★✰✰✰ Arcane Keep
★★✰✰✰ Void Keep
★★✰✰✰ Force Keep
★✰✰✰✰ Spirit Keep
★★✰✰✰ Magic Keep

Doom Tower

★★✰✰✰ Floors
★✰✰✰✰ Magma Dragon
★✰✰✰✰ Nether Spider
★✰✰✰✰ Frost Spider
★✰✰✰✰ Scarab King
★✰✰✰✰ Celestial Griffin
★✰✰✰✰✰ Eternal Dragon
★★✰✰✰ Dreadhorn
★✰✰✰✰ Dark Fae
Souldrinker Review
Souldrinker is a Force affinity Epic champion from the Demonspawn faction in Raid Shadow Legends. He was known for their high base damage and unique bomb mechanics. With the ability to apply bombs to all enemies while alive and even after death, Souldrinker was a formidable presence in the Arena when paired with a bomb exploder like War Mother.
However, the bomb meta in Raid was weak, limiting Souldrinker's effectiveness outside of PvP battles. To fully utilize Souldrinker's abilities, adventurers needed to focus on building accuracy to land the bombs and invest in attack stats to maximize bomb damage. Despite the limitations, Souldrinker remained a powerful champion in the hands of skilled adventurers who could strategically pair them with synergistic champions.
Tales of Souldrinker's bomb-infused battles spread far and wide, serving as a reminder of the importance of precision and strategic planning in the ever-evolving world of Raid. As adventurers ventured forth in their quests, they knew that unlocking the true potential of champions like Souldrinker required careful consideration of the game's meta and the specific challenges of each battle.
Souldrinker Skills
Razing Hand
Attacks 1 enemy. Decreases [Bomb] debuff detonation countdowns by 1 turn.
Level 2: Damage +5%
Level 3: Damage +5%
Level 4: Damage +5%
Level 5: Damage +5%
Damage Multiplier: 4.6 ATK
Overall Grading: Godlike
Raining Fire (Cooldown: 5 turns)
Attacks 3 times at random. Decreases [Bomb] debuff detonation countdowns by 1 turn.
Level 2: Damage +5%
Level 3: Damage +5%
Level 4: Damage +5%
Level 5: Damage +5%
Damage Multiplier: 2.3 ATK
Overall Grading: Weak
Magma Blast (Cooldown: 4 turns)
Attacks all enemies 2 times. Each hit has a 75% chance of placing a [Bomb] that detonates after 3 turns.
Level 2: Damage +10%
Level 3: Buff/Debuff Chance +10%
Level 4: Buff/Debuff Chance +15%
Level 5: Cooldown -1
Damage Multiplier: 2.2 ATK
Bomb Damage Multiplier: 4.5 ATK
Overall Grading: Strong
Set Ablaze (Passive, Cooldown: 5 turns)
Places two [Bomb] debuffs on each enemy that detonate after 2 turns when this Champion dies.
Bomb Damage Multiplier: 2.5 ATK
Souldrinker Equipment Guide
Equipment Set for Arena, Campaign, Faction Wars
2 Offense Set, 1 Speed Set
1 Retaliation Set, 1 Speed Set
Equipment Set for Clan Boss, Dungeons, Doom Tower
1 Lifesteal Set, 1 Speed Set
Equipment Stat Priority
Attack%, Critical Rate, Critical Damage, Speed, Accuracy
Weapon (Attack)
Helmet (HP)
Shield (Defense)
Gauntlets (Critical Rate)
Chestplate (Attack%)
Boots (Speed)
Ring (Attack)
Amulet (Critical Damage)
Banner (Accuracy)
Souldrinker Mastery Guide
Arena, Campaign, Clan Boss, Dungeons, Doom Tower, Faction Wars
Offense

Deadly Precision
Keen Strike
Shield Breaker
Whirlwind of Death
Single Out
Cycle of Violence
Bring it Down
Kill Streak
Warmaster

Defense

Defiant
Improved Parry
Bloodthirst
Delay Death
Retribution
Cycle of Revenge
Souldrinker Updates
Souldrinker Videos
Raid Shadow Legends Souldrinker Champion Guide by ASH
Raid Shadow Legends Souldrinker Champion Showcase by Raid Unhinged
Raid Shadow Legends Souldrinker Champion Guide by Panchorco