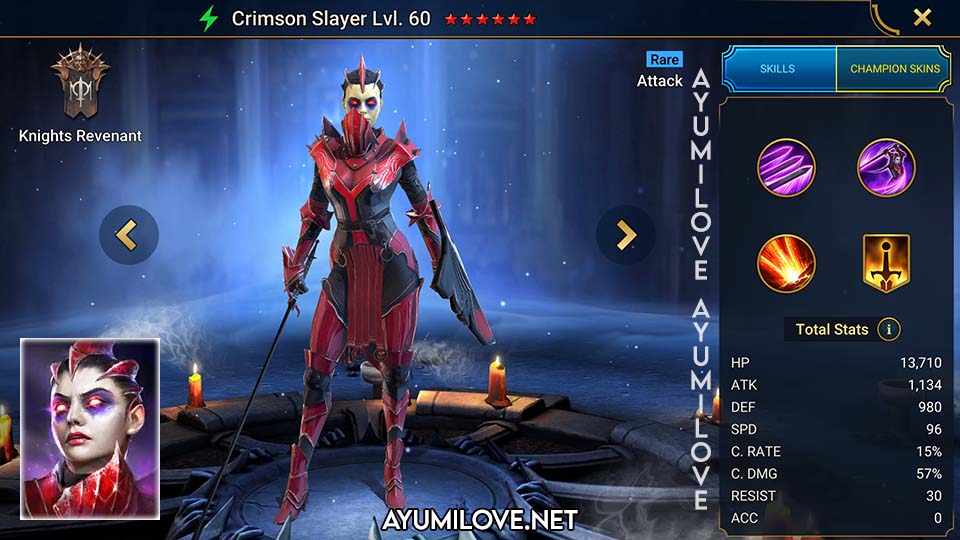 Overview

NAME: Crimson Slayer
FACTION: Knights Revenant
RARITY: Rare
ROLE: Attack
AFFINITY: Spirit
RANK: C
USABILITY: N/A
TOMES: 19 (N/A)

Abilities

RSL_AoE_HealReduction_50%
RSL_Faction_AttackAura
RSL_Random_BasicAttack_3Hits
RSL_Random_Sleep
RSL_Self_IncreaseTurnMeter
RSL_Target_DecreaseTurnMeter

Obtain from

Mystery Shard
Ancient Shard

Champion Fusion

Grinding

★★★✰✰ Campaign
★★★★✰ Arena Defense
★★★★✰ Arena Offense
★✰✰✰✰ Clan Boss
★✰✰✰✰ Hydra
★★★★✰ Faction Wars

Dungeons

★★★✰✰ Minotaur
★★✰✰✰ Spider
★★★★✰ Fire Knight
★★★✰✰ Dragon
★★★✰✰ Ice Golem

Potion

★★✰✰✰ Arcane Keep
★★✰✰✰ Void Keep
★★★✰✰ Force Keep
★★★✰✰ Spirit Keep
★✰✰✰✰ Magic Keep

Doom Tower

★✰✰✰✰ Floors
★✰✰✰✰ Magma Dragon
★✰✰✰✰ Nether Spider
★✰✰✰✰ Frost Spider
★✰✰✰✰ Scarab King
★✰✰✰✰ Celestial Griffin
★✰✰✰✰ Eternal Dragon
★✰✰✰✰ Dreadhorn
★✰✰✰✰ Dark Fae
Crimson Slayer Skills
Bring Silence [ATK]
Attacks 3 times at random. Each hit has a 30% chance of placing a [Sleep] debuff for 1 turn.
Level 2: Damage +5%
Level 3: Buff/Debuff Chance +5%
Level 4: Buff/Debuff Chance +5%
Level 5: Damage +10%
Level 6: Damage +10%
Level 7: Buff/Debuff Chance +10%
Damage Multiplier: 1.6 ATK
Flowing Sword [ATK] (Cooldown: 4 turns)
Attacks 1 enemy. Has a 70% chance of decreasing the target's Turn Meter by 50%. Fills this Champion's Turn Meter equal to the amount the target loses.
Level 2: Damage +5%
Level 3: Buff/Debuff Chance +5%
Level 4: Buff/Debuff Chance +10%
Level 5: Damage +10%
Level 6: Damage +10%
Level 7: Buff/Debuff Chance +15%
Damage Multiplier: 6.4 ATK
Copious Bleed [ATK] (Cooldown: 6 turns)
Attacks all enemies. Has an 80% chance of placing a 50% [Heal Reduction] debuff for 1 turn.
Level 2: Damage +5%
Level 3: Damage +5%
Level 4: Damage +10%
Level 5: Buff/Debuff Chance +10%
Level 6: Damage +10%
Level 7: Buff/Debuff Chance +10%
Level 8: Cooldown -1
Damage Multiplier: 3.8 ATK
Aura
Increases Ally ATK in Faction Crypts by 17%.
Crimson Slayer Equipment Guide
Equipment Set for Arena, Campaign, Dungeons, Faction Wars
1 Retaliation Set, 1 Speed Set
1 Relentless Set, 1 Speed Set
2 Offense Set, 1 Speed Set
1 Stun Set, 1 Speed Set
Equipment Set for Clan Boss
1 Lifesteal Set, 1 Speed Set
Equipment Stat Priority
Attack%, Critical Rate, Critical Damage, Speed, Accuracy
Weapon (Attack)
Helmet (HP)
Shield (Defense)
Gauntlets (Critical Rate)
Chestplate (Attack%)
Boots (Speed)
Ring (Attack)
Amulet (Critical Damage)
Banner (Accuracy)
Crimson Slayer Mastery Guide
Arena, Campaign, Clan Boss, Dungeons, Doom Tower, Faction Wars
Offense

Deadly Precision
Keen Strike
Shield Breaker
Whirlwind of Death
Cycle of Violence
Kill Streak
Methodical
Warmaster

Defense

N/A

Support

Pinpoint Accuracy
Charged Focus
Swarm Smiter
Arcane Celerity
Lore of Steel
Evil Eye
Master Hexer
Crimson Slayer Storyline
Stained red with blood, the Crimson Slayer roams the battlefield. Once a proud warrior, she has succumbed to the darkness within and without. Now bereft of her old self and driven forth by the will of her dark Master, she fights with the desperate abandon of a berserker. The dark magic that courses through the veins allows the Crimson Slayer to sap away her foe's will to fight with every strike – sometimes to the point of sending hapless Champions into deep and apathetic slumber – while invigorating herself to greater acts of carnage. Even her sword has been enhanced with terrible hexes that allow the blade to cause torn wounds that even the best of healers will struggle to heal.
Crimson Slayer Videos
Raid Shadow Legends Crimson Slayer Guide by Edward Moore
Raid Shadow Legends Crimson Slayer Guide by AliAlPlays
Raid Shadow Legends Crimson Slayer Guide by SecondStar Right