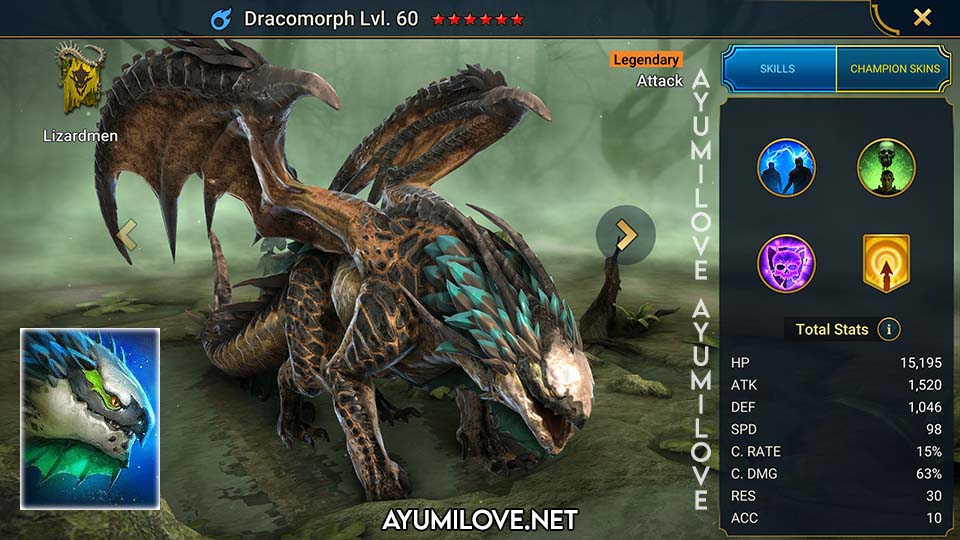 Overview

NAME: Dracomorph
FACTION: Lizardmen
RARITY: Legendary
ROLE: Attack
AFFINITY: Magic
RANK: S
USABILITY: Early-Mid-Late Game
TOMES: 10 (A2 A3)

Total Stats (6★)

Health Points (HP): 15,195
Attack (ATK): 1,520
Defense (DEF): 1,046
Speed (SPD): 98
Critical Rate (C.RATE): 15%
Critical Damage (C.DMG): 63%
Debuff Resistance (RESIST): 30
Debuff Accuracy (ACC): 10

Obtain from

Ancient Shard
Sacred Shard

Team Setup

Grinding

★★★★★ Campaign
★★★★★ Arena Defense
★★★★★ Arena Offense
★★★★★ Clan Boss
★★★★★ Faction Wars

Dungeons

★★★★★ Minotaur
★★★★✰ Spider
★★★✰✰ Fire Knight
★★★★★ Dragon
★★★★★ Ice Golem

Potion

★★★★★ Arcane Keep
★★★★★ Void Keep
★★★✰✰ Force Keep
★★★★★ Spirit Keep
★★★★★ Magic Keep

Doom Tower

★★★★★ Floors
★★★★★ Magma Dragon
★✰✰✰✰ Nether Spider
★★★★★ Frost Spider
★★★★✰ Scarab King
★★★★★ Celestial Griffin
★★★★★ Eternal Dragon
★✰✰✰✰ Dreadhorn
★★★★★ Dark Fae
Dracomorph Review
Dracomorph is a Legendary Attack Magic affinity champion from Lizardmen faction in Raid Shadow Legends. Dracomorph is one of the most desired champions in the game, who can inflict multiple debuffs on many enemies simultaneously and deals insane amount of damage when built correctly!
Dracomorph's Baleful Eye (A3 Skill) applies AoE Decrease Defense and Weaken to set up your damage nukers to deal maximum amount of damage, especially for boss raiding, dungeon speed runs and Arena (PvP Content)! In addition, Dracomorph's Poison Jaws (A2 Skill) is a multi hit ability that applies Poison debuff that deals a consistent high amount of damage for a period of time regardless of the target's HP, making him one of the best damage dealers in Clan Boss, Dragon and Ice Golem. It's recommended to book both A2 and A3 skills to unlock his full potential. Last but not least, his Seeping Pain (A1 Skill) allows him to deal greater amount of damage when the enemy has multiple debuffs on them. Dracomorph also has a useful Accuracy Aura for Faction Crypts to boost his allies base Accuracy stats if they lack Accuracy stats to apply debuffs or instant negative effects.
Overall, Dracomorph is an excellent champion who can boost your team damage considerably. He will be part of your core Lizardmen Faction Wars team playing the role as the damage dealer. Ensure that Dracomorph has sufficient Accuracy stats to inflict his debuffs and a decent amount of speed to cooldown his skills quickly.
Dracomorph Skills
Seeping Pain [ATK]
Attacks 1 enemy. Damage increases by 10% for each debuff on the target. Will attack 1 random enemy with any surplus damage if the target is killed. Damage inflicted is equal to triple the surplus damage. The surplus damage cannot be critical.
Level 2: Damage +5%
Level 3: Damage +5%
Level 4: Damage +5%
Level 5: Damage +10%
Damage Multiplier: 3.5 ATK
Poison Jaws [ATK] (Cooldown: 4 turns)
Attacks 4 times at random. Each hit places a 5% [Poison] debuff for 3 turns.
Level 2: Damage +10%
Level 3: Damage +10%
Level 4: Damage +15%
Level 5: Cooldown -1
Damage Multiplier: 1.3 ATK
Baleful Eye (Cooldown: 5 turns)
Places a 25% [Weaken] debuff and a 60% [Decrease DEF] debuff on all enemies for 2 turns.
Level 2: Cooldown -1
Level 3: Cooldown -1
Aura
Increases Ally ACC in Faction Crypts by 50.
Dracomorph Equipment Guide
Arena, Campaign, Clan Boss, Doom Tower, Dungeons, Faction Wars

Recommended Artifacts

Lifesteal, Bloodthirst, Accuracy, Perception, Savage, Cruel

Stats Allocation

Weapon (ATK)
Helmet (HP)
Shield (DEF)
Gauntlets (C.RATE / C.DMG / HP% / DEF%)
Chestplate (ATK% / HP% / DEF%)
Boots (SPD)
Ring (ATK / DEF)
Amulet (C.DMG / DEF)
Banner (ACC / ATK / DEF)

Stat Priority

Arena (Offense & Defense): ATK%, C.RATE, C.DMG, SPD
Clan Boss (Non-Unkillable): ACC, HP%, DEF%, SPD
Clan Boss (Unkillable): ATK%, C.RATE, C.DMG, SPD, ACC
PvE (Early-Mid Game): ACC, HP%, DEF%, SPD
PvE (Late Game): ATK%, C.RATE, C.DMG, SPD, ACC
Note: PvE content refers to Campaign, Dungeons, Doom Tower, Faction Wars
Dracomorph Mastery Guide
Arena, Campaign, Clan Boss, Dungeons, Doom Tower, Faction Wars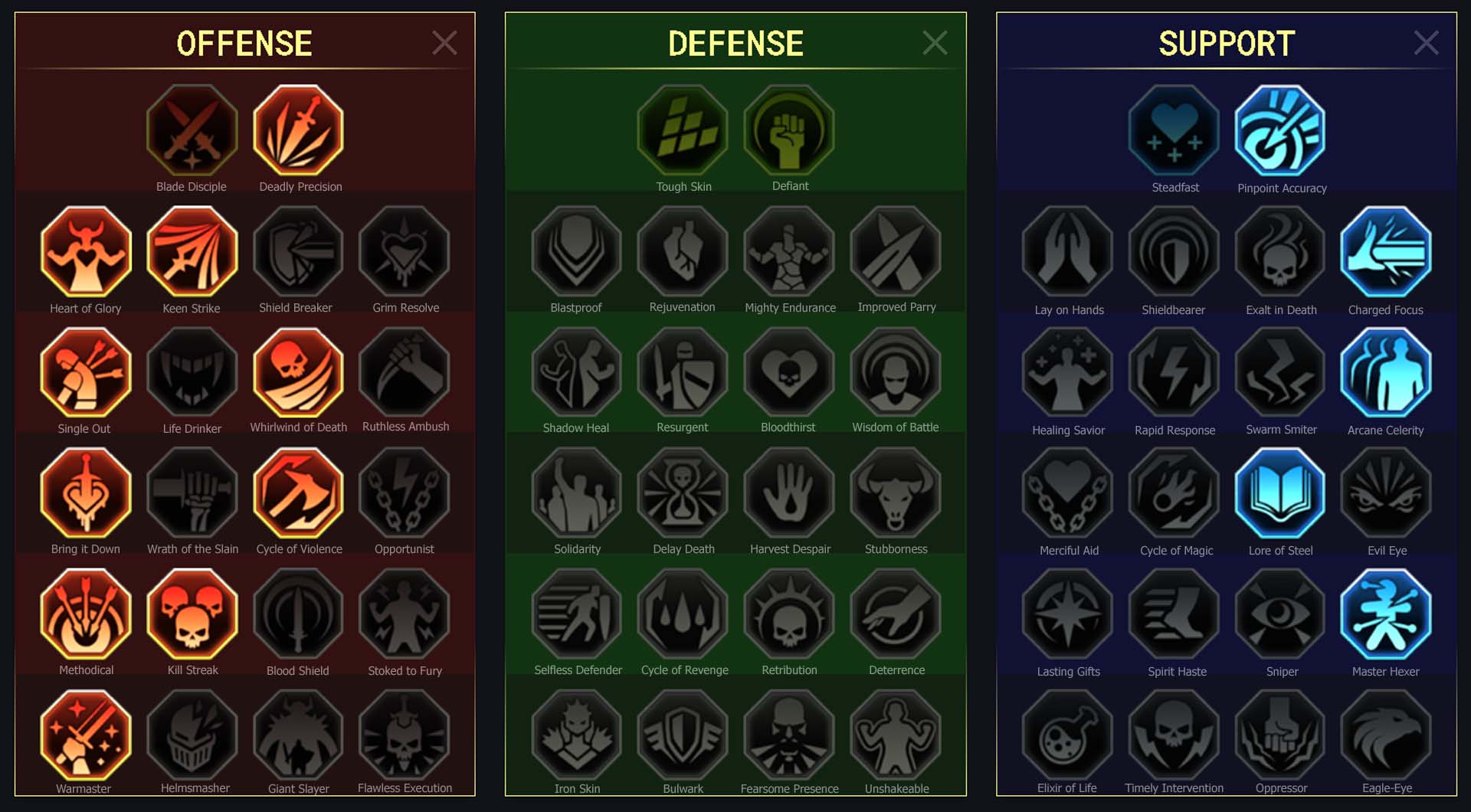 Offense

Deadly Precision
Keen Strike
Heart of Glory
Whirlwind of Death
Single Out
Cycle of Violence
Bring it Down
Kill Streak
Methodical
Warmaster

Support

Pinpoint Accuracy
Charged Focus
Swarm Smiter
Lore of Steel
Master Hexer
Dracomorph Updates
Dracomorph Videos
Raid Shadow Legends Dracomorph Champion Guide by ASH
Raid Shadow Legends Dracomorph Champion Guide by LokiMagics
Raid Shadow Legends Dracomorph Champion Guide by Chofly
Raid Shadow Legends Dracomorph Champion Guide by JGigs
Raid Shadow Legends Dracomorph Champion Guide by Verdy Gaming
Raid Shadow Legends Dracomorph Champion Guide by Kizzle Inc
https://youtu.be/46BSOjWX_JM
Champion Name Reference
English: Dracomorph
French: Dracomorphe
Deutsch: Dracomorph
Italian:
Spanish:
Chinese:
Korean:
Japanese:
Ukranian:
Russian:
Turkish:
Portuguese: