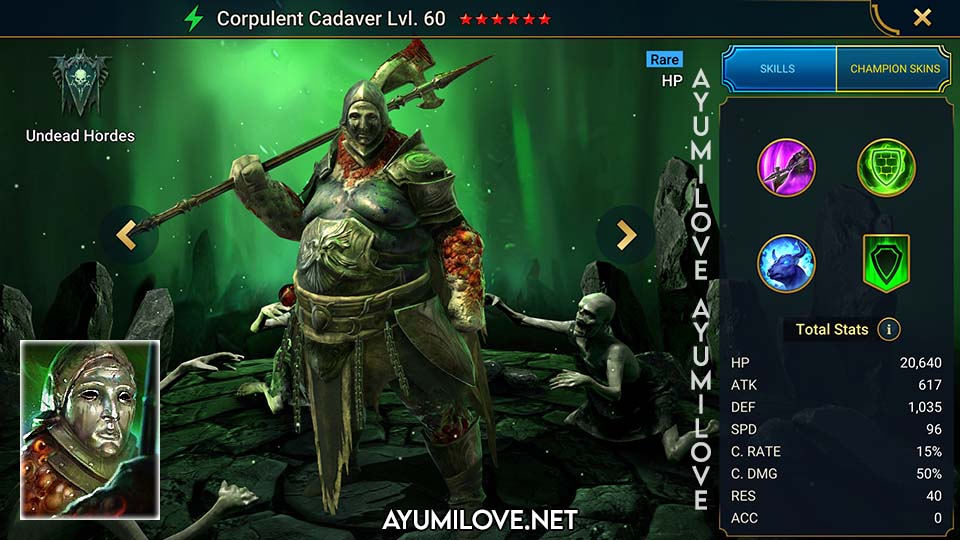 Overview

NAME: Corpulent Cadaver
FACTION: Undead Hordes
RARITY: Rare
ROLE: HP
AFFINITY: Spirit
RANK: C
USABILITY: Mid Game
TOMES: 15 (A3)

Abilities

RSL_AllBattles_DefenseAura
RSL_Self_ExtraTurn
RSL_Self_Shield
RSL_Target_Provoke

Obtain from

Mystery Shard
Ancient Shard
Gurptuk Moss-Beard Fusion
Rotos the Lost Groom Fusion

Team Setup

Grinding

★★★✰✰ Campaign
★★★✰✰ Arena Defense
★★★✰✰ Arena Offense
★★★★★ Clan Boss
★★★★★ Hydra
★★★✰✰ Faction Wars

Dungeons

★★★✰✰ Minotaur
★✰✰✰✰ Spider
★✰✰✰✰ Fire Knight
★★★✰✰ Dragon
★★★✰✰ Ice Golem
★✰✰✰✰ Iron Twins
★✰✰✰✰ Sand Devil

Potion

★★★✰✰ Arcane Keep
★★★✰✰ Void Keep
★★★✰✰ Force Keep
★✰✰✰✰ Spirit Keep
★✰✰✰✰ Magic Keep

Doom Tower

★✰✰✰✰ Floors
★★★★★ Magma Dragon
★✰✰✰✰ Nether Spider
★✰✰✰✰ Frost Spider
★★★★✰ Scarab King
★★✰✰✰ Celestial Griffin
★✰✰✰✰ Eternal Dragon
★✰✰✰✰ Dreadhorn
★✰✰✰✰ Dark Fae
Corpulent Cadaver Skills
Crushing Mass
Attacks 1 enemy. Inflicts additional damage if this Champion is under a [Shield] buff. The damage is equal to 30% of the value of the [Shield].
Level 2: Damage +5%
Level 3: Damage +5%
Level 4: Damage +5%
Level 5: Damage +10%
Damage Multiplier: 0.19 HP + 0.3 Shield
Disgusting Display (Cooldown: 4 turns)
Places a [Shield] buff on this Champion equal to 20% of their MAX HP for 3 turns. Grants an Extra Turn.
Level 2: Shield +5%
Level 3: Shield +5%
Level 4: Shield +5%
Level 5: Shield +5%
Baleful Tenacity (Cooldown: 4 turns)
Attacks 1 enemy. Has an 80% chance of placing a [Provoke] debuff for 1 turn.
Level 2: Damage +5%
Level 3: Buff/Debuff Chance +5%
Level 4: Damage +5%
Level 5: Buff/Debuff Chance +5%
Level 6: Damage +10%
Level 7: Buff/Debuff Chance +10%
Level 8: Cooldown -1
Damage Multiplier: 0.3 HP
Aura
Increases Ally DEF in all Battles by 15%.
Corpulent Cadaver Equipment Guide
Arena, Campaign, Clan Boss, Dungeons, Doom Tower, Faction Wars

Recommended Artifacts

1 Shield Set, 1 Immortal Set
1 Destroy Set, 1 Immortal Set
1 Regeneration Set, 1 Immortal Set
2 Immortal Set, 1 Speed Set
2 Life Set, 1 Speed Set

Recommended Stats

HP%, C.RATE, SPD, ACC
Weapon (ATK)
Helmet (HP)
Shield (DEF)
Gauntlets (HP% / C.RATE)
Chestplate (HP%)
Boots (SPD)
Ring (HP / DEF)
Amulet (HP / DEF)
Banner (HP / ACC)
Corpulent Cadaver Mastery Guide
Arena, Campaign, Clan Boss, Dungeons, Doom Tower, Faction Wars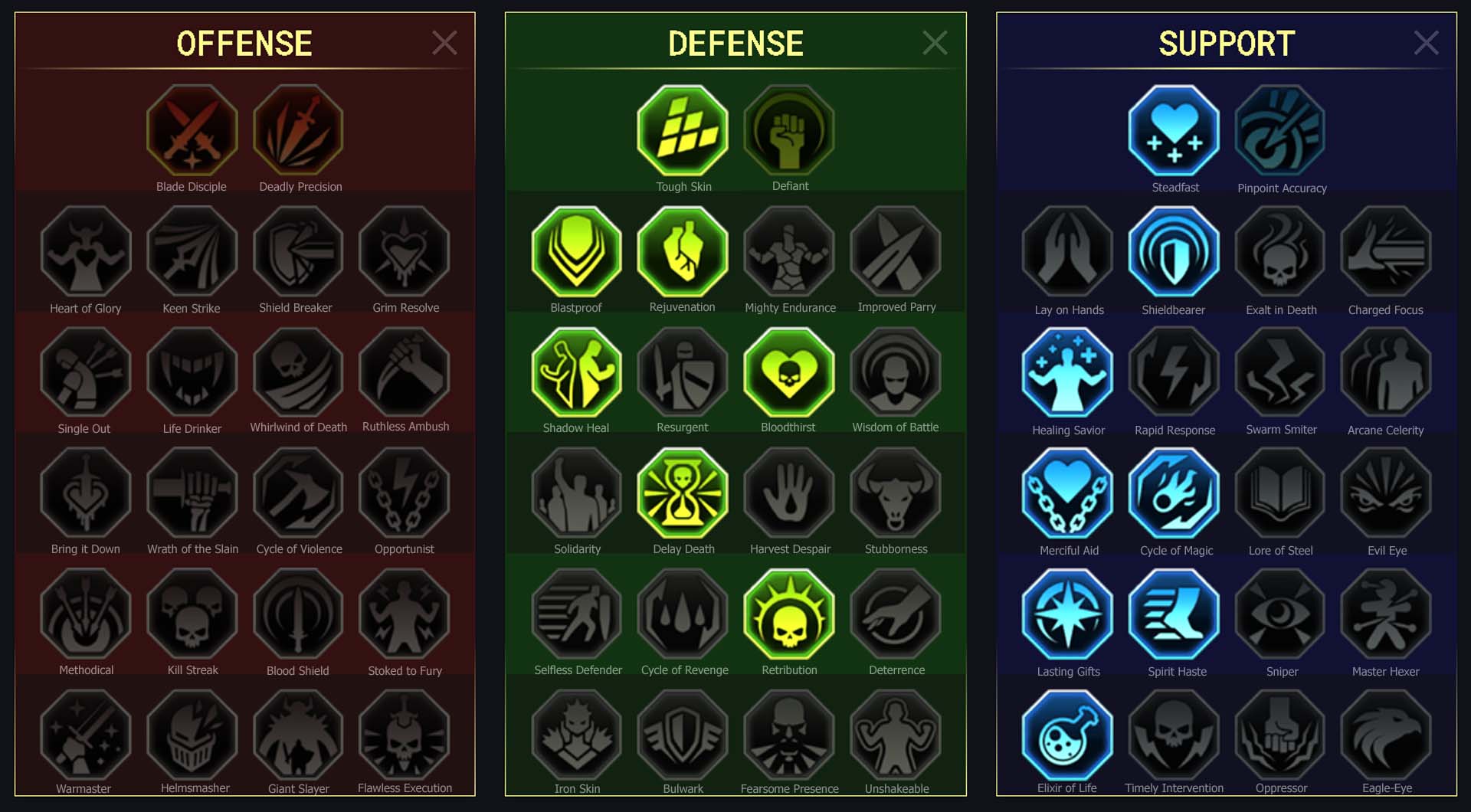 Offense

N/A

Defense

Tough Skin
Rejuvenation
Blastproof
Shadowheal
Bloodthirst
Delay Death
Retribution

Support

Steadfast
Shieldbearer
Healing Savior
Merciful Aid
Cycle of Magic
Lasting Gifts
Spirit Haste
Elixir of Life
Corpulent Cadaver Storyline
The Mage-Barons of Narbuk are known to indulge in a variety of vile practices, some even daring to dabble in necromancy and other Dark Arts. Though such indulgences are never meant to be flaunted in public, the unfortunate truth is that their power and wealth will more often than not protect the nobility from any repercussions. And the benefits of employing some of the exotic and potent magic are impossible to deny. Early in King Tayba's rule, a particular fancy seemed to have overtaken the city. Many of the Barons sought to employ Undead minions to guard their treasuries and vaults, but not just any Undead minions – those would be too trivial and cliche – they wished to see hulking reanimated Ogryn cadavers, empowered by alchemy and adorned with decorative armour that contrasted so well with their hideous appearance. No one can say for certain who started the fad, but it spread swiftly, and soon enough almost every Mage-Baron worth their salt had a small cohort of these monstrosities obeying their every whim. Of course, the creatures are not without their flaws. Much like live Ogryn, their new reanimated iteration are well-known for the rancid smell and the lack of grace. But what they lack in appearance, these Corpulent Cadavers make up for with their sheer unfaltering fortitude. If killing an Ogryn is hard, one can only imagine how much harder it is to kill an Ogryn who is already dead.
Corpulent Cadaver Videos
Raid Shadow Legends Corpulent Cadaver Champion Guide by Edward Moore
Raid Shadow Legends Corpulent Cadaver Champion Guide by SecondStar Right