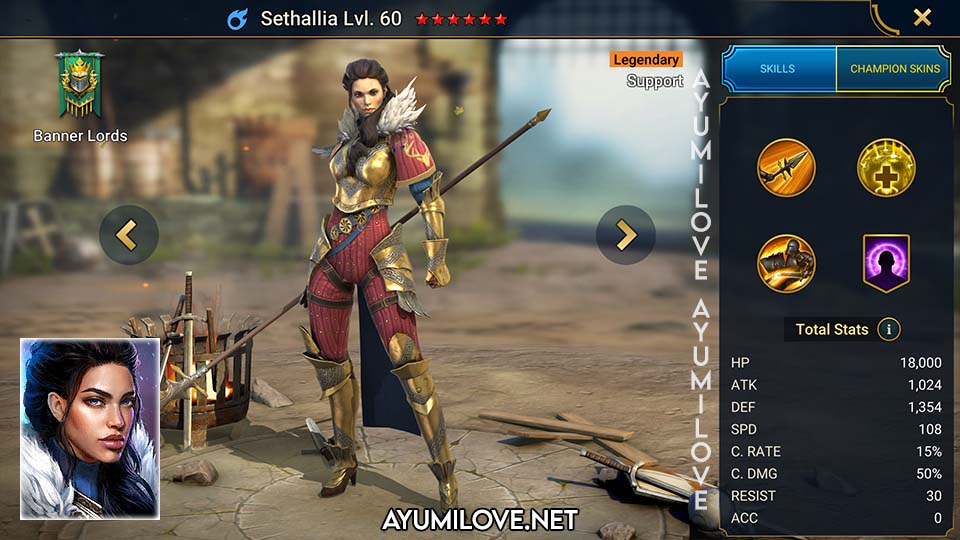 Overview

NAME: Sethallia
FACTION: Banner Lords
RARITY: Legendary
ROLE: Support
AFFINITY: Magic
RANK: S
USABILITY: Early-Mid-Late Game
TOMES: 10 (A1 A2 A3)

Abilities

RSL_AllBattles_ResistAura
RSL_AoE_DecreaseTurnMeter
RSL_AoE_Heal
RSL_AoE_IncreaseTurnMeter
RSL_AoE_RemoveBuffs
RSL_Target_BlockDebuffs
RSL_Target_Heal
RSL_Target_HpBurn
RSL_Target_RemoveDebuffs

Obtain from

Ancient Shard
Sacred Shard

Blessings Recommendation

Brimstone (Late Game)
Temporal Chains (Arena Offense)

Grinding

★★★★✰ Campaign
★★★★★ Arena Defense
★★★★★ Arena Offense
★★★★✰ Clan Boss
★★★★✰ Hydra
★★★★★ Faction Wars

Dungeons

★★★★★ Minotaur
★★★★★ Spider
★★★✰✰ Fire Knight
★★★★★ Dragon
★★★★★ Ice Golem
★★★✰✰ Iron Twins
★★✰✰✰ Sand Devil

Potion

★★★★★ Arcane Keep
★★★★★ Void Keep
★★★✰✰ Force Keep
★★★★✰ Spirit Keep
★★★★✰ Magic Keep

Doom Tower

★★★★★ Floors
★✰✰✰✰ Magma Dragon
★★★★★ Nether Spider
★★★★★ Frost Spider
★★★★✰ Scarab King
★★★★✰ Celestial Griffin
★★★★★ Eternal Dragon
★✰✰✰✰ Dreadhorn
★✰✰✰✰ Dark Fae
Sethallia Skills
Put to Flame
Attacks 1 enemy. Has a 50% chance of placing a [HP Burn] debuff for 2 turns.
Level 2: Damage +5%
Level 3: Damage +5%
Level 4: Buff/Debuff Chance +10%
Damage Multiplier: 5.4 ATK
Overall Grading: Strong
Lordly Embrace (Cooldown: 3 turns)
Removes all debuffs from a target ally, then places a [Block Debuffs] buff for 2 turns and heals that ally by 75% of their MAX HP. Heals all other allies by 20% of their MAX HP and fills their Turn Meters by 15% if the target is fully healed by this Skill.
Level 2: Heal +5%
Level 3: Heal +5%
Level 4: Cooldown -1
Aggress (Cooldown: 4 turns)
Has a 75% chance of removing all buffs from all enemies, then decreases the Turn Meters of all enemies by 10% and fills the Turn Meters of all allies by 10%. Decreases the Turn Meters of all enemies by 20% and fills the Turn Meters of all allies by 20% if 5 or more buffs were removed.
Level 2: Buff/Debuff Chance +5%
Level 3: Buff/Debuff Chance +10%
Level 4: Buff/Debuff Chance +10%
Level 5: Cooldown -1
Aura
Increases Magic Ally RESIST in all Battles by 50.
Sethallia Equipment Guide
Arena, Campaign, Clan Boss, Dungeons, Doom Tower, Faction Wars

Recommended Artifacts

Accuracy, Perception, Speed, Immortal, Regeneration

Stats Allocation

Weapon (ATK)
Helmet (HP)
Shield (DEF)
Gauntlets (DEF% / HP%)
Chestplate (DEF% / HP%)
Boots (SPD)
Ring (DEF / HP)
Amulet (DEF / HP)
Banner (ACC)

Stats Priority

HP%, DEF%, SPD, ACC
Sethallia Mastery Guide
Arena, Campaign, Clan Boss, Dungeons, Doom Tower, Faction Wars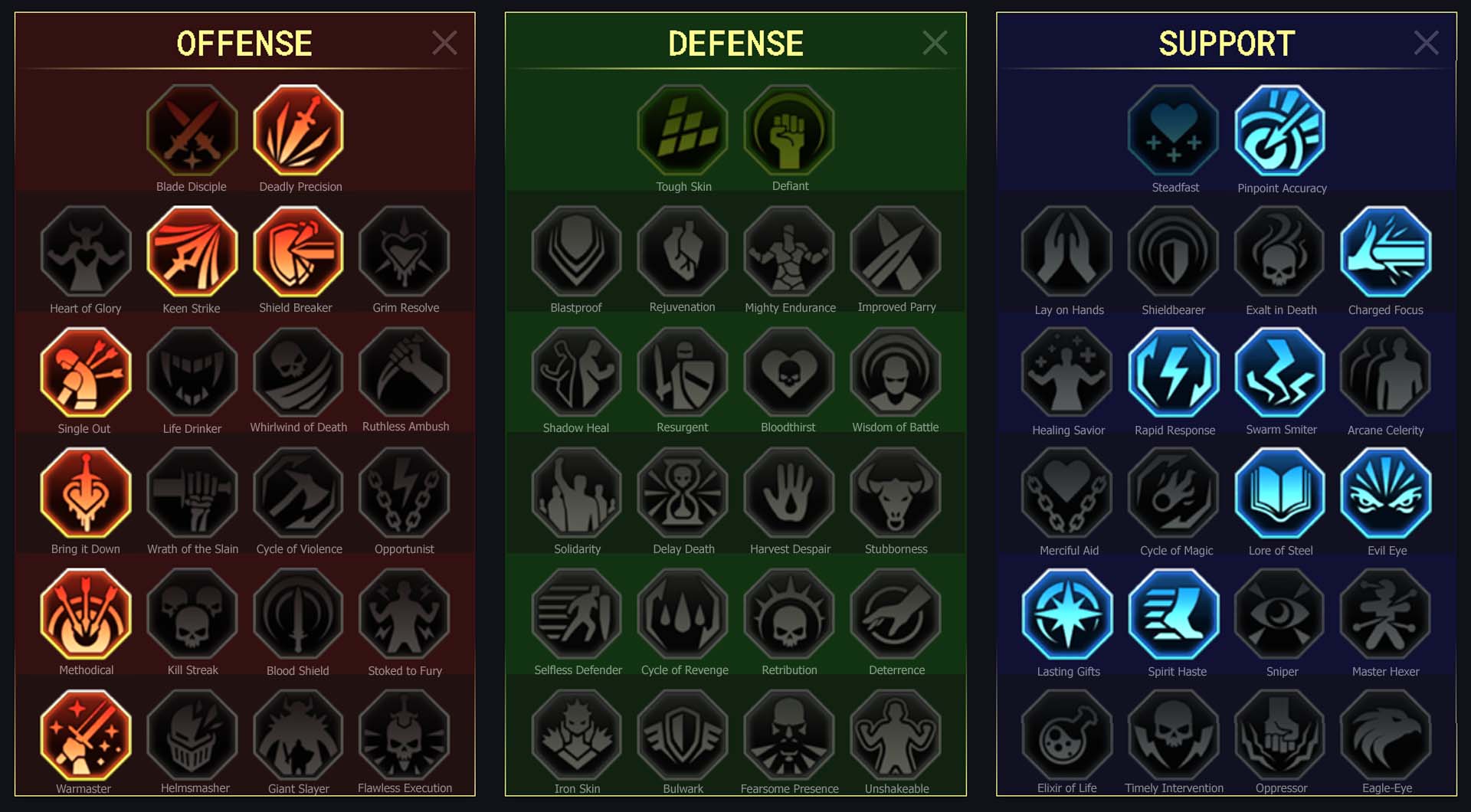 Offense

Deadly Precision
Keen Strike
Shield Breaker
Single Out
Bring it Down
Methodical
Warmaster

Support

Pinpoint Accuracy
Charged Focus
Swarm Smiter
Rapid Response
Lore of Steel
Evil Eye
Spirit Haste
Lasting Gifts
Sethallia Review
Sethallia, a Legendary Support Magic affinity champion from the Banner Lords in Raid Shadow Legends, is often overlooked by players, but she shouldn't be. She has a kit that makes her a versatile and useful champion to have on any team. Her a1 is especially feared by Sorath the Frost Spider in the Doom Tower because of her constant HP burn.
Not only is she great in Doom Tower, but Sethallia also shines in Spider's Den with her HP burn and ability to manipulate the turn meter. Her supporting kit, including her heal and the ability to remove enemy buffs, makes her valuable in waves of dungeons as well. Turn meter manipulation is also a crucial part of clearing waves of enemies, as the fewer turns they have, the more damage your team can do.
Sethallia may not have the flashiest abilities, but her kit is incredibly well-rounded. She's an excellent choice for any team looking to improve their survivability and damage output. Her A2 also provides a Shield and Debuff Immunity to an ally, which can be incredibly helpful in keeping your team alive during difficult battles.
Overall, Sethallia is an underrated champion that players should be pleased to have summoned. She may not be the most exciting champion, but her versatility and ability to adapt to any situation make her a valuable addition to any team.
Sethallia Storyline
Lady Sethallia hails from the coast of the Land of Rebirth, South of the Castle of Kaerok itself. Her ancestral fief grants control of much of the province, making Sethallia a well-known face at court as well as one of King Tayba's important vassals. Fiery-tempered and charismatic, she has earned as many enemies among the King's bannermen as she did friends. Her brash nature is well known even among Sethallia's own people, although it seems her soldiers have grown to adore and respect it. A widely-quoted story tells of her bravery when a small force of Kaerok knights fell into an orc ambush. Seeing a hulking orс chief fell a dozen of her men in that battle, Sethallia cut her way through to the beast and mocked him brazenly. The orc, who is said to have dwarfed even the tallest of King Tayba's knights, abandoned the wounded soldiers in favour of trampling the foolish noble into the dirt. Yet for all his savagery he could not match Sethallia's skill. Finally provoked into making a mistake, the orc chief soon found his throat pierced by a spear, and his kin broke and fled the field upon witnessing their leader's defeat. Needless to say, Lady Sethallia's reputation as a warrior and her popularity in the King's army blossomed after that feat. For all her recklessness, Sethallia is a capable leader that can both guide her fury to set enemy ranks ablaze with magic or direct her allies to sap away their strength in a relentless assault. But where enemies face naught but fire and wrath, Sethallia's care has been known to miraculously heal even the most grievous of wounds.
Sethallia Updates
Sethallia Videos
Raid Shadow Legends Sethallia Champion Guide by StewGaming
Raid Shadow Legends Sethallia Champion Guide by Verdy Gaming
Champion Name Reference
English: Sethallia
French: Séthallia
Deutsch:
Italian:
Spanish:
Chinese:
Korean:
Japanese:
Ukranian:
Russian:
Turkish:
Portuguese: