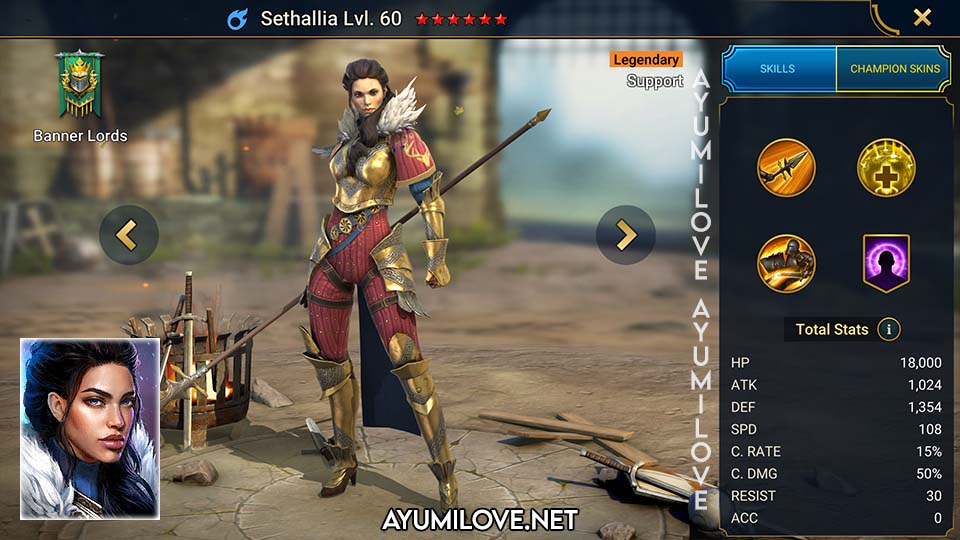 Overview

NAME: Sethallia
FACTION: Banner Lords
RARITY: Legendary
ROLE: Support
AFFINITY: Magic
RANK: S
USABILITY: Early-Mid-Late Game
TOMES: 10 (A1 A2 A3)

Abilities

RSL_AllBattles_ResistAura
RSL_AoE_DecreaseTurnMeter
RSL_AoE_Heal
RSL_AoE_IncreaseTurnMeter
RSL_AoE_RemoveBuffs
RSL_Target_BlockDebuffs
RSL_Target_Heal
RSL_Target_HpBurn
RSL_Target_RemoveDebuffs

Obtain from

Ancient Shard
Sacred Shard

Blessings Recommendation

Brimstone (Late Game)
Temporal Chains (Arena Offense)

Grinding

★★★★✰ Campaign
★★★★★ Arena Defense
★★★★★ Arena Offense
★★★★✰ Clan Boss
★★★★✰ Hydra
★★★★★ Faction Wars

Dungeons

★★★★★ Minotaur
★★★★★ Spider
★★★✰✰ Fire Knight
★★★★★ Dragon
★★★★★ Ice Golem
★★★✰✰ Iron Twins
★★✰✰✰ Sand Devil
★✰✰✰✰ Phantom Shogun

Potion

★★★★★ Arcane Keep
★★★★★ Void Keep
★★★✰✰ Force Keep
★★★★✰ Spirit Keep
★★★★✰ Magic Keep

Doom Tower

★★★★★ Floors
★✰✰✰✰ Magma Dragon
★★★★★ Nether Spider
★★★★★ Frost Spider
★★★★✰ Scarab King
★★★★✰ Celestial Griffin
★★★★★ Eternal Dragon
★✰✰✰✰ Dreadhorn
★✰✰✰✰ Dark Fae
Sethallia Skills
Put to Flame
Attacks 1 enemy. Has a 50% chance of placing a [HP Burn] debuff for 2 turns.
Level 2: Damage +5%
Level 3: Damage +5%
Level 4: Buff/Debuff Chance +10%
Damage Multiplier: 5.4 ATK
Overall Grading: Strong
Lordly Embrace (Cooldown: 3 turns)
Removes all debuffs from a target ally, then places a [Block Debuffs] buff for 2 turns and heals that ally by 75% of their MAX HP. Heals all other allies by 20% of their MAX HP and fills their Turn Meters by 15% if the target is fully healed by this Skill.
Level 2: Heal +5%
Level 3: Heal +5%
Level 4: Cooldown -1
Aggress (Cooldown: 4 turns)
Has a 75% chance of removing all buffs from all enemies, then decreases the Turn Meters of all enemies by 10% and fills the Turn Meters of all allies by 10%. Decreases the Turn Meters of all enemies by 20% and fills the Turn Meters of all allies by 20% if 5 or more buffs were removed.
Level 2: Buff/Debuff Chance +5%
Level 3: Buff/Debuff Chance +10%
Level 4: Buff/Debuff Chance +10%
Level 5: Cooldown -1
Aura
Increases Magic Ally RESIST in all Battles by 50.
Sethallia Equipment Guide
Arena, Campaign, Clan Boss, Dungeons, Doom Tower, Faction Wars

Recommended Artifacts

Accuracy, Perception, Speed, Immortal, Regeneration

Stats Allocation

Weapon (ATK)
Helmet (HP)
Shield (DEF)
Gauntlets (DEF% / HP%)
Chestplate (DEF% / HP%)
Boots (SPD)
Ring (DEF / HP)
Amulet (DEF / HP)
Banner (ACC)

Stats Priority

HP%, DEF%, SPD, ACC
Sethallia Mastery Guide
Arena, Campaign, Clan Boss, Dungeons, Doom Tower, Faction Wars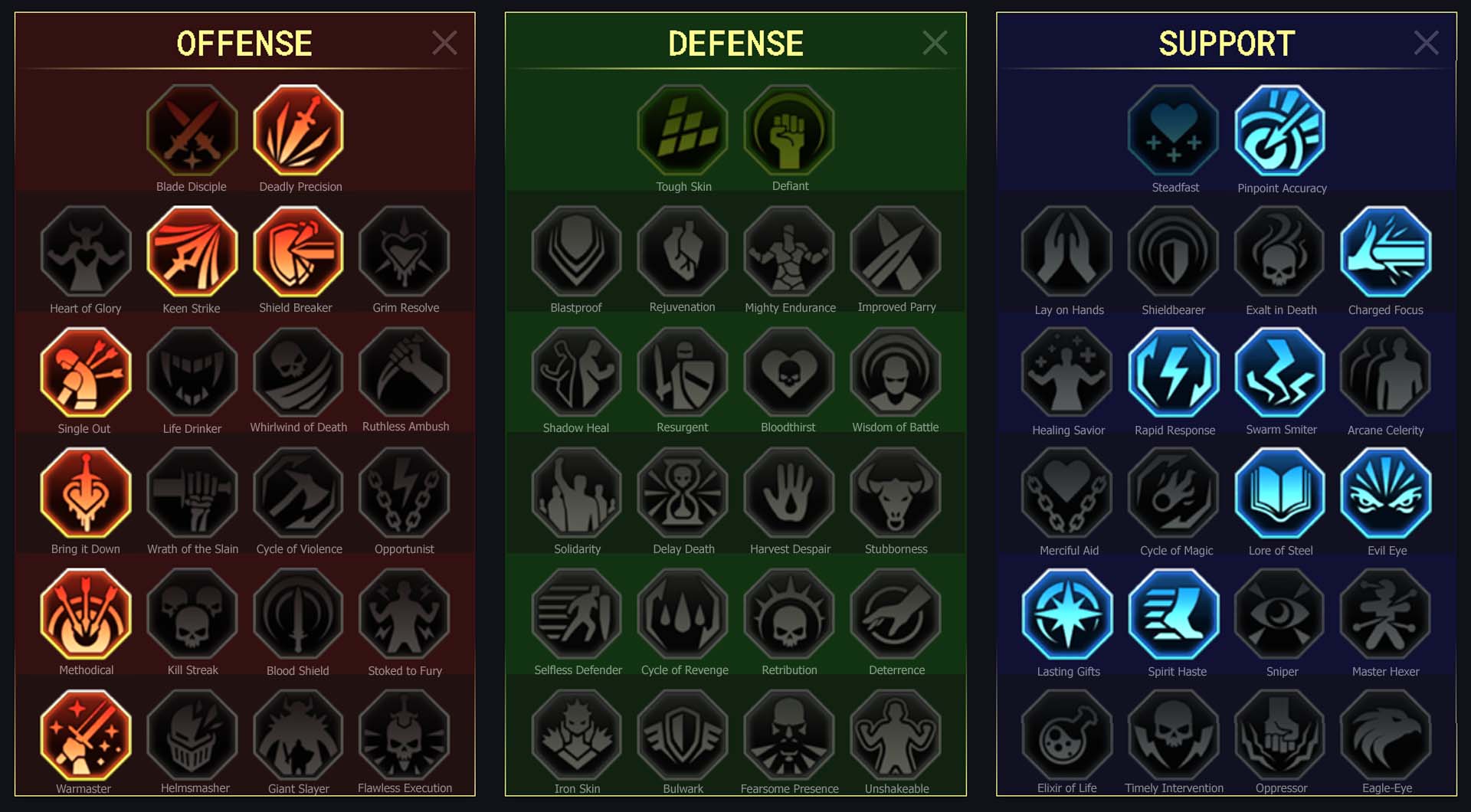 Offense

Deadly Precision
Keen Strike
Shield Breaker
Single Out
Bring it Down
Methodical
Warmaster

Support

Pinpoint Accuracy
Charged Focus
Swarm Smiter
Rapid Response
Lore of Steel
Evil Eye
Spirit Haste
Lasting Gifts
Sethallia Review
Sethallia, a Legendary Support Magic affinity champion from the Banner Lords in Raid Shadow Legends, is often overlooked by players, but she shouldn't be. She has a kit that makes her a versatile and useful champion to have on any team. Her a1 is especially feared by Sorath the Frost Spider in the Doom Tower because of her constant HP burn.
Not only is she great in Doom Tower, but Sethallia also shines in Spider's Den with her HP burn and ability to manipulate the turn meter. Her supporting kit, including her heal and the ability to remove enemy buffs, makes her valuable in waves of dungeons as well. Turn meter manipulation is also a crucial part of clearing waves of enemies, as the fewer turns they have, the more damage your team can do.
Sethallia may not have the flashiest abilities, but her kit is incredibly well-rounded. She's an excellent choice for any team looking to improve their survivability and damage output. Her A2 also provides a Shield and Debuff Immunity to an ally, which can be incredibly helpful in keeping your team alive during difficult battles.
Overall, Sethallia is an underrated champion that players should be pleased to have summoned. She may not be the most exciting champion, but her versatility and ability to adapt to any situation make her a valuable addition to any team.
Sethallia Champion Lore
Before the Kingdom of Kaerok there were the Free Cities, fiercely independent and proud. Sethallia, ruler of the Free City of Landsrell, was more farsighted than most. She had served as an envoy to the Elven nation of Aravia and seen what their tightly unified kingdom had accomplished. She had read the histories of the ancient Dragonkin Empire and learned of the centuries of peace and plenty that had come from their centralized rule. While the tyranny of the Dragon Emperors repelled her, she concluded that they became tyrants due to preventable factors. Her interpretations were colored by her sharp distaste, expressed only privately, for the other Free Cities and their lords, who cared more about personal status and grudges than the common good. She believed a lord's notion of commonweal must extend not only to their subjects, but to their rivals' subjects, for the people of Kaerok shared so many cultural and spiritual bonds. The freedom of the Free Cities she saw as foolish, for the price of their freedom was division and thus weakness.
A series of catastrophic events proved some of the merits of her views. A Free City was nearly destroyed by rampaging Skinwalkers. Later, disaster unfolded at the Council of Narbuk, a conclave intended to ease tensions and mend rifts between branches of the Church of Lumaya. Sethallia, always a believer in unity, listened eagerly for news from the Council, expecting a new age of peace and tolerance to emerge. Instead, a chaotic schism unfolded when certain delegates were allegedly assassinated during a recess after one heated exchange. Hardliners from the Sacred Order and the Free Cities took control of the Council and declared, among other strict and inflammatory decrees, that Skinwalkers were to be universally abhorred and destroyed as servants of Darkness. In the wake of this, savage purges occurred all over Kaerok. Sethallia had always sympathized with Skinwalkers, viewing them as victims of a curse and not monsters, and was disgusted by the Council's verdict. But her voice of calm and reason was not enough to control the rising tide of hatred. While blood flowed in the streets and the lords plotted how best to exploit the chaos for their own gain, Sethallia saw even greater troubles brewing and prepared Landsrell for long years of hardship, stockpiling grain and recruiting troops. Others called her paranoid.
Sethallia was right again. The repercussions of the debacle at the Council took time to propagate, but like an avalanche triggered by a distant quake, backlash was inevitable. The Council's verdict had been an affront to the Church in Frostheim, which had long ago integrated Skinwalkers into their canon, deeming them part of Lumaya's divine plan regardless of the origins of their curse. The Free Cities found themselves under lightning attack from the north as Frostheim warriors and their Orc auxiliaries poured across their borders. The lords of Kaerok's Free Cities were largely unconcerned with culture and politics outside their realm, and so failed to realize exactly how high the tension on their border had been ratcheted. They paid dearly for this.
As the northernmost cities fell, many lords saw the chaos as a gainful opportunity. Many paid off the invaders, creating a bidding war whose loser was overwhelmed and sacked without assistance from the others, enriching and empowering the Frostheim coalition in the process. The Free Cities were defeated in detail, and Sethallia's warnings finally gained credibility. The lords styled themselves knights, but they had no leader to rally them all together and direct their strength toward the true threats that surrounded them. Long and grinding years of war and raiding passed while the Free Cities slowly coordinated a coherent defense. Landsrell, fortified and prepared, withstood wave after wave of attacks, proving to be a keystone in the defense of the realm overall. If Sethallia's realm had fallen, the unity of the others would likely have disintegrated and Kaerok as a polity would have ended then and there. Instead, she endured, rallying support from the flagging lords, until the man emerged who godfathered the Kingdom of Kaerok as a new political entity: Acelin the Stalwart.
If Acelin, first King of Kaerok and Knight of Knights, was the godfather, Sethallia must be accounted the godmother. Due to the evolving contours of the war she could not coordinate extensively with Acelin, and met him only once, at his coronation. But she was one of his first and greatest advocates. Respected for her foresight, she helped justify Acelin's growing consolidation of power. Acelin went on to unite the Free Cities and drive the Frostheimers back, establishing borders of Kaerok that have persisted more or less unchanged through the present. He later entered into a political marriage as part of the process of rebuilding Frostheim and Kaerok's relationship — a fact that was said to have left Sethallia quietly heartbroken.
Sethallia Storyline
Lady Sethallia hails from the coast of the Land of Rebirth, South of the Castle of Kaerok itself. Her ancestral fief grants control of much of the province, making Sethallia a well-known face at court as well as one of King Tayba's important vassals. Fiery-tempered and charismatic, she has earned as many enemies among the King's bannermen as she did friends. Her brash nature is well known even among Sethallia's own people, although it seems her soldiers have grown to adore and respect it. A widely-quoted story tells of her bravery when a small force of Kaerok knights fell into an orc ambush. Seeing a hulking orс chief fell a dozen of her men in that battle, Sethallia cut her way through to the beast and mocked him brazenly. The orc, who is said to have dwarfed even the tallest of King Tayba's knights, abandoned the wounded soldiers in favour of trampling the foolish noble into the dirt. Yet for all his savagery he could not match Sethallia's skill. Finally provoked into making a mistake, the orc chief soon found his throat pierced by a spear, and his kin broke and fled the field upon witnessing their leader's defeat. Needless to say, Lady Sethallia's reputation as a warrior and her popularity in the King's army blossomed after that feat. For all her recklessness, Sethallia is a capable leader that can both guide her fury to set enemy ranks ablaze with magic or direct her allies to sap away their strength in a relentless assault. But where enemies face naught but fire and wrath, Sethallia's care has been known to miraculously heal even the most grievous of wounds.
Sethallia Updates
Sethallia Videos
Raid Shadow Legends Sethallia Champion Guide by StewGaming
Raid Shadow Legends Sethallia Champion Guide by Verdy Gaming
Champion Name Reference
English: Sethallia
French: Séthallia
Deutsch:
Italian:
Spanish:
Chinese:
Korean:
Japanese:
Ukranian:
Russian:
Turkish:
Portuguese: