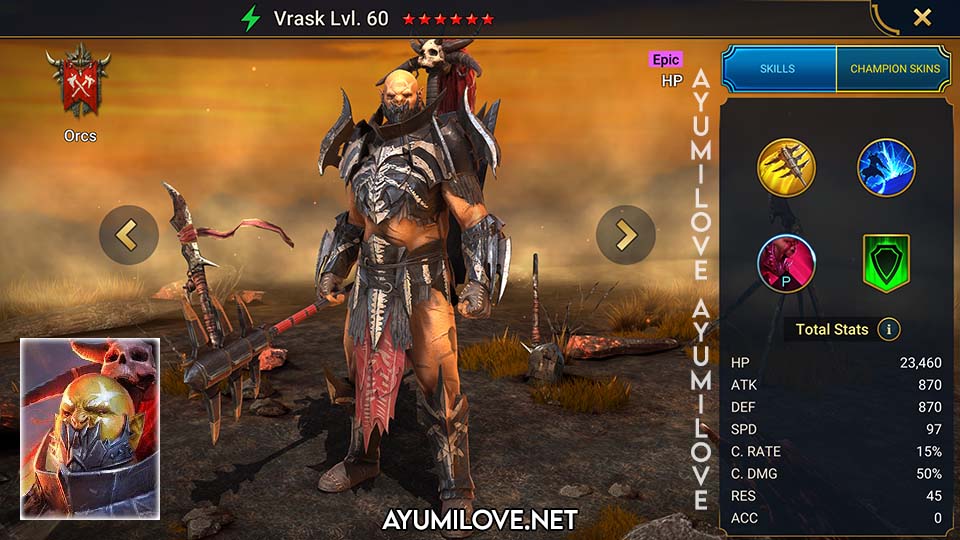 Obtain from

Ancient Shard
Sacred Shard

Overview

NAME: Vrask
FACTION: Orcs
RARITY: Epic
ROLE: HP
AFFINITY: Spirit
RANK: A
USABILITY: Early-Mid-Late Game
TOMES: 8 (N/A)

Total Stats (6★)

Health Points (HP): 23,460
Attack (ATK): 870
Defense (DEF): 870
Speed (SPD): 97
Critical Rate (C.RATE): 15%
Critical Damage (C.DMG): 50%
Debuff Resistance (RESIST): 45
Debuff Accuracy (ACC): 0

Grinding

★★★★✰ Campaign
★★★★★ Arena Defense
★★★★★ Arena Offense
★★★★★ Clan Boss
★★★★★ Faction Wars

Dungeons

★★★★★ Minotaur
★★★✰✰ Spider
★★★✰✰ Fire Knight
★★★★★ Dragon
★★★★★ Ice Golem

Potion

★★★★✰ Arcane Keep
★★★★✰ Void Keep
★★★★✰ Force Keep
★★★✰✰ Spirit Keep
★✰✰✰✰ Magic Keep

Doom Tower

★★★★✰ Magma Dragon
★★★★✰ Nether Spider
★★★★★ Frost Spider
★★★★✰ Scarab King
★★★★✰ Celestial Griffin
★★★★★ Eternal Dragon
Vrask Skills
Whack [HP]
Attacks 1 enemy. Fills this Champion's Turn Meter by 20% if this attack is critical.
Level 2: Damage +5%
Level 3: Damage +5%
Level 4: Damage +5%
Level 5: Damage +5%
Damage Multiplier: 0.1 HP
Lightning Strike [HP] (Cooldown: 4 turns)
Attacks 1 enemy.
Level 2: Damage +5%
Level 3: Damage +10%
Level 4: Damage +10%
Level 5: Cooldown -1
Damage Multiplier: 0.15 HP
Cannibalism [Passive]
Heals all allies by 10% of his MAX HP when he inflicts a critical hit.
Aura
Increases Ally DEF in Dungeons by 33%.
Vrask Equipment Guide
Arena, Campaign, Clan Boss, Dungeons, Doom Tower, Faction Wars

Recommended Artifacts

Retaliation, Immortal, Relentless, Life, Resist, Speed

Recommended Stats

HP%, DEF%, C.RATE, SPD, RESIST
Weapon (ATK)
Helmet (HP)
Shield (DEF)
Gauntlets (C.RATE)
Chestplate (HP%)
Boots (Speed)
Ring (DEF / HP)
Amulet (DEF / HP)
Banner (DEF / HP / RESIST)
Vrask Mastery Guide
Arena, Campaign, Clan Boss, Dungeons, Doom Tower, Faction Wars
Offense

Deadly Precision
Keen Strike
Life Drinker
Bring it Down
Wrath of the Slain
Methodical
Warmaster

Defense

Defiant
Rejuvenation
Improved Parry
Resurgent
Shadow Heal
Delay Death
Cycle of Revenge
Retribution

Support

N/A
Vrask Review
Raid Shadow Legends – Vrask is an Epic HP Spirit affinity champion from the Orcs Faction where he can be obtained from Ancient Shards and Sacred Shards. Vrask is one of the best healing champion in the game where he has a unique passive skill that allows him to heal his allies based on his MAX HP whenever he performs a Critical Hit on an enemy! Hence, you can quickly replenish squishy champions HP quickly. When Vrask is equipped with either a Retaliation Set or Relentless Set, it allows him to perform additional hit and this increases his healing output significantly especially in a lengthy battle!
Vrask Reference
Vrask All-Rounder Build
The artifacts equipped on Vrask are optimised for Arena, Campaign, Dungeons, Doom Tower and Faction Wars content. Retaliation Set is used to enable Vrask to perform counterattack whenever the enemy hits him while Immortal Set increases Vrask base HP and provide additional healing upon reaching his turn. Everytime Vrask attacks an enemy with a Critical Hit (regardless its counterattack or non-counterattack), he heals all of his allies based on a portion of MAX HP. Hence, the stats prioritized for Vrask are high HP, Critical Rate, Speed and Resist. Resist reduces the chances of Vrask being crowd controlled or decreased his efficiency by enemies, so he can consistently perform his duties when the battle turns deadly.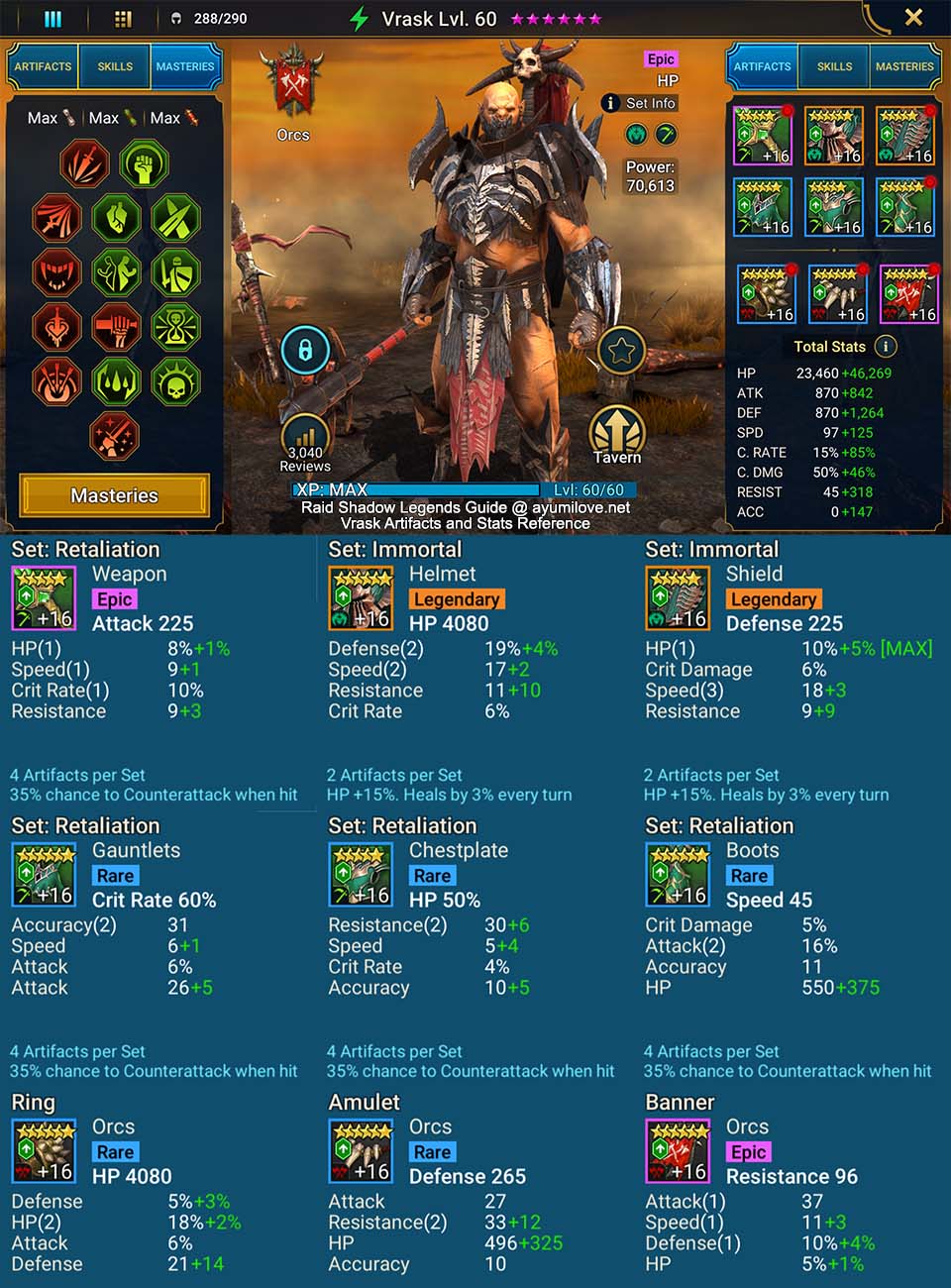 Vrask Videos
Raid Shadow Legends Vrask Champion Guide by ASH
Raid Shadow Legends Vrask Champion Guide by AliAlPlays
Raid Shadow Legends Vrask Champion Guide by SaltyVille LBX
Raid Shadow Legends Vrask Champion Guide by StewGaming