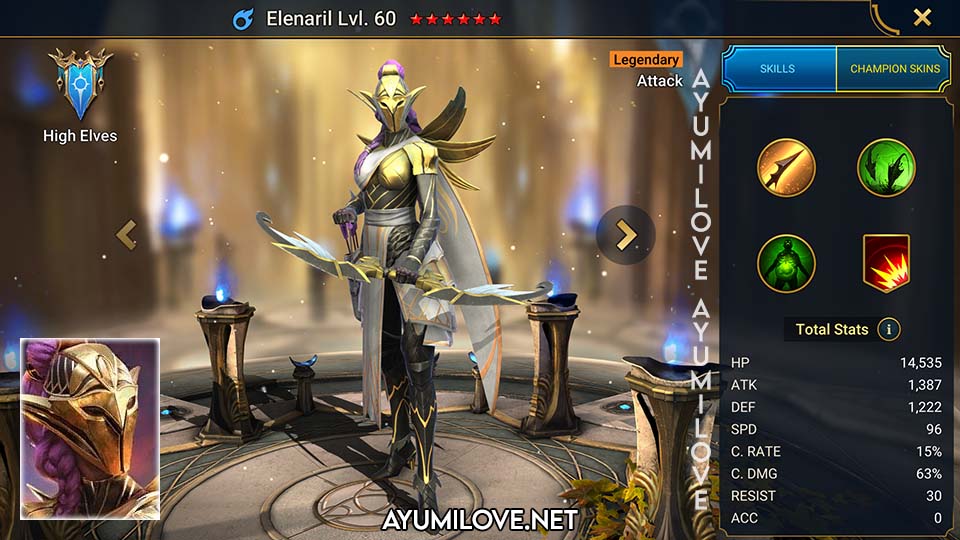 Overview

NAME: Elenaril
FACTION: High Elves
RARITY: Legendary
ROLE: Attack
AFFINITY: Magic
RANK: B
USABILITY: Situational
TOMES: 10 (A2 A3)

Abilities

RSL_AoE_Poison_5%
RSL_AoE_Poison_Detonate
RSL_Faction_CriticalRateAura
RSL_Target_HpBurn

Obtain from

Ancient Shard
Sacred Shard

Blessings Recommendation

Brimstone (Late Game)

Grinding

★★★✰✰ Campaign
★★★✰✰ Arena Defense
★★★★✰ Arena Offense
★★★★✰ Clan Boss
★★★✰✰ Hydra
★★★✰✰ Faction Wars

Dungeons

★★★★✰ Minotaur
★★★★✰ Spider
★★★✰✰ Fire Knight
★★★★★ Dragon
★★★★★ Ice Golem
★★★✰✰ Iron Twins

Potion

★★★★✰ Arcane Keep
★★★★★ Void Keep
★★✰✰✰ Force Keep
★★★★✰ Spirit Keep
★★★★✰ Magic Keep

Doom Tower

★★★★✰ Floors
★✰✰✰✰ Magma Dragon
★★✰✰✰ Nether Spider
★★★★★ Frost Spider
★★★✰✰ Scarab King
★★✰✰✰ Celestial Griffin
★★✰✰✰ Eternal Dragon
★✰✰✰✰ Dreadhorn
★★✰✰✰ Dark Fae
Elenaril Skills
Searing Rebuke
Attacks 1 enemy. Places a [HP Burn] debuff for 2 turns. This debuff cannot be resisted.
Level 2: Damage +5%
Level 3: Damage +5%
Level 4: Damage +10%
Level 5: Damage +10%
Damage Multiplier: 3.6 ATK
Smolder (Cooldown: 4 turns)
Attacks all enemies. Places a 5% [Poison] debuff for 2 turns. Places a second 5% [Poison] debuff for 2 turns if the attack is critical.
Level 2: Damage +5%
Level 3: Damage +5%
Level 4: Damage +10%
Level 5: Cooldown -1
Damage Multiplier: 4.7 ATK
Combust (Cooldown: 6 turns)
Deals damage from all [Poison] debuffs on all enemies instantly.
Level 2: Cooldown -1
Level 3: Cooldown -1
Aura
Increases Ally C.RATE in Faction Crypts by 24%.
Elenaril Equipment Guide
Arena, Campaign, Clan Boss, Dungeons, Doom Tower, Faction Wars

Recommended Artifacts

Accuracy, Perception, Speed, Lifesteal, Bloodthirst

Stats Allocation

Weapon (ATK)
Helmet (HP)
Shield (DEF)
Gauntlets (C.RATE / C.DMG)
Chestplate (ATK%)
Boots (SPD)
Ring (ATK)
Amulet (C.DMG)
Banner (ACC)

Stats Priority

Attacker & Debuffer: ATK%, C.RATE, C.DMG, SPD, ACC
Elenaril Mastery Guide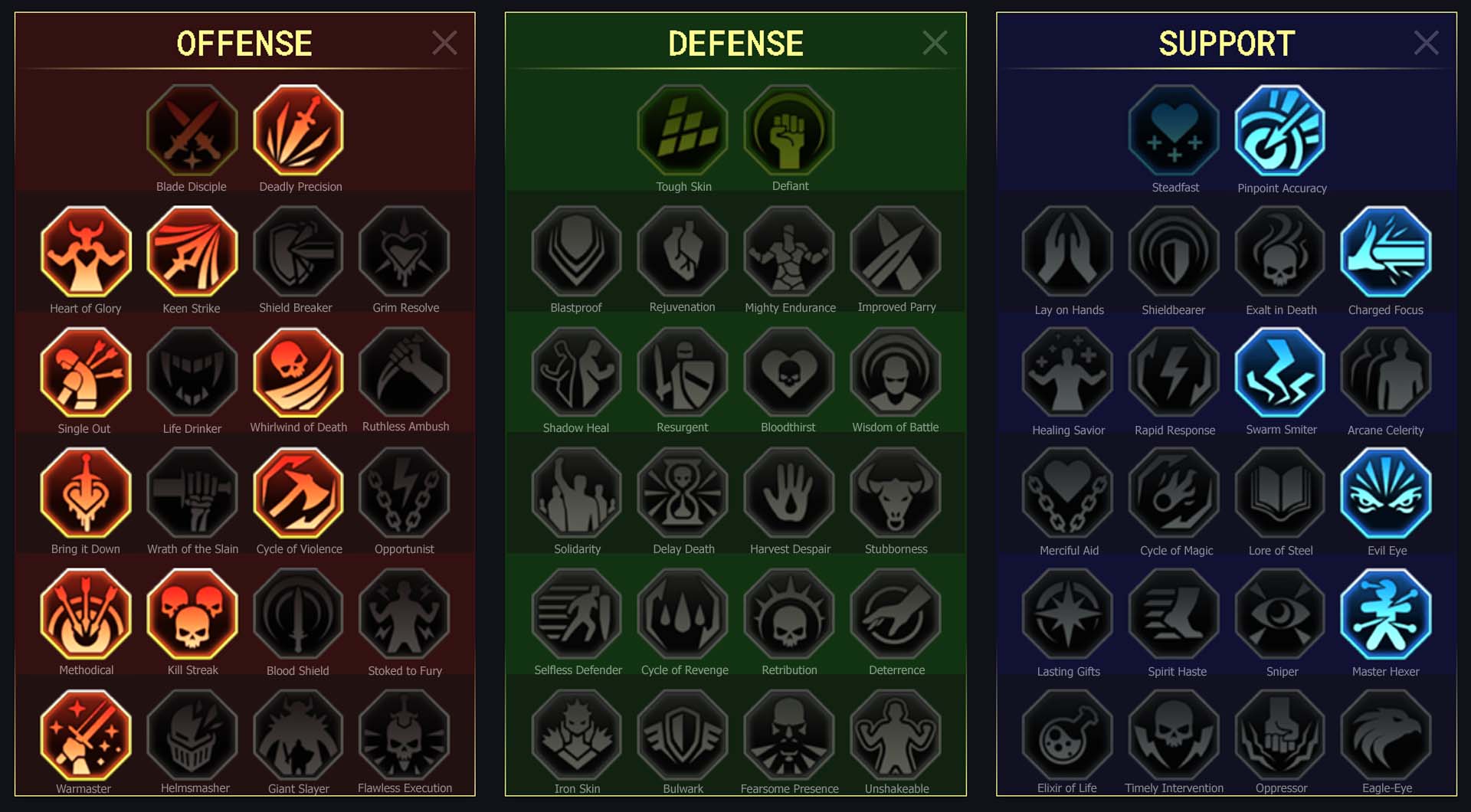 Offense

Deadly Precision
Keen Strike
Heart of Glory
Whirlwind of Death
Single Out
Cycle of Violence
Bring it Down
Methodical
Kill Streak
Warmaster

Support

Pinpoint Accuracy
Charged Focus
Swarm Smiter
Evil Eye
Master Hexer
Elenaril Storyline
The High Elves pride themselves on their advanced and intricate judicial system, its tenets, on paper, call upon the King or Queen to ensure fair and unbiased justice for all their subjects. Of course, the reality is much more difficult than that. Nobles and others in power often operate on their own set of laws, evading punishment where someone more humble would pay the full price of their transgression. Still, nobles are not completely immune. Few sights cause as much concern and fear at Queen Eva's court as the Royal Adjudicator Elenaril does. A highborn herself, she is called to settle disputes between her peers or stand judgement over them for their crimes. Intrigue and assassinations are a particularly common offense, and thus Elenaril herself has been targetted by foolish would-be murderers more than once. She is as skilled with a bow as she is with courtly manners and her knowledge of Aravian Law. More than once an attempt on her life led to Elenaril serving as both judge and executioner, sometimes by an arrow to the heart, and sometimes by more subtle means. It is no accident that she is well-versed in the most potent poisons known to Elven alchemists and always carries a vast supply of such on her person.
Elenaril Review
Elenaril is a Legendary Attack Magic affinity champion from the High Elves faction in Raid Shadow Legends. With her elfin ears and bow, she dons a golden armor that glows like the first light of dawn. This fierce warrior packs a punch with an HP burn on her A1 that's hotter than a dragon's breath and an AOE poison that spreads like wildfire. But wait, there's more! She can even explode those poisons for a grand finale of damage.
To make the most of Elenaril's talents, she needs some strong champions by her side. Think Taurus, Tomb Lord, or Richtoff the Bold – these bad boys can lay down multiple poisons on multiple enemies for Elenaril to set off like a fireworks show. When it comes to battling dragons, Agreth, Sorath, and even Kuldath the Magma Dragon, Elenaril's the gal you want in your corner. But be warned: her A1 HP burn is a double-edged sword that can slice through your team like butter.
Elenaril's poison explosion ability is a force to be reckoned with. It doesn't require any accuracy, and the damage is based solely on the number of poison stacks in play. And here's a fun fact: as of January 2021, Elenaril won't explode poisons on the Clan Boss on auto, making her a more viable option. But let's not get ahead of ourselves – she's still not quite on par with some of the epics and rares in terms of overall poison output.
Elenaril Updates
Elenaril Videos
Raid Shadow Legends Elenaril Champion Guide by AliAlPlays
Raid Shadow Legends Elenaril Champion Guide by Chofly
Raid Shadow Legends Elenaril Champion Guide by Quality Time Gaming