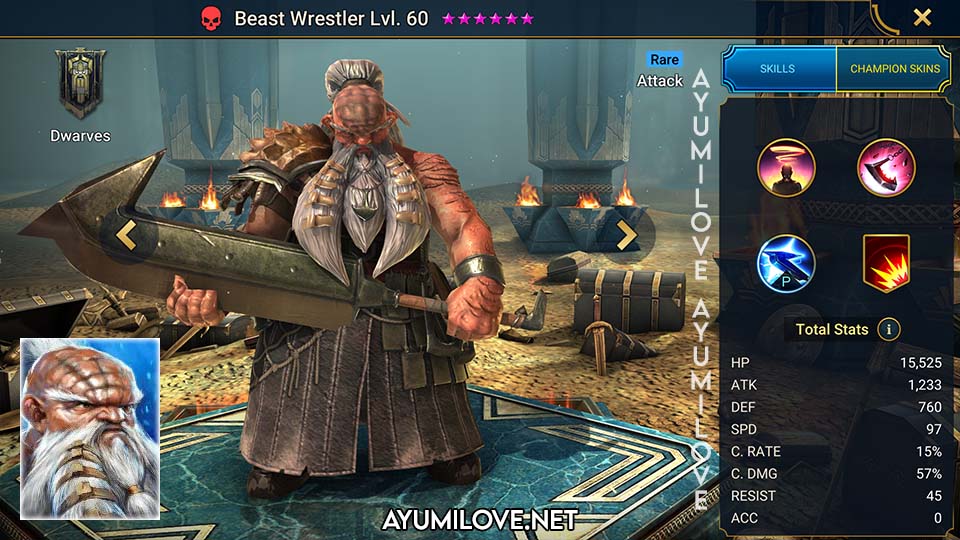 Overview

NAME: Beast Wrestler
FACTION: Dwarves
RARITY: Rare
ROLE: Attack
AFFINITY: Force
RANK: F
USABILITY: N/A
TOMES: 10 (N/A)

Abilities

RSL_Arena_CriticalRateAura
RSL_Target_BasicAttack_2Hits
RSL_Target_BlockRevive
RSL_Target_Stun

Obtain from

Mystery Shard
Ancient Shard
Gurptuk Moss-Beard Fusion
Harvest Jack Fusion
Maulie Tankard Fusion

Blessings Recommendation

Phantom Touch (Damage Dealer)

Grinding

★✰✰✰✰ Campaign
★★✰✰✰ Arena Defense
★★✰✰✰ Arena Offense
★✰✰✰✰ Clan Boss
★✰✰✰✰ Hydra
★✰✰✰✰ Faction Wars

Dungeons

★★★✰✰ Minotaur
★✰✰✰✰ Spider
★★✰✰✰ Fire Knight
★★★✰✰ Dragon
★★★✰✰ Ice Golem
★✰✰✰✰ Iron Twins
★✰✰✰✰ Sand Devil

Potion

★✰✰✰✰ Arcane Keep
★✰✰✰✰ Void Keep
★✰✰✰✰ Force Keep
★✰✰✰✰ Spirit Keep
★✰✰✰✰ Magic Keep

Doom Tower

★★★✰✰ Floors
★✰✰✰✰ Magma Dragon
★✰✰✰✰ Nether Spider
★✰✰✰✰ Frost Spider
★✰✰✰✰ Scarab King
★✰✰✰✰ Celestial Griffin
★✰✰✰✰ Eternal Dragon
★✰✰✰✰ Dreadhorn
★✰✰✰✰ Dark Fae
Beast Wrestler Skills
Weighty Cleaver
Attacks 1 enemy 2 times. Has a 20% chance of placing a [Stun] debuff for 1 turn.
Level 2: Damage +5%
Level 3: Damage +5%
Level 4: Damage +5%
Level 5: Damage +5%
Damage Multiplier: 1.6 ATK
Overall Grading: Godlike
Slaughter Prey (Cooldown: 6 turns)
Attacks 1 enemy. Enemies killed by this skill cannot be revived.
Level 2: Damage +5%
Level 3: Damage +5%
Level 4: Damage +10%
Level 5: Damage +10%
Level 6: Cooldown -1
Level 7: Cooldown -1
Damage Multiplier: 5.6 ATK
Overall Grading: Godlike
First Blood (Passive)
Increases damage inflicted by 50% for the first hit on each enemy.
Aura
Increases Ally C.RATE in the Arena by 16%
Beast Wrestler Equipment Guide
Arena, Campaign, Clan Boss, Dungeons, Doom Tower, Faction Wars

Recommended Artifacts

PvE & PvP: Savage, Lethal, Cruel, Offense

Stats Allocation

Weapon (ATK)
Helmet (HP)
Shield (DEF)
Gauntlets (C.RATE / C.DMG)
Chestplate (ATK%)
Boots (SPD)
Ring (ATK)
Amulet (C.DMG / ATK)
Banner (ATK)

Stats Priority

PvE & PvP: ATK%, C.RATE, C.DMG, SPD
Beast Wrestler Mastery Guide
Arena, Campaign, Clan Boss, Dungeons, Doom Tower, Faction Wars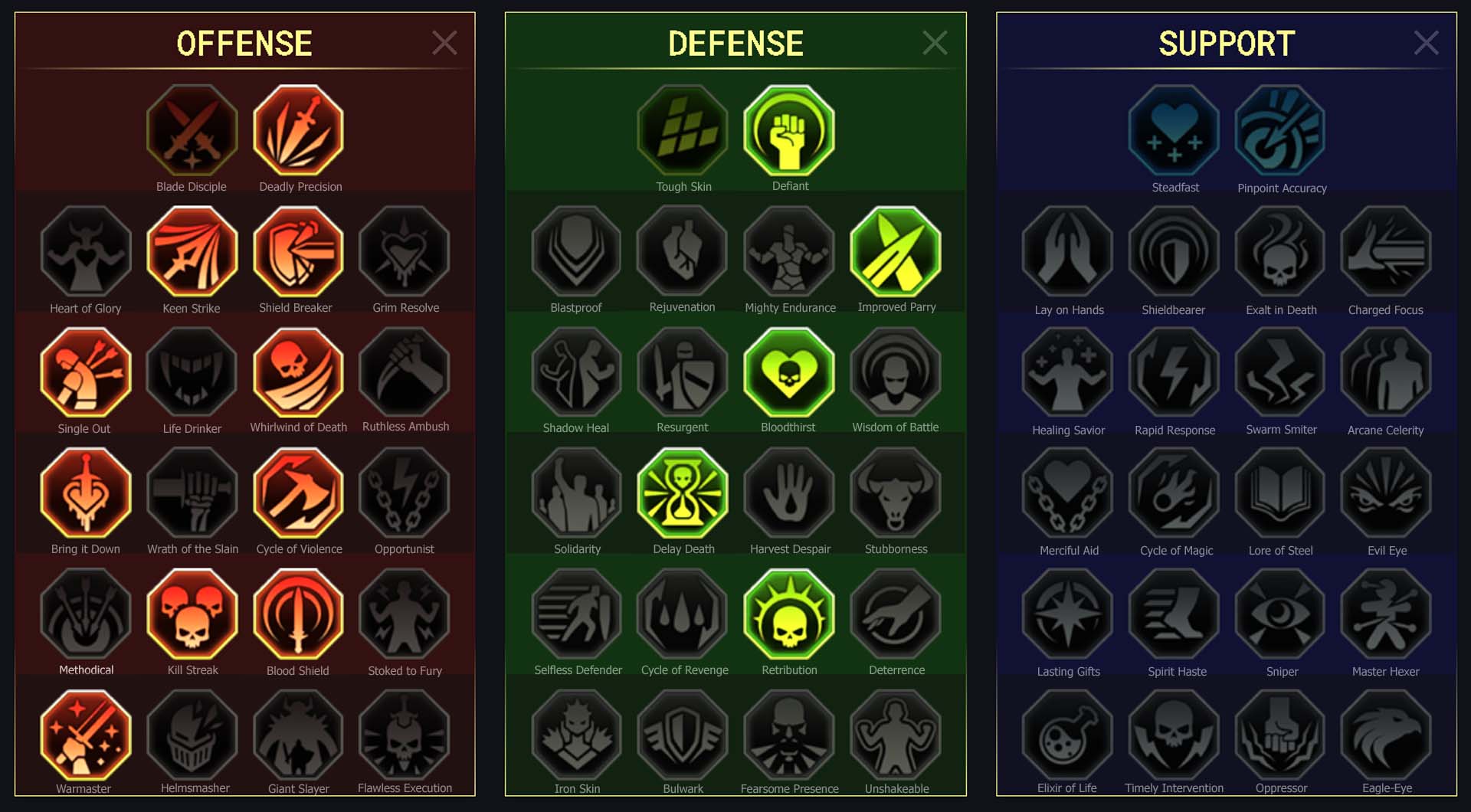 Offense

Deadly Precision
Keen Strike
Shield Breaker
Whirlwind of Death
Single Out
Cycle of Violence
Bring it Down
Kill Streak
Blood Shield
Warmaster

Defense

Defiant
Improved Parry
Bloodthirst
Delay Death
Retribution
Beast Wrestler Storyline
Beast Wrestlers fill a curious niche in the Dwarven society. Theirs is the path of a hunter, and although the underground reaches of their Kingdom are arguably not as rich in game as the lands above there, it is enough. These beasts are often dangerous, and the caverns are home to creatures far worse than predatory giant centipedes. This the Beast Wrestlers are skilled fighters all. They learn the art of dazing their prey in battle and are quite capable of ensuring it does not rise again after being felled once – far too many critters of the deep tend to be hard to kill.
Beast Wrestler Updates