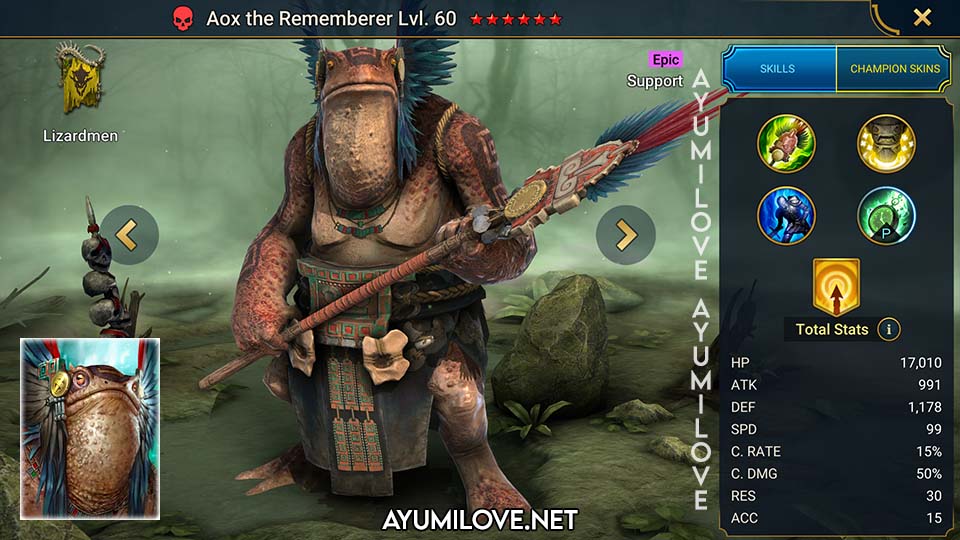 Obtain from

Ancient Shard
Sacred Shard

Overview

FACTION: Lizardmen
RARITY: Epic
ROLE: Support
AFFINITY: Force
USABILITY: Early-Mid Game
TOMES: 11 (A2 A3)

Total Stats (6★)

Health Points (HP): 17,010
Attack (ATK): 991
Defense (DEF): 1,178
Speed (SPD): 99
Critical Rate (C.RATE): 15%
Critical Damage (C.DMG): 50%
Debuff Resistance (RESIST): 30
Debuff Accuracy (ACC): 15

Grinding

★★★✰✰ Campaign
★★★✰✰ Arena Defense
★★★✰✰ Arena Offense
★★★★★ Clan Boss
★★★★★ Faction Wars

Dungeons

★★★✰✰ Minotaur's Labyrinth
★★★★✰ Spider's Den
★★★★✰ Fire Knight's Castle
★★★★★ Dragon's Lair
★★★★★ Ice Golem's Peak

Potion

★★★★✰ Void Keep
★★★★✰ Force Keep
★★★✰✰ Spirit Keep
★★★★✰ Magic Keep

Doom Tower

★★★★✰ Magma Dragon
★★★✰✰ Nether Spider
★★★✰✰ Frost Spider
★★★★✰ Scarab King
✰✰✰✰✰ Celestial Griffin
✰✰✰✰✰ Eternal Dragon
Aox the Rememberer Skills
Feathered Staff [ATK]
Attacks 1 enemy 2 times. Each hit has a 10% chance of placing a 5% [Poison] debuff for 2 turns.
Level 2: Damage +5%
Level 3: Damage +5%
Level 4: Damage +5%
Level 5: Buff/Debuff Chance +10%
Level 6: Buff/Debuff Chance +10%
Damage Multiplier: 2.1 ATK
Lore of Restoration [ATK] (Cooldown: 4 turns)
Attacks 1 enemy. Heals all allies by 10% of their MAX HP. Heals each ally by an extra 2.5% for each debuff on the target.
Level 2: Damage +5%
Level 3: Damage +5%
Level 4: Damage +5%
Level 5: Heal +10%
Level 6: Cooldown -1
Damage Multiplier: 5.7 ATK
Weight of Aeons (Cooldown: 4 turns)
Places a 50% [Decrease ATK] debuff on all enemies for 2 turns. Also has a 75% chance of decreasing each enemy's Turn Meter by 20%. Places a 30% [Decrease C.RATE] debuff on the target for 2 turns if they have 50% or more Turn Meter after the Turn Meter decreases.
Level 2: Buff/Debuff Chance +5%
Level 3: Buff/Debuff Chance +5%
Level 4: Buff/Debuff Chance +5%
Level 5: Buff/Debuff Chance +10%
Level 6: Cooldown -1
Steward of Time [Passive]
Increases the duration of 2 random debuffs on the attacker by 1 turn when attacked. Occurs once per hit.
Aura
Increases Ally ACC in Doom Tower battles by 60.
Aox the Rememberer Equipment Guide
Arena, Campaign, Clan Boss, Dungeons, Doom Tower, Faction Wars

Recommended Artifacts

Regeneration, Immortal, Life, Accuracy, Perception, Speed, Lifesteal

Recommended Stats

HP%, DEF%, SPD, ACC, RESIST
Weapon (ATK)
Helmet (HP)
Shield (DEF)
Gauntlets (HP% / DEF% / C.RATE)
Chestplate (HP% / DEF% / ACC / RESIST)
Boots (SPD / HP%)
Ring (DEF / HP)
Amulet (DEF / HP)
Banner (ACC / RESIST)
Aox the Rememberer Mastery Guide
Arena, Campaign, Clan Boss, Dungeons, Doom Tower, Faction Wars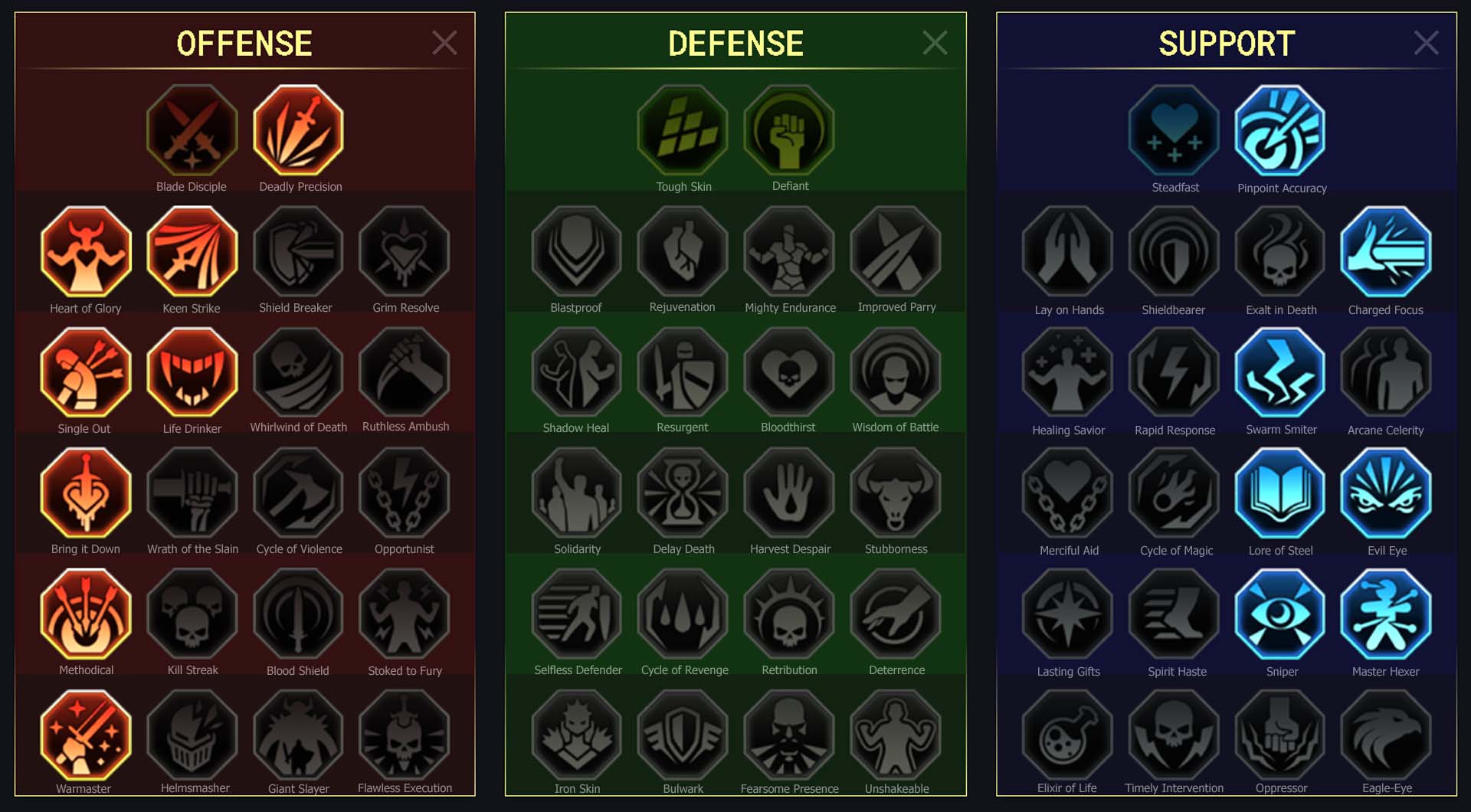 Offense

Deadly Precision
Keen Strike
Heart of Glory
Single Out
Life Drinker
Bring it Down
Methodical
Warmaster

Defense

N/A

Support

Pinpoint Accuracy
Charged Focus
Swarm Smiter
Lore of Steel
Evil Eye
Master Hexer
Sniper
Aox the Rememberer Review
RAID Shadow Legends – Aox the Rememberer is an Epic Support Force affinity champion from the Lizardmen Faction where he can be obtained from Ancient Shards and Sacred Shards. Aox the Rememberer is added to the game in Patch 3.00 on December 15th 2020 along with 22 new champoins. Aox offers a lot of debuffing capabilities such as Decrease Attack, Decrease Critical Rate and Decrease Turn Meter, which are all essential in reducing enemy damage output. In addition, he can apply Poison debuff to damage the enemies based on their MAX HP. Aox also has a unique passive skill that increases the debuff duration on the attacker whenever they hit him! This makes him an ideal candidate for boss raiding such as Clan Boss and Doom Tower content bosses (e.g. Scarab King), where he can consistently have the enemy's debuff bar filled up at all times!
Aox the Rememberer Reference
Aox the Rememberer Dungeon Support Farming Guide
The artifacts equipped on Aox the Rememberer are optimised for Dungeons, Faction Wars and Doom Tower content. Regeneration Set is used to replenish Aox's HP substantially upon reaching his turn while Perception Set provides additional Accuracy for him to apply his debuff as well as Speed to quickly reach his next turn. The stats prioritized for this build are HP%, DEF%, Speed, Resist and Accuracy. Accuracy is essential for applying his debuff whereas Resistance is important to prevent any debuffs inflicted by the enemies on him. Aox requires a decent amount of HP and Defense to enable him to tank the damage. This setup is tuned to pair him with Bad-el-Kazar to farm Dungeon Stage 25 for Ice Golem's Peak and Dragon's Lair. The mastery focusses on providing additional Accuracy, improve his probability to apply his debuff and extends the debuff duration and enable Aox to deal additional damage with Warmaster mastery. This build can be used to solo Scarab King Doom Tower Hard boss too!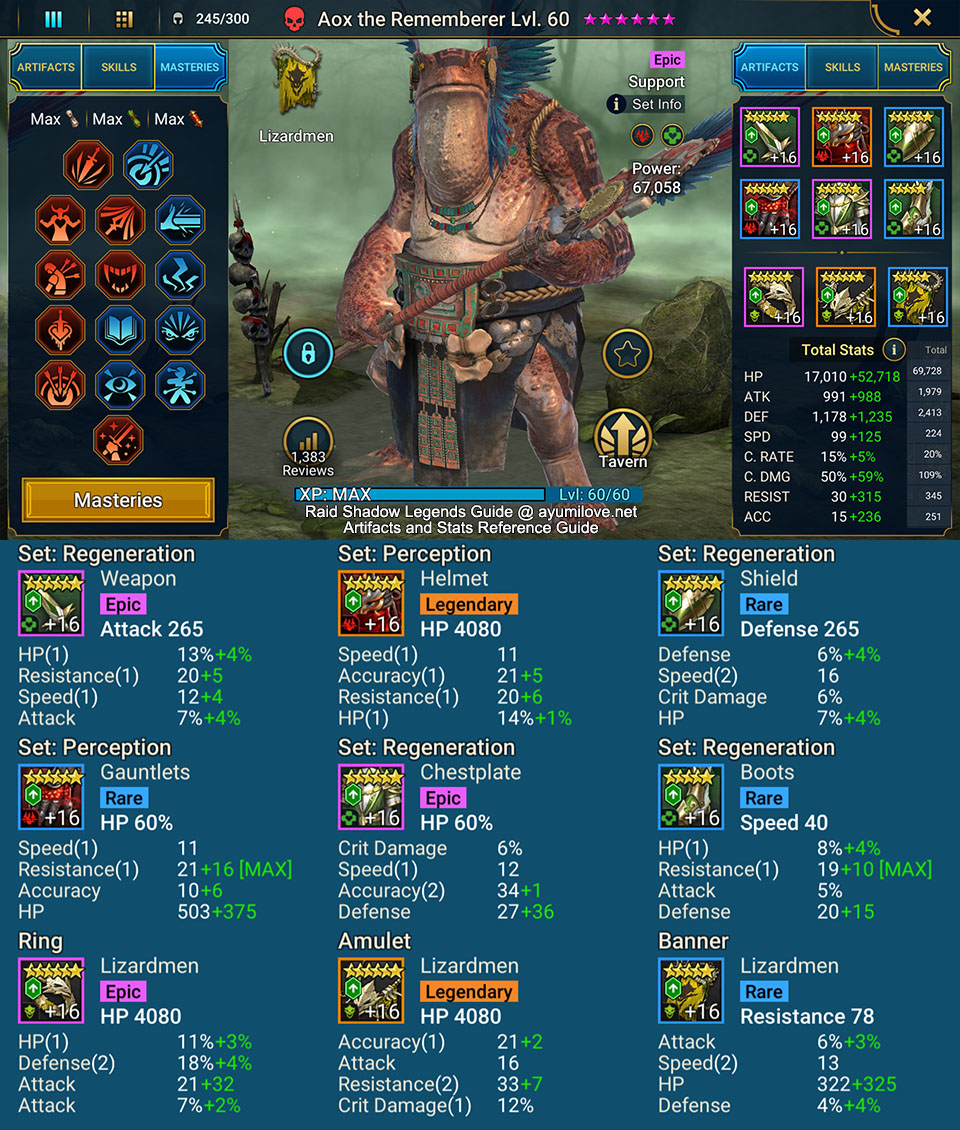 Aox the Rememberer Videos
Raid Shadow Legends Aox the Rememberer Champion Guide by Ayumilove
Raid Shadow Legends Aox the Rememberer Champion Guide by Skratch
Raid Shadow Legends Aox the Rememberer Champion Guide by Grumpy Jeff
Raid Shadow Legends Aox the Rememberer Champion Guide by Hell Hades
Raid Shadow Legends Aox the Rememberer Champion Guide by MurderInc
Raid Shadow Legends Aox the Rememberer Champion Guide by BGE
Raid Shadow Legends Aox the Rememberer by FuseBoxRaider