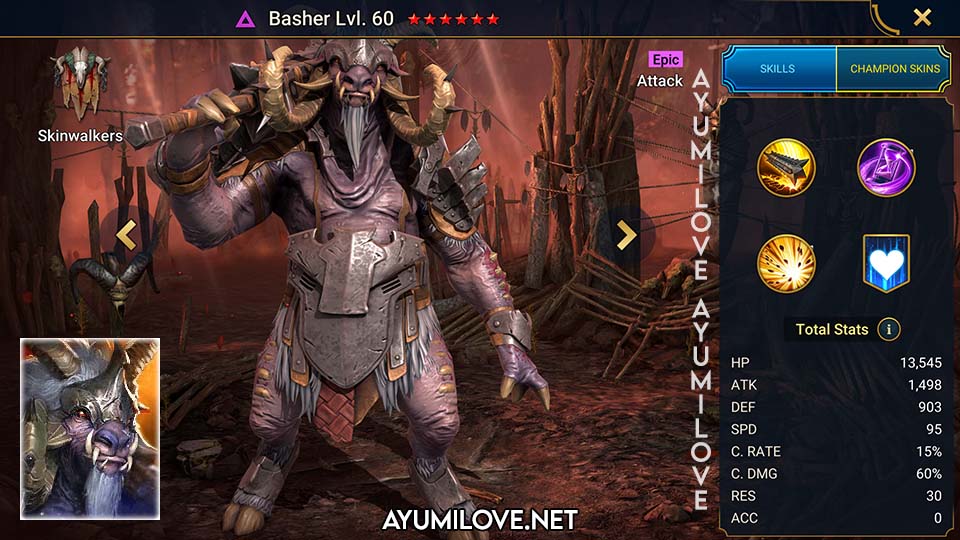 Obtain from

Void Shard

Champion Fusion

Overview

NAME: Basher
FACTION: Skinwalkers
RARITY: Epic
ROLE: Attack
AFFINITY: Void
RANK: A
USABILITY: Situational
TOMES: 11 (A2 A3)

Total Stats (6★)

Health Points (HP): 13,545
Attack (ATK): 1,498
Defense (DEF): 903
Speed (SPD): 95
Critical Rate (C.RATE): 15%
Critical Damage (C.DMG): 60%
Debuff Resistance (RESIST): 30
Debuff Accuracy (ACC): 0

Grinding

★★★★✰ Campaign
★★★★✰ Arena Defense
★★★★★ Arena Offense
★★★★✰ Clan Boss
★★★★✰ Faction Wars

Dungeons

★★★★✰ Minotaur
★✰✰✰✰ Spider
★✰✰✰✰ Fire Knight
★★★★★ Dragon
★★★★★ Ice Golem

Potion

★★★★✰ Arcane Keep
★★★★✰ Void Keep
★★★★★ Force Keep
★★★★★ Spirit Keep
★★★★★ Magic Keep

Doom Tower

✰✰✰✰✰ Floors
✰✰✰✰✰ Magma Dragon
✰✰✰✰✰ Nether Spider
✰✰✰✰✰ Frost Spider
✰✰✰✰✰ Scarab King
✰✰✰✰✰ Celestial Griffin
✰✰✰✰✰ Eternal Dragon
✰✰✰✰✰ Dreadhorn
✰✰✰✰✰ Dark Fae
Basher Skills
Splintering Bash [ATK]
Attacks 1 enemy. Has a 75% chance of placing a 25% [Weaken] debuff for 2 turns.
Level 2: Damage +5%
Level 3: Damage +5%
Level 4: Damage +5%
Level 5: Damage +5%
Damage Multiplier: 3.2 ATK
Stinging Blast [ATK] (Cooldown: 4 turns)
Attacks all enemies. Increases the cooldown of all the target's skill by 2 turns.
Level 2: Damage +5%
Level 3: Damage +10%
Level 4: Cooldown -1
Damage Multiplier: 3.8 ATK
Cause Fear [ATK] (Cooldown: 5 turns)
Attacks 4 times at random. Has a 75% chance of placing a [Block Buffs] debuff for 2 turns.
Level 2: Damage +10%
Level 3: Buff/Debuff Chance +10%
Level 4: Buff/Debuff Chance +15%
Level 5: Cooldown -1
Damage Multiplier: 1.55 ATK
Aura
Increases Ally HP in all Battles by 25%.
Basher Equipment Guide
Equipment Set for Arena, Campaign, Faction Wars
2 Offense Set, 1 Speed Set
Equipment Set for Clan Boss, Dungeons, Doom Tower
1 Lifesteal Set, 1 Speed Set
Equipment Stat Priority
Attack%, Critical Rate, Critical Damage, Speed, Accuracy
Weapon (Attack)
Helmet (HP)
Shield (Defense)
Gauntlets (Critical Rate)
Chestplate (Attack%)
Boots (Speed)
Ring (Attack)
Amulet (Critical Damage)
Banner (Accuracy)
Basher Mastery Guide
Arena, Doom Tower, Faction Wars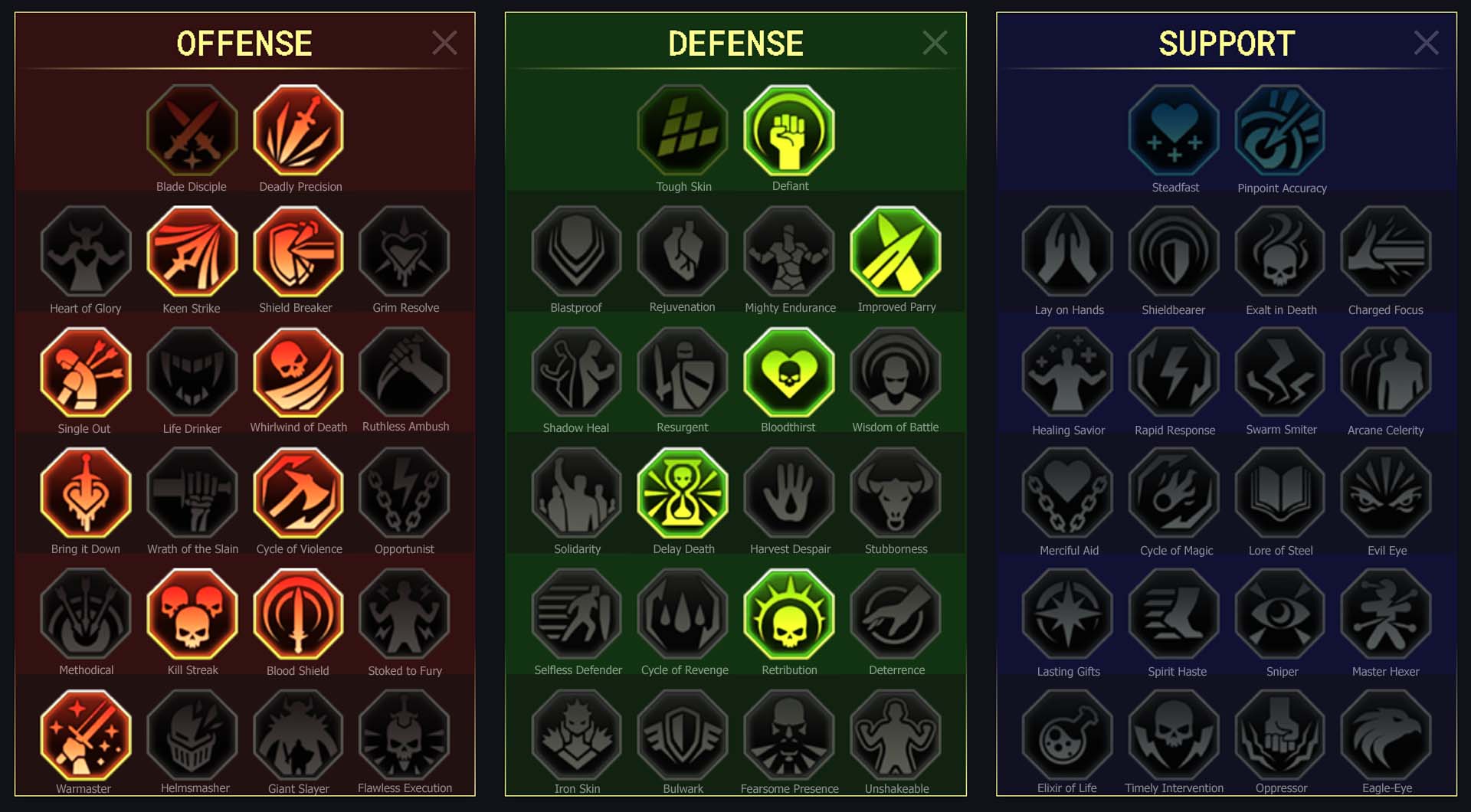 Offense

Deadly Precision
Keen Strike
Shield Breaker
Whirlwind of Death
Single Out
Cycle of Violence
Bring it Down
Kill Streak
Blood Shield
Warmaster

Defense

Defiant
Improved Parry
Bloodthirst
Delay Death
Retribution

Support

N/A
Campaign, Clan Boss, Dungeons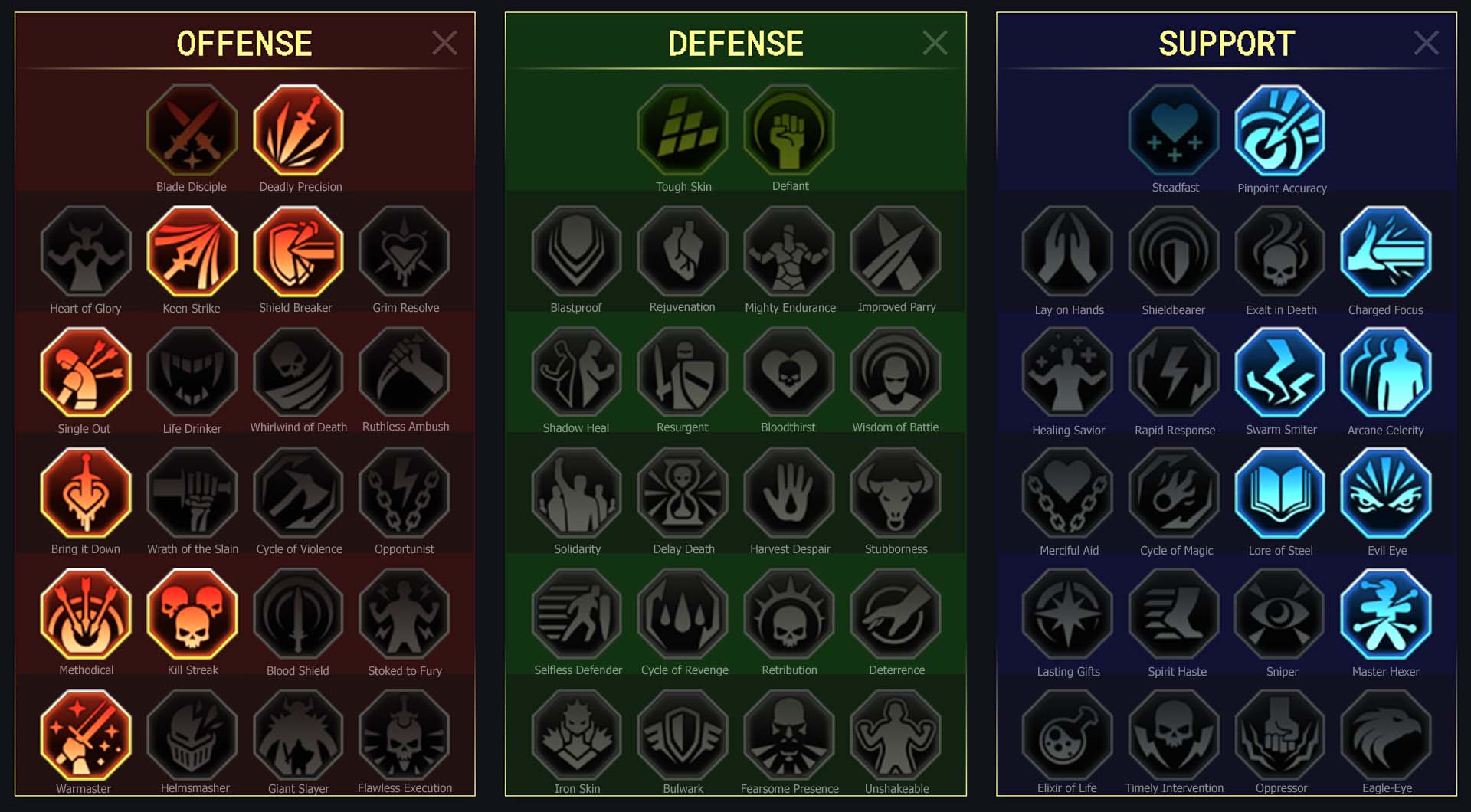 Offense

Deadly Precision
Keen Strike
Shield Breaker
Single Out
Bring it Down
Methodical
Kill Streak
Warmaster

Defense

N/A

Support

Pinpoint Accuracy
Charged Focus
Swarm Smiter
Arcane Celerity
Lore of Steel
Evil Eye
Master Hexer
Basher Storyline
Basher has never honored Skinwalkers' traditions and never believed in Ch'arocah legends. The only thing he believes in is brute force. Having been exiled from his tribe in his childhood, he went to the south over the Redspike Mountains where he served first as a scout for the Ordun lords, then as cutthroat and torturer. Basher never speaks of his past and has never uttered his real name that was given to him by his mother. What makes him proud is his current nickname – Basher.
Basher Updates
Basher Videos
Raid Shadow Legends Basher Champion Guide by BGE